Research into sustainable swimsuits for women has increased by 65% over the past year. Typically, the best route to find sustainable swimwear, is to look for recycled materials that are used.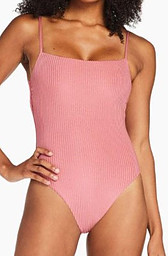 Swimwear from recycled materials and regenerated nylon is created from abandoned fishing nets and post consumer plastic waste, so get the top designer bikinis online here.
These designer bikini brands all have the same green philosophy of sustainability, but each have their own style. From one piece swimwear for women over 50, to athletic swimwear for women, these eco friendly bathing suits are all made with recycled fabrics.
To be sustainable and mindful of the environment does not have to be expensive, you can have sustainability on a budget. Sustainable fashion has a lower environmental impact than fast fashion, and although it costs more because of production processes, garments last longer and therefore does not have to be replaced as often.
Benefits of Swimwear from Recycled Materials
Sustainable swimsuits for women need to be durable, and unfortunately organic and natural fibers are sometimes not durable enough for swimwear, and doesn't maintain the shape and fit when it is wet. These are the benefits of using recycled materials for swimwear:
Reduces the need for using petroleum.
It repurposes non-biodegradable plastic waste and reduces the buildup of plastic in our oceans and landfill.
90% less water and 85% less energy is required to create it, and it produces 75% less carbon dioxide emissions.
Recycling of these fabrics are practically infinite as it can be melted down and new fibers for new swimsuits can be made.
Let's have a closer look at the designer bikini brands that have a commitment to the environment.
Best Brands of Sustainable Swimsuits for Women
For the top designer bikinis online, style and sustainability must go hand in hand, so eco consciousness is at the heart of everything they do. This includes fabric innovation and manufacturing, to packaging and partnerships. Reduce impact and raise awareness to generate change.
Discover more sustainable swimwear, like Vitamin A, in this post on 9 Swimwear Brands that are swimming towards Sustainability.
1. Fisch
The Swedish designer Agnes Fischer launched Fisch in 2017 and the swimwear brand is inspired by her childhood
spent on the island of Saint Barthélemy. The mission of Fisch is to produce high quality beachwear, while minimizing the ecological footprint.
Sustainable practices included these:
All swimwear is made from Econyl, a 100% regenerated nylon fiber made with abandoned fishing nets and other types of nylon waste.
The shell is 65% econyl and 35% elastane, with the lining 73% nylon and 27% elastane. .
The fabric is woven in Lombardy and each piece is handmade in Italy.
Fabric is UPF 50+ UV protective and highly resistant to chlorine and suntan creams and oils.
Their carbon footprint is reduced by using a fabric mill and manufacturing facility that are only two hours apart.
Designs are bold and timeless with an eco-conscious soul.
The luxury brand has one-piece swimwear at $255 and two piece bikinis are inspired by retro styles and can be mixed and matched. The top designer bikinis online start at $110 a piece.
All shipping is done with DHL.
Fisch donates 1% of sales to Healthy Seas, the organization that works with skilled divers to remove ghost fishing waste from our seas and protect marine life.
2. Palm Swim
The core ethos of Palm Swimwear is sustainability. Born on the west coast of Australia, Palm Swim is the brand founded by Kat Furey in 2014, with the desire to give life to the perfect swimsuit.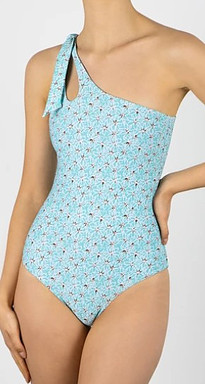 All pieces of the designer bikinis brands are handmade to order in their studio in Bali, Indonesia.
Sustainable practices include these:
Each garment is made with recycled materials and the core fabric is Italian Econyl, which is regenerated nylon from discarded fishing nets, post consumer plastic bottles and carpets.
95% of materials used in swimwear, is the Italian Econyl, with the remaining 5% sourced from China and Indonesia.
Econyl has double the lifespan of normal swim fabrics and has protection from harmful UV rays, chlorine chemicals and rough surfaces.
To reduce their environmental impact, pieces are produced to order, and will be shipped within one to three weeks. This minimizes waste and leftover stock.
Ethical manufacturing takes place in Bali, Indonesia, where workers are paid fair living wages, have realistic deadlines and follow sustainable manufacturing practices.
Designs are classic, durable and sustainable, but also cool and contemporary. The designs range from the classic solid two color pieces from the 90s silhouettes to the boho chic bikinis in paisley pattern.
Bikini separates start at AUD85 and one piece swimwear at AUD230.
Handmade with high attention to detail and offer wear and tear repairs, including clasp and boning.
2% of every sale is donated to the Australian Marine Conservation Society, which is dedicated to the protection of Australia's coastline.
Palm swimwear from recycled materials, will last much longer than just one season, thereby moving away from the disposable culture of fast fashion.
3. Laara Swim
Laara Swim, a Danish company, is one of the 100% sustainable designer bikinis brands. They are based in Copenhagen and t
o them luxury and sustainability go hand in hand.
Sustainable practices include these:
The sustainable swimsuits for women are made with Econyl, fabric made from regenerated plastic waste that is found in the North sea, Adriatic sea and Mediterranean.
Fabric is tested against damage by sun, salt, chlorine and suntan lotions.
Ultra chlorine and sunscreen resistant.
The top designer bikinis online pieces start at €58 and one piece swimwear at €178.
Range is available from XS to XL.
Apart from the range of bikini separates and one piece swimwear, beach sarongs are also available. You can access the full range here at Laara Swim.
4. Bondi Born
Bondi Born is one of the Australian luxury designer bikini brands that is inspired by Bondi Beach, one of Sydney's most hype neighborhoods. It is known for minimal chic designs with impeccable cuts and sculptural lines.
From one-piece swimsuits to geometric bikinis in solid colors like terracotta, aqua, black and other beautiful shades,
each garment is made with sustainable yarns. Sustainable practices include these:
Sculpteur fabric is used for swimwear, which lasts ten times longer than average swimwear if it is looked after properly.
Sculpteur fabric is made in Italy and has a unique 3-D stretch.
Swimwear is lined with Lycra Xtra Life.
All pieces come with bust support and can be coordinated with skirts and trousers.
Bikini bottoms start at AUD140 and one piece swimwear start at AUD250.
All fabrics used by Bondi Born are also OEKO-Tex certified, which means no harmful substances, like formaldehyde, heavy metals, pesticides, aromatic amines or allergic colorants, are released.
Ethically and sustainably made in Sydney, Australia.
Conscious packaging, including tags, hygiene labels and satchels, are all plastic free and fully recyclable or compostable.
It is a certified B corporation company, which measures a company's entire social and environmental performance. This includes evaluating how the business impacts the workers, environment, customers and community.
They are a member of 1% for the Planet, donating at least 1% of annual sales to environmental causes, with One Tree Planted, the primary partner. For every online order that is received, a tree is planted through One Tree Planted.
Bondi Born uses the highest quality materials to make quality pieces that will last for a long time. Apart from the swimwear range that includes rashgards and towels, they also do resort wear, including dresses, skirts, trousers, shorts, shirts and tops.
5. Stay Wild
Stay Wild swimwear was founded by two scuba divers, Zanna van Dijk and Natalie Glaze.
The sustainable swimwear brand is based in London and their mission is to produce sustainable swimsuits for women with a purpose, and that purpose is to be entirely sustainable.
Sustainable practices include these:
The swimwear from recycled materials uses regenerated ocean plastic.
They use Econyl and produce the swimwear in a small factory in London.
The factory embraces the slow fashion movement and has a zero waste approach to garment production.
Each piece and element considers the people that make and wear the garments, as well as the planet.
They combine style and sustainable innovation.
Uses carbon neutral shipping and only collaborates with ethical suppliers.
The top designer bikinis online separates start at £50 and one piece swimsuits at £160.
Other fabrics that are used include Oeko-Tex certified EcoVera, organic cotton and organic linen and biodegradable buttons for shirts.
Swimsuits are double lined.
Sizes are from UK6 / XS to UK18 / XXL.
Eco friendly water based inks are used.
Through their Circularity project, they accept worn and broken swimwear from any brand, to be recycled and repurposed. Eco industrial products, such as carpet underlay, is made from it.
By using recycled plastic, it gives them the opportunity to fight the plastic marine problem, while at the same time actively contributing to the solution. Materials that are no longer usable, are kept out of landfill and put back into textile circulation.
6. Dos Gardenias
The sustainable luxury swimwear brand is based in Malibu and was started by two friends, Brighdie Grounds and Dorothy Day, in 2017. The two friends both have a background in fashion, as an international model and designer respectively.
Their aim was to produce a collection of stylish, wave-proof and sustainable swimsuits for women.
Sustainable practices included these:
Dos Gardenia is using Econyl, the Italian fabric made from regenerated plastic waste, to make the swimwear from recycled materials.
Econyl is versatile and has stretch, UV protection and is breathable and soft.
It has double the resistance to chlorine and suntan creams compared with conventional swimwear fabric.
Swimsuits are fully lined and you can buy the pieces of top designer bikinis online separately to create your own unique look.
Through local production in Los Angeles, their carbon footprint is reduced.
The packaging is also eco-friendly, made with recycled plastic, which can be recycled again.
Tags are made from 100% post consumer recycled fiber and is FSC certified.
Limestone based neoprene, with limestone sourced from mountains in Japan, is used for wet suits. It has 99.7% water impermeability, with the result that you have a warmer and lighter wet suit material than petroleum based neoprene.
Cotton is used to make tank tops.
The chic and sexy swimwear is available in sizes US2/UK8 to US16/UK20, with tops and bottoms starting at $95 and one pieces at $179. The swimwear is flattering, as well as functional. You need to look good, but also feel secure, even when being active.
7. Galamaar
Galamaar was founded by the designer Blakeley Wickstrom, in June 2017.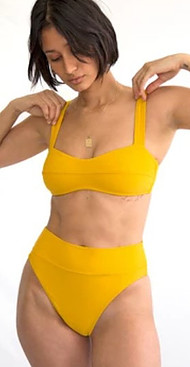 The swimwear from recycled materials is produced in Los Angeles, California.
Sustainable practices include these:
Swimsuits are made with recycled materials which consist of 78% econyl and 22% spandex.
Double faced construction.
Locally produced in the USA.
Fabrics are recycled materials from nylon fishing nets that was removed from our oceans.
Recycled hang tags are used.
Available in sizes XS to XL.
Regenerated mixed metal hardware.
Garments are shipped in eco friendly packaging materials.
They produce women one piece and bikini separates. The upper end of the price range with separates for the top designer bikinis online starting at $122 and one piece costumes at $255.
They boast long-lasting fit retention, so the money you spend will give you value for money as you can wear the swimwear for many years.
Galamaar, one of the designer bikini brands, do their best to minimize their negative environmental impact.
Final Thoughts on Swimwear from Recycled Materials
By using earth conscious materials, your carbon footprint can be greatly reduced, so you can buy sustainable swimwear by clicking on this link.
You might also be interested in the Best Ethical Swimwear for Women. If you are looking for swimwear for men, explore the options in Best Swimwear for Men from Ocean Plastic Waste.
More related reading: 6 Fashion Brands that Produce Clothing from Recycled Plastic.
Always wash your swimwear in a Guppyfriend washing bag to prevent micro particles of plastic polluting the waterways and our oceans.
If you have any questions or suggestions about sustainable swimsuits for women, or have more brands for top designer bikinis online, then please leave them below and I will get back to you.
.