If you are reading this, you most probably have a baby in the home or are preparing for the arrival of your new little bundle. With the call for a greener planet there has been a big revival in the use of reusable cloth diapers. With so many options available, it might be daunting and difficult to choose which one is best for you. As with many decisions in life, your budget normally plays a big part so here I'll be looking at the most economical options and the costs associated with them.
Why use reusable cloth diapers? Save money and leave a far smaller footprint on the planet by not putting disposable nappies into landfill sites, (you might need as many as 10 reusable covers and 24 diapers, depending on the type, or you might need less) whereas you'll be using thousands of disposables during the approximate 2 and a half years that you baby will be using nappies. Whichever type you choose, you will need a waterproof diaper cover and inserts.
The most economical diaper cover is a One size cover or also called a birth to potty cover. A One size diaper cover is designed to grow with your baby so is equal to 4 sizes in 1.  OsoCozy  and Rumparooz are the 2 that I would recommend.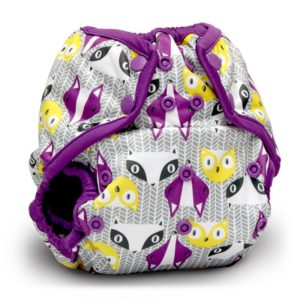 Rumparooz will fit a baby weighing 6 -35 pounds and OsoCozy a baby of 8 – 35 pounds.
Closures: Snap closures with adjustable side to side settings and rise adjustments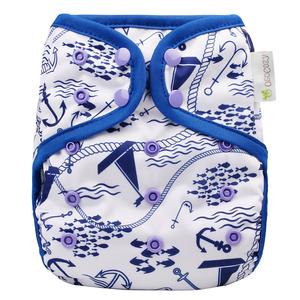 Double leg gussets are soft and gentle and will keep any messes contained.
One size diapers will fit your baby and also your choice of diaper insert be it prefold, fitted or flat cloth.
Size can be perfectly adjusted and will last until potty training.
Wipe down outer surface means the cover can be reused several times before it needs to be washed (unless it is soiled)
Built to last change after change
Both are available in an attractive range of colours and cute designs.
By choosing a One size diaper cover you will maximize the affordability, but different options are also available and this is where you can explore them
Which insert is best for you and your baby?
There are several different inserts available so let's compare some of these.
1. Flat cloth diapers: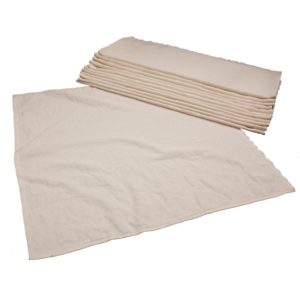 Birdseye cotton weave diapers are flat and measure 27″ x 30.5″ (before washing them). They will shrink to a square when you wash them, making them easier to fold. It is available in bleached or unbleached cotton or an inexpensive organic cotton option. They are all thickly woven. If you like folding your own cloth diapers, then these are for you.
Flat cloth diapers are very versatile and have many other uses around the home including being used as burp cloths, dish towels, changing pads, bibs, wash cloths, lap pads, cleaning cloths, shoe and car polishing cloths, dusting, furniture polishing and more.
The most economical choice would be flat cloth. OsoCozy organic cotton Birdseye flat is 100% GOTS certified and is an inexpensive organic option at $27.95 for a pack of 12.
2. Prefolds:
Prefold cloth diapers are rectangular in shape and have 3 panels made from multiple layers of lightweight woven fabric. The central panel have additional layers to increase the absorbency. When choosing your prefolds you will notice that they are available in different sizes and have a 3-part number like 2 x 5 x 2 or 4 x 6 x 4 or 4 x 8 x 4. This 3-part number refers to the amount of layers in the 3 panels with the middle panel being the thickest. Most home users prefer the thicker choice of 4 x 8 x 4 as your baby will need fewer changes. Diaper services often opt for the thinner 4 x 6 x 4 option as they are quicker to dry.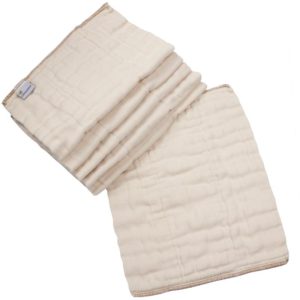 Indian cotton prefolds measure 12″ x 16″ and are several layers thick. It is made from 100% unbleached cotton and thickly woven. There are 6 options to choose from for size and absorbency with 4 layers along the sides and 8 layers in the middle being the most popular as even heavy wetters would not leak.
Chinese cotton prefolds are traditional long length and made from 100% cotton and bleached white. Chinese cotton prefolds are not as soft and fluffy as Indian cotton prefolds
Better fit prefolds are shorter than the traditional prefolds so will tuck into the diaper cover without having to fold it lengthwise. They are also less bulky and are available in 3 sizes.
Organic prefolds are made using 100% GOTS certified unbleached organic cotton. Both traditional and better fit prefolds are available in organic cotton with 2 size option in each.
Bamboo organic cotton prefolds are a blend of 50% Bamboo and 50% organic cotton and are also available as traditional or better fit prefolds.
Prices for these are currently as follows:
Indian cotton unbleached or bleached from $12.50 for 12
Chinese cotton from $15 for 12
Better fit from $20.50 for 12
Organic from $15 for 6
Bamboo organic cotton from $16.50 for 6
3. Fitted cloth diaper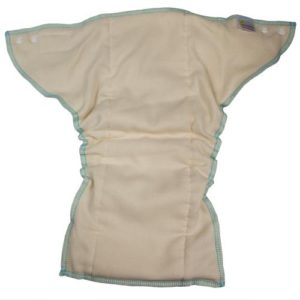 These are the most expensive inserts but very popular as there is no folding required. It has a secure fit  with no leaks and is easy to wash. It is less expensive than all-in-one, all-in-two and pocket cloth diapers.
Fitted cloth diapers are shaped like an hourglass so is narrower between the legs. It has elastic at the legs and waist for a snug and leak proof fit. They are adjustable with snaps so it is easy to change the size. They are very easy and quick to use – snap the diaper on and then snap the cover over it.
There is a choice of organic cotton or bamboo organic cotton  for your fitted diapers. Organic cotton is available in 4 sizes and with the OsoCozy bamboo organic cotton fitted cloth diaper you have a choice of 2 sizes from $12.98 each.
Bleached vs. unbleached vs. organic cotton – chemicals are used in the bleaching process which weakens the fibers and is not good for the environment. Unbleached cotton is softer and more durable than bleached diapers and also hide stains better. Organic cotton is more expensive but would be the first choice if you can afford it.
How many diapers and covers would you need?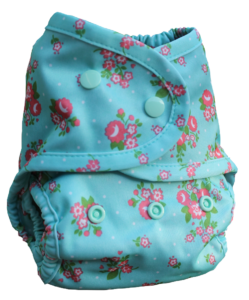 The quantity you need would depend on the age of your baby and how often you wash. A newborn baby uses about 10 diapers per day but a toddler only 4 – 6 per day. If you wash twice per week you would need to look at 36 – 48 diapers for a newborn and 18 -24 for a toddler. If you wash more often you would need less.
Diaper covers will normally last you several changes unless they get soiled. The recommended ratio is 1 to 3, so for every cover you need 3 inserts, so look at 8 – 10 covers to start with. You can always add more if you need them.
The biggest benefit is to your baby with no nasty chemicals exposed to their delicate skin. Hypoallergenic unbleached cotton is safe and gentle for the most sensitive bottom. Organic cotton and bamboo inserts are even softer and will not cause allergic reactions.
The cost of reusable cloth diapers might be more upfront, but it will save you money over the time that your baby wears a diaper. Disposable diapers will possibly cost you in the region of $1,500 (depending on the brand you choose it might be more) during your baby's diaper wearing time. Even choosing the most expensive fitted inserts and covers, you will be spending less than $500. If you opt for flat inserts then you will be spending less than $250 for your covers and diapers.
Choosing a one size cover also means you don't have to buy more covers as your baby grows. Buy in bulk and there will be money saving advantages. Choose from one of the "package deals" and you could be spending less than $100 on 4 covers and 36 inserts
You will be helping our planet by greatly reducing the amount of disposable diapers that end up in landfill.
Cleaning it is easy
To increase the absorbency of your cloth diapers you need to pre-wash them a few times before you use them. Beware of build-up of detergent in the diapers so don't use too much detergent. You can give them an extra rinse to get rid of excess detergent.
Don't use fabric softener as it would coat the fibers and make them less absorbent.
You will need a diaper pail or bucket to keep the dirty diapers in before you wash them.
Drying them naturally is best but if you need to use a tumble drier, then choose a low to medium setting.
All prices mentioned in this article were correct at the time of publication.
I look forward to receiving your views and comments