Organic baby clothes are made with materials that are free of harmful chemicals that are either found in synthetic fabrics or are used in non-organic farming. More than 8,000 chemicals are used to turn raw materials into fabrics, making it imperative to know what is organic baby clothes. As parents are learning about the health benefits of organic cotton for baby clothes, more brands are offering affordable organic baby clothes.
Art & Eden clothing is sustainably and ethically produced, using organic cotton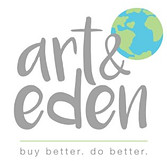 and low impact dyes. It was founded by Susan Correa in 2014 and since their launch, their intention has been to be best in the world by being best for the world.
They make ethical clothing for kids that is better for the planet. They are transparent in the materials that are used, how the garments are produced and where your money goes when you buy Art & Eden clothes.
Your babies and kids might be eating organic foods, but do they wear organic fabrics? Do you want harmful chemicals that are in clothes, to be in contact with their delicate skin?
Why Choose Organic Cotton for Baby Clothes?
The biggest benefit of using organic cotton for baby clothes, is that your child is not exposed to harmful chemicals.
Organic cotton farming is in some ways synonymous with sustainable farming and growing organic cotton is better for the environment than non-organic cotton.
Using organic cotton for unique organic baby clothes, will greatly reduce the risk of your baby or kids developing allergies or eczema, as there are no toxins that are touching their skin. Organic cotton for baby clothes is a good idea, but the main recommendation is to avoid synthetic fabrics.
Related post: Find out more about organic cotton diapers in this post on organic diapers the alternative disposable diaper.
Although the production of organic cotton has dramatically increased over the past 15 years and annual growth is now in double digits, it is still less than 1% of overall worldwide cotton production. The main cotton producing countries are India, USA, Turkey, Egypt, Tanzania, China, Syria, Uganda, Peru and West Africa are the main cotton producing countries. So let's have a look at organic farming.
Growing Organic Cotton
The main difference between non-organic cotton and organic cotton, lies in the way in which the cotton is grown and produced. For a farmer to be able to grow organic cotton, the land must first be detoxified and then for a minimum of 3 years prior to planting organic cotton, no toxic chemicals or pesticides must be used on the land.
Seeds and plants that have not been genetically modified, is used to grow organic cotton. No toxic or harmful chemicals, like fertilizers, pesticides and herbicides, are used during growing and producing the organic cotton. Because no GMO's (genetically modified organisms) are used, through crop rotation, inter cropping and composting, organic soil matter can be built up in the land.
Bio-controlling of beneficial insects are used to manage pests, and weeds are physically removed and controlled through inter cropping. Crop rotation is practiced to make sure the quality of the soil is maintained.
Organic farming methods use natural fertilizers like animal manure or compost, which recycles the nitrogen that is already in the soil, rather than adding more. Because of the organic matter, the soil has a higher water retention capacity, and it reduces both N2O emissions and pollution.
Choosing organic cotton, means you will have reassurance about what is organic baby clothes made from.
Related post: 10 Best Organic Cotton Jeans Brands.
Properties of Organic Cotton
If you want to be sure what is organic baby clothes made from, then choose a brand like Art & Eden clothing that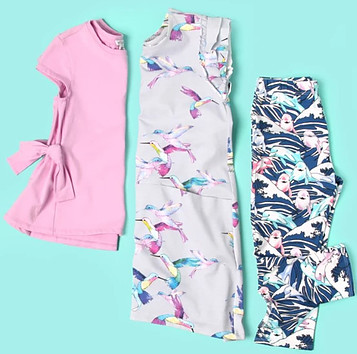 only uses cotton fibers that were organically grown to make unique organic baby clothes.
There are many properties of organic cotton that make it perfect for use in baby clothing and kids clothing and anything that is worn close to the skin.
Why is organic cotton for baby clothes important? The advantages of organic cotton are numerous
Organic cotton is a natural, 100% plant derived, fiber.
It is naturally hypoallergenic.
No toxic or harmful chemicals are used in the production of organic cotton, meaning allergies are kept at bay.
Organic cotton is a comfortable material that is naturally soft and smooth.
Non-irritant as there are no chemicals involved.
Soothing and comforting on the skin.
It has high absorbency properties, making it suitable for a wide range of uses, including baby and kids clothing.
Related post: What is organic cotton clothing?
The Benefits of Organic Cotton for Baby Clothes
Why is organic cotton better for babies? These are the benefits that make organic cotton ideal for use in baby and kids clothing:
No harmful and toxic chemicals like insecticides, pesticides and herbicides are used during the growing and production processes of organic cotton.
Organic cotton will wick moisture away from your baby's skin, keeping them comfortable.
There is no damage to the soil where organic cotton is grown.
Organic cotton is a natural fiber that is soft, soothing and harmless to your skin.
The quality of organic cotton is better than non-organic or conventional cotton.
When growing organic cotton, 88% less water and 62% less energy is used, than when non-organic cotton is grown.
The environment is safer for farmers and their families when growing organic cotton, as they are not exposed to toxins in the field, or through contamination of water and food.
Growing organic cotton prevents water contamination and conserves biodiversity.
The air is cleaner as there is less pollution caused by pesticides.
Organic cotton is a sustainable crop.
You can reduce your carbon footprint by using organic cotton products.
Organic cotton seed oil is a byproduct that is widely used in snacks and animal feed.
Because it is more labor intensive to produce organic cotton than non-organic cotton, and the yield is lower than conventional cotton, it makes it more expensive. This unfortunately means that organic cotton products are often more expensive than non-organic cotton, but making affordable organic baby clothes is possible.
Unique Organic Baby Clothes from Art & Eden
Organic cotton for baby clothes is used in the Art & Eden clothing range. Sizes are for babies from 3 months up to children age 10 years. The range includes tops and t-shirts, sweatshirts and jackets, leggings and sweatpants for boys and girls, and also shorts for boys and dresses for girls. Materials used are:
The entire girls line is made with organic cotton.
The boys line is made with organic cotton or a blend of organic cotton and recycled or upcycled polyester.
Caring for Art & Eden clothing: machine wash cold and line dry it. If you do tumble dry it, use a low setting.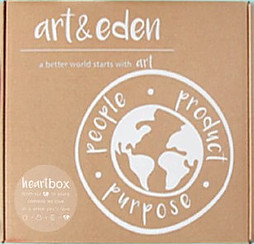 To save you money on organic clothing, Art & Eden offer heartboxes, which contain 3, 5 or 8 pieces of sustainably made clothing. It is available in sizes 3 Months to 10 Years and is priced at:
$30 for 3 pieces, so $10 per piece
$45 for 5 pieces means $9 per piece, and
$70 for 8 pieces works out at less than $9 for each garment.
The affordable organic baby clothes are made in India.
If you are looking for swimwear for babies and toddlers, you can find the best swimsuits for kids in this post on What is Reusable Swim Diapers.
Sustainable and Ethical Practices used by Art & Eden Clothing
Organic cotton is certified by Global Organic Textile Standard (GOTS) and recycled polyester by the Organic Blended Content Standard.
Low impact dyes are used.
All trims are free of nickle and lead.
Incorporate sustainable practices and partner with sustainable garment factories that share their vision of a better world for everybody.
Transparency in materials that are used, production processes and where your money goes when you buy their clothes.
Employees all receive fair wages and enjoyable working conditions.
Prices are affordable and does not sacrifice quality and originality.
Artists from around the world are supported and commissioned for unique and artful prints.
Use recycled packaging.
Employees are encouraged to be creative.
The e-commerce boxes are brightly colored and packaging include tags that kids can color and draw on.
The use of harmful chemical treatments are banned throughout their supply chain and the entire production line is monitored to ensure compliance.
They give back by contributing to initiatives like their Camden Street School mentorship program and Clothes for Cure initiative, where garments are sold to help feed an under resourced child.
They are a registered public benefit enterprise and are an official member of the Kidizen Rewear Collective that support the creation and reuse of quality goods.
If you resell Art & Eden products on Kidizen, you can earn reward points, and these rewards can be redeemed when you purchase your next Art & Eden garment.
Certification of Organic Fabrics
To check what is organic baby clothes made from and whenever you are buying organic cotton products, do look for certification labels. There are currently 2 independent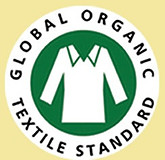 organic certifications for organic cotton:
Global Organic Textile Standards (GOTS) and
Organic Content Standards (OCS).
Certification means the identity and use of organic cotton is traced through a series of certificates.
A Farm certificate ensures that the cotton was produced using organic farming methods.
A Transaction certificates tracks the organic cotton when it is moved from one hand or factory, to another. For instance, if the organic cotton is moved from the spinning company to the weaving company, a transaction certificate will be issued. So the organic cotton is tracked through all the stages of production.
A Scope certificate ensures that the company is qualified to produce organic cotton.
So certification of organic fabrics is done on a local, regional and global basis.
Art & Eden Clothing Green Office Policy
The Art & Eden sustainable practices mean that a green office policy is followed:
Purchase goods made from recycled and recyclable packaging, including packaging that can be reused.
Ensure water and energy efficiency in the value chain.
Cleaning materials must be free of phosphates and be biodegradable.
Recycled paper for general office and photocopier use.
No pesticides or insecticides must be used in products that they purchase for office use.
Final Thoughts on Organic Cotton for Baby Clothes
Organic clothing uses cotton and fabrics that are not farmed in the conventional way with pesticides, thus allowing you to have safe fabrics that come with stylish designs. So is unique organic baby clothes a sustainable choice? It certainly is if you choose a company like Art & Eden clothing.
Art & Eden make remarkable clothes for babies, toddlers and kids. The clothing is sustainably and ethically made.
Explore the range of unique organic baby clothes by clicking on this link.
Organic cotton is widely used in textiles and clothing for babies and kids (in products like diapers, toys and clothes), home furnishings (like sheets, towels and bedding), footwear and personal care and hygiene (like sanitary products, make-up removal pads and cotton wool) and even stationary.
Related post: 5 Best Organic Baby Clothes Brands.
If you have any questions or suggestions about Art & Eden clothing and what is organic baby clothes, then please leave your comments below and I will get back to you.