The sustainably minded shopper is increasingly searching for socially conscious clothing.  That includes looking at ways to refashion old clothes. When searching for products that can be upcycled or reused, a few designers and brands have started to refashion saris. From beautiful jackets, to wrap around skirts, shoes and accessories, you will find many possibilities here of products whose life started as a sari.
What is a Sari?
A Sari is a traditional, female outer garment that is worn in India, Bangladesh, Sri Lanka and Nepal.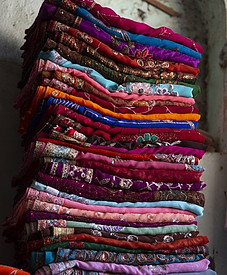 It is basically a long strip of unstitched fabric that varies in length from four meters to nine meters. The width is normally between sixty centimeters and a hundred and twenty centimeters.
Traditionally the fiber for a Sari is cotton or silk and frequently embroidered, but in recent years synthetic fibers have been used as well.
It is worn in different styles, but the most common way is to wrap the Sari around your waist. The one end is then draped over the head or shoulder. A portion of the midriff is left bare. A sari is normally worn over a fitted bodice and a petticoat.
Each area in India has their own unique style, so a large variety of saris are available. Different regions also have different ways of draping a sari.
A sari is very much considered to be a cultural icon.
Why do you want to Refashion old Clothes?
The concept of upcycling or refashioning is encapsulated in the Indian culture. In India old saris are often handed down in the family, but it can also be traded for household goods. There is a community called Vagri, who works on the barter systems. They go from door to door and exchange kitchenware for clothes, and some of them would specialize in saris.
All the different kinds of saris, cotton, silk, vintage and embroidered, are then taken to the sari traders, who would sell it to be upcycled. Many of the bazaars in India are also a hub for finding saris. Some pre loved saris are stained or damaged, so each one must be meticulously checked to avoid the unused sections.
Pre loved saris or new ones can be given a new life by turning them into a useful article.
It makes ecological sense to upcycle, whereby waste is turned into something useful.
Something that might have ended up in landfill is given a new life.
Every pre loved piece has a story to tell and a history behind it.
A raw material that is readily available can be obtained at a much more effective cost than virgin material.
Using a sari as the raw material, beautiful and unique products can be created.
What is a Sari also used for?
Household items like pillowcases, duvet covers, throws and curtains.
Table linen like table runners, place mats and tablecloths
Garments from wrap around skirts, to blouses, dresses, beach cover-ups.
Long and short jackets, palazzo pants and trousers.
Accessories like scarves, bags, headbands and even necklaces.
Shoes and slipons.
Other household items like covers for storage boxes, book and journal covers.
All the small scraps can be sewn together and used for patchwork quilts or patchwork clothing.
Small scraps can also be used to make jewellery pouches or little bags to ship orders in.
Darn Good Yarn
Darn Good Yarn is an online store that supports the economic empowerment of women.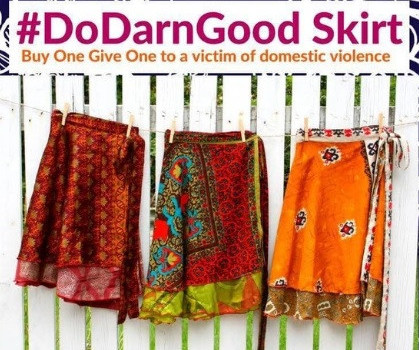 Apart from yarns and craft materials, Darn Good Yarn has wrap around skirts made from saris. When you order your sari skirt from Darn Good Yarn, you tell them which colors you like, and also which colors you don't like.
They then make up the skirt according to your color preferences. So no two skirts are the same, each one is individually hand crafted to be a one-of-a-kind skirt.
Using recycled saris, the skirts are hand made by their co-ops in India. Artisans upcycle the saris to make up the wrap skirts. It provides year round employment for the artisans and at the same time you get an original garment made from reclaimed materials.
The skirts are available in four sizes, including kids, and in two lengths: either a mini (which is just sort of above the knee) or an ankle length.
For every skirt that they sell, they donate a skirt to a survivor of domestic violence.
I Was a Sari
I was a Sari is another brand that refashion old clothes and is making beautiful garments from recycled saris. Stefano Funari, the founder of the brand, was in Mumbai working on a livelihood program for women.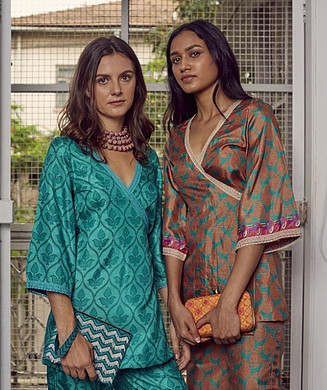 He then had the idea that the beautiful saris that he saw in the market in Mumbai, could be used to make clothes and accessories.
Contemporary fashion is created from the saris, turning a pre loved sari into something new, that is also unique. The range includes dresses, coats, nightwear, skirts, kimonos and caftans, and also accessories, shoes and bags.
They work with underprivileged women in India to give them social and economical upliftment. They provide them with the opportunity to generate sustainable income. Where many people would see unemployed and uneducated women, I was a Sari sees talented artisans who learn to design their future.
They have an eco ethical approach to fashion and are always analyzing the environmental, social and financial impact that they have. I was a Sari is a zero dividend initiative and they invest all the profits back to advance women empowerment and into developing the brand.
They work with two non government organizations (NGO's), Community Outreach Program (CORP) and Animedh Charitable Trust (ACT) in 6 production centers which are distributed all over Greater Mumbai. In October 2019 there were 107 artisans that were involved in working with I was a sari. Stefano Funari has really taken slum empowerment fashion to the next level with I was a sari.
Sari Connection
The Sari Connection was initiated by a Japanese NGO, PARCIC, in 2013,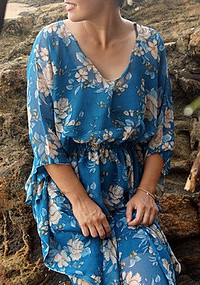 to empower and improve the livelihood of women in marginalized areas of northern Sri Lanka, Mullaitivu and Jaffna.
They ask for saris to be donated to them and will collect from you if you let them know that you want to make a donation.
Donated saris are refashioned and each piece is handcrafted and has a unique blend of colors and textures. The range includes dresses, skirts, blouses, pants, designer wear, beach cover up and also has kids sizes. They also do bags and accessories.
Today around 75 women from 6 villages, are working for Sari Connection. They have varying sewing skills and work at their own pace in the own homes. The skirts are paid immediately when the finished products are collected. This allows them to earn a stable income and be independent.
Sari Connection is now owned by Kais Trading Private Limited in Joffna, Sri Lanka, and is a great example that it is possible to enrich social and environmental responsibilities through fashion.
Refashion Old Clothes including your own Sari
Now that you have seen what is a sari also good for, and all the many ideas of what you can do with an old or pre loved sari, you might want to try it yourself. If you have a sari and you would like to re purpose it, then a very simple project would be to turn it into a skirt.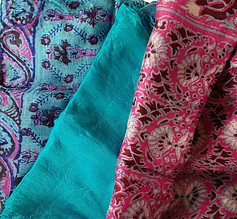 Here I will walk you through the steps to achieve that.
Ideally you will need a sewing machine for this project, although you could sew it by hand, specially seeing that it is silk. If you need a sewing machine, you can have a look at my review on best sewing machines for beginners, or other Singer sewing machine options.
Making a Skirt with Elasticated Waist 
The first step is to establish the approximate width that you require for your skirt. When you measure the width of your skirt, you would need approximately three times the width of your waist for a gathered skirt with elastic. If you want a fuller skirt, then increase the measurement, or if you want less fullness, then decrease the amount of fabric. Ideally you want to have a minimum of double your waistline.
The next step is to decide on the approximate length of your skirt. Before you cut the length of the skirt, you need to decide if you want to keep the border of the sari as a feature at the bottom of the skirt. Personally I think that is beautiful and you retain much of the unique design of the sari that way.
To form the skirt, simply sew the two ends together to form a very big tube or circular piece. You need to put a small hem in the bottom of the unfinished sari fabric. Remember that you will need to finish off all the raw edges of the sari.
At the top of the fabric, fold over approximately 2.5 cm or 1 inch of the fabric to form a "tube" at the top to hold the elastic. Sew that in position. Measure the elastic that would be comfortable for your waist, thread it through, secure it, and voila! You have your unique skirt refashioned from a sari.
Making Wrap Around Skirts
If you have more advanced sewing skills, it is very easy to make wrap around skirts with old saris. Here you will also need approximately three times your waistline, once for the back and then twice the front to wrap over.
So basically take your waist measurement and then add the amount that you would like to cross over at the front. This would normally be about three quarters of the front to ensure that the two fronts wrap over one another.
To make the skirt wider at the bottom than at the top, you need to cut the back and the two fronts as separate pieces and at an angle. You can see that in the wrap around skirts from Darn Good Yarn.
You then need the fabric for the waistband and the extensions that are the straps to wrap it around and tie it. To make a reasonable bow, you need at least fifty centimeters for each strap. Making a double layer adds more color and variety to your project as well.
You can also find wrap around skirts made from silk on Amazon. This is the link here if you are in the UK or EU.
Now that you know what is a sari, and you have seen that you can refashion old clothes, I hope you will also try it and support those, like Darn Good Yarn, that are keeping products out of landfill. If you have any comments, suggestions of questions, please post them below and I will get back to you.