Sewing is not only a useful hobby, but it is fun and can also provide your with income. It's relaxing and creative while also being sustainable. Choosing your first sewing machine can be daunting. So I will endeavour to take you through the initial questions and options you may find useful, and to look at the best beginners sewing machine available for you today.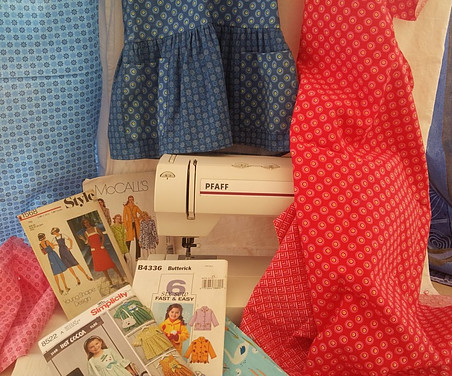 Creating something that is original and YOU, is possible if your have a sewing machine. Should you see a dress or garment that you really like, but don't quite fancy the fabric or colour – make it yourself. It becomes that easy!
Home sewing means you can create fashion items that are "tailor-made" to your body. These are generally far better than a "store bought" item of clothing. Being able to sew also enables you to copy and recreate designer dresses, and other items, at a fraction of the cost of the original.
So, whether you want to learn how to sew, or you already know a few "bits and bobs" and want to learn more, it always makes sense to have your own sewing machine. However, as always, with the wrong equipment any project can become slightly more difficult and more problematic, so it is important to get a few basics right.
Things to consider in a Beginners Sewing Machine
Many of these considerations are applicable for all levels of experience, not just beginners:
We all have a budget, so decide how much your can spend and if the price is value for money. Cheaper models are not always right for what your want. Often a higher price means that your get many more features that your might not use at the beginning, but in the long run would be very useful.
How powerful is the motor? Premium machines have more powerful motors and can easily work with different weight fabrics from lightweight to thick and heavy fabrics.
Ease of use eg. does it have a free arm for sewing sleeves and other small and tubular items?
Which functions are important to you?

variety of stitches – would basic stitches be sufficient or do your want a big choice of decorative stitches?
buttonholes – do you want a one-step buttonhole function or would making buttonholes in 4 steps be acceptable to you?
pressure feet – most machines come with a selection of different feet.
speed – can the machine be set to slow and fast or does it only have one speed? A slow speed option is often very useful for beginners.

What would you like to achieve or make? If you just want to do repairs and mending, then you won't need a machine with quilting and embroidery options. However, if you want to create unique articles then you need to look at more features in the machine that you select.
Bobbin position – are you happy with front loading or is top loading important to you? Personally I like top loading as it is easier to load and often you can see if the bottom thread is nearly finished.
Can the machine grow with you? As you learn more and become more creative, you might want to be able to do more. So additional features and accessories would be very useful.
Training manuals – does the manufacturer offer online tutorials or sewing classes?
Space and weight – how much space do you have at home and is it easy to transport if you are going to classes? If the machine is too lightweight and made from plastic, it will shake on the table when you are working. A metal machine is sturdier but also heavier.
Machine type – mechanical or electronic? With a mechanical machine all the basic stitch options, length and thread tension must be selected and adjusted by the user, which could be a problem for a beginner. Computerised or electronic machines are often more expensive, but it offers far more in terms of features. The many more options make it easier to operate and is often quieter and have better sewing speeds.
Choose a brand that is trustworthy and well-known. Look at reliable brands like Singer, Pfaff, Elena, Bernina, Brother, Husqvarna, Janome.
Guarantee – manufacturers normally offer a one year warranty but some come with a 25 year warranty.
You need to ask yourself the question: why do you want a sewing machine and what must it be able to do for you.
My personal selection would be one that will grow with you and is not "purely" for beginners. If you are looking for a Heavyduty mechanical sewing machine, then have a look at the Singer 4423.
Below are a few of the best beginners sewing machines:
1. Brother CS6000i Sewing Machine
Brother sewing machines have been manufactured for more than a 110 years and offer a range of stylish and innovative machines for all levels, from beginners to professional. The Brother CS6000i sewing machine is a fully computerised machine with an easy to view LCD back lit display, making it very easy and convenient to use.
Main Features:
Automatic needle threading and easy to follow threading diagrams.
Push-button sewing – stitches have automatic settings for width and length but the settings can also be changed manually.
60 Built in sewing stitches for different sewing projects including decorative stitches and seven one-step buttonhole stitches.
LCD display that makes it easy to view the stitches selected.
Sewing speed can be adjusted by using a slider, meaning you can preset the sewing speed.
Start / stop button means that you can ignore the pedal if you want to.
Needle Position Key – moves the needle to the highest or lowest position.
One of the fastest machines stitching up to a rate of 850 stitches per minute.
Has sewing and quilting features, meaning that this is a machine that can do basic sewing but also grow with you.
Built in free arm that allows you to easily sew cuffs, trouser hems and other circular items.
LED light
Lightweight – at 13 pounds for the machine, it is easy to carry around either at home or going to classes. The shipping weight is 18.7 pounds.
Comes with an extension table making it suitable for larger projects.
Accessories included:
It comes with nine presser feet including buttonhole, zigzag, overcasting, zipper, monogramming, blind stitch, walking, button and quilting foot.
Bobbins and needles.
Cleaning brush, screwdriver and seam ripper.
It comes with a hard storage case to protect it during transport and storage.
The Brother CS6000i sewing and quilting machine comes with a printed Quick Start guide, instructional DVD and complete instructions manuals in English and Spanish.
We do not recommend using this machine in countries that do not support 120V AC, even if a voltage adapter is in use. It also has a 25-year limited warranty, and free customer phone and online technical support for the life of the product.
I strongly recommend the Brother CS6000i as the best value for money.
2. Singer Stylist 7258 Sewing Machine
Singer started making sewing machines in 1850, so have been going for nearly 170 years. Singer is renowned for producing high quality and robust sewing machines. The Singer Stylist 7258 is a computerised machine with reliable smooth performance. It is easy enough for kids to use, but with extra features that is makes a great choice for the experienced seamstress as well.
Main Features:
100 Stitch options including basic, stretch, 76 decorative stitches and 6 one-step buttonhole styles.
The optimum stitch length and width are selected for you when your choose a stitch.
Adjustable stitch length and width allows your to customise your projects.
LCD screen displays the stitch selections and settings.
Self-adjusting tension system – the machine will automatically adjust the tension for the stitch that you select.
Free arm – simply remove the storage compartment, which makes it even easier to sew around cuffs and sleeves, trouser hems and other smaller projects.
Automatic needle threader.
Top drop-in bobbin makes it easy to thread and see how much is left on the bobbin to not run out in the middle of making a buttonhole or top stitching.
Needle position button can be set in 13 positions.
Presser foot has an extra high position to accommodate thick fabrics.
Speed control dial allows you to set the machine slower for more intricate projects and faster for sewing long straight seams.
LED lights on both sides of the needle give a clear view of the sewing area while eliminating shadows.
Programmable needle up/down for projects like quilting and embroidery.
Accessories included:
8 Snap on / snap off presser feet including: general purpose, zipper, buttonhole, satin stitch, blind hem, overcast, darning/embroidery and rolled hem foot.
Spool pin felts, thread spool caps and an auxiliary spool pin.
Bobbins (Class 15J) and a pack of needles.
Seam ripper, lint brush and screwdriver.
Darning Plate
Covering case
The Singer Stylist 7258 has a heavy-duty metal frame and comes with a 25-year limited warranty. The machine weighs 14.8 pounds and the boxed weight is 19 pounds. It costs slightly more than the Brother CS6000i, but has more features and stitch options and the fantastic top drop-in bobbin facility. This is where you can get your Singer Stylist 7258 at the best price.
3. Bernina Bernette B38 Sewing Machine
A Bernina sewing machine is Swiss engineering and they have been manufactured for more than 125 years. The name is synonymous with durability and quality. Bernina manufactures two ranges and the Bernette range is the more affordable range with many functions as standard.
Support and advice is available before your purchase and afterwards.
Main Features: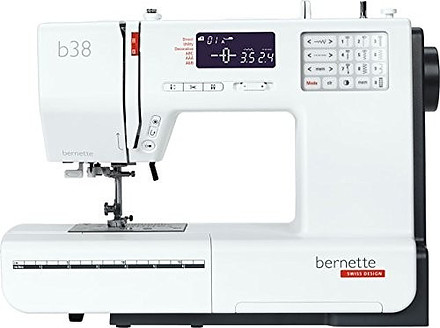 A choice of 394 stitches including eight different one-step buttonholes and 67 decorative stitches.
Foot pressure can be controlled.
LED sewing lights clearly light up the entire sewing area.
Speed regulator allows you to set and change the speed to assist when sewing curved seams and awkward positions.
7 mm stitch width
3 Alphabets
Top loading drop in bobbin system.
Automatic thread cutter.
Electronic / computerised machine
Facility to save stitch combinations so that you can reuse your previous selections.
Accessories included:
Eight presser feet: zigzag, overlock, zipper, satin stitch, button, buttonhole, open foot and foot for invisible points.
Assortment of needles.
2 small bobbin caps and 2 large bobbin caps, a second bobbin holder and 4 Bobbins.
Screwdriver, lint brush, seam ripper and bobbin net.
A hard cover to protect the machine during transportation and also keeps it dust free.
Removable arm
Rheostat
The boxed weight of the Bernina Bernette B38 machine is 10kg, making it a sturdy machine that is stable while sewing. You can purchase your Bernina Bernette B38 here if you are in USA. This is where you will find the best deal if you are in the EU.
4. Janome 2212 Sewing Machine
The Janone 2212 sewing machine is a lightweight machine with a shipping weight of 16 pounds.
Main features:
Mechanical sewing machine with a turn dial for stitch selection. 
12 Built in stitches including one 4-step buttonhole (no decorative stitches)
Front loading bobbin.
Vertical oscillating hook bobbin.
Push / pull bobbin winder.
Two retractable vertical spool pins.
Free arm for ease of sewing cuffs and circular items.
Manual tension control.
Extra high presser foot lift to make it easier to work with thick layers of fabric.
Drop feed for quilting and free motion sewing.
Manual stitch length adjustment to 4mm and width to 5mm maximum.
Accessories included:
Snap-on presser feet – blind hem, buttonhole and zipper foot.
Bobbin and needle set.
Screwdriver and seam ripper.
Vinyl (soft) dust cover.
Instruction booklet.
Additional accessories are available to be purchased, so compared with the other beginner sewing machines, the Janome 2212 have very basic features and accessories. This is a 110 Volt sewing machine so is only suitable for use in the USA. It has a 25-year limited warranty.
This is where you can get your Janome 2212 at the best price.
5. Pfaff Select 3.2 Sewing machine
Pfaff has been manufacturing sewing machines for more than 150 years, ranging from compact machines to big embroidery machines. They are synonymous with reliability and durability and offer a free support website. Pfaff sewing machines are precision made in Germany.
Main Features:
Original Integrated Dual Feed (IDT) System: This gives you even and perfect fabric feed from thin sheer fabrics to multiple layers of thick fabric.
Easy Select System for stitch options: by pressing a button your can choose 27 stitches from utility stitches, to stretch, decorative and buttonhole options.
Constant Needle Piercing Power: full piercing power and stitch by stitch control at any speed.
Bobbin winding: bobbin winds directly from the needle without having to unthread and rethread the machine.
Sewing speed: for more control over your sewing, set the speed with an easy slider on the foot pedal at either half or full speed.
LED lights: clearly illuminates the sewing area.
Adjustable needle positions and variable stitch widths up to 5.5mm.
Slender free arm: this allows you to easily sew sleeves, trouser hems and other tubular articles.
Accessories included:
Snap on/snap off feet: Standard pressure foot with IDT, Clearview foot, Blindhem / overlock foot with IDT, zipper foot with IDT and buttonhole foot.
High presser foot clearance.
Free motion sewing for darning and embroidery.
Edge/quilting guide, felt pad, extra spool spin, seam ripper (quick unpick) brush, bobbins and small, medium and large spool caps.
Comes with a hard cover to protect the machine during transportation and also keeps it dust free.
The machine comes with an instruction manual and online tutorials are available.
Additional accessories can be purchased so the machine can grow with you.
This is where you can buy your Pfaff Select 3.2 at your best deal if your are in the EU.
Summary of how to choose the Best Beginners Sewing Machine
At then end of the day, you still have the option to sell your beginners machine and upgrade to a machine with more functions.
These would be my top choices for the best beginners sewing machine, but you can click here for more options.
Please leave any questions or comments below and I will get back to you.