What is cupra and how is cupro made? Cupro, or sometimes called cupra, is the short term for cuprammonium rayon and is a regenerated cellulose fabric which is made from cotton linter, a cotton waste product. It is a vegan alternative for silk and if you are wondering what is Bemberg fabric, it is an American name for cupro material.
What is Cupra?
Cupro is made from cotton linter which is a waste product of cotton production. It is a regenerated cellulose fabric which is made from cotton waste, called linters.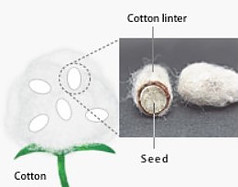 Cotton linters are the short, fine fibers that are left behind on the cotton seed after the ginning process is complete. Ginning is the process in cotton production that separates the long, staple cotton fibers from the cotton seeds.
Linters is like a fuzzy down and it is normally discarded. So it is a byproduct of cotton processing, but it is used to make a sustainable fiber. Read more about cotton production in this post on what is organic cotton clothing.
So cupro is a plant based material that is chemically processed to produce a smooth fabric. It therefore falls in the same category as viscose, rayon, lyocell, modal and Tencel (which is an American brand name for lyocell viscose)
Cupro is also known as cuprammonium rayon, ammonia silk, cupra and Bemberg fabric, which is a trade name that was registered in America. Cupro and cupra are the slang names that are used in the Chinese manufacturing facilities. Ammonia silk is not really a good ambassadorial name for a fabric, as you don't really want ammonia to be in direct contact with your skin.
China is the biggest producer of cuprammonium rayon and Cupro is also mixed with other natural and synthetic fibers to make the vegan alternative for silk. But how is cupro made?
How is Cupro Made?
The production of cupro is not really a simple process and is also not wholly sustainable. The strands that make up Cupro are tiny and too small to be spun and woven, which is why they are normally discarded.
These are the steps of what is bemberg fabric and how is cupro made:
A cuprammonium solution is used to purify cellulose.
Cuprammonium rayon is made by exposing the cellulose from the cotton to a mixture of copper and ammonium.
These two chemicals combine with the cellulose to form a new substance.
This mixture is put into caustic soda.
It is then extruded through a spinneret to get filaments.
The filaments are immersed in a series of hardening baths. The cellulose is regenerated in the hardening baths which remove the copper and ammonia and neutralize the caustic soda.
These baths can be used several times, but eventually it has to be disposed of.
But what is cupro used for and how sustainable is it really at the end of the day?
Properties of Cupro Fabric
The properties of cupro, this vegan alternative for silk, also make it ideal for designer resort wear women garments.
Cupro is light and breathable, making it a perfect option for the beach.
It has an elegant drape and luxurious look.
Cupro is a breathable fiber that has micro pores that absorbs moisture quickly and release it to the outside.
It has moderate moisture wicking abilities which regulates the body temperature by effectively reducing clinging and transporting moisture away from the skin.
Cupro has moderate heat retention abilities.
It has a high tendency to pilling and bubbling.
The fabric is reasonably stretchy and resistant to stretching out of shape at higher temperatures.
Cupro is hypoallergenic and anti-static
Garments made from cupro travels easily and is wrinkle resistant.
Cupro fabric care is simple as it can be machine washed and dried.
Cupro fabric is very fine with a very high thread count, making it suitable for lingerie, fine garments, shawls, evening wear, blouses, light and form fitting clothing. It is regarded as a vegan alternative to silk because of the fineness.
Advantages of Cupro
The material and processes of how is cupro made, have several advantages: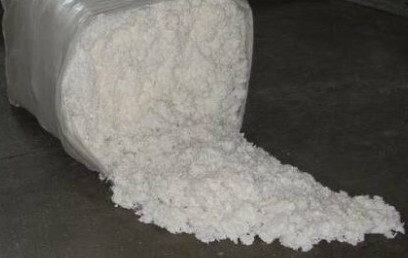 Linter, which is a waste product of cotton processing, is used to make cupro.
It is lightweight and breathable.
It easily mixes with other fibers and is often blended with cotton or linen.
Biodegradable, which is a big bonus in the current climate.
It is sheer and has good elasticity.
Hypo allergenic and anti-static.
It dyes fantastically and produces vibrant prints.
Cupro fabric care is easy as it is machine washable on a cold cycle.
Cupro is completely vegan friendly, making it a perfect vegan alternative for silk.
Much less waste water is created than with producing cotton.
Disadvantages of How is Cupro Made
Very harsh chemicals are used in the process.
It easily ignites at temperatures above 180°C.
It chars when it burns and leaves a coppery residue.
Only cold tumble drying and it can only be washed on cold.
Cupro gets very heavy when it is wet.
China has accumulated a large amount of waste at a low cost, and instead of looking for solutions to the environmental crisis, they are simply making money with waste products.
The Environmental Impact of How is Cupro Made
But is Cupro friend or foe? What is Cupra used for and is it environmentally friendly? The purpose of making Cupro is to reduce the amount of waste caused by the cotton industry, so in this sense, it is a positive development.
A closed loop manufacturing process is used, meaning that the wastage can simply be reused. This means the amount of resources that are used to create each garment, is reduced when more fabric is produced.
Cupro is a fabric that is very easy to dye and absorbs colors beautifully. The dyeing process for many fabrics is extremely wasteful and many harmful chemicals are used. So any improvement in the efficiency of the dyeing process, has a positive impact. Related posts: Fabric Dye: How eco friendly is it? and What is Fabric Dye?
It is biodegradable and easy to recycle.
But there are also negative aspects to what is cupra: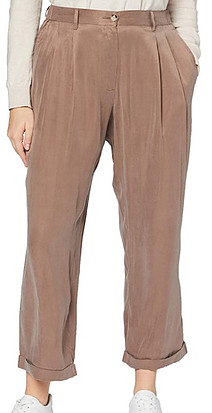 Despite using a waste product or recycled cotton, cuprammonium rayon has a large negative impact on the environment.
Copper, ammonia and caustic soda are all cheap materials, making it very inexpensive to produce cuprammonium rayon. These harmful substances are normally not disposed of safely. Related post: Beware of Toxic Chemicals in Clothes.
There are currently no certifications for cupro as it is a dirty process.
At the end of the day, the composition of cupro is cellulose fibers from cotton which has been exposed to copper, ammonia and caustic soda, to give you a man made semi synthetic textile.
So cupro really is a bit of a controversial fabric. It falls in the no-man's land between natural fibers and synthetic fibers, yet it is biodegradable and is made from a waste product. The harsh chemicals that are used, is what puts me off wanting to buy cupro clothing that has been made with Chinese cuprammonium.
But if cupro has been made with cotton and linen blends, then it is a different story and perfect for designer resort wear women clothing.
Cupro Fabric Care
How do you wash and care for Cupro?
Cupro is normally machine washable, but it is best to check the care instructions on your clothing.
Using a gentle cycle like wool or silk, will be gentle on the fibers and dye of your Cupro garments.
A cold cycle is advisable.
Keep away from high heat as it chars easily. Several brands are incorporating the vegan alternative for silk in their designer resort wear women collections.
Anemos Swimwear
Anemos Swim is an American label that is based in Southern California and garments are made in Los Angeles, USA. It was founded in 2018 by two designers, Lauren Arapage and Joshua Shaub, that wanted to create swimwear that is cool, but also classic. The impact on the planet is at the core of their production.
Inspiration for the line of swimwear and designer resort wear women range, came from one of Kate Moss's minimilistic dresses from the 90's. They originally designed under the name Anemone, but it has been re branded as Anemos, which comes from the Greek word meaning wind.
Their collection is meant to be mix and match and also to be combined with shorts, skirts and jeans. All fabrics are sustainable and they work with local, family-run factories in Los Angeles. This allows them to be closely involved in each step of their supply chain. In order to reduce the use of water, energy, chemicals and waste, every single stage of the production cycle is monitored.
Sustainable fabrics and practices that are used, include these:
Italian Sensitive Fabrics and Brazilian Amni Soul Eco fabric is used for swimwear. The materials are eco friendly and offer ultra violet protection of UV50+.
The designer resort wear women collection is available in Cupro and 4 types of cupro are used in the Anemos designer resort wear women:

Japanese Cupro is used for ready to wear. It is a sustainable vegan alternative for silk and this fabric is both vegan and Global Recycled Standard (GRS) certified. Cupro fiber is made in Japan to strict Japanese standards with absolutely no factory pollution. Only clean water systems are used, which means that nothing at all is released into the environment during production. To give it a super soft hand feel and a more matte finish, the Japanese cupro is sand washed. Sand washed Japanese cupro is 100% cupro.
Turkish linen cupro is a blend of 58% linen and 42% cupro. The linen cupro blend is more opaque than ramie and has a super soft and luxurious hand feel. It has a sophisticated look and is perfect for designer resort wear women, the beach and the city.
Also uses Turkish stretch cupro, consisting of 56% cupro, 40% viscose and 4% elastane. The stretch cupro has a super soft hand with elastane to hug the body. Cupro breathes well, thus making it the ideal fabric for bodycon styles that can be worn in warm weather.
And Turkish leopard print cupro, which is imported from Turkey. .
Ramie is also used for resort wear. Ramie resort wear fabric is made in Spain. The fabric is eco friendly and the highly sustainable fiber is an alternative to synthetic fabrics.
Eco friendly packaging and stationary from an officially certified LA Green Business is used. Packaging is 100% compostable, including a reusable mesh wash bag for washing swimwear and resort wear.
Ships with Anemos wash bag.
Nightswim uses Cupro Fabric
Nightswim is based in Los Angeles and focus on sourcing local materials to produce sustainable beachwear and towels. They use a factory in downtown Los Angeles that prides themselves on using high quality craftsmanship, with a strong ethical and sustainable ethos. They spent two years doing research, developing and testing on how to apply the principles of eco and ethical design.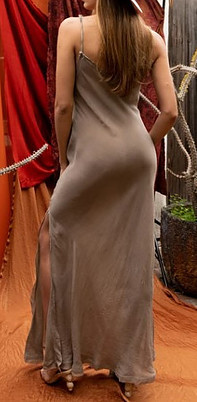 Sustainable fabrics and practices used by Nightswim include these:
Blend of recycled PET and organic cotton to make terry fabric. Recycled plastic bottles from post consumer waste is used as raw material. By blending it with natural organic cotton, it eliminates the synthetic feel. Organic cotton is responsibly grown and produced, without the use of harmful chemicals like pesticides and fungicides.
Supple soft challis is a woven fabric made with viscose (link viscose post), a natural cellulose fiber that comes from a renewable resource, namely beech trees. The cellulose fibers are bleached using an environmentally friendly bleaching method.
Cupro is used in the new PAUSA collection. Is a cellulose fiber, made from cotton linter, which is often discarded because of the small length of the fibers. It is basically a textile manufacturing waste, but the cotton waste is woven into a soft material. PAUSA collection is since 2020 made in the southwest desert of Texas.
Use azo free dyes that are free of toxic chemicals and heavy metals, so there is less grey water and chemical runoff into the environment.
Packaging is a bio cassava bag which is biodegradable and compostable, but can be used as a high performance bag for carrying weights.
Their collection cares as much about the environment as they care about the people who wear it.
Ayla Swim
Ayla swim was started by two friends, Kirsty and Heidi, and the range of swimwear and designer resort wear women dresses are made in two small boutique factories in Bali.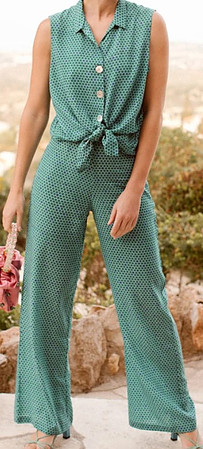 They produce separates that work together in many ways.
They are using cupro for sarongs, shirts and trousers in their Coral Collection. All pieces are made from Cupro, a sustainable fabric that is made from linter, a byproduct of the cotton production. This byproduct would normally be discarded.
The waste is minimized by using a closed loop production system to make the cupro fabric. Cupro looks, feels and behaves like silk.
The green brand Armour Vert is also using cupro in a few garments.
Sustainable and ethical swimwear is discussed in these related posts:
Final Thoughts on What is Cupra
Re purposing waste product from cotton production into a new product like cupro, is a great step towards reducing the textile manufacturing waste. Making Cupro is not an easy process, but the fine textile has a luxurious feel and is often used as a vegan alternative to silk.
Despite the chemicals and solvents that are used, many people feel that the environmental footprint of cupro is lower than synthetic materials. It is currently a solution to the textile waste problem when producing cotton. Cupro is a technological step in the right direction towards more circularity in textile manufacturing.
You can get Cupro clothing on Amazon by using this link if you are in the UK. And use this link if you are in the USA and are interested in exploring cupro clothing.
If you have any questions or experience about how is cupro made, the vegan alternative for silk, or what is cupra, then please leave your comments below and I will get back to you.