When my husband tore a brand new shirt, I decided to turn it into an upcycled clothing project. It was only the second time that he wore his new shirt, so there was nothing wrong with the fabric. Normally he would have worn the damaged shirt when working in the garden or doing dirty jobs around the property. Eventually, I would finally send it off to textile recycling.
But I thought: Why do you want to waste a lovely cotton shirt if you can upcycle it?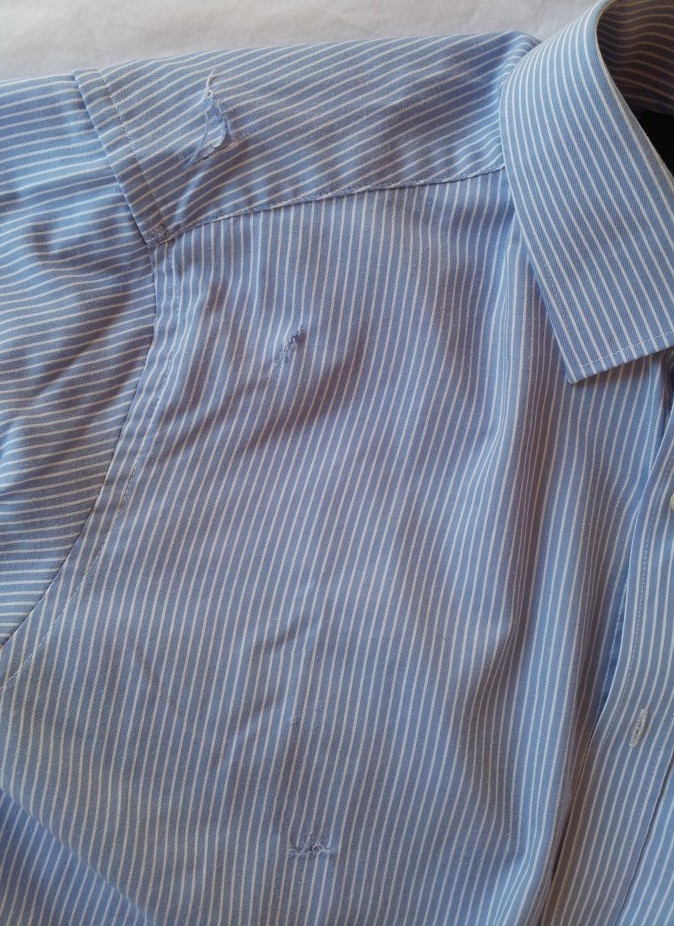 So the shirt was going to become a dress for our granddaughter.
But before we get into my project, I can hear you say "but what is upcycling?"
What is upcycling?
The definition of upcycling, according to Wikipedia is:
"Upcycling, also known as creative reuse, is the process of transforming by-products, waste materials, useless, or unwanted products into new materials or products of better quality and environmental value."
So upcycling is a form of recycling. And it is a way of processing an item to make it better than the original. It is taking pre-existing clothing, accessories and other items, and making new garments out of them.
Upcycling is the opposite to down cycling.
In the case of clothing, this is often taking something that doesn't fit anymore, and change it. It could be too small or too big, or is stained or torn, and re-fashioning a new article from it. Upcycling clothing is a great way to spruce up garments. And it can be done using either pre-consumer waste or post-consumer waste, or a combination of the two.
Designers are using both industrial textile waste and existing clothing to create new fashion items.
Upcycled clothing projects can also lead to creative ideas for Christmas gifts. If you need materials of inspiration for your project, visit the Knitpicks website to grab your crafting essentials.
Why do you want to upcycle?
There are many benefits to upcycling, including: 
Sustainability – by reusing slightly used fabrics and deadstock to create new clothing articles and garments, clothing and textile waste is reduced. Making just one cotton T-shirt requires over seven hundred gallons of water. Nearly no water is required to make something new out of a pre-existing T-shirt.
Eco-friendly – through upcycling, some of the 85% of textile waste that ends up in landfills, can be diverted and new garments created.
Environmental impact – because upcycled clothing uses significantly less raw materials, such as less water, fewer chemicals and less carbon emissions, it massively reduces the harmful impact of the fashion industry.
A Cheaper Wardrobe – upcycling can be less expensive, as most pre-existing or used materials are normally a fraction of the cost of virgin materials and textiles.
Uniqueness – upcycling requires creativity to envision the potential of existing materials to create something new and beautiful. This is illustrated in the use of old sari's, to make wrap around skirts.
How to upcycle a shirt into a girl's dress.
I was somehow limited and restricted by what I could do with the shirt, because of the damaged parts. But, I managed to work around it. (You will need a sewing machine for this project and this is where you can have a look at some) These are the steps I took in Upcycling the shirt: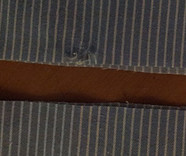 Layout and cutting: The first step was to avoid the tears, cuts and damaged sections and to cut the skirt part of the dress.
Laying out the pattern pieces to make the best use of the fabric and avoiding the damaged parts.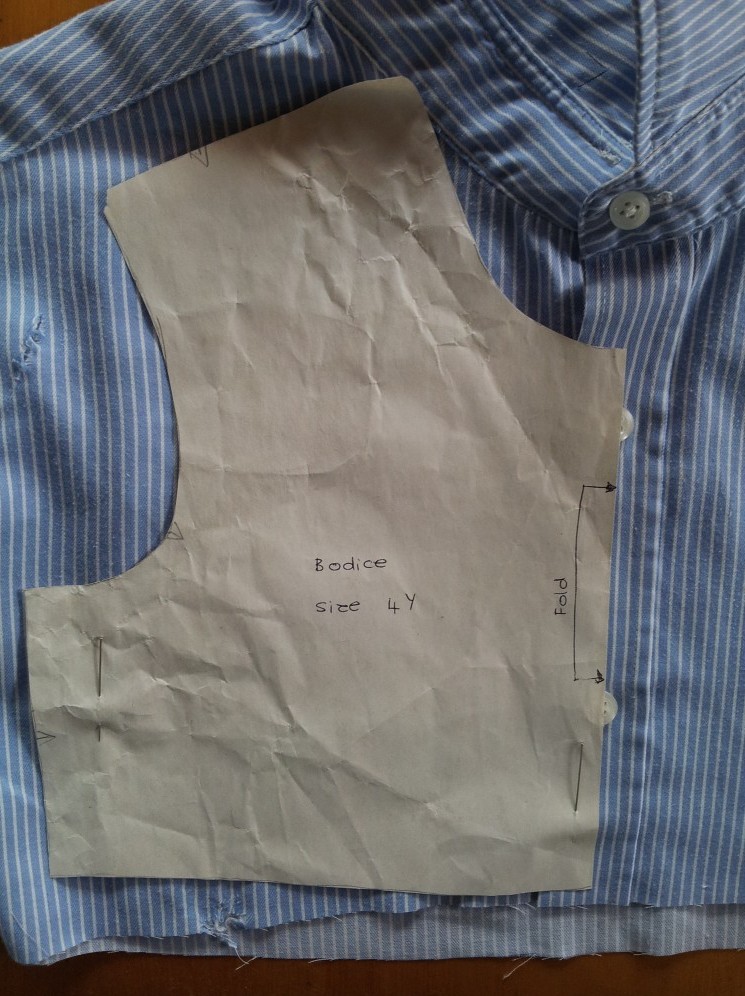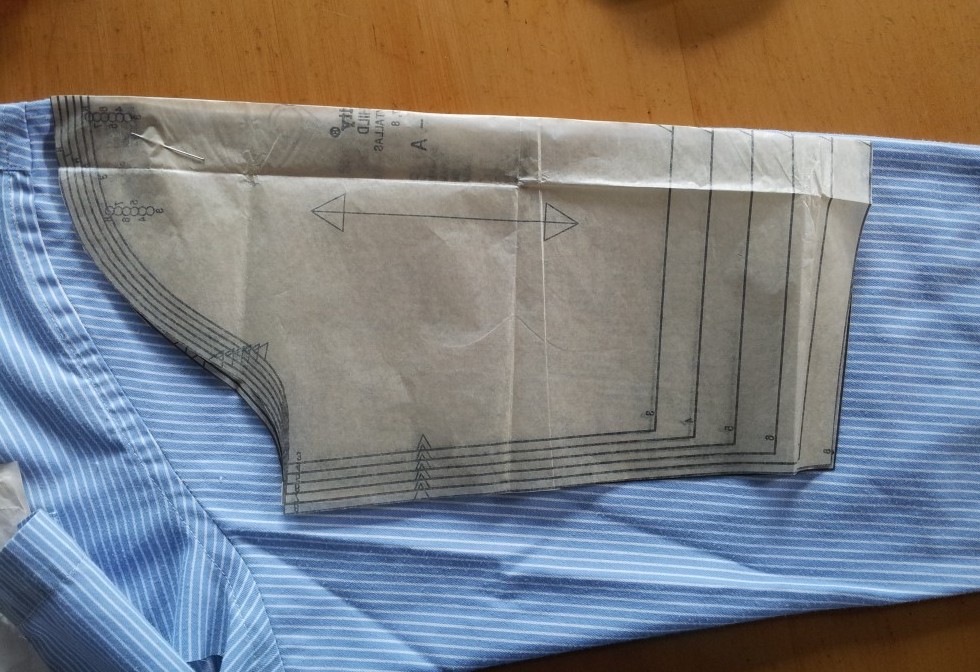 While cutting out the pattern pieces, I had to be careful to avoid the holes and cuts on the front of the shirt.
It also meant that I couldn't keep the collar as there was a hole on the shoulder that I had to avoid.
I cut a diagonal strip from next to the sleeve seam to use for finishing off the neckline.
I could position the bodice front in such a way that the buttons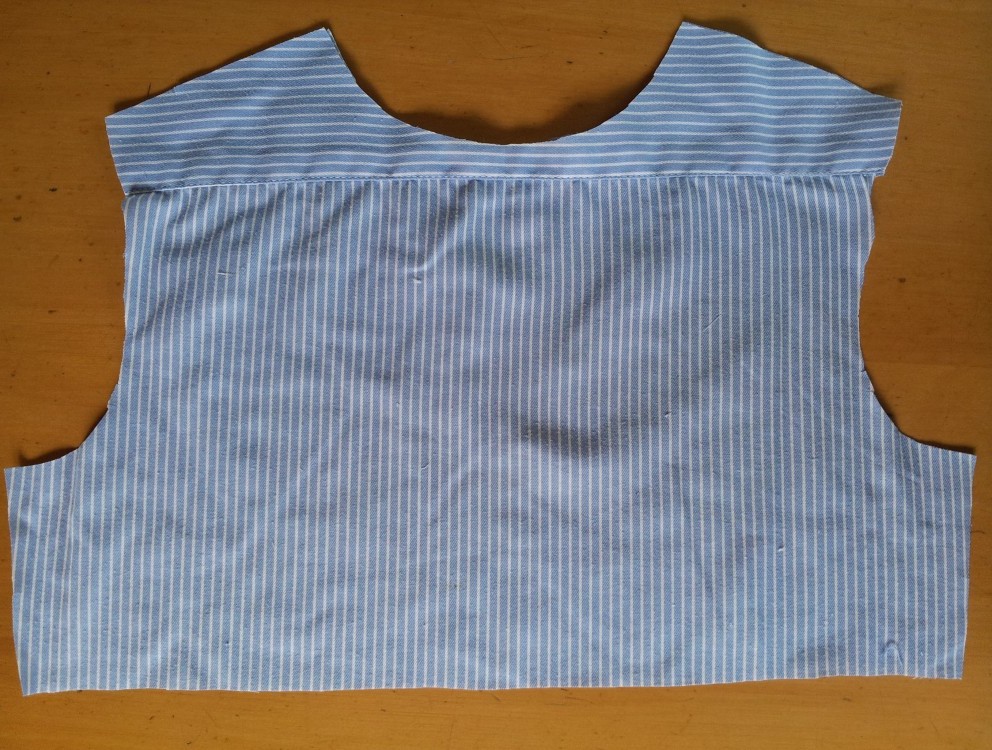 could remain in their places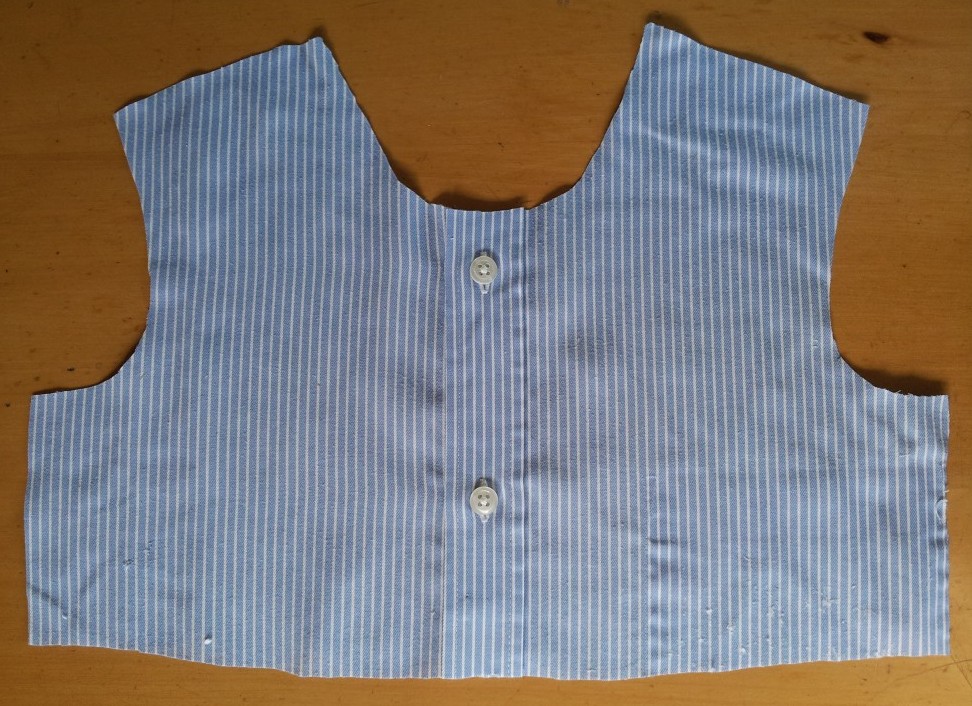 On the back you can see how I maintained the double yolk that you have in a traditional shirt.
Doing Stay Stitching 
Stay stitching: The first part of the construction was to do stay stitching around the neckline and armhole openings.
Stay stitching is to prevent the neckline and the armholes being stretched, when the sleeves are put in and the neckline is finished off. This is done on all curved parts to prevent stretching. This then provides you with a better finish.
Shoulder seams: The next step was to attach the front bodice to the back bodice at the shoulders.
Assembling the Dress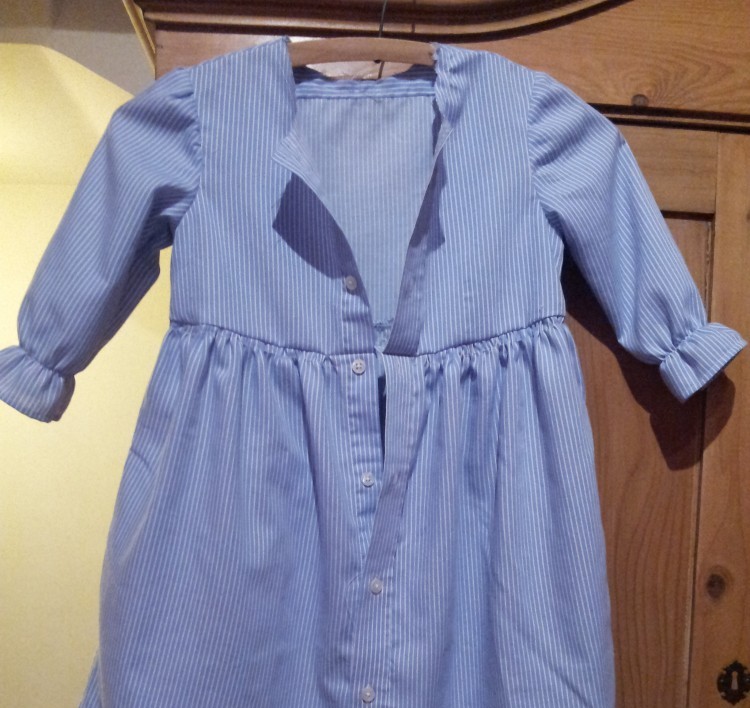 Attaching the sleeves: At first I couldn't decide if the dress should have sleeves or not. But I didn't want to waste the fabric, so decided to give it sleeves.
I find that attaching the sleeves to the bodice before sewing the underarm seams, is easier than trying to put the sleeves in after you have closed up the underarm sleeves. This is normally the case when working on small garments like a baby and toddler dress.
Therefore, because the pieces are quite small in a toddler dress, compared to an adult sized dress, the construction sequence needs to be changed to allow for the smaller pieces.
But to make it softer and more "girly" for our granddaughter, I didn't want to have cuffs. Eventually I decided on a three-quarter length sleeve with elastic that forms a ruffle.
Side and underarm seam: I put in the sleeve hem and sewed the elastic into position on the sleeves, before closing the underarm seam.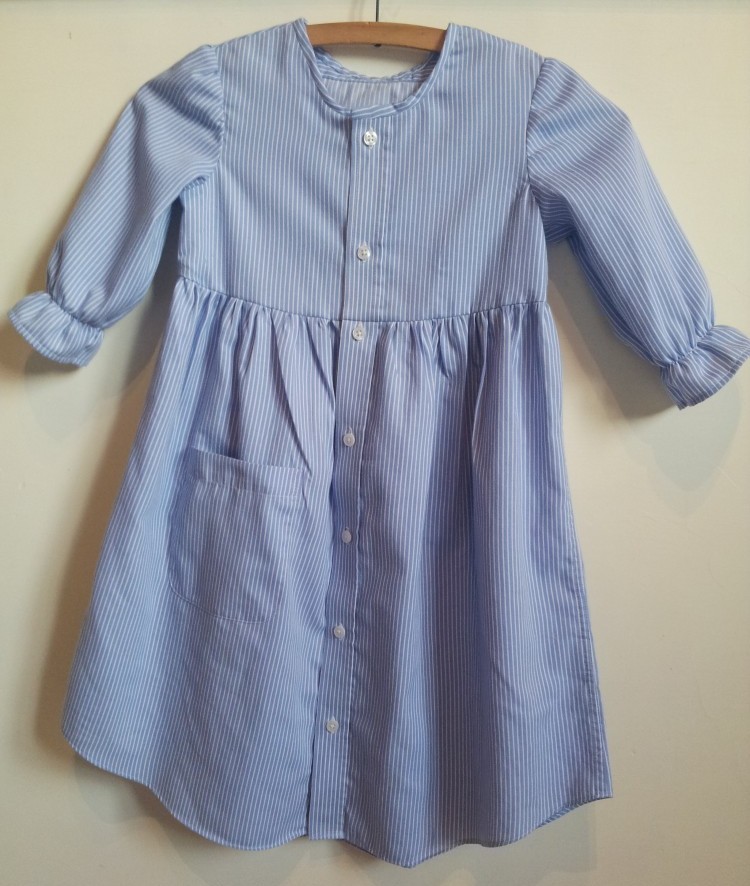 So the side and underarm seam was done in one.
Attaching the Skirt to the Bodice 
Attaching the skirt to the bodice: Before attaching the bodice to the skirt, I gathered the skirt.
The pocket also made it back on the skirt. I think most kids enjoy pockets where they can "hide" things. Being it a stone from the park, a pebble from the beach, or their favorite toy that needs a home while accompanying them.
I kept the curvy hemline that you normally have in men's shirts, which has added a lovely different look to the little dress.
Final Finishing 
Finishing touches: As I was doing the final checking, I noticed a tiny hole in the bodice which I had missed when I did the cutting. To hide the little hole, I then added a little bow. But then it looked as if it needed more than just the one. So I added another three bows.
The other three bows just balanced it out. And it also covers the tiny stitch marks that I could see from where I had removed the breast pocket of the shirt. This should eventually disappear once the dress has been washed and worn a few times.
I am very pleased with the way that my upcycled clothing project has turned out. Thus I also prevented a good garment from going to a premature end in recycling.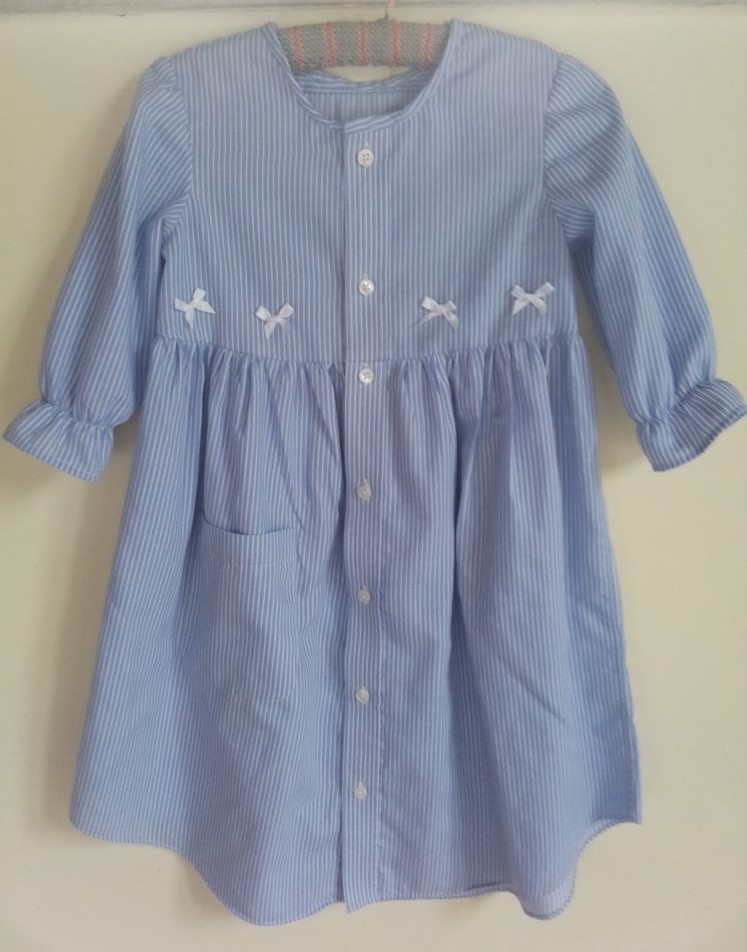 More Ideas for Upcycled Clothing Projects
The possibilities of what you can do with upcycling products, are almost endless. These are a few more ideas
A shirt can become a halterneck dress for a toddler
or a halterneck top for a teenager
A shirt can also become a skirt
If the cuffs of a shirt are worn through, but the rest of the shirt is still good, then turn it into a short sleeved shirt
An easy project is to take an old towel and add off cuts of fabric to make bibs for babies
Kids fall and tear their trousers on the knees – turn it into shorts or put decorative patches on them
Jeans or trousers that are too big – turn it into a skirt or a bag
Related Post: Refashion old Clothes: My Life Started as a Sari.
The Future of Upcycling
Upcycling is an eco friendly practice which has been done in developing countries for many years.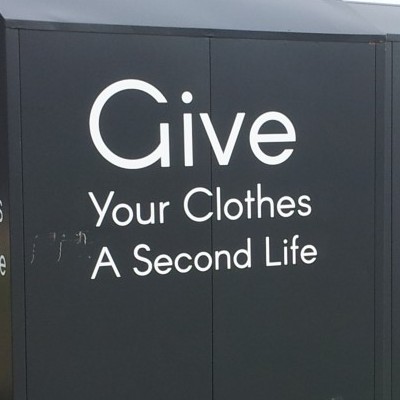 People in developing countries have been using clothing and other materials for new and different uses. This is often more because of need, than for environmental considerations.
Due to an increased interest and importance placed on eco friendly and sustainable products, upcycling has now taken off in many countries around the world. Upcycled products need to be affordable to the consumer, but also profitable to the manufacturer.
Upcycling can contribute to putting a circular economy in place and together with recycling of fabric, can reduce textile waste.
Wikipedia also describes it as "By definition, upcycling means increasing value to the original product. And this can be done by changing/adding a personal spin to the design or improving material quality or fixing broken clothes."
If you have any questions or suggestions about upcycling clothing, then please leave them below and I will get back to you.