Like adults, babies come in different shapes and sizes. This means that a certain design of reusable cloth diaper that works very well for your sister or friend, might not be the best for your baby. The design or type that is best for you will also depend on your lifestyle and budget. All diapering systems need an absorbent cloth inner and a moisture resistant or waterproof outer.
Guide To Reusable Cloth Diapers
These are some of the options that are available: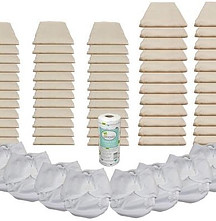 Flat Fold Cloth Diapers or Terry Cloth
These are the old-fashioned cloth diapers that have been used for many centuries around the world. It is a single layer of cotton cloth that is folded.
Flat cloth diapers are folded according to the size of the baby so one size fits all.
It is the cheapest option of cloth diapering and is still used in many parts of the world where there is limited access to a washing machine and modern facilities.
They can be hand washed and dry very quickly. They have many other uses like burping cloths or used for cleaning.
Prefolds
These are made from multiple layers of lightweight woven fabric. They have 3 panels and the center panel have extra layers for more absorbency. Most people consider that prefold diapers, together with diaper covers, are the most economical diaper system to use.
There are different types of material (unbleached or bleached cotton, organic cotton or bamboo cotton mix), sizes and layering available when choosing prefolds.

Fitted Cloth Diaper
A fitted cloth diaper is shaped to the baby's body, with elastic at the waist and the legs. It is made from absorbent cloth and can come in a range of sizes to fit different aged babies, or it can be a one-size diaper.
A contour diaper is normally shaped like an hourglass, but it doesn't have elastic at the waist or legs. Because a fitted cloth diaper is just absorbent cloth without a waterproof cover, it is easy to wash and get it spotlessly clean.
Cloth Diaper Covers
You need a waterproof cover that goes over the absorbent cloth diaper. It is made from a safe plastic covering which is attached to an absorbent lining, normally cotton.
Diaper covers can either be a wrap which is shaped, similar to the fitted cloth diaper, or it can be a pull-up. The wrap covers can be fastened with snaps or a hook and loop like Velcro.
They can be adjusted and fit snug round the legs and waist. Pull-ups are very quick and easy to put on. But has the disadvantage that it can become very messy if it is a poohy nappy that you are changing.
All In One Diaper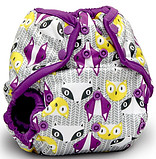 An All in One diaper has the multi layered absorbent cloth attached to the waterproof outer cover to form one integral unit.
The diaper is closed with snaps or a hook and loop system, so can be fitted to the size and shape of the baby.
For extra absorbency additional inserts can be added. Since everything your baby needs is wrapped up in this one diaper, they are extremely easy to use.
They are the first choice for parents on the go and carers. They act in the same way as disposable diapers in the sense that everything is one integral piece.
One Size Diapers
One size diapers are adjustable to fit any size child, with perhaps the exception of premature babies and toddlers that are ready for potty training. So as the baby grows, you can adjust the settings to make it longer and wider.
If your baby has chubby thighs or a very skinny waist or a big tummy you need to go around, a one-size diaper allows you to customise the fit to create a diaper that is just right.
Some brands will call these one size diapers Birth to Potty. If you are looking for a nappy that will fit your baby from birth until you start potty training, then this is the one.
Some people do find them quite bulky on a newborn baby, specially if your baby is very small. Most will be the best, once your baby is about 8 to 10 pounds/ 3.6 to 4.5 kg or more.
Having only one set of nappies will certainly save you money over the roughly 2 years that your baby will be using them. Some designs can be folded down to make it smaller for a newborn baby.
Pocket Diapers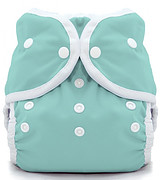 A Pocket Diaper is shaped and has a moisture resistant outer and an opening where the absorbent inner cloth can be slipped in.
Because you add the absorbent cloth to the diaper, it can be customised to your baby's needs and time of the day.
Extra layers can be added for nighttime or for heavy wetters. The inserts can also be washed separately from the outer.
All In Two Diapers 
All in Two diapers reusable baby diapers are also from birth to potty, but they have an absorbent insert that can be removed and washed separately. They are very similar to a Pocket diaper but don't have an opening for the insert.
Instead, the insert can normally be snapped onto the outer. There are different inserts available ranging from organic cotton to bamboo. A thicker more absorbent insert is also available for nighttime use, although it is bulkier than the daytime ones.
Newborn: If your baby is very small at birth (less than about 3.5 kg or 8 lbs) or premature, you can also look out for newborn diapers that are available from certain brands.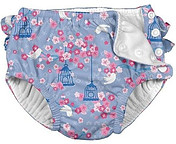 Swimming Diapers
Reusable swimming diapers have either snap down sides for easy removal or are pull-ups that will hold solids in. But, they allow liquids to pass through. Reusable swim diapers can either be worn under a swimsuit or in their own.
If you would like to know more about sustainable swim diapers, then please please visit this
Related post: What is reusable swim diapers?
Many parents say that using reusable baby diapers encourages early potty training.
Training Pants
Training pants can easily and quickly be pulled up or down. They give a toddler independence because they can learn to take them on and off on their own.
Training pants are somewhere between the absorbency of a cloth diaper and the freedom of underwear. The absorbent cotton in training pants is next to the toddler's skin, making them aware of when they are wet.
Many parents find that letting a toddler feel wet is a great motivator for using the potty or toilet. They don't like feeling wet, so they are eager to avoid wetness and use the toilet.
Disposable products pull moisture away from the toddler's skin and essentially remove this motivating factor.
Caring for your reusable baby diapers
Reusable baby diapers are washable. Remove any solid waste from the cloth or liner first. The diapers can then be put in a diaper pail or bucket and there is no need to add water to it. It is advisable to wash the used diapers 3 to 4 times per week to prevent odors.
The waterproof cover and the cloth diapers can be washed together. Turning an All in One diaper inside out before you wash it, often means that it is easier to get it clean and also dries quicker. Line drying is recommended by most suppliers, but if you do need to tumble dry it, use a low heat.
If you don't have the time to wash and dry your reusable baby diapers, you could make use of a laundry service. In certain cities or areas there are baby nappy services that specialise in laundering cloth diapers. In some areas you can also make use of rental services.
Conclusion
By using reusable baby diapers you are reducing your carbon footprint. To lower the overall impact of your cloth diapering you can buy organic cotton cloth diapers. This way you are investing in a more sustainable future for your baby and our planet.
When you are finished using your cloth diapers, they can be donated to be used in orphanages around the world. The flat cloth diapers can be used as cleaning cloths and if there is really no longer a use for them, it can be recycled.