Vitamin A, one of the sustainable women clothing brands, was founded by Amahlia Stevens, a California native, in 2000. They are based in Laguna Beach, California. They are one of the luxury bikini brands that produce women sexy swimwear, one piece swimwear for women over 50 and now also sustainable women leisure wear clothing.
The range of sustainable swimwear for women and bodysuits are locally designed and produced in California, with exceptional attention to detail. Their style is all about being effortless, while also naturally sexy, and has the laid back West Coast vibe that is part of their DNA.
Vitamin A combines feminine design with sustainable innovation, so sustainability and being sexy is possible with Vitamin A. The flawless fits and beautiful designs inspire women to feel confident and sexy.
All the collections are designed using plant based and recycled materials and they incorporate other sustainable materials like linen, organic and recycled cotton, Tencel viscose and recycled polyester fibers in their beachwear and women leisure wear clothing collections.
What makes Vitamin A Sustainable?
The luxury bikini brands Vitamin A follows and incorporates many sustainable and ethical practices and these are the main ones:
They use the EcoLux fabric, an environmentally and technically superior fabric, which is made from recycled nylon. So far they have already saved:

more than 2.5 million liters of water saved.
nearly thirty-five thousand kilograms of waste diverted.
almost 324,000 kg of emissions avoided.
more than one million kWh of energy saved

They are a member of 1% For the Planet, who helps to protect our oceans.
More than 95% of their items are made locally in California, including their textiles. They work with vertically integrated facilities whenever possible, so that all the processes from spinning to dyeing to knitting takes place in one location.
Because garments are locally made and sourced, it also dramatically reduce their carbon footprint with shipping and transportation.
Fair Trade artisans ethically produce their collections, while providing jobs with a safe working environment and getting paid a fair wage.
They are geared to reduce waste and energy.
Vitamin A gives back a portion of their proceeds directly to environmental organizations who help to protect our oceans.
They host beach clean-ups.
They have a commitment to the environment. Style and sustainability must go hand in hand and cannot be separated. This means eco consciousness is at the heart of everything they do, including fabric innovation and manufacturing, to packaging and partnerships. Vitamin A wants to reduce impact and raise awareness to generate change.
Vit. A Sustainable Textiles
Vitamin A uses some beautiful fabrics to produce the designer swimwear for women and women leisure wear clothing.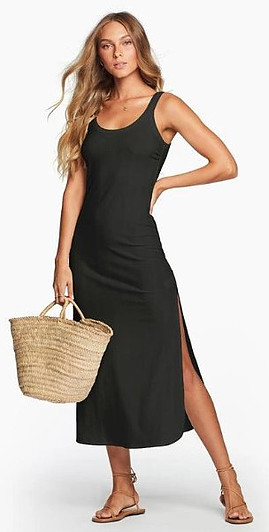 Many of the eco textiles and fabrics are sustainably made in California.
BioSculpt is a plant based fiber and the raw material is sourced from castor beans. It is an organic alternative to synthetic nylon, which is derived from fossil fuels. It contains extra nylon for strategic support.
EcoCotton is a blend of recycled cotton and Tencel viscose, a cellulose fiber. It is a lightweight and super soft knit.
EcoLinen is made from 100% linen, which is breathable, eco friendly and biodegradable.
EcoLux is a blend of recycled nylon and Lycra. It is a superfine matte jersey with superior stretch.
EcoTex is made from a blend of nylon and Lycra. It has a superfine and scrunchie texture and is sustainably made in California.
EcoRib is made from a blend of organic cotton and Tencel viscose with a touch of stretch. It is sustainably made in California.
Organic Rib is blend of Tencel viscose, organic cotton and spandex. It is used for textured ribbed beachwear and is super soft. GOTS certified organic cotton is used, and it is OEKO-TEX certified, which is non-toxic and uses low impact dyes. It is sustainably made in California.
Variegated Rib is made from recycled nylon scraps. The ribbed stretch fabric is sexy, flatters the body and is lightweight and breathable. Every meter of fabric that is produced, saves 33 liters of water. It is sustainably made in California.
Metallic is made from a blend of nylon, spandex and metallized polyester. The jersey stretch is silky soft.
Latest Fabrics Additions
The latest two eco textiles and fabrics that have been incorporated into the Vit. A sustainable women clothing brands range, are EcoSoft and Clean Cashmere.
1. EcoSoft: Vitamin A has just launched a new range of lounge wear, called Eco-soft, made from hemp and organic cotton. EcoSoft is a plant based fabric made from hemp and organic cotton, which is lightweight, breathable and plastic free. EcoSoft is used to make jumpers, crew necks, fleece hoodies and jogging pants.
2. Vitamin A Clean Cashmere is a fresh take on cashmere and is sustainably made in California from recycled Italian yarn. It is using a closed loop water saving process and it consists of 95% recycled cashmere plus 5% wool. Clean Cashmere is three times warmer than virgin wool, and is biodegradable and hypoallergenic.
Recycled clean cashmere is super soft. The soft wide rib fabric is used in a V-neck sweater and pants and is priced at $225 and $250 respectively. It has a boxy, slightly over sized fit and is available in grey or cream and in sizes XS to L.
Clean cashmere garments should only be dry-cleaned.
Vitamin A Women Leisure Wear Clothing Collections
Vitamin A originally started as one of the luxury bikini brands that only produced swimwear, but over the more than twenty years since they were founded, the range has been expanded. It is one of the sustainable women clothing brands that also includes accessories and women leisure wear clothing.
Vit. A collections include sustainably produced luxury bikinis and swimwear and a range of lounge wear. All the swimwear is manufactured in the USA, using recycled nylon and water conservation efforts.
Vit. A Designer Swimwear for Women
EcoLux, a superfine matte jersey swimwear fabric that is locally produced in California, is used by luxury bikini brands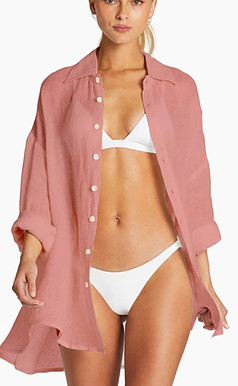 to produce one piece swimwear for women over 50. It uses recycled nylon fiber and Lycra Xtra Life fiber to extend the life of each swimsuit far beyond that of traditional spandex products.
Sustainable swimwear for women are made with 84% EcoLux recycled nylon and 16% Lycra. The factories use water and electricity conservation technologies and prints use waterless digital technology.
The swimwear product range comprises bikinis, one piece swimsuits, beach wear, cover-ups, wraps and accessories, including hats and tote bags. With the bottoms you can choose from full coverage, cheeky bottoms or classic bottoms.
Swimwear sizes run on the small side and as it is smaller than expected, it is best to go for a bigger size. I am a 34B and would normally buy a small, but as I do not like a body that feels as if it is too short, I went for the Medium, which is perfect for me.
The designer swimwear for women over 50 pairs well with an eco linen shirt. The rating for swimwear: 4.5 / 5.
Vitamin A sustainably made swimsuits are on the higher end of the price range with most bikini tops and bottoms priced at around $100 to $110 and one piece swimsuit from $180 and more for the coolest models in luxury bikini brands.
Vit. A Women Loungewear
Women leisure wear clothing range includes dresses, bodysuits, jumpsuits and rompers, pants and shorts,
tops and tunics, and different textiles are used for different styles and designs.
Lounge wear is made with plant based BioSculpt fabric that provides support and shaping. It has good stretch and is soft. Tank tops, shorts, leggings, bottoms and are available in several colors and styles with tops from $135, shorts from $125 and leggings from $160. Sizes 4/XS to 14/DD.
The BioSculpt leggings are soft and stretchy, with very few seams, making them great for working out, or dress them up with a sweater or shirt.
EcoLinen is used to make shirts, skirts and dresses with shirts starting at $120, skirts at $130 and dresses in EcoLinen from $150.
EcoSoft is used for crew necks, hoodies, joggers and jumpers and are available in sizes 4/XS to 12/D/XL.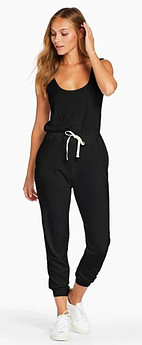 It is made up of 60% organic hemp and 40% organic cotton, which will shrink when it is washed. Although it has a medium fit, it is best to size up if you want to have a relaxed fit.
The plant based EcoSoft fleece blend is compostable and biodegradable. It absorbs carbon dioxide though photosynthesis, thus making it carbon negative. The production requires half as much land and water as conventional cotton production, and no pesticides, herbicides or fungicides are used.
The EcoSoft women leisure wear clothing is available in black, ecru and sunkissed pink. Crew necks are priced at $95, joggers at $110, hoodies at $115 and the jumpsuits at $150.
You can also shop Vitamin A by fit or collection, which would be clean cashmere, EcoSoft lounge, plant based Sculpt and Organic Rib lounge, which makes it very easy to find your perfect Vitamin A women leisure wear clothing.
Caring for Vitamin A Swimwear
The best way to care for your Vitamin A sustainable swimwear for women from one of the best luxury bikini brands, is to rinse it in cold water after you have been swimming, or wearing it. Use an eco friendly bikini cleaner and hand washing it, is best to make it last many years. If you do wash it in the washing machine, slip it into a Guppyfriend washing bag.
When you wash anything made from synthetics, it unfortunately sheds microfibers, even if it is made from recycled fibers or plastic waste. Using a Guppyfriend washing bag will prevent micro particles from entering the waste water and ending up in our seas and oceans.
Final Thoughts
Discover more sustainable swimwear for women in this post on 9 Swimwear Brands that are swimming towards Sustainability. You might also be interested in the Best Ethical Swimwear for Women.
If you are looking for swimwear for men, explore the options in Best Swimwear for Men from Ocean Plastic Waste. More related reading: 6 Fashion Brands that Produce Clothing from Recycled Plastic.
If you have any questions or suggestions about luxury bikini brands and women leisure wear clothing from Vitamin A, then please leave your comments below and I will get back to you.