Maximize your summer fun with natural rubber flip flop sandals and thongs. Spring is here which means that summer is just around the corner, so it is time to get the summer clothes and shoes out. There is no better time than now, to update your summer wardrobe with an eco friendly pair of flip flop thongs.
The smart choice for flip-flops is natural rubber and you are sure to find a true treat for your feet amongst these brands.
What are the Properties of Natural Rubber that make them Perfect for Footwear?
Natural rubber comes from the rubber tree Hevea Brasiliensis and harvesting the latex through a process called tapping, does not harm the tree. Discover more about the process in this post on latex vs rubber is it the same thing.
Natural rubber is biodegradable,
Rubber trees are sustainable and environmentally friendly,
Because it is a natural product, it can be completely recycled.
Natural rubber is strong and flexible.
The natural elasticity of rubber means that flip flops mold to the contours of your feet, making them extremely comfortable.
It conforms to the unique curves of your foot, so you get targeted support where your feet need it.
Natural rubber has long-lasting durability.
It is water resistant and flip-flops can be washed and will dry quickly.
Natural rubber is much softer and more comfortable than synthetic rubber.
It is naturally non-slip.
Rubber is a poor conductor of heat and electricity.
Non hazardous natural product.
Synthetic rubber on the other hand comes from petrochemicals and is not sustainable. It does not degrade and is harmful to the environment. So make sure you choose flip flop thongs that will not only look after your feet, but are also kind to the planet and the people that make them.
Look out for these brands that produce natural rubber flip-flop sandals:
1. Havaianas
We cannot talk about rubber flip flops without including the much loved brand which is hand made in Brazil from natural rubber gum.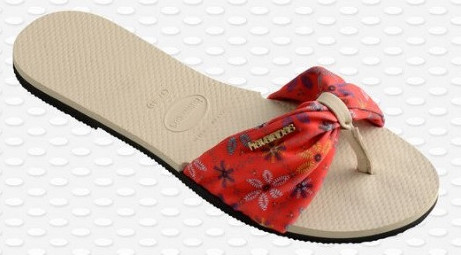 Havaianas was started in 1962 and the name is a Portuguese word which means Hawaiians. The Japanese zori sandal, which has soles made of rice straw, was the inspiration for Havaianas. Hence, the texture pattern of the Havaianas foot bed that looks like rice grains.
The rice grain texture of the rubber sole is still one of the unmistakable design details of Havaianas footwear.
The shape of the sole was patented when competitors started copying the popular flip-flops. Originally Havaianas was only available in blue and white, but gradually different colors were added to the range.
They started producing floral prints on the inside of the sole and gradually added more colors and designs to the range.
Today Havaianas are sold in more than sixty countries around the world and the range includes a slim platform, slip-ons, flip-flop thongs and flip-flop sandals.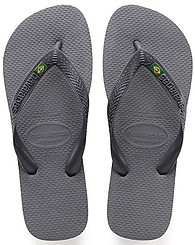 There is a more feminine line with a slimmer sole and thinner thong straps. The rubber flip flop sandals also have a strap around the back of the foot.
The Havaianas St Tropez model that is pictured above is a dressier option than the traditional flip flop thongs that are synonymous with summer spirit around the world.
Casual sneakers and espadrilles with the sole of the traditional rubber flip-flop, was launched in 2010, and in 2015 a range of clothing was added to the Brazilian product range. You can get a pair of the popular Havaianas on Amazon.
They support projects for the conservation of biodiversity through collaboration with Conservation International. It is an environmentally and socially responsible company
2. Waves
Waves is inspired by the ocean, so it is very important to them not to leave a negative footprint.

Their flip-flops are made from real natural rubber that is tapped in Sri Lanka.
They work with expert rubber tappers and master artisans and ensure that each pair of flip-flops are ethically made. Employees are provided with equal opportunities and fair wages.
The Waves  flip flops have durable thong straps and anti slip soles and are available in about forty different styles. Collections include essentials, favorites, tapered and two folds for men, women and unisex models.
The flip-flop thongs are fully recyclable and is recycled in Sri Lanka where the flip-flops are made. You can return your flip-flops to Waves in the USA and they will send it to Sri Lanka to be recycled.
At less than $20 a pair, they are very affordable. You can browse the range of Waves rubber flip flop sandals here .
3. Olli
Olli was started by two sisters who didn't want flip flops made from Styrofoam and harmful chemicals.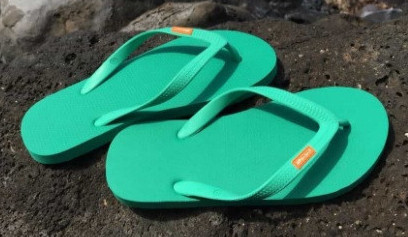 They use one hundred percent natural rubber that was harvested on fair terms and where workers are paid a fair wage.
This is another brand that uses natural rubber that was tapped in Sri Lanka. Olli is a member of the Fair Rubber Association and partnered with the Sri Lanka branch to provide education and safe working conditions to the workers. Their flip-flops are safe for the people that make them, as well as for the environment.
Olli is a very affordable brand and is available on Amazon for less than $ 20 a pair. After originally only offering flip-flops, they have added organic cotton drawstring bags and grocery tote bags to their product range.
4. Musewear
Musewear is an American company that makes rubber flip flops thongs from 100% soft Brazilian rubber, which is super soft, high quality rubber.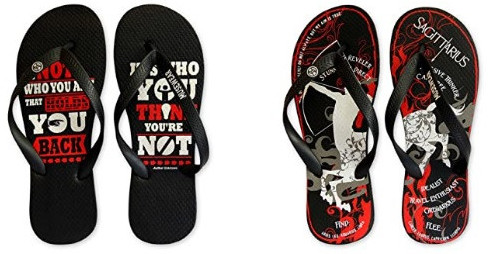 The funky unisex flip-flops have super thick soles with lots of cushioning. They are recyclable and are a hundred percent ethically made.
They work with an ethical factory in Brasil that recycles the materials that are left over from the manufacturing process, into new flip-flops.
The company describes them as "a real thinking person's flip flop". A pair of Musewear flip-flops certainly looks unique in that they feature inspirational quotes and all twelve Zodiac star signs. The SunSignSoles range has very original artwork and each pair depicts a different Zodiac star sign.
Musewear encourages the users to recycle their flip flops through Uniqueco.
They donate fifteen percent of their profits to charitable causes that help the planet and its people.
5. Planet Flops
Planet Flops was founded by a chiropodist in Berverley Hills, California in 2008, after discovering FLOPS, that are made in Brazil. They are made from natural Brazilian rubber and is one of the most comfortable flip-flop sandals available.

Natural rubber construction provides a firm but comfortable platform and has increased flexibility and cushioning for your feet.
Flops are available in sizes for men, women and kids and an array of beautiful colors.
A tree is planted for every pair of flip-flops that is sold. You can recycle their flip-flops and they will give you a 10% discount voucher if your return your flip flops to be recycled with them.
6. Feelgoodz
Feelgoodz produces artisan crafted rubber flip flop sandals and slippers and it uses sustainably produced, all natural rubber from Thailand. The products all start life at a rubber farm in Thailand, which provides fair trade and vital economic opportunities for the local workers.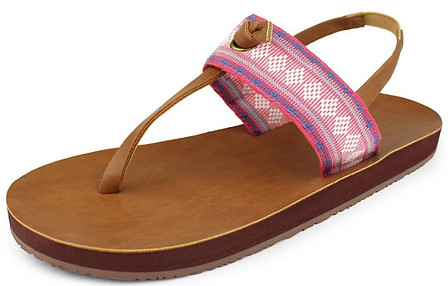 Natural rubber is harvested in Thailand and Vietnam. The natural latex that is derived from the rubber, has incredible cushioning properties, making the flip-flop sandals extremely comfortable. Latex is blended with cushioning materials and natural links. Classicz is the original rubber flip-flop hand crafted in Thailand.
Natural products include vegetable tanned leather upper and natural rubber mid sole and out sole. Woven textiles are used for slippers and flip-flops.
They practice conscious sourcing to help the craftsmanship of global artisans. Artisans in communities around the world produce hand woven textiles, using hand dyed yarns, that are woven on traditional looms. This is a very important economic activity for the rural communities.
Vegan leather, made from long-lasting polyurethane, is replacing the real leather, to make completely vegan flip-flop sandals, but I would avoid the Topics model as it has a virgin polyester strap which is not sustainable.
Feelgoodz contributes a portion of their proceeds to environmental efforts. Each pair supports the rural rubber farmers and artisan weavers. You can buy your pair on Amazon at the best prices.
More brands that incorporate recycled rubber in their flip-flops.
We have discussed brands like Indosole, Ecoalf, Subs, Gumbies and Solé that make flip flop sandals from recycled rubber and brands like Etiko, Rothy's and Veja that produce footwear from recycled materials, but here are some more brands that incorporate recycled rubber in their flip flop sandals.
7. Guardians of Our Future
Guardians of Our Future is based in New South Wales, Australia and was started by a lady that had been working in the fashion industry and was also helping youngsters that were at risk and disadvantaged women.
A combination of part FSC certified natural rubber and part recycled rubber is used to make the blended recycled rubber flip-flops. Sustainably harvested materials are used and a Fair Trade facility in Sri Lanka produces them.
They will re-recycle your flip-flops into furniture if you return it to them.
8. Sole Rebels
Sole Rebels was started in 2005 with the aim to use ecological materials and provide employment for local people.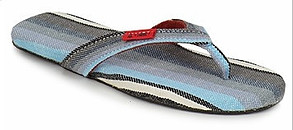 The Sole Rebels flip-flop thongs are one hundred percent hand crafted by artisans in Addis Abeba, Ethiopia.
They use discarded vehicle tyres to cut the soles for flip-flop sandals and shoes that they make.
For the uppers they use a combination of sustainable materials, including organic, recycled and bio-based materials.
9. Whaletreads
The Whale Company is a registered charity in the UK with a mission to conserve and protect the environment. They encourage innovative solutions to problems, such as plastic pollution, to lead us to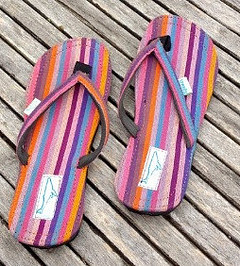 a more sustainable world.
Whaletreads are their flip-flops, which are hand made in Kenya, from recycled vehicle tyres. Inspiration came from the Masai warriors that have been making footwear from old tyres for many years. The tyre tread soles are combined with either a plain hemp fabric or soft, stripy kikoy fabric for the top, that gives them their stylish appeal.
Hemp is an extremely sustainable and durable fabric, so the fabrics are hard wearing and most importantly, environmentally friendly. Kikoy is the attractive cotton fabric that is used to make Kenyan sarongs. The flip flop thongs have a soft material between the toes for comfort.
The Whaletreads for women have a thinner strap than the men's, but otherwise they are unisex. Every pair is unique so each pair will look slightly different, especially the stripy kikoy ones.
10. Chaco
Chaco is an American brand, based in Michigan, that was started in 1989. They make flip flop sandals and hiking sandals that provide good foot support for all your outdoor activities.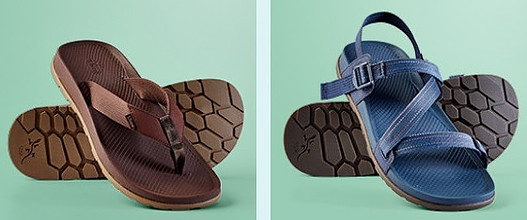 They are available in a variety of fits, styles and colors, suitable for the entire family.
Recycled rubber compound makes up twenty-five percent of the "Eco Tread" sole. Since August 2019 Chaco is replacing the Eco Tread with Playa Pro, which is more robust and uses a new tread called ChacoGrip Plus. It has a mid sole which is a bio-based polyurethane made with 22 percent soybean oil.
Eight simple pieces make up the sandal, with the z-type strap that is fully adjustable. The iconic sustainable sandal now uses e.dye, which is an ecologically conscious dyeing method which is completely water less, thus saving thousands of liters of water. Amazon offers a wide choice of the different styles.
ReChaco repair service will do whatever is required to keep your pair of Chacos for longer. They will resole them, or shorten and fix the straps, replace buckles, anything to repair them and keep them going for a few more years.
11. Rider
Rider was founded in Brazil more than 20 years ago.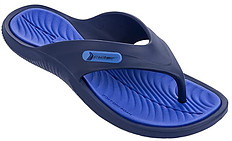 Their flip flop thongs has a rubber sole combined with EVA soft dry foam technology and is water friendly.
Rider uses between fifteen and thirty percent recycled materials to make their flip-flops. Nine hundred and sixty tons of waste material is recycled every month and 99% of the industrial waste that is produced by Rider, is either reused or recycled.
Amazon has a range of Rider flip-flops at good prices.
Their products are 100% recyclable and they will also accept your old flip-flop sandals and thongs and will recycle it. It is used in applications like flooring for kiddies playgrounds.
12. Reef
I will mention Reef flip-flops here because they are a popular brand,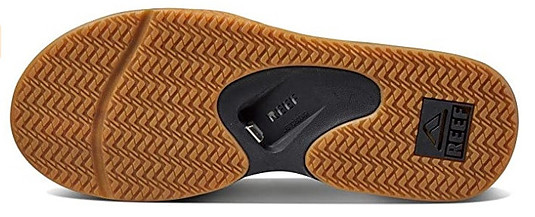 but they don't tell us enough about the materials that they use. The flip flop sandals have a rubber out sole, but with that it has a synthetic EVA construction and many of the models have virgin polyester thong straps.
There is no indication whether the rubber sole is natural or synthetic, which often means it is not natural rubber.
The brand embraces spirit of freedom and a love and lifestyle of beach living. This can be seen in the bottle opening technology that is incorporated in the sole of the men Fanning sandal.
Reef is the only brand that has a bottle opener embedded in the sole of a sandal. They are available on Amazon.
Discover the best brands for flip-flop sandals that use recycled rubber and look after our oceans by keeping waste from our waterways in this post.
I hope you will find your favorite pair of rubber flip flop sandals amongst these brands that use natural rubber, but if you do have any comments or questions, leave them below and I will get back to you.