The high speed Singer heavy duty 4423 mechanical sewing machine is built with a sturdy metal frame, powerful motor and stainless steel bed plate, making it a true workhorse. It has a motor that is sixty percent stronger and is perfect for sewing all types of fabrics, from sheer lightweight fabrics to heavy duty canvas textiles.
You can sew almost anything with this machine, from denim to delicate silk, look not further than the Singer 4423 sewing machine to fulfill all your needs and the singer 4423 sewing machine manual will take you through all the steps that you need to get started.
It is suitable for beginners or experienced crafters alike and perfect to sew a variety of projects including fashion garments, quilts, home furnishings, craft projects and more.
Singer is a trusted and reliable brand that has a long history of innovation. It is one of the world's leading sewing machine manufacturers and was founded in 1851. If you are looking for an automatic or computerized sewing machine, then look at these possibilities.
We will first look at the main features, (which should answer many of your questions), and then we will look at the most frequently asked questions in Singer 4423 sewing machine reviews.
The Main Features of the Singer 4423:
23 built in stitches – including 6 basic stitches, 4 stretch stitches, 12 decorative stitches a 1 buttonhole stitch.
Automatic needle threader means you can easily and without any effort or strain on your eyes, get the thread through the eye of the needle.
The path or steps to thread the machine is printed on the machine, so it is easy to follow.
The high speed machine has a top speed of 1,100 stitches per minute.
The motor is 60% stronger so it is much more powerful to sew through thick seams.
It has a heavy-duty metal interior frame and a stainless steel bed frame.
Drop feed for free motion sewing
Adjustable pressure on the presser foot. By the adjusting the pressure on the presser foot, fabrics from lightweight silks and cottons, to heavyweight canvas and denim, can be sewn.
Top drop in bobbin is convenient and easy to insert and remove the bobbin. The clear view cover makes it very easy to monitor the amount of thread that is in the bobbin, so you will not run out of the bottom thread when you are halfway through sewing a buttonhole or doing top stitching.
Fully automatic one step buttonhole.
Free arm – removable extension table also serves as a storage area for accessories and makes it easy to sew tubular sections like cuffs and trouser hems.
Adjustable stitch length and stitch width
Automatic reverse – press the button and sew in reverse and reinforce stitches.
3 different needle positions with 6 mm stitch width.
Extra high presser foot lifter is ideal for when you are sewing very thick fabric or many layers.
Snap on presser foot is easy to remove, it snaps on and off.
Built in light
The combination of the strong powerful motor and high sewing speed means the machine can effortlessly sew through a variety of thick fabrics. Long lasting stability is provided. So from fixing your favorite pair of denim jeans or making a new winter coat, the Singer 4423 is your prime choice.
Designed with your heavy-duty projects in mind, but still suitable for sheer and lightweight projects, you can tap into your hidden creativity when you purchase this machine. The Singer 4423 sewing machine manual will run you through all the essentials to get you started.
It is an excellent machine for quality stitches at high speed, so check the price and availability on Amazon here and if you are in the UK /EU, this is you best price.
Accessories
When you buy the Heavy duty Singer 4423 sewing machine, you get a variety of accessories that are included and are stored in a removable sewing tray: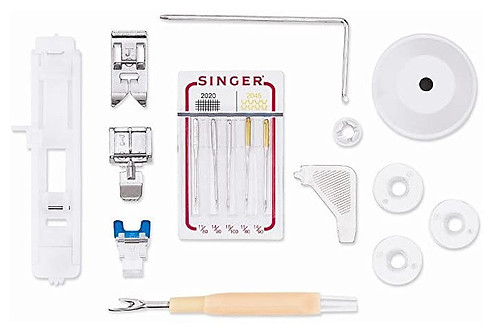 All purpose foot
zipper foot
buttonhole foot
button sewing foot
seam ripper
lint brush
quilting guide
needles, bobbins and screwdriver
auxiliary spool spin and spool pin felt
It is all conveniently stored in the accessory tray. Included in the packaging is also a soft dust cover.
Optional accessories can be purchased separately and these would include:
satin stitch foot
overcasting foot
hemming foot
cording foot
blind hem foot
quilting / straight stitch foot
gathering foot
darning / embroidery foot
even feed foot
twin needle
Let's look at the most commonly asked questions that people have with Singer 4423 sewing machine reviews.
Can you adjust the length and width of the stitches?
The length of the stitch needs to be adjusted according to the thickness of the fabric that you are sewing.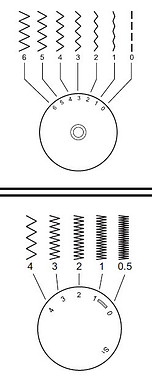 Generally speaking, a thicker needle and a longer stitch is used when sewing heavier weight fabrics. When sewing lighter weight fabrics, a shorter stitch and a thinner needle is used.
Stitch length and width are important when doing zig zag stitching. The density of zig zag or decorative stitches increases, the shorter the length of the stitch. Dense zig zag stitches are called satin stitch.
A simple turn of the dial is all that is needed to adjust the width from 0 mm to 6mm, and straight stitches from short to long. Being able to adjust the dials gives you more possibilities to be creative. The look of the inbuilt decorative stitches will also change according to the stitch length and width that you choose.
Make sure you choose the right needle for the thickness of the fabric, as sewing denim and upholstery will require a thicker needle than silk and chiffon. It is best to use a special leather needle when you are sewing leather items.
Amazon has the best price for this machine, so check the availability here.
Which fabrics can I sew?
You can sew practically everything with this machine, from denim and corduroy, to cotton and delicate silk, to leather or upholstery fabrics, the possibilities are endless.
Some people have had problems with sewing heavy and thicker fabrics like felt, but the overall reviews are positive and in favor of the Singer heavy duty 4423 sewing machine to sew heavyweight textiles.
It is crucial to change the stitch width and length when you work with different textiles.
Can I adjust the tension of the thread?
Yes you can, the tension of the thread can be adjusted according to the thickness of the fabric that you are sewing. The bobbin tension for the lower thread is set at the factory, so this is not something that you normally need to adjust.
The tension for the top thread is easy to adjust. By moving the dial, you can set the tension for the best sewing results.
How fast is the machine?
The speed of 1,100 stitches per minute is much faster, and nearly double the speed, than the average machine in the range. Most other machines in the mid range can only sew at a speed of 500 to 600 stitches per minute.
How easy is it to use the machine?
The many features of the Singer heavy duty 4423 sewing machine make it very easy and convenient to use.
Automatic needle threader
Top drop in box for bobbin
Snap on and off presser feet makes it quick and easy to change feet
Extra high presser foot lifter
Reverse stitching
Control speed through foot control pedal
On board storage for accessories
3 needle position from left to center to right, to match your requirements when doing top stitching or putting in zippers or cording.
Free arm
Adjustable stitch length and width
Is it automatic and can I program the machine?
The Singer 4423 is a straightforward mechanical sewing machine with manual dials and buttons. So there is no selection of programs required and stitch length and width need to be adjusted manually.
There are no complicated computerized features, but automatic needle stop position would be useful.
How many stitches does it have as standard?
The machine comes with 23 built in stitches, which include 6 basic stitches, 4 stretch stitches, 12 decorative stitches a 1 buttonhole stitch. More stitch options are available on different models, so check out the other possibilities here.
Is the presser foot flexible?
The pressure of the presser foot is set at the factory, so it should not need any adjustments. If it does need to be adjusted, the screw to change the pressure can be turned with a coin.
How many feet are included as standard accessories?
There are four feet included with the standard accessories, and these are all-purpose foot, zipper foot, buttonhole foot and button sewing foot. Additional presser feet can by purchased separately and there are another nine available. (please see the available list above)
How easy is it to carry it around? 
The machine weighs 14.5 pounds and has a shipping weight of 17.1 pounds, so it is easy enough to carry it around the house if you do not have a permanent work station.
If you travel with the machine in a car, you might want to look at a sturdy carrying case to protect the machine against knocks. It comes with a dust cover, but not a carrying case, so these are also available from Amazon. You have the option when you buy your sewing machine, to get the sturdy carrying case at the same time.
Is it made well enough to be really heavy-duty?
The heavy-duty machine has a metal structure, which is far better than a plastic frame. The bed plate is stainless steel. The machine is stable because of the heavy metal structure and will not move around on the table when you start sewing very quickly.
The internal metal skeleton has less wear and tear than plastic ones, so will last you longer.
According to Singer, the motor is 60% stronger than similar standard models, but I could not find any competitive ratings to substantiate the claim. Some reviews questioned the durability of the model as a heavy-duty machine, but the overall reviews indicate smooth operations and happy customers.
Is it a noisy machine?
All machines make a noise when you are operating them, but for a heavy-duty fast machine, it is surprisingly quiet. Nobody has complained of excessive noise.
The foot control pedal is quite sensitive, so you can be gentle on the foot pedal as it does not take heavy pressing to achieve high speed. After using the machine for a while, you will learn how much pressure to exert on the pedal that it doesn't fly away with you.
Is the light bright enough?
The inbuilt LED light is bright enough that you do not need additional light so see the sewing area.
What are the pros and cons?
The main advantages of the Singer 4423

There are many time saving features, as discussed above.
It is suitable for both beginners and experienced seamstresses
Regardless of the fabric weight, quality stitches are achieved

The main disadvantages of the Singer 4423

The defective warranty is only valid for 90 days, so it is very important that when you receive the machine, that you put it through its paces and try to test all the possibilities.
It is a manual machine, so be aware that it will not automatically stop at the end of a procedure like making buttonholes, so watch out to avoid bunching at the end .
The machine doesn't have a big range of decorative stitches or working with stretchy fabrics. A larger model would give you more options.
Is there a warranty?
As with most electrical products these days, the machine comes with a 25-year limited warranty, so make sure you understand what is covered and the period of time.
The sewing machine head has a warranty of 25 years limited warranty.
A 2-year warranty for electronic components, motor, wiring, speed control, stitches and assembly of the light.
Only 90 days for belts, bulbs, rings, attachments and adjustments. So a manufacturing defect will only be covered for 90 days for free parts and labor, after 90 days you will have to pay for labor.
Warranty only covers household use, not commercial use, so be aware of that if you are undertaking commercial assignments or employ somebody to sew for you.
The warranty is not transferable, so if you buy a second-hand machine, the warranty will be null and void. So only opt for a second-hand machine if you can get it at a real bargain price.
Is there a Training Manual?
When you buy a Singer Heavy Duty 4423 sewing machine, you will be provided you with an extensive Singer 4423 sewing machine manual. This takes you through all the steps of setting up the machine.
From how to thread the machine and all the way through to troubleshooting. The quick start guide will show you through diagrams, how to thread the machine and prepare the bobbin.
The detailed instructions in the manual should have you set up quickly, and there are many YouTube videos available to help you along. Singer has their own training video that will take your through all the steps.
My Verdict
The Singer Heavy Duty 4423 machine is an economical basic model. It might not have the range of stitches that larger models have, but quality stitches are achieved on all weights of fabric. If you would like to consider a machine with more stitches, then have a look at the Singer heavy duty 4452 sewing machine.
It is worth the investment to spend a little more for a machine that will last a longer time.
Where can I buy the Singer 4423? You might be able to get it at your sewing machine dealer, but it is no surprise that this is the top selling sewing machine on Amazon and at the best prices. Please use this link if you are in the UK.
I hope the Singer 4423 sewing machine reviews has answered all your questions, but if you do have any comments or queries, please leave them below and I will get back to you.