Yoga is becoming more fashionable. You can respect the planet with these best yoga clothes brands, while at the same time making your yoga sessions chic, sustainable and ethical, wearing organic cotton yoga clothes. Sporty chic outfits for yoga give you the perfect match between style and fit.
Clothing for yoga must be comfortable and made of natural fabric, with organic cotton and bamboo being the top choices for organic yoga clothes. Being at peace with your inner self and doing good for the planet, go hand in hand.
Organic cotton is grown without the use of any harmful pesticides and toxic chemicals. This protects not only the cotton pickers and farmers, but also the local wildlife.
Growing organic cotton requires dramatically less water than conventional cotton farming. There is a big reduction in water pollution because no toxic waste is produced. Organically grown cotton also produces 46 percent less carbon monoxide emissions.
So organic cotton has numerous advantages over conventional cotton. Organic cotton looks like conventionally produced cotton, but it is softer on the skin and kinder to the environment.
Read more about organic cotton production and the benefits of organic cotton in this article. Let's explore the best yoga clothes brands that use organic cotton for their sporty chic outfits for yoga.
This post contains affiliate links and I will be compensated if you make a purchase after clicking on my links, without any additional cost to you. It helps me to maintain this website and bring you more eco friendly and sustainable news.
1. Soul Flower
Soul Flower is one of the best yoga clothes brands that want to promote a positive, peaceful and eco friendly lifestyle through funky clothes. The Boho Hippy organic clothing brand was founded by Mike and Peggy in 1999 and is based in Minneapolis, USA.
The range includes clothing and accessories for men and women and a beautiful range of organic clothing for babies and kids. Organic yoga clothes include yoga clothes for women and hemp yoga pants for men.
The organic cotton yoga clothes are made with an amazing organic cotton and spandex blend, consisting of 87% organic cotton and 13% spandex. It has been designed with just the right amount of stretch and flow.
The sporty chic outfits include yoga pants, leggings, tops, fitted cropped tank tops, racer back tanks, sports bras, bralettes and many more. Organic cotton leggings are long, stretchy and luxurious and perfect for teaming with your favorite dress or for hitting the yoga mat.
Prices for Soul Flower organic cotton yoga clothes range from
$30 for fitted cropped tank top,
$38 for an organic bra to
$44 for organic cotton full length leggings.
$62 for hemp yoga pants for men.
Organic cotton is GOTS certified and made in the USA. Leggings are available in sizes Small to XXLarge. Items are Fair Trade certified and ethically made in the USA, except for the hemp yoga pants for men. These are ethically made in Nepal, using a blend of 50% viscose, 30% hemp and 20% cotton.
The hemp and viscose blend allows ease of movement and a softer feel when doing yoga poses. It is also perfect for lounging, dancing or just wearing them around town.
A variety of green practices that they follow, include using recycled products, low impact dyes, citrus solvents for cleaning, printing in small batches for less waste and running a green office.
Caring for your Soul Flower organic yoga clothes: machine wash on cold and line dry or tumble dry on low. Explore the full range of Soul Flower organic cotton yoga clothes here.
2. Organic Basics
Organic Basics is a Copenhagen based brand that was founded by four friends in 2015. The brand specializes in underwear, everyday basics and active wear for men and women. They are all produced with more sustainable methods.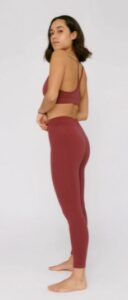 Sustainability is at the core of what Organic Basics do. They are a carbon neutral brand and the organic cotton yoga clothes are ethically made in Europe. Only organic, recycled and eco friendly materials are used.
Materials and technology are two of the most important parts when it comes to the sustainability of products. Fabrics for the yoga clothes for women are hand-picked by Organic Basics, on the basis of the environmental footprint and durability of the material.
They only use Class A and B fibers as they look for the most responsible technology and material available. That means only low impact textiles that are natural, recycled, renewable and biodegradable, are selected. The yoga clothes for women are available in organic cotton, Tencel lyocell and recycled nylon.
Organic Basics are a certified B Corp company and a member of 1% for the planet. The range include bralettes, invisible bras, workout bras, hipsters, leggings, shorts and more. Prices for Organic Basics yoga clothes range from:
€50 for a sports bra
€60 for yoga shorts
€75 for full length leggings
Save on the garments, when you buy them in packs. With every purchase from one of the best yoga clothes brands, you will be supporting a range of environmental causes. You will be helping to restore biodiversity, combat climate change and empower communities. Organic Basics do ship internationally.
Read more about the sustainable practices used by Organic Basics, in this post on the Best Women Underwear Brands.
3. People Tree
People Tree is a British brand that was founded by social entrepreneur Safia Miney in 1991. They have been a pioneer in sustainable Fair Trade fashion from start to finish, and each product is made to the highest environmental and ethical standard.
Collections feature organic cotton, Tencell lyocell (viscose) and responsible wool. They make yoga clothes for women and underwear with organic cotton, which is extra soft. Their yoga clothing is the ultimate fusion between function, fashion and Fair Trade.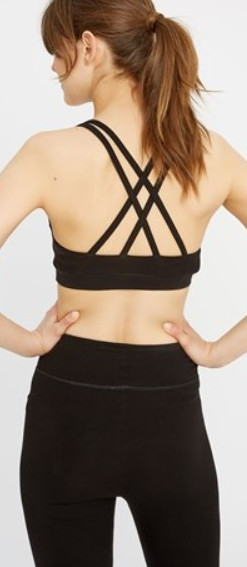 The range is very comprehensive with yoga leggings, cropped leggings, cross back top, crop top, racer back vest, yoga vest, and many more. Crop tops and vests are made from supportive and thick organic cotton, which supports and sculpts your bust.
It is 95% GOTS certified organic cotton and 5% elastane.
The weight of the fabric makes it non-see through and comfortable.
5% elastane allows for movement and stretch and therefore suitable for a wide range of physical activities.
The thick high-rise waistband of the leggings has a new and improved fit that sculpts and supports your core.
Pieces are functional, yet stylish, with reinforced seam detail. They do use polyester thread.
Yoga cross back top is priced at £10.91, vest £13.50, cropped leggings at £18.85 and full leggings at £39.95. Best to wash you People Tree garments on a cool or cold setting and use a gentle, non-bleach branded washing powder.
Sustainable Practices People Tree Use
Sustainable practices include these:
Organic cotton is grown without harmful and toxic synthetic chemicals and additives and the methods used have a low impact on the environment.
Systems are in place to maintain and replenish soil fertility and build biologically diverse agriculture.
Low impact dyes, which are free from harmful azo chemicals, are used.
They avoid plastic and toxic substances as far as possible.
Traditional artisan skills such as hand weaving, hand knitting, hand block printing and hand embroidery, are used. Thus also creating employment in rural areas where work is often scarce.
Recyclable plastic packaging is used to protect the products from moisture damage during transit. The polypropylene plastic is also biodegradable and free of butylated hydroxytoluene (BHT)
They work with Assisi Garments, who set up the company to provide training and employment for deaf, mute and economically disadvantaged women. It is a social enterprise in India, where skilled artisans transform the organic Fair Trade cotton fiber into beautiful garments.
They do ship internationally and you can use this link to shop the whole range of  organic yoga clothes for women.
4. Beaumont Organic
Beaumont Organic is a British clothing company that was started in 2008 producing organic clothing. They create contemporary conscious clothing for the modern woman. Their range includes, clothing, home ware, accessories, underwear and nightwear and also yoga clothes for women.
Organic cotton yoga clothes are ethically made in Portugal, from a blend of 95% organic cotton and 5% elastane. The range includes a yoga bra (£55), yoga tops ($45), leggings (£65), and sporty chic outfits like a bat wing top (75) and harem trousers (£90). The organic yoga clothes are super soft and easy to move in, whether for a yoga workout or everyday wear.
Organic cotton is at the center of their collection, but they also use bamboo for leggings and cropped vest tops that are perfect for yoga and Pilates or other light workouts.
The bamboo fabric is a blend of 85% bamboo, 10% polyamide and 5% elastane, which is super soft to touch. Eco bamboo fabric is breathable, resistant and extremely soft against your skin. Tops are priced at £30.
Organic cotton is GOTS certified to ensure that no harmful chemicals, pesticides or genetically modified organism (GMO) seeds are used.
Caring for your Beaumont Organic sporty chic outfits for yoga: garments are machine washable, but always read the care labels to ensure you are using optimum measures to look after your organic cotton yoga clothes.
Beaumont Organic do ship internationally and have free shipping on orders over a minimum value, which varies depending on where you are in the world. Use this link to shop the full range from Beaumont Organic, one of the best yoga clothes brands.
5. PrAna Revolutionary
PrAna is a North American company that was started by Beaver and Pam Theodosakis in 1992 in Carlsbad,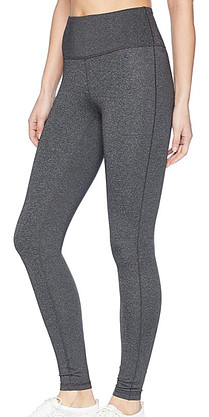 California with yoga and climbing clothes as the first production. The word prAna comes from Sanskrit and means breath, the life-giving force. They work very hard to incorporate sustainable and innovative fabrics and practices lessening their impact on the planet and improve performance.
They now do a full range of yoga, climbing, hiking, traveling and active wear for men and women. Materials used include organic cotton, recycled wool, responsible down, hemp yoga pants for men, and also recycled fabrics in their range .
The sporty chic outfits are perfect for yoga sessions or on a hiking trail. Choose from bralettes, crop tops, tank tops, leggings, long sleeve and short sleeve tops, flare pants, capri pants, 7/8 leggings and many more.
Depending on which style you choose, these are the fabric choices available for yoga clothes for women:
Recycled polyester blend 1 x 1 compression stretch rib is used for leggings. 1 x 1 compression means it is highly elastic and always retains its shape and structure. Fabric consists of 42% recycled polyester, 42% polyester and 16% spandex.
Bralettes and bra tops are made with 88% recycled polyester and 12% elastane. The recycled polyester blend of performance stretch jersey is moisture wicking. The fabric is sustainable and up to 2,000 chemicals were kept out of the manufacturing process.
A recycled nylon blend lightweight stretch interlock with moss face finish is used for leggings plus size. It consists of 76% recycled nylon and 24% Lycra elastane.
Prices for yoga bras start at $49, shorts at $59, and leggings start at $75. Sizes are available from XXS to XXL.
Farms and production facilities are Fair Trade certified, ensuring workers are all paid a fair wage and they have safe working conditions.
You can get PrAna hemp yoga pants for men by using this link.
Related posts where PrAna is discussed: 10 Best Organic Cotton Jeans Brands and Best swimwear for men from ocean plastic
6. Vege Threads
Vege Threads is an Australian brand that is ethically manufacturing swimwear and organic cotton yoga clothes. For the organic basic collection, they work with yarn and the organic cotton jersey is knitted and dyed in Melbourne. It helps to keep the supply chain transparent and reduce the environmental impact by using local production facilities.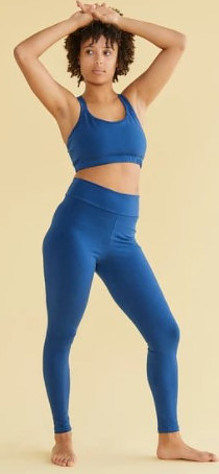 Organic yoga clothes use GOTS certified and organic yarn and 80% of it is locally made in Melbourne. Colors are dyed using Australian Certified Organic (ACO) dyes. For limited editions they also do small batch dyeing at a local mill that use non-toxic dyes.
Vege Thread fabrics that are used by one of the best yoga clothes brands, are these:
Organic cotton (GOTS) knitted and dyed in Melbourne. Organic cotton is farmed naturally without using pesticides and harmful chemicals. This means organic cotton is softer and cleaner, and is less likely to cause allergic reactions than conventionally grown cotton.
Hemp is knitted in China and dyed in Melbourne. Hemp is an eco friendly crop grown without chemicals and fertilizers. The hemp clothing is durable and will soften over time and has a very high UV resistance.
100% Merino wool is also used.
Australian Certified Organic (ACO) dyes, a certified non-toxic dye is used for dyeing organic cotton jersey. The dyeing facility recycles the waste water to a high standard and dye waste water is used to fertilize crops nearby.
Yoga clothes for women include bralettes starting at AUD $85, crop tops at AUD $85, yoga shorts at AUD $75 and yoga leggings at AUD $95.
The full length yoga leggings has a high rise and a wide, supportive waistband and gusset that allows for a smooth fit and freedom of movement. It is made from a medium weight blend of 92% organic cotton and 8% Lycra and available in sizes XS to 3XL.
Vege Threads have accreditation from Ethical Clothing Australia for their commitment to transparency and an ethical supply chain. They embrace the shift towards slower living. They care about the environment and use local production. Everything is made in Australia, using organic and eco friendly materials.
Final Thoughts
It is possible to have sporty chic outfits for yoga with these best yoga clothes brands that are placing equal value on people, products and the planet. Vitamin A  produce sustainably made yoga and leisure wear clothing using recycled nylon and natural fibers.
Underwear for yoga and active wear is discussed in this post on 5 Best Men's Eco Friendly Underwear Brands.
Interesting statistics on the popularity and practice of yoga, is shared in this post: 20 Inspiring Yoga Statistics Canada for 2021.
If you have any experience or suggestions for other brands for organic cotton yoga clothes or hemp yoga pants for men, then please leave them below, and I will get back to you.