""""
As the environmental impact of fast fashion becomes more and more clear every day, designers, and sometimes even mainstream brands, are exploring how to create stylish pieces from a variety of eco-friendly, sustainable materials. Slow fashion is a concept that encourages mindful consumerism as a response to the waste and pollution that fast fashion causes.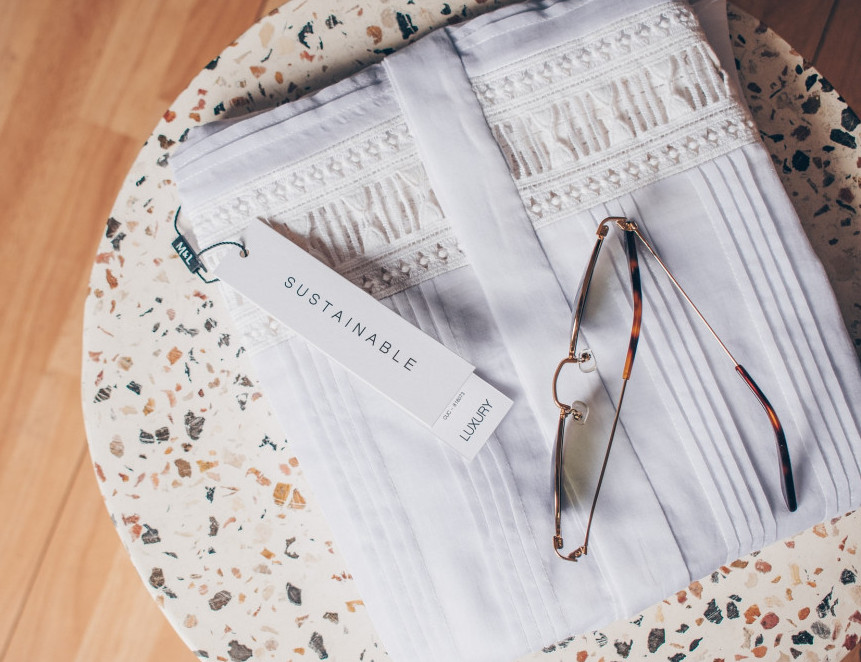 Moreover, what is slow fashion industry, aims to motivate consumers to be more mindful about what they buy and where they buy their clothes and accessories from.
Thankfully, brands and consumers alike have taken a much-needed interest in improving the impact they have on the planet. Every choice you make matters: from the bridal earrings you pick to your daily tees. From your formal wear to that baroque pearls necklace you're planning on gifting your mom on her birthday.
Whether it's organizing clothes swapping with friends, choosing gifts or investing in timeless pieces, there are a number of initiatives you can take if you want to transition from fast fashion to slow fashion.        Photo by Jess Harper Sunday on Unsplash
Keep reading for 10 easy steps that can help you achieve your goal and build you slow fashion capsule wardrobe.
1. Declutter, Resell, Donate
The easiest way to start on your new slow fashion evolution is by taking a good look at all the clothes, jewelry and accessories you own and analyzing each piece. As most of us buy clothes because they are in fashion – and not necessarily because they suit our personal style – we end up with many pieces that we wear only one time.
Instead of keeping something just because "I might wear it again one day", start by understanding what your style is and set aside pieces that don't fit into that category.
This process can be very therapeutic as it helps clear your mind, as well as your home and wardrobe. But don't worry, this doesn't mean that you have to throw everything away.
You can always try to resell some pieces that no longer suit you. Especially if they are valuable items like a leather bag or a thick winter coat. And if that doesn't work, you always have the option of donating the things that you are not using.
Think of how many people don't have anything to wear and what you donate might help them keep warm on cold winter days.
2. Create A List Of Slow Fashion Brands
Ditching your favorite fast-fashion brands for good might be more than you could handle at this point, so take things slowly. Instead of making a dramatic change at once, start by shopping at your favorite brands. But choose to purchase items from their sustainable collections to build your slow fashion capsule wardrobe.
Once you are comfortable with the process, you can experiment with other smaller brands that offer carefully sourced and curated eco-friendly and sustainable collections.
However, when you want to invest in new pieces, there are many brands taking steps towards implementing ethical practices. Some achieve a more sustainable status through the fabrics they use – like recycled and organic materials – while others reduce their production by making pieces to order.
Do your research and find the brands that most suit your style and create a list of your favorite ones. If you decide to embark on a slow fashion journey, this list will help you keep on track.
3. Investigate Before You Buy
Transitioning to ethical fashion doesn't happen overnight. It takes time, effort and a lot of commitment. So, if you are serious about your new slow fashion evolution, you must be prepared to put in the work.
Thankfully, we have social media to help make this process much easier. Instead of panicking about the amount of information that you need to process, turn to social media for help.
Find your favorite ethical fashion brands – from the list which you have created in the previous step – and ask them everything you want to know about their products and production process.
What fabrics are they using and where are they coming from? Where are the clothes made? What materials are the packages made from? Are the workers paid fair wages?
If they are a trustworthy brand in what is slow fashion industry, they will be happy to answer all your questions. After all, they are in the slow fashion space for a reason.
4. Create A Slow Fashion Capsule Wardrobe
The idea of creating a sustainable and ethical wardrobe from scratch can be daunting. The concern that you might be limiting your choices in terms of trends, may be a valid one. But it isn't as hard as you might think.
Simplifying your arsenal of clothes and accessories to a few trusted pieces will help you save money and reduce the hassle of deciding what to wear every morning.
The easiest way to curating your slow fashion capsule wardrobe, is putting together looks that make you feel great and confident. Start by figuring out what your ideal style is, what outfits would make you feel happy when wearing them.
Create a few different versions of each outfit using only pieces that are from the same style category. Try out each outfit and figure out what works and what doesn't. If something doesn't fit properly, don't keep it.
After all, you still want to look great in the process of transitioning to slow fashion.
Photo by Alyssa Strohmann on Unsplash
5. Opt for Natural Fabrics
It's hard to believe that the clothes we all wear on a daily basis are full of toxins. As cheap brands use cheap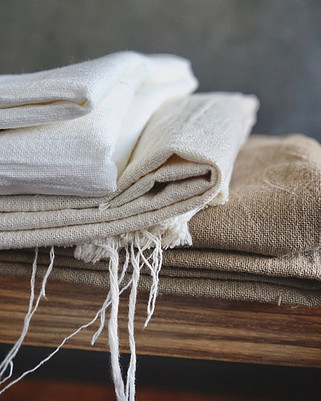 materials in their clothing, they end up producing pieces with high levels of harsh chemicals.
This includes cotton, which you might think is a natural fabric so it can't be toxic, but it is. As long as it is not organic, the cotton that mainstream brands use in their clothing is sprayed with pesticides.
As your skin is your body's largest organ, anything that isn't natural is not the best option for daily wear.
However, there are a few non-toxic fabrics which you can search for when shopping.
So, before you purchase any new piece of clothing, make sure you read the label to see what fabrics it is made of.
Here are some good natural fabric options you can start wearing every day: organic cotton, linen, leather, wool, hemp and peace silk.
Natural fabrics should form the basis of your slow fashion capsule wardrobe.
Photo by Maite Oñate on Unsplash
6. Go for Timeless Pieces
Trends come and go, but the clothes you purchase each season are still in your closet. If an item is very fashionable one season, it will probably only last that long – one season.
And you don't want to wear clothes that are out of style, right? So why waste your hard-earned cash on things that you will probably only wear a couple of times? Instead, you can invest in a few high-quality timeless pieces that will last longer.
Instead of spending most of your money on trends, opt for pieces that will take you through more than one season. Basic T-shirts, classic dresses, jeans or timeless coats can easily make the journey from summer to winter, which will help you create a much more sustainable wardrobe.
Before you purchase an item, think of the ways you will be styling it all year round. Mix and match your clothes and learn how to layer them, so they can make the transition from hot days to cold ones with ease.
7. Change Your Attitudes Towards Shopping
You might think that ethical clothing is boring and not appealing, but this is no longer the case.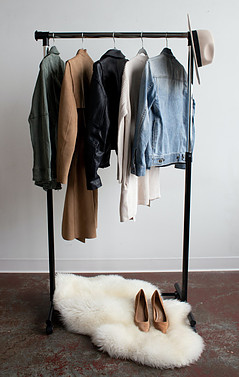 Maybe in the beginning of the slow fashion movement, sustainable pieces of clothing were not very desirable.
However, as more and more brands start realizing the importance of an environmental focus, dressing sustainably no longer means compromising.
You can find beautiful clothes that fit well and that are made of eco friendly materials, as long as you know what you should be looking for.
As fashion is fun and tempting, ditching impulse shopping is not an easy task. Thankfully, there are some methods that can help you combat your impulses and shop smarter.
Start by setting a limit. It can be the budget you are willing to spend on purchases each month, or you can set a limit of the number of new pieces you are willing to purchase.
You could also try calculating the value of a particular item in terms of how long you would have to work to pay it off. Ask yourself: is it worth working this many hours to buy this item?
You would be surprised how many times your answer will be no.   Photo by Amanda Vick on Unsplash
8. Make Your Clothes Last
Caring for your items properly is also key to making sure they last as long as possible and don't end up getting thrown away.
If you decide to purchase higher-quality clothes, they are likely to last longer. And you are also more likely to treat them more carefully, as they are on the pricier side.
From investing in a good quality steamer, to using only natural detergents when washing your laundry, going the extra mile will help keep your clothes at their best for longer.
Always read the labels on each product and make sure you clean them only as recommended by the manufacturer.
9. Repurpose Old Clothes
With big brands now releasing up to a collection (or micro-collection) per week, it is inevitable that we, as the consumers, think that we are out of style every time we go shopping.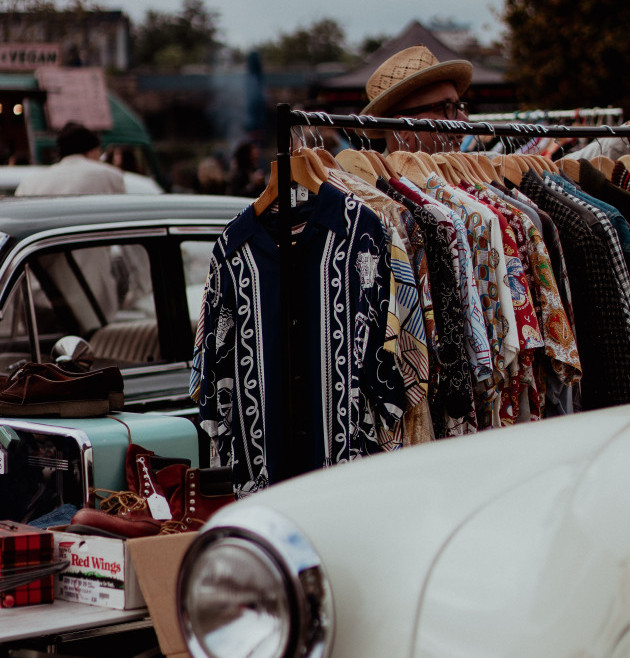 Is it crazy to think that big names are doing this on purpose in order to encourage consumerism? Of course not. It's actually a fact, and a very sad one.
Instead of getting swept in this buying frenzy, fight back by refusing to be a part of the scheme. The best way of doing this is by repurposing old clothes.
Start by raiding your grandma's closet and pick out some cool vintage wool cardigans. Besides giving new life to some old pieces, you will be wearing something that most probably nobody else has.
You can do the same with your mom's old wardrobe and choose your favorite dainty summer dresses, tops, coats and even accessories.
But if you can't find anything you like and you are looking to purchase some clothes, try buying secondhand items first. You can go thrift shopping or even pay a visit to second hand designer boutiques.
There are so many options out there, just find the right one for you.           Photo by Ellie Cooper on Unsplash
10. Use Earth-Friendly Detergents
Finding an eco-friendly, vegan and cruelty-free laundry detergent should be a priority if you are serious about switching to sustainable fashion. The long and complex ingredients listed in laundry detergents – and in all household cleaning products – include toxic chemicals that are bad for the environment, our clothes as well as for our health.
When you wash your laundry, all these chemicals end up in the water we drink, in soil, and also in the food we eat. Not to mention all the sea and ocean animals that are forced to live in a polluted environment.
However, we now have the option to choose what products we use, and the only thing we need is information. Do your homework and find the best brands that provide natural, cruelty-free and vegan detergents.
Also make sure they offer recyclable packages and that they are available as refills, so you can avoid single use plastics.
Build Your Slow Fashion Capsule Wardrobe
These are all brands that are part of what is slow fashion industry, to help you with your new slow fashion evolution.
Allbirds produce sustainable footwear and apparel using only natural, sustainable fabrics and recycled materials.
Thought is an all-natural company that produces timeless fashion using organic cotton and sustainable fabrics.
Laara Swim, a Danish company, is one of the 100% sustainable designer bikinis brands. They use fabric made from regenerated plastic waste that is found in the North sea, Adriatic sea and Mediterranean.
Vitamin A produces sustainably made swimwear and leisure wear clothing using recycled nylon and natural fibers.
Nudie Jeans is an environmentally conscious Swedish fashion brand that uses organic cotton to produce sustainable denim jeans.
Beaumont Organics is a British based Organic and Ethical clothing company that was started in 2008. They create contemporary conscious clothing for the modern woman.
Soul Flower is an Organic Boho Hippy Clothing Range that is based in Minneapolis, USA. You can respect our planet while at the same time expressing your bohemian spirit.
PrAna is an ethical North American company that only uses sustainable fabrics and ethical practices. They do a full range of yoga, climbing, hiking, traveling and active wear for men and women.
Coalatree Organics designs eco-minded apparel and gear for exploring and enjoying the great outdoors.
Asket produces ethical sustainable underwear, yoga and outer clothing, using organic cotton and recycled materials.
Oliver & Rain make eco-friendly organic cotton baby products, using sustainable and ethical practices.
Final Thoughts
We all hope for a world where mainstream fashion brands, that are heavily polluting our planet with their toxic cheap clothing, will no longer have a place in the market.
But we all need to contribute to the change and take small steps each day for a more sustainable fashion industry. From donating your old clothes to choosing natural fabrics, every choice you make matters.
Don't think that one person can't make a difference, because it all adds up. If we all choose to stop buying whatever the fashion industry is trying to sell us, fast fashion brands will no longer have a market to sell to.
After all, the change starts with us, the consumers. So, start building your slow fashion capsule wardrobe.
If you have any questions or suggestions on what is slow fashion industry, please leave your comments below, and I will get back to you.