Are you looking for unique organic baby clothes, but at the same time it needs to be affordable organic cotton clothing? Then look no further than these 5 best organic baby clothes brands.
But before we look at what you need for an eco sustainable baby, you might be wondering why organic? What is organic cotton? So lets first have a look at some of the basics of natural organic cotton.
This post contains affiliate links and I will be compensated if you make a purchase after clicking on my links, without any additional cost to you. It helps me to maintain this website and bring you more eco friendly and sustainable news.
What is Organic Cotton?
The difference between organic cotton and non-organic cotton lies in the way the cotton is grown and produced. To be able to grow organic cotton, the land that is used, has to be detoxified first and for a minimum of 3 years prior to planting organic cotton, no harmful chemicals must be used on the land.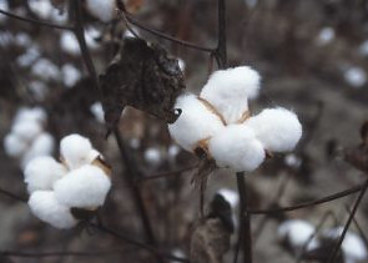 Organic cotton is grown from plants and seeds that have not been genetically modified. No toxic or harmful chemicals, like pesticides, herbicides and fertilizers, are used during the growing and production cycle. Because no GMO's (genetically modified organisms) are used, organic soil matter can be built through crop rotation, inter cropping and composting.
To manage pests, bio-controlling of beneficial insects are used and weeds are controlled through physical removal and inter cropping. Crop rotation is practiced to ensure and maintain the quality of the soil.
Organic farming methods use natural fertilizers like animal manure or compost, which recycles the nitrogen that is already in the soil, rather than adding more. It reduces both pollution and N2O emissions, and because of the organic matter, the soil has a higher water retention capacity.
Growing organic cotton is better for the environment than non-organic cotton and organic cotton farming is in some ways synonymous with sustainable farming.
Organic cotton is used widely in textiles and clothing, footwear, home furnishings (like sheets, towels and bedding), kids and baby products (like nappies, clothes and toys), personal care and hygiene (like sanitary products, make-up removal pads and cotton wool) and even stationary.
You can find out more about organic cotton diapers in this post on organic diapers the alternative disposable diaper.
Although production of organic cotton has dramatically increased over the past 15 years and annual growth is now in double digits, it is still less than 1% of overall worldwide cotton production. India, USA, Turkey, China, Egypt, Syria, Uganda, Peru, Tanzania and West Africa are the main cotton producing countries.
Properties of Organic Cotton
Affordable organic cotton clothing is made from cotton fibers that were organically grown. There are many properties of organic cotton that make it perfect for use in baby clothing and kids clothing and anything that is worn close to the skin.
Why is organic cotton important when it comes to baby and children clothing? The advantages of organic cotton are numerous
Organic cotton is a natural fiber that is 100% plant derived.
It is naturally hypoallergenic and allergies are kept at bay as no toxic or harmful chemicals are used in the production of organic cotton.
Comfortable natural material that is soft and smooth.
Non-irritant as there are no chemicals involved.
Soothing and comforting on the skin.
It has high absorbency properties which makes it suitable for a wide range of uses.
Related post: What is organic cotton clothing?
The Benefits of Organic Cotton Clothing for Your Baby
No harmful and toxic chemicals like pesticides, herbicides and insecticides are used during the growing and production of organic cotton.
Organic cotton will wick moisture away from your baby's skin, keeping them comfortable.
There is no damage to the soil.
Organic cotton is a natural fiber that is soothing and harmless to your skin.
The quality of organic cotton is better than non-organic or conventional cotton.
Growing organic cotton uses 88% less water and 62% less energy, than production of non-organic cotton.
It is a safer environment for farmers and their families growing organic cotton as they are not exposed to toxins in the field or through food and water.
Growing organic cotton prevents water contamination and conserves biodiversity.
There is less pollution caused by pesticides, so the air is cleaner.
Organic cotton is a sustainable crop.
You can reduce your carbon footprint by using organic cotton products.
Organic cotton seed oil is a byproduct that is widely used in snacks and animal feed.
It is more expensive to produce organic cotton than non-organic cotton, because it is more labor intensive and the yield is lower than conventional cotton. This unfortunately means that organic cotton products are often more expensive than non-organic cotton, but affordable organic cotton clothing is possible.
You might find this post on the Best Organic Cotton Baby Clothes from Oliver & Rain helpful.
Certification of Organic Fabrics
When buying organic cotton products, do look for certification labels. There are currently 2 independent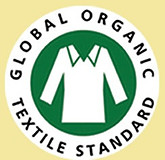 organic certifications for organic cotton:
Global Organic Textile Standards (GOTS) and
Organic Content Standards (OCS).
Certification tracks the identity and use of organic cotton through a series of certificates.
A Farm certificate ensures that the cotton was produced using organic farming methods.
A Transaction certificates tracks the organic cotton when it is passed from one hand to another. For instance if the organic cotton is moved from the spinning company to the weaving company, a transaction certificate will be issued. So it tracks the organic cotton through all the stages of production.
A Scope certificate ensures that the company is qualified to produce organic cotton.
So certification is done on a local, region and global basis.
Best Affordable Organic Baby Clothes Brands
These are the five best organic baby clothes brands that offer safe and unique organic baby clothes.
1. Art & Eden
Art & Eden make unique organic baby clothes, using GOTS certified organic cotton and low impact dyes, that are safer for kids and the environment. Prints are fun and whimsical and the products are responsible and sustainably made. These are the features that make them ethical: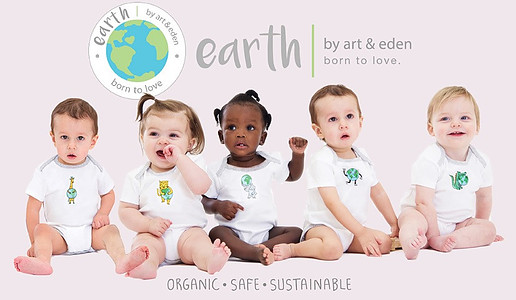 They partner with sustainable apparel factories that use sustainable practices.
Organic certified fabrics.
Low impact, safe dyes.
Use recycled packaging.
Full transparency about textiles used and production processes.
All workers receive fair wages and safe, enjoyable working conditions.
Price is affordable without sacrificing quality and originality.
Entire girls line is made using organic cotton and boys line are made from organic cotton, or a mix of organic cotton and recycled or upcycled polyester.
Support local artists from around the world to make artful and unique prints for the fabrics.
Contribute to community projects like the Camden Street School mentorship program.
Take part in the Clothes for Cure initiative where every Art & Eden garment that is sold, helps to nourish an under-resourced child.
Official member of the Kidizen REWEAR Collective, supporting the creation and reuse of quality goods.
You can earn reward points if you resell Art & Eden products on Kidizen.
Their mission is to make remarkable kids products that are responsibly made and is best for the world. They only use organic fabrics from GOTS certified mills and manufacturers to make their affordable organic clothing.
Shop stylish and affordable organic baby clothes at Amazon here.
2. Soul Flower
Soul Flower is a chemical free, natural clothing brand that incorporate several ethical practices in their production of affordable organic cotton clothing. Apart from using organic cotton, they also use hemp, recycled plastic and recycled paper.
Part of the process in which Soul Flower helps you build your ethical wardrobe, include these:
Eco friendly clothing includes organic cotton, hemp and recycled fibers.
They only use GOTS certified organic cotton, which means all dyes, inputs and processes are independently certified by a third party, using the highest standards available.
Use green practices when screen printing, including low impact inks and toxic free dyes, citrus solvents for cleaning up and printing in small batches to reduce waste.
Fair Trade certified and ethically made.
Includes upcycled and hand made items.
Soul Flower runs a green office, so recycle and use recycled products.
Reducing wast by reusing packaging materials they receive like enveloped, paper and boxes.
Less printing of wholesales catalogues and use soy-based inks on 100% post consumer recycled paper.
To offset their carbon footprint, they use UPS carbon neutral for their shipments.
Soul Flower works very hard to make affordable organic baby clothes available to everyone.
They donate to Carbon Fund, who support renewable energy and reforestation projects that reduce carbon dioxide emissions.
Start your baby young with positive organic vibes and unique organic baby clothes and boho kids clothing at Soul Flower.
Get affordable organic baby clothes from Soul Flower at this link.
You can read more about Soul Flower and their range of affordable organic cotton clothing for kids and adults, in this related post on How to build your green wardrobe: 5 Eco sustainable Fashion Companies.
3. Green Sprouts
Green Sprouts, previously known as i play.inc, was founded in 1982 by Becky Connor. The women owned company is based in Ashvill, North Carolina The unique organic baby clothes range include long sleeve and short sleeve bodysuits and onesies, yoga pants, swaddle blankets and reusable swim diapers.
These are some of the sustainable and ethical practices that they use: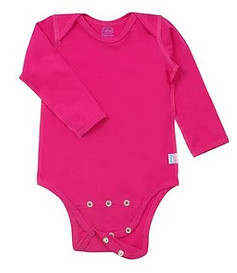 All Green Sprouts products are free of chemicals and substances that can pose a health risk to babies and kids.
Materials have a minimal impact on the environment.
Adjustable bodysuits, with a built-in extender, can grow with your baby.
Use low impact dyes.
The seams on the bodysuits and onesies are on the outside for comfort and to ensure no irritation to sensitive skin.
Strive to maximize the life of their products.
Products are made in factories that comply with the Business Social Compliance Initiative (BSCI) standards, which means it meets international labor practices that protect the rights of workers.
To shop one of the best organic baby clothes brands, click on this link for Green Sprouts affordable organic baby clothes.
Green Sprouts baby products support natural parenting and you can read more about Green Sprouts and their philosophy in this post on What is reusable swim diapers.
4. Beaumont Organics
Beaumont Organics is a British based company that was started in 2008. They produce organic and ethical clothes for the eco conscious shopper and have recently added a baby wear to their range. These are some of the ethical and sustainable practices they use: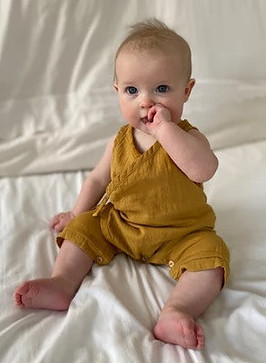 They only use Got certified organic cotton which can be traced to exactly where it was grown and produced.
No harmful chemicals or GMO seeds are used.
They only work with factories in the EU that pay their workers a fair wage and provide good working conditions.
They follow ethical production practices throughout the production line.
Customer reviews have given them an excellent rating of 4.92/5.00 for being an eco sustainable fashion company.
Beaumont baby range includes a range of organic cotton muslins, sleeping bags and quilted blankets, as well as clothing like rompers, knickers and bibs.
The range of contemporary products for the modern woman includes clothing, underwear, nightwear, home ware and accessories. Discover more about Beaumont in this post on How to build your green wardrobe: 5 eco sustainable fashion companies.
Shop Beaumont Unique Organic baby clothes when you click on this link.
5. Pact
Pact is an ethical clothing company that is based in Colorado, who makes an organic and Fair Trade clothing range for the entire family. The affordable organic baby clothes range include short sleeve and long sleeve bodysuits,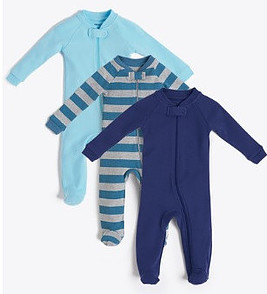 sleep wear, tops, bottoms, hoodies and more. These are some of the features of their unique organic baby clothes:
They only use organic textiles that are soft and breathable.
Non toxic dyes.
Source organic cotton from family run renewable farms.
Snap tab at the neck of the sleep suits to protect the top of the zip from irritating and rubbing your baby's neck.
No tags in the neck that will rub and irritate.
Their mission is to make affordable organic cotton clothing available for everybody. Fabrics used in their products are healthy for you, also for your little ones and good for the earth.
Shop for Pact, one of the best organic baby clothes brands, by clicking on this link.
Discover more ethical fashion brands in this post on 6 Ethical Fashion brands to enhance your green wardrobe.
Affordable Organic Baby Clothes From Hanna Anderson 
Hanna Anderson, the iconic children's brand, has been a leader in the organic clothing space since 1983.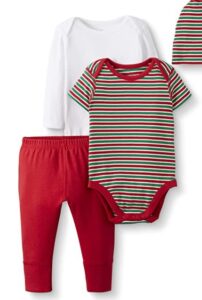 They have recently launched a brand Moon & Back, which is exclusive to Amazon.  OEKO-Tex certified cotton, which is free from harmful chemicals and toxins, are used.
The products are affordable and they have free returns, thus making it easy to shop affordable organic baby clothing. The collection includes bodysuits, 2-piece sets, day wear, sleeper gowns, blankets, accessories and more.
Shop the Moon & Back range on Amazon here.
Final Thoughts On Best Organic Baby Clothes
Choosing organic cotton over conventional cotton, means you will be helping in getting to get rid of harmful chemicals in our water, air and soil. Caring as much as possible for people and farmers and the environment, is the way I believe that things should be done, and that includes supporting the best organic baby clothes brands.
Your baby will not breath chemicals or have toxins touching their delicate skin. All that remains is to let your baby be tempted by the softness that pampers their skin. Related post: Cloth Diaper Review – the Better Choice for Baby's Skin.
If you have any questions or suggestions about the unique organic baby clothes that you can get from the best organic baby clothes brands, then please leave your comments below and I will get back to you.