With so many more consumers looking for eco friendly and sustainable products, the amount of "green" products available, have skyrocketed. But, unfortunately many people do not realize that many firms use greenwashing lies to make themselves look better, meaning greenwashing is using deceptive tactics. To address the issue of companies that use greenwashing tactics, a Terra Choice report identified seven sins greenwashing brands commit.
Before we look at the seven deadly sins greenwashing companies might use, let's look at what is greenwashing and how greenwashing define certain marketing actions. Is it sustainable or greenwashing?
What Does Greenwashing Define?
So what is greenwashing? Greenwashing comes from the two words green (ecological) and whitewash (to hide something or cover it up). It indicates the tendency of companies to proclaim themselves to be sensitive to ecological issues, and declaring that they are following processes that are not impacting the environment. But, in actual fact, they are diverting the attention.
Firms use greenwashing when they want us to believe they are more eco friendly, than they actually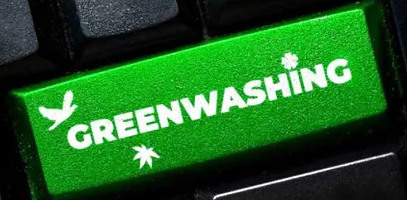 are. They convince us through misleading advertising, vague marketing strategies and claims that are impossible to verify. In essence they are using marketing gimmicks that are designed to hide skeletons in the cupboard.
This is increasingly happening, with 4 out of 10 European companies guilty of greenwashing. It is a topical issue and has directly to do with sustainability.
Today's consumers are more likely to type something like 'eco-friendly pearl engagement rings' into a search than just plain 'engagement rings'.
Greenwashing is having a veneer of environmental credibility or "facade ecology". It can be described as a form of embezlement of eco-sustainable qualities, in order to win the favor of consumers.  So it refers to practices implemented by some companies to mislead customers.
In the worst case, it is a practice to distract consumers from the bad reputation that a brand or company might have. Many companies hide behind the terms of environmental, ethical and sustainable, without actively protecting the environment and people. They do not concretely change their corporate vision.
Greenwashing is also considered to be misleading advertising. They do not have enough documentation or sufficient evidence to prove how truthful their claims are. It dates back to the nineties when big oil and chemical companies tried to pass themselves as eco friendly, to hide the pollution they were causing.
How To Recognise Companies That Use Greenwashing
Marketing campaigns carried out by companies that practice greenwashing, might include these:
Advertising the eco-sustainability of a product: one of the most common practices is to take into account only certain characteristics of the product, and thus shift the attention away from the actual environmental impact.
Using product claims that are so vague and general, that it is easy for consumers to misunderstand the meaning.
Disseminating environmental data, which is not supported by third party certified information. Or the information is not easily accessible to verify.
Providing information that might be true about the product, but the intention is to distract the consumer from greater environmental effects caused by the product or the company.
Inserting false labels and information, or falsified certifications in the presentation of the product. So website information and advertising campaigns would be full of lies. This is to make the brand or company appear to be more sustainable, than what they actually are.
Many well known fast fashion companies, like H&M, Zara, Uniqlo, Asos and Muji have been accused of greenwashing. Advertising campaigns for organic cotton and recycled polyester and recycled nylon, have been criticized, as it represents only a fraction of the range produced.
Studies show that more than 50% of green claims are untrue, but with such a strong profit motive, more brands than ever are jumping on the eco bandwagon. What's the big deal? How much does a little green lie hurt?
Faking it wastes consumers' time, money, and the products may, in fact harm the environment. Want to know if businesses really practice what they preach? Read on to learn the seven deadly sins greenwashing define involves.
Seven Sins Greenwashing Companies Commit  
Terra Choice, an environmental consulting firm, found that 95% of consumer products claiming to be green, were committing at least one of the seven deadly sins greenwashing firms use. They describe the seven sins of greenwashing as these: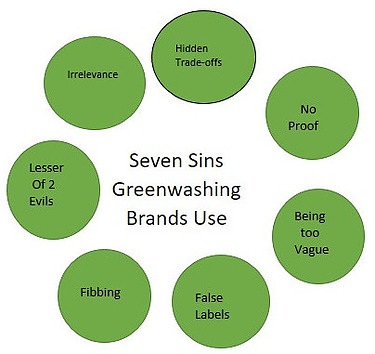 1. Hidden Trade-offs
A claim that a product is green, based on an unreasonably narrow set of attributes, without attention to other important environmental issues.
A shirt labeled 'natural cotton' sounds good. But, what the company fails to mention is that it does not pay its employees a living wage and/or forces them to work in unsafe conditions.
Products made from 'recycled plastic' may contain only a small percentage of recycled material, and it tells you nothing about manufacturing processes, energy consumed, carbon emissions, or post-consumer waste.
A brand may talk about 'satellite monitoring of forests', but neglect to mention that this has done nothing to stop deforestation and that it is in fact accelerating.
Trade-offs are one of the most insidious and difficult greenwashing tactics to spot. Always look for solid evidence of a reduction in environmental impact.
2. No Proof
Businesses that are serious about cleaning up their act, will often obtain certifications or other assessments from independent organizations, thereby proving their commitment to environmental and social responsibility.
That said, you do not need to automatically avoid brands that do not have any such outside proof. Such certifications can be expensive and smaller companies may not be able to afford them.
Even without formal certification, if the brand offers transparency about their practices, the little guy can be an excellent choice. A local supplier may indeed be your best bet to minimize environmental impact.
Whatever the case, it's always a smart idea to spend a few extra minutes seeking out any eco-related credentials. And avoid those that cannot substantiate their claims. Further information about certifications and standards are listed below.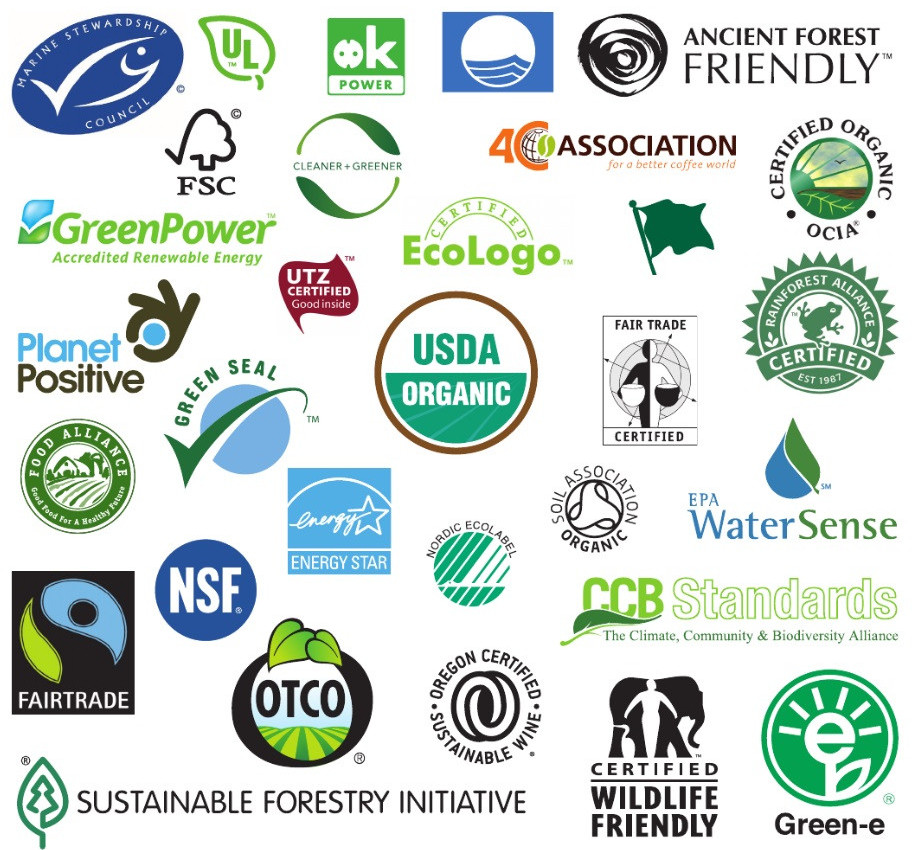 3. Vagueness
Always look beyond the label. Read carefully and be wary of any brand that uses a lot of buzz words or other vague language, like natural, green or cruelty-free, where the real meaning is likely to be misunderstood.
If they don't explain further than that, you can bet it's a bunch of green sheen. Shop elsewhere. The market for sustainable products is exploding, and so are the marketing campaigns to promote it.
There are many different ways for a brand to make a sustainability claim. Environmental impact, ethical labor practices, and animal welfare are three broad issues the sustainability umbrella aims to tackle.
A company that is genuinely committed to making the planet a cleaner, safer, healthier place will be happy to share information about their raw materials, manufacturing operations, modes of transportation, and other steps in the production process.
Brands that mean business when it comes to eco-friendliness will be up-front about their goals and their methods.
Unfortunately, there is no basic standard, no single sign or certification that can be relied on to prove that a product is truly sustainable.
4. Worshipping False Labels
Greenwashing define gives the impression of a 3rd party endorsement, where none exists. A '100% Sustainable Guaranteed by XXX' logo with an attractive tree motif certainly looks official. But, what does it really tell you about the product?
A green certificate or endorsement is only as good as the group making the claim. Unfortunately, the demand for ecological products is so strong, phony claims like this are popping up everywhere.
It is not unheard of for a company to create its own assessment board and self-evaluate the sustainability of its product line. You must research not only the product claims, but also any certification services.
5. Irrelevant Claims
Irrelevance is when a company promotes an environmental claim that is technically true, but not relevant or important
to the product. The most common example is the CFC-free claim.
However, CFCs have been banned since the 1970s. Yet, you still see products advertised as free of CFCs, in an attempt to appear environmentally friendly.
Any statements about the sustainability of a product must be relevant to the materials and processes used in making the item. Everything else is just for show.
6. Lesser Of Two Evils
Claiming to be greener than other similar products, while it is still harmful to the environment, is not something to be celebrated. Brands always want to put their best foot forward and there is nothing wrong with presenting a product in the best possible light.
But, too-good-to-be-true messaging about the benefits a certain product is offering to the planet, or alternatively only slamming the competition, are big red flags.
Also be on the watch for 'slacktivism' such as promising to plant a tree if you, the consumer, tap a like button or takes some similarly passive action. It may be legit, but it may also be meaning greenwashing is done.
Large corporations are particularly known for using this strategy to prove they're the good guys and not just a bunch of soulless, planet-trashing mercenaries. If it sounds overdone, definitely investigate.
7. Fibbing
These are simply false claims, fake certifcates, or outright lies. A solid two-thirds of Americans say that they are willing to pay more for environmentally-friendly products, and nearly 80% are more likely to buy a product labeled as such.
That said, about the same percentage don't know how to discern which items are actually sustainable. This has opened the door for slick marketing firms that use greenwashing, creating a sharp rise in misleading or downright false claims about the sustainability of many products. Meaning greenwashing misleads consumers.
Trustworthy Sustainability Certifications 
Certifications play a major role in protecting the consumer and the environment. Thus, transparency and traceability must become a focal issue for the textile industry. The textile sector is a priority within the European Union, to substantiate green claims.
Until such time, these certifications will help you make a better environmental choice:
Certified B Corporations: Business that have a Certified B Corp designation, like Allbirds, adhere to a high standard of accountability, performance, and transparency on a wide range of sustainability and ethical issues. These include raw materials, supply chain practices, employee benefits, and charitable giving. Certified B Corps have made a legal commitment to conduct business in a way that verifiably respects the planet. Its coverage is global and certification must be renewed every three years.
Cradle to Cradle (C2C): C2C's motto is 'the products we design today shape the world we will inhabit tomorrow.' A C2C certification is a global standard for products that are responsibly produced, safe, and do not create hazardous waste when they reach the end of their useful life. C2C rates five criteria before offering certification: material health; product circularity/recyclability; climate protection and clean air; water and soil stewardship; and social fairness. Recertification occurs every two years.
The Carbon Trust Standard: Specifically focused on carbon reduction, organizations, like Paying Green, that wish to be certified by the Carbon Trust Standard must provide proof that they are measuring, managing, and reducing their carbon output. They must also make a commitment to continuing to lower their CO2 output year over year. Recertification takes place every other year.
Bluesign: Based in Switzerland, Bluesign monitors the complex supply chain of the textile industry. Involved in every step along the way, this group of scientists consults with businesses on the use of chemicals. It helps them eliminate hazardous ones, thereby protecting workers and consumers as well as reducing air and water pollution. Its requirements are the strictest in the world for chemical safety.
Global Organic Textile Standard (GOTS) supervises the textile industry and has a defined set of criteria businesses must meet in order to be certified. Organic fibers are used in a wide range of products: clothing and diapers, mattresses, personal hygiene and  products that come in contact with food. GOTS oversees the textile supply chain from raw materials to finished products. It is the leader in the world for processing organic fibers. Its requirements are binding, international, and certified businesses are audited on a regular basis.
USDA Certified Organic foods and products like CBD, are grown and processed according to federal guidelines addressing many factors, soil quality, animal raising practices, pest and weed control, and use of additives.
OEKO-TEX: the OEKO-TEX Standard 100 means that textiles with its stamp are free from harmful levels of dangerous chemicals, including heavy metals, formaldehyde, certain dyes, PFCs, and many more.
The Forest Stewardship Council (FSC): Trees are indispensable for a healthy planet and wood is an essential raw material for a wide range of products, from paper to packaging to apparel. Overseeing the forest industry, FSC has a five-step process to become certified in two areas: Forest Management or Chain of Custody. To ensure verification, inspectors are independent of FSC and the company being audited. FSC considers the third party to be crucial to legitimacy and it is rated #1 for credibility in the industry. FSC certifications last for five years.
Fairtrade International: Another oversight service that uses independent, third-party auditors is Fairtrade International. Specific environmental, social, and economic standards are all required in order to be able to use the Fairtrade mark. Environmental criteria include sound agricultural practices, responsible use of water, minimizing chemical and pesticide use, and the prohibition of many hazardous substances and GMOs. Economic standards include a minimum price which allows workers to have a financial safety net and to reinvest in their businesses and communities. Social criteria include the right to participate in decision-making and collective bargaining, to create co-ops, provide a safe working environment, and non-discrimination including gender equality. Fairtrade's aim is to provide a sustainable and decent living for farmers and workers. Recertification must be repeated every three years. 
1% For the Planet: As the name indicates, members of this organization donate 1% of their gross annual profits to environmental causes. Members include Patagonia, Oxo, Klean Kanteen and Boxed Water.
Leaping Bunny: Operated by the Coalition for Consumer Information on Cosmetics (CCIC), the Leaping Bunny Program offers consumers peace of mind that products with their seal do not use animal testing for any stage of their development. Recommitment is renewed every year.
Energy Star: Energy Star is overseen by the EPA and the US government. It was created to provide a simple, unbiased way for consumers and businesses to make better-informed decisions on energy-efficient products. Just in the year 2020, over 520 billion kilowatt-hours of electricity were saved by using Energy Star appliances, reducing energy costs by $42 billion.
Green Seal Certification mark is a universal symbol that a product or service meets the highest benchmark of health and environmental leadership.
Made Safe: The Made Safe insignia can be found on a wide range of everyday products used for personal care, baby, household, and cosmetics. It guarantees that the item does not contain any ingredients known to inflict harm on human health. 
The Rainforest Alliance: An international not-for-profit group with branches in over 70 countries, the Rainforest Alliance works with businesses, governments, farmers, foresters and civilians to make sustainability the norm. The primary and interconnected issues they focus on are forests and biodiversity, climate, rural livelihood, and human rights. Certification programs are diverse, including coffee, tea, cocoa, bananas, and many other everyday commodities. You can find products certified by the Rainforest Alliance by searching under their #FollowTheFrog tag.
Certified Vegan: Vegan.org certifies that the 10,000+ products bearing its stamp, do not contain any animal products or by-products. Besides food, other goods include textiles, shoes and personal care items.
How Can Consumers Be Protected From Firms That Use Greenwashing?
Greenwashing is considered misleading advertising, and as such, a company can be prosecuted. Currently there are not standardized methods in place to measure traceability.
Work is being carried out by the Sustainability Pledge of the United Nations Economic Commission for Europe (UNECE) to provide guidelines and recommendations, that can form the basis of legislation.
An unethical method marketers will use to distract from the truth about the merchandise they are hawking, is to focus on impending disaster. Rather than what their product actually does to reduce environmental impact.
For example, an ad might talk about rising sea levels, skyrocketing carbon emissions, or vanishing species. But, not what their brand is doing about it, or how buying their product will help solve the problem.
Ethical companies may mention a negative, like plastic pollution. But, they use it in the context of 'we have reduced/eliminated plastic in our packaging by X percent'. Take a pass on any brand that doesn't follow up with solid information.
In order for a product to be considered truly sustainable, the brand that produces it, must know every step of the production in the supply chain. From the field to the recycling or disposal plant, they must know their suppliers and their sustainability performance.
From green cleaning products, to eco friendly website hosting, the consumer has many sustainable choices.
Consumers must be helped and even educated, to understand how to buy clothing and accessories, like birthstone earrings, that do not pollute, or certainly pollute less.
What Can The Consumer Do?
How can you choose products that are truly eco friendly and sustainable? We need to learn about what we are buying and who is making it. Look at consumer associations and beware of misleading advertising.
Learn to read labels correctly and do not get fooled by greenwashing define tactics. Often however, the labels do not contain the information that you require to carry out the evaluation. It is therefore up to us, as consumers, to demand greater transparency from brands.
Awareness needs to become automatic. If you have doubts about the claims, question the company or the consumer protection associations. Sustainability claims should be easy to find and wording should be straightforward and clear.
With profits on the line, companies will go to great lengths to make their products sound eco-friendly. One famous example of this is Fiji Water, which claimed to be 'carbon-negative,' meaning it removes more carbon from the atmosphere than it creates.
But, upon investigation, it turned out that these carbon credits were being claimed well into the future, even decades ahead. Thus meaning there is no way to verify if such reductions will ever take place. Be skeptical about any extreme claims.
Sustainable Brands That Reject The Seven Deadly Sins Greenwashing Companies Commit
Support these sustainable brands that reject the seven sins greenwashing companies commit:
Final Thoughts
Companies that use greenwashing are often hard to spot. But, it will certainly help, when making your purchasing decisions, to apply the seven sins greenwashing brands might use. Even so, it's still easy to get caught in a green web of lies.
Firms use greenwashing to mislead us into thinking we are making choices that have a positive effect on the environment.
Greenwashing is tricky, because when it's done correctly, it's very difficult to detect. Embarking on a real path of sustainability, is demanding and expensive. The call for sustainability appears to be essential to increase the value of a brand.
The ultimate goal of many multinational companies, is not the conservation of our planet (as they want us to believe), but pure profit. The brand is trying to give themselves an image that is different from what they actually are.
If you have any questions about seven deadly sins greenwashing commits, or have experience with firms that use greenwashing, please leave them below