Seaweed has been known for its health benefits as a superfood, but did you know that it can also be made into a fabric? New technologies are constantly being explored and incorporated by the textile industry, thus, resulting in innovative textile solutions such as fabric made with seaweed.
Let's have a look at what is seaweed used for, what is seaweed fabric and specifically what is SeaCell fabric.
Health Benefits of Seaweed
Seaweed, otherwise known as marine phytoplankton, is the ocean's healthiest green superfood and it has been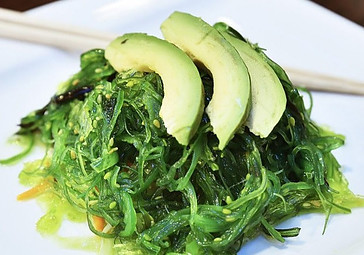 used in Asian cuisine for many years. It is extremely versatile and can be used in a variety of dishes. These include sushi rolls, smoothies, salads, soups and stews, garnishing and seasoning and also supplements, to give you these benefits:
Seaweed helps to reduce inflammation.
It increases brain power.
Seaweed contains anti-aging nutrients.
It also enhances stamina.
So it is incredibly effective at keeping your mind and body at its best. So imagine if it can be incorporated into fibers, and becomes what is seaweed fabric then.
Seaweed is a rich source of antimicrobial nutrients and also has anti-inflammatory properties, making it an inherently healthy source for skin-friendly fibers. Fabrics made with seaweed fibers are said to harness the benefits of deep sea minerals and trace elements.
What is Seaweed Fabric?
Seaweed fabric was originally discovered more than a hundred years ago, during the first World War, when textile manufacturers were experimenting with many different sources of materials to make fabric.

Because of the lack of a commercial source for pure alginates, the first seaweed yarns were irregular in dimensions and had variable properties.
Sodium alginate is the chemical that is derived from kelp. The production process, over several years, was improved after the introduction of a high grade sodium alginate.
Seaweed fabric is made by using algae from the sea. Brown algae, called Ascophyllum nodossum, commonly known as Knotted Wrack, is normally used. Wrack is a family of seaweed with many strains that grow all over the world.
Knotted Wrack is found in the Icelandic fjords and around the coastline of the British Isles. Harvesting in the Icelandic fjords means there is no pollution and waste from ship's traffic, so the seaweed is extremely clean and without pollutants.
Seaweed fabric uses cellulose fiber and it is made using the same lyocell process as Tencel and some bamboo. But seaweed is the plant source, making it a true fabric from the ocean.
Seaweed is a renewable cellulosic fiber and if you would like to know more about what is cellulosic fibers, then please read this related post: Viscose fabric – the textile made from cellulose.
What is SeaCell fabric?
SeaCell is a type of seaweed fabric and it is made by the Florida based corporation, Nanonnic Incorporated. No farming or animal use is involved in the innovative and progressive seaweed fabric, Seacell. It comes from a resource that is in abundance in our oceans, namely seaweed.
The properties of seaweed make it an inherently healthy source for skin friendly fibers and to become the fabric from the ocean.
SeaCell is made by mixing cellulose with seaweed to create a yarn. It locks the properties of seaweed into a wearable fabric, and becomes what is SeaCell fabric.
How is Seaweed Fabric and SeaCell Made?
The manufacturing process to make what is seaweed fabric then, is very similar to that used to make viscose, but seaweed, rather than wood pulp, is used. By using amine acids and water, the cellulose in the plant is broken down,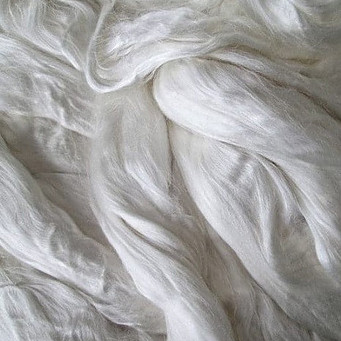 while the chemical structure remains the same.
A solvent spinning process is used to dissolve cellulose directly in a solvent containing water.
It goes through the processes of washing and retting.
The solution is filtered.
The pulp materials can be fed through a spinneret with thousands of holes.
By applying pressure, a filament fiber with varying thicknesses, will be produced.
Fibers are then spun into yarns.
Yarns can be used for weaving or knitting fabrics.
To become what is SeaCell fabric, the fabric is made in the same way as lyocell, with a percentage of seaweed added. The method that is used saves on both energy and resources, combining saltwater seaweed with sustainable cellulose.
The cellulosic fibers stabilize the seaweed and is the functioning substrate in SeaCell, and seaweed is added as the active ingredient.
What is the lyocell process? it refers to the process of making cellulose fibers, which is made from dissolving pulp and then reconstituting it by dry jet-wet spinning. Lyocell has become the generic name for cellulose fiber and is obtained by a closed loop organic solvent-spinning process. Lyocell is a man-made material that is made from wood cellulose or pulp and it is known in the USA under the brand name Tencel.
Discover more about what is a cellulose fiber in this post on What is cellulose pulp and what is circulose.
Properties of Seaweed Fabric and SeaCell
It is awesome to see what is seaweed used for and due to the amazing properties of seaweed, seaweed fabric, fabric from the ocean, has many benefits:
It is breathable and light.
Fabric is soft and supple against the skin.
The nutrients in seaweed, including iron, magnesium, calcium and vitamins A, B12, C and E, are retained in the fiber. Transfer of nutrients take place when the fabric comes into contact with skin and natural body moisture promotes the transfer.
Fabric is eco friendly and 100% biodegradable
Seaweed fiber is carbon neutral.
It has a high tenacity.
Flame retardant.
Seaweed fabric absorbs sweat faster than cotton, making it suitable for underwear and baby clothing.
Antioxidants that are in seaweed, react with the free radicals in the skin and will neutralize them, which helps to reduce environmental damage to the skin and slows down aging.
Contains metal ion which means it can screen electromagnetic waves.
SeaCell Active contains silver ions in the fiber and has additional benefits, including enhanced anti-microbial, anti-bacterial and odor reducing properties. Unfortunately nanosilver particles can enter wastewater and accumulate in bio solids, which could potentially affect microorganisms in soil. So nano finishing techniques are under debate.
Harvesting and Processing of Seaweed
Smartfiber AG harvests the seaweed every four years. The seaweed is cut just above the regenerative part of the plant.
Special harvesting machines with blades are used for the harvest and the cutting is done without damage to the plants. The seaweed is then collected in nets.
Harvesting the seaweed is a selective, gentle and sustainable process. By cutting the upper portion of the plant, it encourages the plant to sprout more, ensuring the ecological value is retained.
The seaweed is dried naturally and coarsely chopped, without using any chemical treatments, thereby retaining the natural components of the plant.
The production process is energy efficient and environmentally friendly, using renewable resources.
Sustainable manufacturing methods conform to Oeko Tex Standard 100 that follows sustainable practices. The production to make what is seaweed fabric then, takes place in a closed loop. To become what is SeaCell fabric, is a patented process and firmly embeds the seaweed within a natural cellulose fiber.
What is Seaweed Fabric Used for?
The breathable characteristics make fabric made with seaweed suitable for active wear, and it blends well with other fibers. Some brands are blending the seaweed with organic cotton and silk.
Pangaia – Pangaia combines lightweight, saltwater seaweed fiber with GOTS certified organic cotton to make t-shirts. The combination is 20% seaweed fiber and 80% organic cotton. It is made in Portugal and treated with natural peppermint oil to keep it fresh for longer, thereby helping to reduce water waste.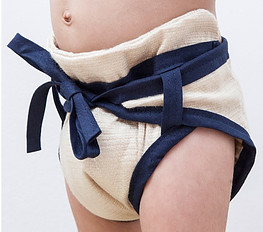 All threads, trims and labels are either recycled or sustainably sourced.
Knotted Wrack is used to produce the fabric made with seaweed. Pangaia is further helping to offset your carbon footprint by planting one mangrove tree for every item that is sold. Each mangrove tree stores up to one ton of carbon dioxide.
Reusable Diaper: In 2019 Luisa Kahlfeldt, a graduate from ECAL in Switzerland, won the Swiss James Dyson award for a reusable nappy made from SeaCell fabric. EcoRepel technology was used to make the nappy water repellent. The diaper is easily recyclable.
Lululemon Athletica uses SeaCell fabric in their VitaSea line of apparel and yoga clothes. Other sustainable brands that are experimenting with it include Orca Triathelate Outfitters, Adea Yoga Clothing and Falke socks and hosiery.
London fashion designer Leticia Credidio is using seaweed fabric in a collection of sleepwear and lounge wear, called Ocean Collection. The textile is a blend of SeaCell seaweed and Oeko-Tex modal. Modal is another cellulose fiber that is made using the lyocell process, but the source of wood pulp is beech wood.
Vollebak – A totally compostable t-shirt, made from wood pulp and algae,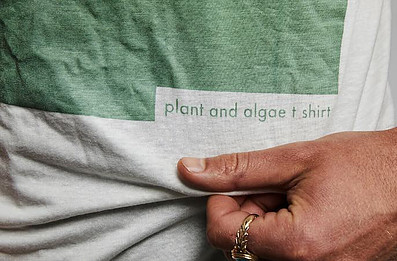 has been made by the London start-up company Vollebak. The wood pulp and algae t-shirt, which is totally eco sustainable, will decompose at the end of its life cycle of use.
Cellulosic fibers, to make the cellulose pulp, are obtained from eucalyptus, beech and spruce trees. The trees all come from sustainable sources. The pulp is used to create yarn that is then converted into fabric. A dye is produced from a special algae that Vollebak grew in the laboratory, and the algae ink is used for the prints.
An eco responsible production process is used with 99% of the water and solvent that are used to produce the pulp and turn it into fabric, is recycled and reused. The fabric looks like a normal t-shirt. The wearer can literally bury the t-shirt in the garden when it is no longer required and it will be destroyed in eight to twelve weeks.
Do not worry, it will not deteriorate while you wear it. It will only biodegrade when it is buried in the ground or put in compostable facilities, where it needs the correct soil heat, fungi and bacteria, to start disintegrating.
Although these t-shirts are currently sold for $ 110 each, the idea behind it can trigger a whole new generation of eco-friendly clothing. The t-shirt has been developed to be an innovative textile solution for the disposal of textile waste and it could help to reduce the 10.5 million tonnes of fabric that ends up in land fill each year.
Why is seaweed fabric not more widespread? Large scale production of fabric made with seaweed is not available, making it a scarce fabric. That means it is quite expensive and has a long lead time, but it is suitable for use by slow fashion brands
Related post: Fast fashion and Slow fashion – which is best?
Caring and cleaning of what is seaweed fabric is easy. It can be machine washed at 30°C, but do not bleach, tumble dry or dry clean.
More Possibilities of What is Seaweed Used for
If you have ever wondered what is seaweed used for, these are more applications: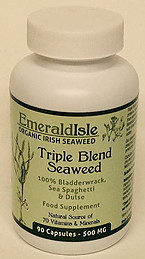 I hope you have enjoyed learning more about what is seaweed fabric and what is SeaCell fabric, but if you have any comments or suggestions about what is seaweed used for, then please leave them below and I will get back to you.