In this post on sustainable materials for shoes, we will list sustainable materials that are used in the production of footwear and sneakers. The full list of types of fabric and sustainable clothing fabric, is discussed in this post on 19 Best sustainable fabrics you should know.
Our planet has been used as a giant garbage bin for too long. The fashion industry needs to be put on a sustainable and socially responsible footing, and thankfully we do have choices.
Why Choose Sustainable Materials for Shoes?
Did you know that the average pair of sneakers is made up of 65 components and every single pair, produces more than 13 kg of carbon dioxide emissions. It is therefore imperative to find more sustainable materials for footwear.
There are lots of considerations to weigh up when shopping for new footwear. Apart from it being comfortable, a very important question to ask is, are they sustainably made?
When we look at sustainable materials for shoes, we also need to look at:
how the crop was grown,
the way in which materials are created, and
the production processes that are used,
As these all have an impact on the environment, and thus the sustainability. Using recycled materials is far more sustainable, than creating virgin materials.
Making a pair of sneakers or shoes contributes to water consumption, destruction of the rain forest, greenhouse gas emissions, micro plastic pollution and huge amounts of landfill waste. Let's list sustainable materials that are available for use in footwear.
Sustainable Materials List
Leather has traditionally been used for footwear and increasingly over the past few decades, we have seen a huge increase in the use of petroleum based synthetic vegan leather. Neither of these are sustainable. The use of chemicals in processing materials, always has a negative effect on the environment, and thus affect the sustainability of the product.
Natural fibers

Animal fibers: wool, silk and leather
Mineral fibers: these come from geological processes like asbestos, ceramic (glass fiber) and metal (aluminum) fibers. These fibers are mainly used in the building and construction industry, so we will not look at them here.

Man made or Artificial fibers: These are produced from natural raw materials, but are made with chemical processes that have a varying impact on the environment.

viscose or rayon, lyocell, modal, cupro
agricultural waste products such as: pinatex from pineapple, apple, orange, desserto from cacti, mango, grape leather, coffee, mushroom leather

Synthetic fibers: These do not exist in nature and are all derived from oil, so are the least sustainable. Virgin plastic like polyester, nylon, polyurethane, acrylic etc. are not sustainable materials as they are made with petroleum. Recycled plastics like recycled nylon and recycled polyester, are on the sustainable materials list. This is because it is made in a closed loop and preventing plastic waste going into landfill, and polluting our water ways and oceans.
Certain fibers like hemp and wool, and of course recycled plastic and leather, can also be used as a sustainable clothing fabric. Here we will concentrate on those used for footwear and list sustainable materials for shoes.
1. Cork Leather
Cork leather is made from the bark of cork oak trees. The cork tree, Quercus Suber, is where cork is harvested from, and is actually a collection of dead cells that comes from the bark of the cork oak tree. Cork is harvested without any harm to the tree and is a naturally renewable material, as the cork grows back again after each harvest.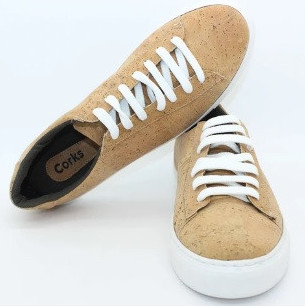 The first cork harvest takes place when the trees are at least 25 years old. The second harvest takes place nine years later, and is the first usable cork harvest, as the first harvest is not usable. After that, harvesting takes places every nine years. Harvesting of the cork bark actually prolong the lifespan of the tree by up to three hundred years.
Cork is eco-friendly and is a completely natural, recurring and easily replenishable material. Cork comes from a sustainable and renewable source and can be recycled. It is biodegradable and at the end of its life cycle, it will break down into the environment.
It is used in shoes and handbags, as well as flooring and furniture. This plant based vegan leather is soft and stylish and has a special feel. It is low maintenance, slow burning, light (cork can float) and elastic. The insulating and hypoallergenic properties means it doesn't absorb dust, so no problems for allergy and asthma sufferers.
Learn more about the use of cork in shoes in this post on the Ultimate guide to plastic free vegan shoes. Cork leather is also discussed in this post on vegan leather vs real leather.
2. Wool
Inspired by natural materials and the abundance of sheep in New Zealand, a revolutionary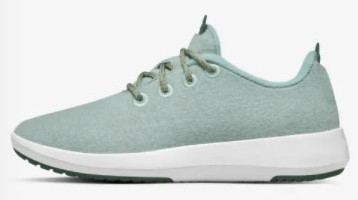 wool fabric that is specifically made for footwear, was developed by Allbirds. The wool fabric is made from Merino wool and 60% less energy is used in the wool process, than materials used in typical synthetic shoes.
Merino wool is breathable and let your feet feeling ventilated. This allows you to wear wool shoes without socks. Merino wool also has anti-bacterial properties, so your feet stay healthy, without your shoes developing any odors.
Sneakers made from sustainable wool is produced in New Zealand by Allbirds. They work with the leading organization, ZQ Merino, to ensure that wool is produced to high standards of farming, land management and animal welfare. The wool sneakers are machine washable on a low cycle, to remove dirt and sanitize them.
3. Hemp
When I list sustainable materials, hemp will always be on the sustainable materials list. Hemp is a sustainable plant and grows easily without any chemicals like pesticides, fungicides and herbicides. It is mostly organic, due to the way that help is grown and produced, so leaves a small carbon footprint.
Hemp shoes are eco friendly and breathable and becomes softer with wear, so breaks in well when it is used in footwear. Hemp is hypoallergenic, so will not irritate your skin, and as it is thermo regulating, your feet will not sweat.
The natural anti-bacterial properties of hemp means that it does not hang on to odors like many synthetic materials, thus making it one of the ideal sustainable materials for footwear.
Shoes made from hemp are durable, as hemp fibers are extremely strong. Because hemp is a natural fiber, it will eventually decompose, therefore leaving a very small carbon footprint compared with synthetic vegan leather.
The benefits and properties of hemp for footwear, are also discussed in this Ultimate Guide to the best hemp shoes.
4. Natural Rubber
Natural rubber is made from latex, that is obtained from plants and predominantly the rubber tree and is eco friendly. Harvesting the latex and using natural rubber has a low environmental impact and after tapping, the tree heals naturally.
The rubber tree is an ecological, sustainable crop, and helps to maintain the global carbon balance in the atmosphere. More than half the rubber that is harvested, is used in the automotive industry, but rubber is also used in the footwear industry. The most popular use of natural rubber in footwear, is for the soles of shoes, but it is also used to make wellington boots and flip-flops. You can read more about it in this post on Best Natural Rubber flip-flop sandals.
Natural rubber is biodegradable and can be recycled at the end of its life.
5. Recycled plastics
It is no longer necessary to use Polyurethane, an unsustainable plastic derived from petrochemicals, in footwear, as recycled plastic can now replace it. The normal procedure for recycling PET plastic bottles,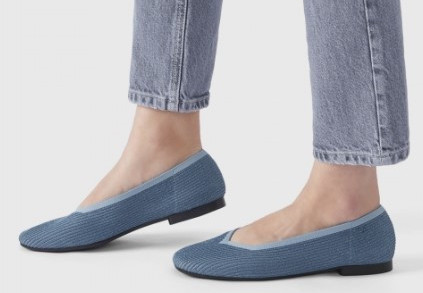 it to collect plastic waste from our streets, beaches, waterways and oceans.
The bottles are then cleaned, shredded and melted. The melted liquid is pushed through spinnerets and converted to yarn. It is then ready to be used for weaving or knitting the uppers for shoes and sneakers.
Vivaia is a brand that produces knitted uppers for their shoes from recycled plastic.
Recycling reduces the amount of plastic trash and also gives the non-biodegradable plastic a second life. This is far better than using virgin plastic like polyurethane. By repurposing plastic waste, we have less plastic pollution.
Uppers made from recycled plastic canvas are eco friendly, breathable and flexible.
Look out for the best sneakers made of recycled plastic here and also the best 7 flip-flop sandals made from recycled materials. Recycled plastic is one of the best new sustainable materials for shoes.
Recycled plastic is also used to make swimwear and outdoor clothing like windbreaker jackets.
6. Natural Leather
Because of the chemicals used in the tanning process, natural leather is not on the sustainable materials list when it comes to sustainable materials for footwear. So one has to look for vegetable tanned leather to make sure that it is sustainable. But there are sustainable and cruelty-free replacements for natural leather.
Replacing animal leather is possible and there are several possibilities, including fish skin leather, leather made from apple skin, grape leather and mushroom leather, and others that are less common like mangoes and cactus leaves.
7. Fish skin leather
Leather can be made from almost any skin and that includes making fish skin leather. Fish skin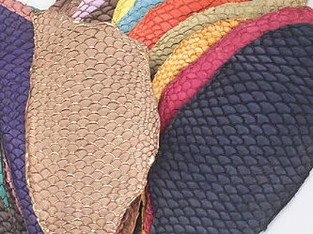 leather is made from skins of non-endangered fish species including salmon, shark, carp, bass, sturgeon and catfish, with salmon being the most common fish that is used for leather made from fish skins.
The fish leather industry is still small scale and many make use of a circular economy. It means that many of them are quite secretive about the processes and materials that they use. Both washable salmon leather and vegetable tanned leather are produced.
Although fish skin leather is not vegan, it is sustainable. Salmon skin leather is more eco friendly than traditional leather.
This is where you can read more about the production of fish skin leather.
8. Desserto Cactus Leather
Leather made from cactus is the latest eco friendly vegan leather fabric. The leaves of the nopal cactus, also known as a prickly pear plant, is used to make the leather. When I list sustainable materials for shoes, cactus leather is definitely very close to the top in terms of sustainability and being eco friendly.
Cactus leather is organic, soft, durable, breathable,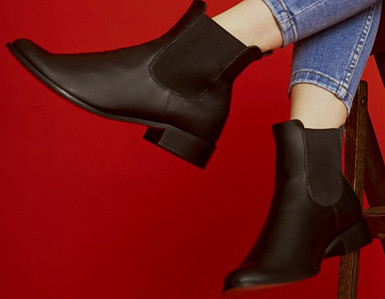 elastic and partially biodegradable.
The cactus plant requires almost no water and grows abundantly throughout Mexico, so it is a stable, abundant supply of raw material. Desserto is a Mexican brand, started by two entrepreneurs, that is using nopal cactus leaves to turn it into organic, natural, cruelty-free leather.
Cacti are grown organically and as it is a native crop, the biodiversity of the area is matched, and blend naturally with the wild fauna and flora.
Harvesting of mature cactus leaves are done every six to eight months. The plant are not harmed when the leaves are cut. The leaves are dried in the sun for approximately three days, so no additional drying process is required.
It contains no toxic chemicals, phthalates or PVC. Desserto is the first leather made from cactus and the material has the potential to create a sustainable vegan leather market. Nothing goes to waste as the remaining organic cactus material that is not used for making leather, is sold to the local food industry or exported.
Read more about Desserto and cactus leather in this post on 5 Innovative textile solutions for vegans.
9. Pineapple leather
Pinatex is a natural fruit fiber leather alternative that was developed over a period of several years and is the name given to pineapple leather. Pineapple fiber is obtained from the leaves of the pineapple plant, after the pineapples have been harvested. The leaves go through a process of decortication to extract the fibers.
The fibers are degummed and goes through an industrial process to become a non-woven mesh that forms the basis of pinatex. Pinatex is breathable and strong, yet soft and light.
So what is an existing byproduct of the pineapple harvest, is then converted into vegan leather. Pineapple fiber fabrics are also discussed in this post on Innovative Textile Solutions.
10. Mushroom Leather
A vegetable leather, called Muskin, has been developed from wild mushrooms. Muskin is completely made from the cap of Phellinus ellipsoideus, a gigantic, inedible mushroom species which is native to subtropical forests. These mushrooms feed on tree trunks, making them putrefy. By removing them from the trees, it is also helping the trees.
Mushrooms are harvested by hand and dried for up to a year. It is then peeled and hand processed. Although it is an elaborate process, no chemicals are used during the processing, making it nature friendly.
Muskin looks very similar to animal leather, but it is a vegan product which is organic, gluten free and chemical free.
11. Vegea Grape Leather
Grape or vine leather is a vegan leather that is produced using the waste materials from the wine industry. Vegea, coming

from VEG for vegan, and GEA for Mother Earth, is using leftovers from the wine making industry, to create a vegan leather.
All the parts of the grape waste, including grape skins, seeds and stalks are used. No toxic solvents, heavy metals or dangerous chemicals and harmful substances, are used during the production process.
The resulting bio material is suitable for use in the fashion, furniture, automotive, transportation and also the packaging industry. Vegea grape leather has a high vegetable and recycled raw material content, such as vegetable oils and natural fibers from the agricultural industry. No chemicals or water is required to produce it and it is Made in Italy.
Vegea grape leather is also discussed in this post on 5 Innovative Textiles Solutions for Vegans.
12. Mango Fruit Leather
Fruitleather, a young Dutch company based in Rotterdam, are using discarded mangoes to transform it into a leather-type vegan material. A mango puree is obtained from the fruit, which is then baked in the oven, to produce small sheets of 40 cm x 60 cm.
The mango fruit leather is completely natural, although there is an option to have a polyester backing. Different leather textures can be obtained by embossing the sheets. When it comes to sustainable materials for footwear, mango leather is quite unique and you can read more about it in this post on 5 Innovative Textiles Solutions for Vegans.
13. Frumat Apple Leather
Apple leather is made from a byproduct of the apple juice industry. Apple cores and apple peels, which is an agricultural waste product, is used to make the vegan leather.
Frumat apple leather is a combination of 50% dried apple powder and 50% polyurethane. So although the apple is coming from a natural renewable source, polyurethane is a petroleum based plastic, thus reducing the sustainability of Frumat apple leather.
When it comes to sustainable materials for shoes, this is low on my sustainable materials list. This post on 5 Innovative Textiles Solutions for Vegans further discusses the applications of apple leather.
14. Coffee
A Japanese footwear brand, Cchilu (pronounced Chee-Loo) has developed a green technology called XpreSole, to make shoes from spent coffee grounds (SCGs).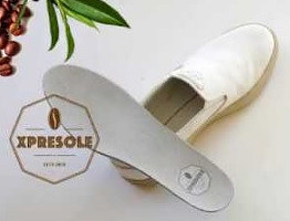 Every major component in the shoe is made from coffee grounds, incorporating sustainable materials for footwear.
Used coffee grounds are melted and mixed with recycled plastic bottles. This is then turned into a yarn that is used in the woven upper and insole. Coffee is also used in the outsoles.
Shoes are water repellent and five cups of recycled coffee is used to create each pair of XpreSole shoes. By using the coffee fabric, the amount of petroleum based materials are reduced by 30%.
Read more about other fabrics made with coffee grounds and using sustainable technology, in this post.
15. Coconut Coir Fiber
When I list sustainable materials, coconut has to be on there. Coir coconut fiber is a natural cellulose fiber which is obtained from coconut husk. It is the fibrous material that is found between the outer coat of a coconut and the hard internal shell.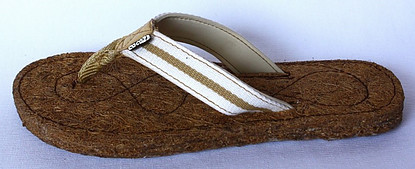 Coconut fiber is eco friendly and comes from a natural and renewable source, and is one of the latest sustainable materials for shoes.
Coconut coir is often used in the midsole of shoes. Mixed with natural latex it mimics the feeling of having a soft cushion under your foot. Coconut coir midsoles and insoles are lightweight and comfortable.
Flip flops and other sandals are also made from coconut fiber.
The fibers are 100% biodegradable and is hard wearing and durable. Coconut coir fiber naturally absorbs odors and can minimize bad smells without additional treatments and chemicals.
Coir is used in horticulture as a growing medium, as geotextiles, and as carpets and basket liners.
Final Thoughts on Sustainable Materials for Shoes
There are companies that are passionate about preserving our planet for us and for future generations. Fortunately we have a new generation of designers that are actively looking for sustainable materials for footwear, and practices and innovative textiles that respect the planet.
If you have any questions about sustainable materials for shoes or know about a fiber that could be included on this sustainable materials list, then please leave your comment below and I will get back to you.