The eco conscious consumer is more critical than ever to know where her clothing and footwear comes from and how it was produced. The latest shoe trends are favoring the use of recycled materials. There is now a growing number of manufacturers that are using plastic sourced from our oceans, thereby reducing the amount of plastic waste.
Recycled plastic products now include shoes and accessories. This recycling revolution is coming at a perfect time for our planet. If it is important to you where you put your feet and watch your step, make sure to look at these eco conscious shoes, brands that are rethinking and re purposing plastic to save our oceans.
These are some innovative brands that make cool shoes from recycled plastic.
1. Vivaia 
Step into eco conscious comfort with sustainable and stylish footwear from Vivaia. Vivaia founded in 2021 with a mission to create sustainable and stylish footwear. The focus is to create a positive impact on both the planet and the people around us. The luxurious and fashion forward footwear is affordable and has exceptional quality.
These are the ideas behind the name VIVAIA:
The double "A" and "V" have designs that come from opposite directions and symbolizes the shoes worn by the customers.
The double "I" represents the plastic bottles that are used to produce the shoes.
Thus, the combination of the products, customers and environmentally friendly production methods, is signified in the design of the VIVAIA brand name.
Vivaia combine modern technology with sustainable practices to create the ultimate in eco friendly footwear.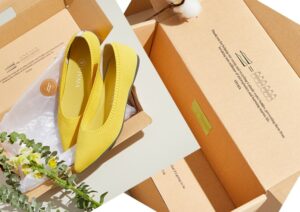 The shoes are incredibly stylish, yet very comfortable and functional, as well as stretchy, making them perfect for wide feet.
Fair prices are maintained by shipping the footwear directly to the customer. This reduces the intermediate costs that are associated with selling through retailers.
Technology used is seamless 3D knitted designs that use recycled materials, combined with 3D technology. The result is a zero waste process.
Features of Vivaia footwear:
The knitted upper is soft and breathable.
Recycled material is eco friendly.
Natural latex insoles minimizes odours.
Insole arch support provides stability.
Shoes are hand or machine washable.
Seamless design means zero waste.
6 Plastic water bottles are used to produce a pair of Vivaia flats. The Vivaia range includes flats, loafers, mules, heels and boots.
Women shoes made of recycled plastic that are washable. Step into conscious comfort and shop sustainable and stylish footwear now with VIVAIA and benefit from free worldwide shipping.
2. Rothy's
For Rothy's, sustainability is important all the way through the production process, from sourcing and producing materials, to looking after their workers and people. They strive for zero waste at their factory situated in Dongguan, China. They combine 3D knitting technology with handcrafted assembly to produce comfortable and stylish footwear.
Rothy's make three styles of shoes, the Flat, the Point and the Loafer, and also a range of bags.
The 3D knitting technology means that the exact size can be produced and cuts out waste. It is knitting by shape, resulting in a seamless knit that fits. Shoes are knitted to the exact size, with almost zero waste. Because there are no seams, it results in a more comfortable and consistent fit.
Rothy's 3D knitting has four main ingredients: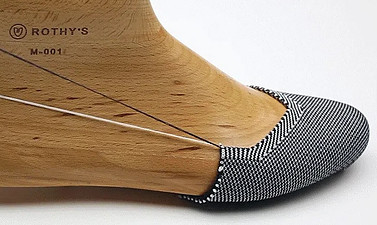 Time: the designer comes up with a design, shape, silhouette and color and translates it into a digital image or sample. The programmer than develops the right software for the exact design.
Engineering: the 3D knitting machine is programmed and set. An engineer adjusts any small details and runs the machine.
Manpower: the process requires three people, the designer, programmer and engineer. Communication between them is crucial to getting the 3D knitting process right.
Technical process: the 3D knitting machine contains thousands of tiny needles that are programmed. They than run back and forth to create a flat knit shoe.
These are the materials that are used:
Recycled plastic water bottles are used to knit the uppers of their shoes that are stylish and washable. Rothy's have already re purposed more than 43 million single use plastic water bottles.
Merino Wool is also used for uppers. The wool is humanely harvested at an Australian farm and crafted using sustainable methods at an Italian mill.
Eco-friendly out soles are made from carbon free rubber and luxe vegan leather.
Recycled foam insoles that are washable, soft and cushy, are made from bio-based castor oil and recycled materials
Rothy's have transformed more than 30 million plastic water bottles into stylish shoes and they strive for zero waste at the factory. If you want to follow the latest shoe trends of using recycled plastic, than these are a perfect choice.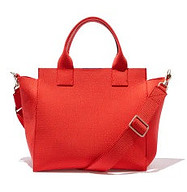 Bags are also knitted to shape and size using the 3d knitting technology. They come with thoughtful design details like removable straps and magnetic closures. Rothy's shoes and bags are all fully machine washable. Use a gentle cycle and let it dry naturally, without any heat.
They also use sustainable packaging and shipping materials and methods. Rothy's is a truly circular company and will recycle your old shoes if you send it back to them.
3. Veja
Veja is a French brand that was started in 2005. The range started with sneakers, but they produce environmentally friendly footwear and accessories. Their ethical sneakers are produced with raw materials that are sourced from organic and ecological farming, without using chemicals and polluting processes. Each production stage must have a positive impact on the environment.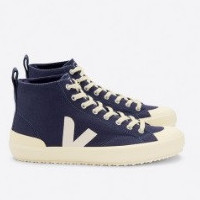 The founders of Veja realised that 70% of the cost of a pair of sneakers from a big brand, is related to advertising costs. By eliminating advertising costs, more can be invested in the actual product. If you remove advertising from the process, you can spend five times more on the raw materials.
Production of Veja sneakers is 100% in Brazil, with sourcing of all the raw materials in Brazil.  The factory to make the sneakers, is also in Brazil.
The first step was to source the rubber for the soles of the sneakers. Wild rubber from the Amazon rain forest are used, where they work with "seringueiros". These are local communities that live in harmony with the forest, without cutting down trees or destroying the forest. This rubber is used in the soles of 40% of the sneakers they make.
Materials used in the tops include these:
A material called B-mesh, which is entirely made from recycled plastic bottles. Plastic bottles are collected in the streets of Rio and San Paolo, sorted and crushed into flakes. The flakes are shipped to a Brazilian factory where, through a process of extrusion, the flakes are turned into polyester fiber. Each pair of sneakers contains the recycled plastic from three bottles. B-mesh is more expensive than traditional materials that are used in the footwear industry. Veja claims that the fabric is waterproof and breathable.
Organic cotton, which is not only organic, but also agro-ecological cotton. Agro-ecology enriches the soil after the harvest, instead of harming the soil.
Leather that is used, uses the vegetable tanning process. Although this was true until 2015, since 2016 only 10% of the leather that is used goes through the vegetable tanning process. Because of the particularly high production costs of vegetable tanning, they have reverted to using leather that goes through the chrome tanning process as well.
Transparency in the production and distribution process is very important to Veja.
The points in favor of sustainability:
One sneaker out of four made by Veja is completely vegan.
The fibers in the B-Mesh fabric that is used for uppers, are 100% made by recycling PET (plastic bottles).
The skins used by Veja come from a fully traceable production chain and do not come from farms in the Amazon.
Since 2013 Veja has also used the skin of Tilapia fish – the most eaten species in the world – and therefore a waste from the food industry.
The eco leather used by the brand as an alternative to real leather, is made with the waste from corn crops. Because it is not derived from petroleum, like most of the faux leather on the market, it can be defined as truly ecological.
Fair trade organic cotton is used.
The raw materials that are used to make Veja shoes are eco friendly and produced to Fair Trade standards. Becaues of this, it means that it costs five to seven times more to produce than most other sneakers. Through the elimination of advertising costs, Veja shoes are sold in shops in the same price range as competitive brands.
Money that would have been spent on advertising, is instead used to compensate producers and workers fairly,. This is a perfect brand to support if you want to follow the latest shoe trends.
Although the range is not completely leather free, many of the sneakers that are produced can be classified as vegan. Veja defines itself as sustainable, because it focuses on the total transparency of the production chain. Buy your Veja shoes at the best price here.
4. Saola
Saola styles cool, street wear shoes out of recycled materials, organic cotton and harvested algae. They produce a range of shoes for men and women and apart from being ethical, they are also a hundred percent vegan. It was started in 2016 with a clear sustainability goal and two main missions:
Eco design and sustainable manufacturing
Preservation of wildlife and biodiversity.
Eco construction is at the center of their shoe development, so recycled and bio-sourced materials are used. Materials that are used include recycled plastic, organic cotton, harvested algae and cork insoles. Cushioned with sustainable cork insoles and this is where you can buy your pair.
1. Recycled plastic from PET bottles is used for the uppers. Depending on the style of the shoe, four to five bottles are used for every pair of shoes. Their PET supplier has a certification from Recycled Global Standards, which means that the production line of the materials is traceable. The recycling process of the PET bottles is cleaning, grinding and melting to finally get the thread. Through recycling, it reduces the amount of plastic trash and also gives plastic a second life. To make the uppers for Saola shoes, the thread is knitted, resulting in a stylish and comfortable upper.
2. Algae Foam is used for the insoles and many of the outer soles of Saola shoes. I can hear you think: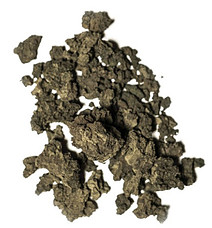 What is recycled algae foam?
Algae grows in rivers and lakes and with rising global temperatures and an increased amount of chemicals in the water, more algae is growing. This is harmful to plant and animal life and also to humans. In partnership with Bloom Foam, the harmful algae is harvested and removed from the water.
It goes through a process where it is dried, crushed and converted into powder. The powder is mixed with EVA, which is a synthetic material, to form Algae Foam. This is an eco friendly, bio-sourced material which is than used for insoles and out soles of shoes.
By using Algae Foam, it reduces the amount of synthetic materials that are used in the soles by fifteen to twenty percent. By removing harmful algae, It also cleans lakes and rivers and prevents the release of carbon dioxide into the atmosphere.
3. Shoelaces are all made from organic cotton.
4. Cork is used for the top layer of the insoles. Cork creates not only a healthy environment for your feet, but it is also resistant to odors and reduces joint stress. It is a natural and sustainable material that is harvested from cork trees and cork insoles are lightweight and comfortable.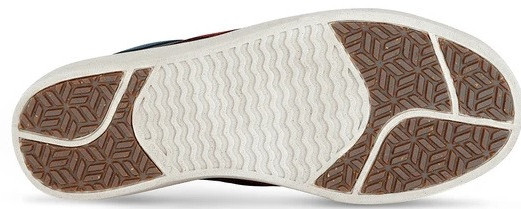 Manufacturing takes place in Vietnam in a factory that has social and environmental regulations that guarantees good working conditions for their workers.
With each pair of shoes, the equivalent of 240 bottles of filtered water is put back into the natural environment and the equivalent of thirteen balloons of carbon dioxide is prevented from being released into the atmosphere.
Saola is committed to preservation of wildlife, so they donate one percent of their annual turnover to associations that wish to make an impact. With each pair of Saola shoes that you buy, you help to support wildlife conservation. This is another perfect choice if you want to follow the latest shoe trends and wear eco conscious shoes. Buy your Saola shoes at the best prices here at Amazon.
5. Sperry Bionic Recycled Shoes
Sperry is an American company that was started in 1935 by Paul Sperry and produced the original boat shoe. Paul Sperry also patented non-slip soles for boat shoes.

Since 2019 they produce Sperry Bionic boat shoes and sneakers, that are made with reclaimed plastic. Bionic material is spun from plastic that is recovered from coastal and marine environments. Every pair is woven from an average of 5 plastic bottles, keeping the plastic bottles out of the ocean and waste stream.
Sperry is working together with Bionic and Waterkeeper Alliance, who have launched the Ocean Plastic Recovery Initiative to protect our marine environment and combat plastic pollution. Bionic uses the plastic waste that is recovered from coastal and marine environments, to produce fabrics and polymers.
Bionic recycled yarn is used in fashion garments and performance clothing, as well as handbags and soft luggage. The canvas is also suitable for automotive applications.
Over and above the fashion applications for Bionic yarns, there is also the very exciting and endless opportunities of architectural and building applications.
Look out for the best sneakers made of recycled plastic here:
If you have any questions or comments about the latest shoe trends and eco conscious shoes, than please leave them below and I will get back to you.