Whether you are just starting out to learn how to sew, or have been sewing for a while, terms and phrases that are used in sewing can be confusing. In this comprehensive guide to sewing terms definitions, you will find all you need. There is never a better time than now, to learn a new skill.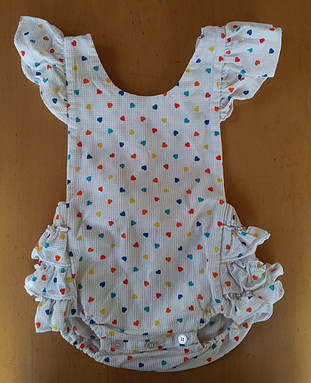 Starting any new project or learning a new skill, can be daunting and intimidating. You don't need to get tripped up by sewing terms that you don't know.
In this guide, I will be covering explanation of stitches, sewing terms and jargon and some accessories and components that form part of your sewing machine.
Here is the complete list of terminology that any beginner might need. If you need any materials, please visit KnitPicks and We Crochet for a huge selection of beautiful yarns and the latest accessories and supplies.
Sewing Terms Definitions
Sewing is the craft of stitching textiles and other materials together to create clothes, home furnishings and even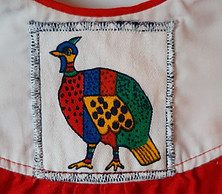 gifts. When you learn how to sew, you will come across many of these terms, so this is your guide to the main sewing terms and definitions:
Anchoring stitches are machine stitches with zero length that can't be pulled out. It can also refer to stitching backwards to anchor stitches at the beginning and end of a seam.
Applique comes from the French word "appliquer " which means to apply or put on. In sewing, it means applying one fabric on top of another layer of fabric and then sewn in position. It is normally a small design or motive.
Armscye or Armhole is opening in the bodice where the sleeve is attached or if there are no sleeves, then the edge is finished with a facing or binding.
Backstitch

is one of the strongest hand stitches and is often used to repair seam that are difficult to reach. Stitches on the underside are twice as long as on the top. With right sides together, bring the needle through the fabric from the underside to the top. Take the stitch back about 2 mm and bring the needle out about 2 mm forward on the seam line from the previous start. Continue inserting the needle in the end of the previous stitch and bringing it out one stitch ahead.
Backstitch is also done on the sewing machine by pressing the reverse lever to reinforce the start and end of a seam.

Ballpoint needle is a needle with a rounded tip that is used to sew knitted fabric with piercing the fabric.
Basting stitch is a temporary long-running stitch that is made by hand or machine. It is used to hold fabric in place before final stitching, or to gather the fabric. When you learn how to sew, this is a very useful stitch to keep fabric pieces together. The sewing machine is set on the longest stitch length and no knots or back stitch is used.

Bias is the diagonal or 45 degree angle of fabric. A cut is made diagonally across the lengthwise and crosswise grain of the fabric. One can buy or make bias tape or bias binding. It is often used on curves as it can stretch.
Binding is a strip of fabric that is sewn around the edge of a garment, bag or quilt.

Blanket stitch is used for a variety of hand-finished details. It is worked from left to right with the edge of the fabric facing you. Anchor your first stitch at the start. Each successive stitch is worked by inserting the needle through the right side and pointing the needle towards you. Always keep the thread below your work and under the needle.

Blind stitch is sewing by joining two pieces of fabric so that the stitch thread is invisible or nearly invisible. Blind stitches hide under folded edges so is used for hems or joining two pieces of fabric together.
Bobbin fits at the bottom of the sewing machine. The thread comes up from the bobbin to meet the thread from the top spool to form a stitch.
Buttonhole is a small cut in the fabric that is finished off with small stitches. The hole must just be big enough for the button to fit through and stay in position.

Buttonhole stitch is very similar to blanket stitch and is used to finish off the raw edge of hand stitched buttonholes.
Casing is an edge that is folded over and sewn in position to form an enclosure for elastic or drawstring.

Catch stitch holds two layers of fabric together while still having a degree of flexibility. It is used for hems in stretchy fabrics, sewing tucks or pleats in linings and attaching raw edges of facings and interfacing to the wrong side of a garment. This is worked from left to right in a zigzag fashion, while keeping the threads loose.
Chain stitch is a series of looped stitches that form a chain-like pattern. It is used in hand sewing and embroidery.
Clipping is making snips in the seam allowances of curved areas to enable the fabric to lay flat or open around curves.
Cord is twisted thread or fabric that is between string and rope.
Cross grain is the line of fabric that is perpendicular to the selvage edge of the fabric.
Cross stitch are two stitches that cross over one another to form a cross. It is widely used in embroidery and doing needlepoint.
Cutting mat is a board marked with a measuring grid on which fabric is cut.

Darn or darning is mending a small hole, normally in knitwear, by using a needle and thread.
Dart is a folded wedge of fabric that is used to shape the garment. It is used for curves and to remove excess fabric, like to shape the back of a skirt or trousers.
Double needle has two machine needles attached to a single shaft that sews two parallel rows of stitches at once. It uses a single bobbin and two spools of threads at the top.
Drape is the way that fabric hangs in a garment.
Ease is the difference between the amount of fabric in a garment and the body measurements.
Edge stitch is done very close to the garment edge or the seam line.


Embellishment is a decorative item that is added to a garment or project to improve the looks. It can be beads, buttons, jewels or decorative stitches.
Facing is a piece of fabric that is used to finish the edge of a garment. It is sewn to the edge of the garment and turned to the inside to finish openings like armholes and necklines.
Feather stitch is a hand stitch that is used to smoothly join two layers of fabric.
Foot pedal is the part of the sewing machine that makes the needle of the machine move.
French seam is a finished seam where the seam is initially sewn with the wrong sides of the fabric together. It is then turned inside out and the right sides are stitched together. This creates a clean finish on the inside of the garment by enclosing the seam allowance. It is used on sheer fabrics and those with a loose weave that unravels easily and quickly.
Fusing is the way of joining two or more pieces of fabric to make it sturdy. It can be woven or non-woven material. Fusing is widely used to attach the interfacing to the facing or interlining.


Gathering is taking up a length of fabric to fit into a shorter piece. It is making pleats by using a baste stitch, pulling the threads and gathering the fabric to the required size and then sewn in position.
Grading – the layers in a seam is trimmed to different widths to prevent a ridge showing on the outside of a garment. The interfacing is trimmed very close to the stitching and the facing is trimmed to half the seam allowance.
Grain is the direction of the warp and weft in a woven fabric. The lengthwise grain is the straight grain and pattern pieces are usually laid out with the grain. The crosswise grain runs between the two selvage edges.
Hem is the finished bottom edge of a garment, folded up and sewn in position.

Hemstitch has two variations:

it is a decorative stitch where the thread is drawn to form an opening. This is used in hand sewing and embroidery.
it is a functional stitch that is normally used for hems that have been finished off with seam binding. Pick up a single thread or a tiny inconspicuous stitch from the garment and bring the needle diagonally up through the hem edge.

Hooks and eyes are small sturdy fasteners that are used for closing openings.
Interfacing is the layer of fabric used to strengthen and stabilize the fashion fabric. It is woven or non-woven and is sewn in or fusible (iron-on)
Jeweler's knot is a simple knot that is tied on the end of thread. It is pulled down on a pin or needle to the base of the thread.
Ladder stitch is used to close large openings or to join two pattern pieces without a seam. Stitches are made at right angles to the fabric to create a ladder-like formation.
Lapped seams – seams are lapped over one another with the wrong side to the right side with seam lines meeting in the middle.

Lining is fabric that is used to finish the inside of a garment. It hides the seams and also makes it easier and more comfortable to wear.
Lockstitch is the most common mechanical stitch that is made by a sewing machine.
Longstitch is a tapestry or embroidery stitch that can cover one to twelve threads in a single stitch.
Match point is a marked point on a pattern piece that is matched to a point on another pattern piece.
Nap is the texture or design in the fabric that runs in a specific direction.

Corduroys and velvet have a nap and requires all the pieces to be placed and cut in the same direction.
One-way prints like figures, animals of plants that all face the same direction, also need special attention when placing and cutting pieces.

Notions are all the accessories that are used in a sewing project like buttons, hooks, thread, zippers, ribbons, binding etc.
Overcast stitch is the classic stitch that is used to finish raw edges of fabric to prevent them from unraveling. Evenly spaced diagonal stitches are worked over the raw edge of the fabric.
Overlay refers to the top layer of fabric, if there is a different one underneath.
Overlocker is a specialist sewing machine that trims and tidies the raw edge of the fabric.
Patchwork involves sewing small pieces of fabric together to create a patch like effect. It can be done by hand or machine and is popular for quilting.
Pattern is the template that is placed on the fabric to cut out the garment.
Pins help to keep fabric pieces together while you are sewing. When you learn how to sew, you will make use of pins a lot to keep pieces together, either before sewing them by hand or machine.

Pincushion is used to keep the pins together in one place.
Pintuck is a narrow stitched fold of fabric that is normally done in multiples to create a smart and stylish finish.
Piping is a type of trim which consists of a strip of fabric which is folded over cord. It is used to decorate collars, finish off cushions, hemlines, necklines or defining and accentuating seamlines.
Pleat is a fold in the fabric that is created by folding the fabric back on itself and then sewn in position. It is ironed to form a sharp crease.
Princess seam is a vertical seam line that is used instead of darts to give shape to a garment. It is used in dresses, blouses, jackets, bodices etc.
Raw edge is the unfinished edge of fabric. Textiles will unravel if the raw edge is not finished off.
Right side is the side of the fabric that is on the outside of the garment. Sewing is done by putting the right sides together to have the seams on the inside.
Ruching is also know as gathering.


Running stitch is a hand sewn stitch that weaves in and out of the fabric creating a dashed line.

Satin stitch is used in embroidery. Stitches are worked very close to one another to cover or "fill in" an area such as the petals of a flower.
Seam is the line where pieces of fabric are sewn together.
Seam allowance is the distance from the stitching to the cut edge of the fabric. It varies according to the fabric and pattern, but it is normally 15 mm in garments.
Seam guide is an attachment that you use on your sewing machine to help you sew even straight seams. It is often used when top stitching is done.
Seam ripper is a small hand held tool to unpick stitches.
Selvage edge or self edge is the woven edge of the fabric that runs parallel to the lengthwise grain.
Serger is a specialist sewing machine that can seam, trim and overcast the raw edges.

Stay stitching is stitched on a single layer of fabric and is done near the seam line to stabilize a cut edge. It is done on curves and diagonal cuts to prevent stretching.
Stitch length is the length of single stitches. The shorter the stitch length, the more stitches per inch.
Straight stitch is a simple straight stitch.
Tacking uses big stitches to hold two pattern pieces together. It makes it easier to sew and is removed when the permanent seam has been done.
Tailor's chalk is a piece of chalk that is used to mark certain points on the fabric.
Tambour needle has a very thin sharp pointed hook that is used to apply sequins and beads or to make chain stitches.
Termination point is where two seam lines end.

Thimble is a small implement that protects the finger or thumb when sewing by hand.
Top stitch is a decorative row of stitches on the outside of the garment. It also adds strength to an item.
Tuck is a stitched fold of fabric which is used to add shape to a garment or it can be decorative.
Underlay is the layer of fabric underneath another layer.
Understitch is a row of stitching that attaches the facing to the seam allowance on the inside of the garments. It prevents the facing from creeping out and showing on the outside.
Vertical bobbin moves back and forth to pick up the thread.
Wadding is fibrous material that is used as a filler in items such as quilts. It is also known as filler or batting.
Walking foot is a machine presser foot that steps across the fabric, rather than sliding.
Warp is the lengthwise thread in woven fabrics.

Weft is the crosswise thread in woven fabric.
Wrong side is the fabric side that is intended for the inside of the garment and is not on show.
Yardage or meterage is the length of fabric that is required for a garment.
Yarn is a continuous length of interlocking fibers.
Yolk is a panel across the shoulders in a blouse or shirt or across the waistline in a skirt or trousers.
Zigzag stitch is a literal stitch with a zigzag pattern. This is a back-and-forth stitch that is versatile and is used when a straight stitch will not suffice.

It is used to finish the raw edge of fabric to prevent fraying and to reinforce openings like buttonholes.
Zigzag is also used when stitching stretchy fabrics and to join two pieces edge to edge. It has utilitarian and decorative applications.

Zipper foot is an attachment for a sewing machine for installing zippers.
If you need help choosing a sewing machine, then this is where you can read my review on the Best Beginners Sewing Machines or choosing between a Mechanical or Electronic (computerized) sewing machine.
I do sell the items featured here and also take personalized orders, so please contact me if you are interested. lcowley@ecoworldonline.com
If you have any questions or comments about sewing terms definitions or to learn how to sew, please leave them below and I will get back to you.