When shopping for new baby essential items, the choice can be overwhelming. This makes it tough for you to decide what is right for your family. You might be debating to invest in the best organic products for babies, or not. The best organic baby care products will definitely include non-toxic baby diapers.
You might eat organic, but do you wear organic? So why do some parents choose organic products for babies?
Why Choose Organic Baby Products?
More and more parents regard the best organic baby skin care products, made of natural materials, as being very important. Thus choosing products that potentially do not contain any toxic chemicals, like pesticides, hormones, endocrine disruptors, fertilizers and many other harmful chemicals.
We need to minimize, and ideally avoid, our babies and kids being exposed to toxins. Babies have very delicate skin, which can easily be harmed by coming into contact with harmful materials. Harmful chemicals can also be absorbed through the skin.
If there are skin allergies, like eczema, in the family, then it is far better to opt for organic, to avoid any allergic reactions to toxins. If you don't, you might end up spending far more money on expensive ointments to clear the allergic rash.
Many factors, like personal preferences, budget, space in the home, come into play when deciding to go organic. What is right for one family, might not suit another.
Organic products can be more expensive than non-organic, but not necessarily. Made Of is a very affordable brand, with a full range of non-toxic baby diapers, organic baby wipes, organic baby sunscreen and the best baby diaper rash cream. The organic soaps and shampoo are the best organic baby skin care products for sensitive skin and rashes.
Many companies are not transparent enough with telling us what they put in their products. With Made Of you will always get full transparency. They have the full range of new baby essential items, all made with natural organic materials.
if you are interested in organic cotton baby clothes, then please read this post on the 5 Best Organic Cotton Baby Clothes Brands. 
Best Organic Baby Care Products from Made Of
Made Of produce the best organic products for babies and the family. Products are simple, made with natural and organic ingredients. There are no genetically modified organisms (GMOs), phthalates, SLS, parabens, sulfates, dyes,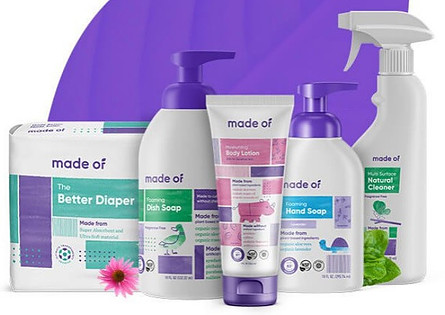 synthetic fragrances, BPA, pesticides, chlorine, and much more, making it safe.
The mission of Made Of is to provide parents with everyday baby products that are simple, organic and safe. At the same time they want to provide products that are affordable, without exploiting the pockets of their customers.
They believe that everyday baby products should be made of organic and plant derived materials. The products that we use every day, determine our wellness and affects family health.
Made Of products are made to be at least 70% organic to the NSF Organic Standards. Parents have the right to know exactly what is in the products they buy. So full transparency is available to see exactly what is inside the products and what they are made of. They have certificates to back up any claims of "organic" and "natural".
Through mandatory transparency standards for sourcing, manufacturing, testing and handling of products, safe products can be the result. Certification also plays a big part in the safety of products.
Certifications for Best Organic Baby Care Products
Millions of parents do not realize that the skin care market is unregulated. It is therefore very important to look at the certifications of a product or brand. Many brands use marketing tactics like "natural", "organic" or "100% organic", but without the evidence to back it up.
With Made Of, each product page discloses the origin of very ingredient. Any organic certification and testing documentation is also made available. Every product page discloses actual independent test results.
These are the certifications that Made Of have:

NSF Organic Standard Certification: traditionally organic regulations were designed for food. It can therefore not be applied to personal care products, like soaps, shampoos and lotions. Personal care products have non-food ingredients and go through a different production process. NSF Organic Standard is the acceptable organic standard by which personal care products can be evaluated. Personal care products that make claims such as "100% organic", "organic" or "made with organic", can be reviewed under programs like the USDA National Organic Program (NOP).
EWG Verified: The Environmental Working Group specializes in research and advocacy in toxic chemicals, consumer education and corporate accountability. They empower people to live healthier lives, through awareness and consumer choice.
Vegan Certified.
USDA Bio Preferred: The Bio Prefered Program was created by the United States Department of Agriculture. It is to help consumers to easily identify and rank products that are derived from plants and other renewable natural ingredients. It provides an alternative to conventional products that are derived from petrochemicals, especially for personal care and home care products.
Gluten Free Certified.
No Cruelty Certification: Leaping bunny certificate for animal free testing.
Made Of can back up each claim or test with documentation. Now that we know which certifications Made Of has, let's look at the sustainable practices they follow.
Sustainable Practices
Made Of has been in business for 25 years, making the best organic diapers and new baby essential items. The factory in New York is family owned and has a thousand employees. Sustainable practices include these:
The factory uses 100% wind energy, which means less dependence on fossil fuels.
Natural aquifer water: artesian glacial aquifer water is naturally purified and requires no harmful chemicals to process it.
Resource mitigation is the systematic decrease of waste stream, energy, water and greenhouse gases.
Proudly made in the USA (diapers are made in Mexico)
Reusable cloth diapers are discussed in this post on What are Reusable baby nappies.
Let's have a closer look at the non-toxic baby diapers, organic wipes and the best organic baby skin care products available from Made Of.
Made Of Best Organic Diapers
Formulation of diapers materials are plant based. The non-toxic baby diapers are made from organic ingredients, such as organic wood pulp and partially neutralized sodium polyacrylate. Polypropylene is used to keep the diaper intact.
The organic diapers have a simple white construction with a hook and loop fastening system for a secure fit.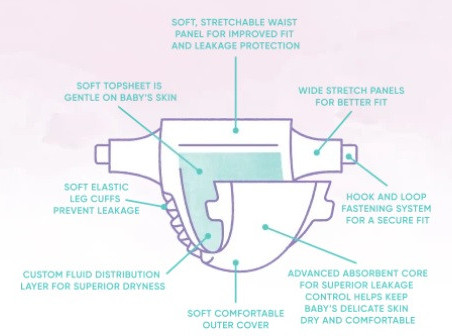 Soft, stretchable waist panel and soft elastic leg cuffs, give greater leakage protection. The top sheet, transfer layer and back sheet are all non-woven material. Diapers contain:
no GMO's,
are soy free,
bacteria free,
bleach free and
fungi free.
The super absorbent polymer is partially neutralized sodium polyacrylate. Fluff pulp is cellulosic comminution grade wood pulp.
The non-toxic baby diapers have a 10 hours leak free guarantee. This means your baby, and you, can sleep longer at night. Diapers come with a wetness indicator, so you will know when your baby needs a new diaper.
Made Of diapers cater for all baby sizes and gender. Diapers are available in 7 sizes, from newborn (size 0) all the way to XXLarge (size 6). So up to 35+ pounds or 16+ kilograms. As a cost indication, newborn diapers sell at $13 for a pack of 36 diapers, with size 6 (XXlarge) at $13 for 21 diapers.
If you are interested in reusable cloth diapers, then please read this post on cloth diapers.
Made Of Diaper Subscription
With a diaper subscription you can save money and time. You do not have to worry that you will run out of diapers in the middle of the night. Just when you need them the most! Made Of offers free delivery. You choose the dates for delivery and you can cancel your subscription at any stage.
A Made Of organic diaper subscription gives you the best value for money.
Made Of has everything you need for an organic baby and new baby essential items. Save money when you buy organic bundles.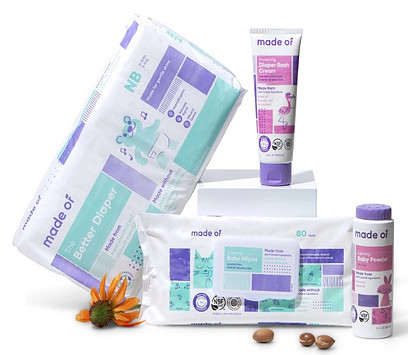 A diaper subscription will for instance save you around $600 annually on diapers and wipes.
Essential Kit bundle is a newborn kit. It includes everything you need for when you take your newborn home.
Organic Diapering Kit Bundle includes baby lotion, organic baby powder, wipes and the best baby diaper rash cream.
Bath and Body Kit has everything to make bath time fun time.
Made Of also has products for mothers like nipple cream.
If you want to keep your baby safe, then choose non-toxic baby diapers.
Disposable diapers are often made from ingredients that are not eco friendly and also not safe for babies. Chemicals like chlorine or fragrances, and several other chemicals that are found in some diapers, could be irritants to the delicate skin of your baby.
There are numerous diaper brands on the market these days. Unfortunately many of them contain ingredients that are not safe for your baby or the environment. But with Made Of you know you get the best organic diapers.
Wipes go hand in hand with diapers, so let's have a look at what you can expect from Made Of baby wipes.
Made Of Diaper Wipes
One of the best organic baby skin care products you get from Made Of, are diaper wipes. These are the safe ingredients you get in Made Of baby wipes:
Caprylhydroxamic acid is a plant based amino acid which is created from raw virgin coconut oil. It acts as a natural preservative to prevent the growth of bacteria, and thus prolonging shelf life.
Organic glycerin is a natural emollient humectant that helps to keep your baby's skin moisturized and soft. It is derived from vegetable fat. If you apply glycerin after washing, it will help prevent dryness and keep the skin soft and smooth.
Lauryl glucoside is a surfactant that helps the diaper wipe to clean properly and ensures no residues are left behind.
Aloe Vera has numerous health benefits and acts as an anti-inflammatory. It is know to moisturize, soothe and heal. If your baby has diaper rash and you use Made Of organic baby wipes, it will help to soothe the rash and spead up healing.
Argan oil is harvested from the nut of the Argan tree, which grows in Morocco. The nourishing oil is high in fatty acids and good or the delicate skin of your baby.
When shopping for the best organic products for babies, like soap, shampoo and baby lotion, always make sure it is made from organic ingredients. Look for the NSF certified organic insignia.
Natural Ingredients in Made Of Baby Care Products
The best organic baby skin care products are free of any harmful ingredients like sulfates, parabens and phthalates. Take a closer look at the list of ingredients and you will find natural and organic ingredients like these: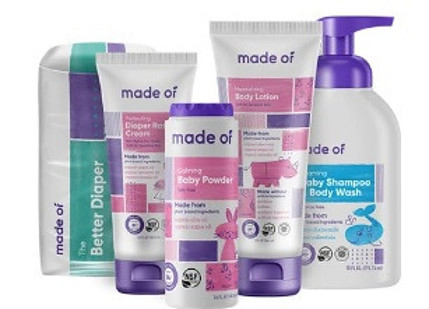 Organic herbs, such as calendula and chamomile, which are known for their anti-bacterial and cleansing properties.
Organic aloe vera is known for its soothing and healing properties, and helps with hydrating the skin.
Cold pressed sunflower oil is used as a conditioning agent and moisturizes the skin. The texture of the oil makes it easier to be absorbed by the skin. No traces of residue are left behind.
Organic glycerin is a natural humectant. It is used in baby shampoo and body wash to boost the skin's moisture levels. Glycerin is derived from vegetable fat, which can help to protect your baby's skin from dryness. Have a moisturized skin will help to keep skin irritations at bay.
Jojoba oil is a known emulsifier and skin conditioning agent. It is gentle on the skin and is non-comedogenic, therefore will not clog your baby's pores.
Made Of baby care products, like the best baby diaper rash cream, are ideal for sensitive skin. You can buy organic baby samples for $2 to try them. The NSF Certified Organic insignia validates that the products contain at least 70% organic ingredients by weight.
Ingredients to Avoid in Baby Products
These are harmful ingredients that you must look out for, and avoid in baby products:
Phthalates are often used as a preservative. Avoid any ingredients that ends in phthalates, such as dibutyl phthalates and diethylhexyl phthalates.
Tetrasodium etidronate is made from sodium cyanide and formaldehyde and can break down the protective layer of the skin. This allows other toxic ingredients to seep through.
Phenoxyethanol is an option for a preservative. However, it has irritating components that can be harmful to the eyes and the skin. Phenoxyethenol can also be toxic to the kidneys, liver and nervous system.
Parabens, just like phthalates, are a type of preservative and can be harmful to the body.
Synthetic fragrances are made from petrochemicals and phthalates and other compounds that could affect your baby. If the product does not specify organic, then it might contain synthetic fragrances, so best to avoid it.
The best organic baby care products, will not contain any harmful chemicals.
Final Thoughts
It is important that whatever touches your baby's skin, is organic. So diapers, vests, onesies, sleepwear, bed linen etc. Eco friendly and organic baby products don't bring harmful toxins and chemicals into your home, while also helping the planet.
Luckily you don't have to throw out everything that is not organic in one go. Made of is your one-stop shop for everything you need for a safe and healthy baby and family. From new baby essential items to non-toxic baby diapers, you will find all the best organic products for babies here.
If you are looking for reusable swim diapers, then please read this post on What is Reusable Swim Diapers.
If you have any suggestions or questions about non-toxic baby diapers and the best organic baby care products, then please leave them in the comments below, and I will get back to you.