Until a decade ago or so, sneakers were essentially used for sport, but today it is part of everyday wear and very much a fashion item. Did you know that the average pair of sneakers are made up of 65 components? And every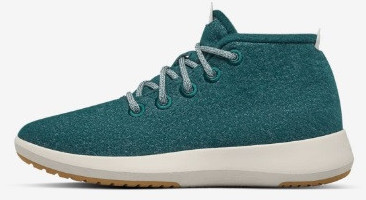 single pair produces more than 13 kg of carbon dioxide emissions?
So it is even more important today to make a conscious choice and move towards eco sustainable products. Look for eco shoe brands that have made eco sustainability an integral part of their business. From sneakers made from wool to interchangeable uppers and soles, these are sure ways of how to reduce a carbon footprint.
Fashion and ecology are strengthening their partnership with new products and materials that are respectful of their environmental impact. More brands are introducing green sneakers that respect the environment and use sustainable and recycled materials, which is a game changer for your wardrobe.
Allbirds
Allbirds was launched in 2014 and is one of the eco shoes brands that make footwear from sustainable materials and natural fibers such as merino wool, eucalyptus and sugarcane waste. The lightweight and soft eco friendly shoes are backed by Leonardo di Caprio, amongst other big names.
Tim Brown, a native New Zealander, started Allbirds after he realised that the natural fiber wool that is available in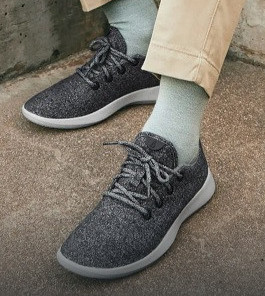 abundance in New Zealand, was basically absent in footwear. Together with Joey Zwillinger, an engineer and renewables expert, they created a revolutionary wool fabric that is specifically made for footwear and sneakers made from wool.
They work with the leading organization ZQ Merino, to ensure that wool is produced to high standards of farming, land management and animal welfare. Materials used in their shoes include these:
Superfine New Zealand merino wool is used for the upper. The wool fabric is breathable, moisture wicking and temperature regulating and is without any scratchiness.
Shoelaces are made from recycled plastic water bottles and one bottle will make one pair of laces.
Castor bean oil is used to increase the natural content in their insoles.
Sugarcane is used in the foam sole.
The range of sneakers made from wool is for men and women and include these:
Wool Runner Mizzles are wet weather sneakers that have a water repellent finish against rain and puddles.
Wool Runner is the original creation and is suitable for jogging, hiking and cross country running, while also great to team with chinos and jeans for lounging.
The Wool Loungers are slip-ons with wool uppers and soft wool throughout the lining. The mid sole is made from Brazilian sugarcane SweetFoam. Loungers are also available in cellulose Tencell lyocell fabric.
Tree Dasher is a daily running shoe and is made with eucalyptus cellulose fiber upper and has a wool heel liner and a dual\-density sugarcane mid sole.
Toppers are high top sneakers that covers the ankles and cellulose fabric is used for the upper.
Breezers are ballet pumps for women.
Allbirds shoes are machine washable to sanitize and remove stains. Remove the shoelaces and insoles and wash them on a delicate cold cycle. Do not tumble dry them.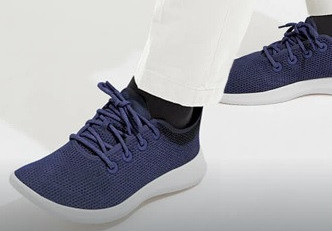 Packaging is using 90% recycled cardboard from post consumer waste, and it is used to serve as a shoe box and mailer bag in one. Allbirds is a carbon neutral business.
Allbirds, in collaboration with Leonardo di Caprio and Will Smith, have produced two pairs of limited edition sneakers. It was created with natural materials, including Brazilian sugarcane in their SweetFoam soles, and utilizing sustainable methods. All proceeds will be donated to di Caprio's Forest Fund to help save the rain forest.
Allbirds is a privately owned company and it is a certified B-corporation business. In partnership with Soles4Souls, lightly used Allbirds footwear is distributed to needy communities around the globe. It is thereby giving them a prolonged life.
Allbirds is also launching its first apparel line.
T-shirt made with "XO" fiber derived from discarded shells of marine life, including crab shells, which is an abundant polymer.
Sweaters made with responsibly sourced merino wool.
Puffer jacket made with a blend of merino wool, recycled polyester and Tencel cellulose fiber harvested from natural material rather than oil-based synthetics. Discover more about cellulose in this related post on What is cellulose pulp and with is Circulose?
Apparel not only feels better, performs better and looks better, but is also better for the environment. The environmental cost of the fashion industry is huge, generating around 20% of waste water and 10% of global carbon emissions. You can explore the Allbirds range by clicking on this link.
ACBC – Anything Can Be Changed
Two Italian designers started a brand called ACBC, which stands for Anything Can Be Changed. The Italian company specializes in the design and production of sustainable footwear and products.
They have come up with a solution to sustainable footwear and have designed a "Jogger" shoe where the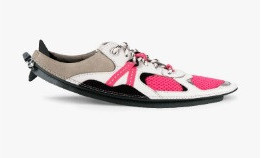 upper or "skin" and the sole of the footwear comes in two parts and are connected with a patented zipper system. The "skin" of the shoe offers the wearer multiple options and is biodegradable.
The Zipshoe uses modular technology that has been patented by the founders. It is characterized by the detail that the upper and the sole are joined by a zip. The zip closure system means it is possible to mount different uppers to a sole, and thus create different looks.
So the customer can buy one sole and then different uppers to create different combinations. The sole is the part of a pair of sneakers that has the greatest environmental impact. By using just one sole to create one, or three or even ten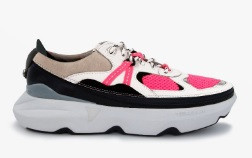 pairs of sneakers, you can still be respectful of the environment.
Materials used in the eco shoe brands are all strictly animal free, bio-based and recycled.
Modular and eco friendly startup ACBC produce the sneakers in different versions and are using several eco friendly materials for their products:
Corn Bioskin is a bio-based leather alternative with a 60% bio based content. It is obtained from corn processing waste and rebotilia, 100% polyester fabric derived from recycled bottles. So it combines agricultural waste from the corn industry with 100% recycled PET. The use of fossil energy can be reduced by 44% compared with petroleum derived synthetics.
Cellulose fibers derived from eucalyptus and sustainable wood sources. It uses 95% less water than traditional cotton and halves the carbon footprint. It is used in insoles and mid soles as it is soft, breathable and sustainable. Read more about cellulose fibers in this related post on Viscose fabric – the textile made from cellulose.
Gots certified organic cotton and BCI Cotton aims to improve global cotton production and BCI is a global non-profit organization. It is used in uppers and linings because it is breathable and wicks moisture away from your feet. Discover more about organic cotton here.
Seaweed: the most sustainable foam is derived from algae bio-mass in a process that restores the balance to endangered waterways by cleaning it. It is used in insoles and mid soles as it is flexible and light. You can read more about seaweed fabric in this post on What is Seaweed Fabric: the fabric from the ocean And discover more about Bloom algae foam and the uses in this post on Eco-conscious shoes: Top footwear brands made of recycled plastic.
ACBC is doing the research, certification and production of materials. You can greatly reduce your environmental impact by supporting ACBC. They also have collection points where used shoes are recycled and used in products like making anti-shock surfaces for children's playgrounds.
From January 2021 all ACBC products will be accompanied by a sustainability declaration. This will include a complete list of materials and components that were used, together with relevant certificates, leading the way in how to reduce a carbon footprint.
In collaboration with Philippe Modal Paris, ACBC have launched a low environmental sneaker, called Lyon, that uses recycled, animal free and bio-based materials.
It uses material such as eco-leather in corn fibers, organic cotton and recycled polyester. There are two versions of the Lyon sneaker available:
The one version has the upper and lining made with bio skin, a vegan leather with a 60% bio-based content obtained from wheat processing waste. Tongue and collar on the upper are in rebotilia, a 100% polyester fabric derived from recycled bottles.
The other version has the upper made from GOTS certified organic cotton.
Both version has the sole in re rubber that contains 10% recycled rubber from production waste. The insole is recycled foam which uses a technology where 98% of the foam is obtained from production waste, with 2% water based glue.
The Lyon sneaker has a very low environmental impact.
Reebok
Reebok, another one of the eco shoe brands, is moving away from petroleum derived plastic and the green materials, for use in new shoes, are castor seeds, eucalyptus and seaweed.
The plant based running shoes are called Forever Floatride GROW and the plant based materials are replacing plastic components.
Each component has been rigorously tested and researched to ensure that the natural, sustainable fibers, answer the need for high performance in footwear. The mix with natural materials will make up at least 50% of the sneakers.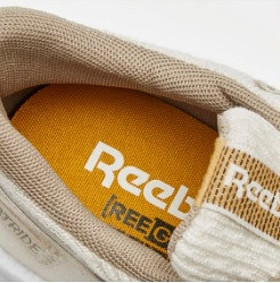 Upper is made from material derived from the eucalyptus tree. Eucalyptus bark creates a mesh upper that is breathable.
Midsole is from sustainably grown castor seeds. Castor bean oil helps to create a highly cushioned foam.
Inner sole is Bloom seaweed algae foam, which provides a very comfortable foot bed. When using the Bloom algae foam, a minimum of 30 liters of polluted lake water is cleaned.
Outer sole is natural rubber, which adds flexibility. Discover more about rubber in this post on Latex vs rubber: is it the same thing?
Making running shoes in plant derived materials are challenging as they have to withstand the impact. The Forever Floatride sneakers are available for men and women.
Adidas, who controls Reebok, have already launched sustainable footwear and also has a range with Stella McCartney.
Adidas
"Our Icons go Vegan" campaign, that Adidas has just launched, applies vegan philosophy and cruelty-free to the iconic shoes. Apart from the Adidas Stella McCartney range, the choice has now been extended to the Samba and Continental 80 models and are available in Cloud White, Collegiate Navy and Scarlet at a price of $80 per pair.
Adidas produce eco friendly shoes that are dedicated to the well being of the environment. The upper is 70% recycled plastic, lining is 100% recycled polyester and the sole is a combination of 90% natural rubber and 10% recycled rubber. Related post: Best natural rubber flip flop sandals.
It is using polyurethane rather than leather and all glues and dyes are vegan friendly. The mid sole has an EVA foam (ethylene and vinyl acetate) which is derived from algae foam.
Read more about Adidas and their work with Parley for the Oceans and Stella McCartney in this post on the 8 best sneakers made of recycled plastic. Nike is also discussed in the post.
Shop your eco shoe brands here by clicking on this link.
If you have any questions or suggestions on these eco shoe brands or sneakers made from wool, or even more ideas on how to reduce a carbon footprint, then please leave you comments below and I will get back to you.