A baby reusable swim diaper is an environmentally friendly version of a disposable swim diaper or swim nappy. In this post we will be looking at swim diapers for baby and toddler and specifically at Green Sprouts baby products.
All you Need to Know about What is Reusable Swim Diapers
Reusable swim diapers are awesome and essential if you are taking your baby or toddler to the beach or swimming pool. They are really not that expensive and will last you for many uses and years.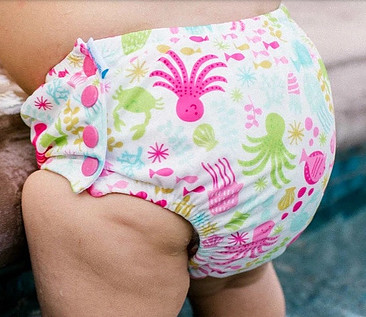 Swim diapers for baby have become an important health issue. Local laws often make it mandatory for swim diapers to be worn by pre-potty trained kids when they go to public swimming pools. Studies have shown that disposable swim diapers have a tendency to leak and fall apart, whereas reusable swim diapers will contain up to 99% of solid matter.
Environmental issues – disposable swim diapers are not a renewable resource and are expensive and ends up going into landfill. On the other hand, reusable swim diapers can be worn until the baby has outgrown it and then be used for siblings and passed on to somebody else to use. You could even sell it.
Each year millions of disposable swim diapers are manufactured, only to be thrown away after a single use and end up in landfill sites. A baby reusable swim diaper can obviously be used many times, for all seasons, and can be used for a sibling or passed to a family member or friend when no longer required.
You will be greatly reducing your carbon footprint and also the amount of waste that goes into landfill.
What is Reusable Swim Diapers and How do they Work?
Regular diapers and swim diapers do not work in the same way. A regular cloth diaper is meant to fill up with liquid. So it is absorbent and draws moisture away from the baby's skin, and it will also contain any solids.
Related post: Cloth Diaper Review – the better choice for your baby's skin.
A baby reusable swim diaper on the other hand, is not meant to be absorbent. Imagine how heavy that would become in water then. So it is designed to let water move through, while at the same time containing any solids.
Advantages of Baby Reusable Swim Diaper vs Disposable Swim Diaper
Save money in the long run – a good quality baby reusable swim diaper will cost about the same as a pack of 12 disposable swim diapers, but you will get far more than just 12 uses out of it. Some will last for several years.
You can pass it on to siblings and family or friends, saving even more money. 
You are not adding to the landfill after half an hour in the pool or ocean.
A swim suit with a built in swim diaper means you will not accidentally forget to pack a swim diaper.
Reusable swim diapers look so much nicer and cuter than disposable.
A swim suit or swimming trunks with a built-in swim diaper looks just like any normal swimming costume. So this is perfect if you have a child that is not yet potty trained, but do not want to look different from their friends.
Many pools know that disposable swim diapers are not effective enough on their own, which means you are required to double up with a plastic or rubber diaper cover. This adds even more to your cost, so much better to get the reusable swim diapers for baby from the start.
How to Care for Reusable Swim Diapers
Washing your reusable swim diapers is very similar to caring and washing a normal reusable cloth diaper. My little ones never actually pooped while they were in the water, but if there is any solid matter, it can be flushed down the toilet.
Depending on how dirty it is, you can soak it for a bit and then wash it on a warm cycle.
Why I recommend Green Sprouts as #1 in Reusable Swim Diaper
Green Sprouts, previously known as i play.inc. was founded by Becky Connor in 1982, and is owned by Becky and her two daughters. The women owned company is based in Ashville, North Carolina and employs more than 65 people. Women fill more than 60% of the top managerial positions.
Becky wanted a practical and functional option for swimwear for babies, so came up with reusable swim diapers.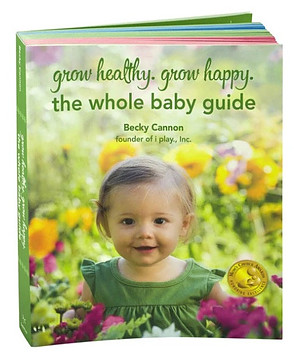 At the time in 1982, parents were using plastic pants to cover the cloth or disposable diaper, which was uncomfortable and did not work very well. Cotton cloth diapers became heavy and stuck to the baby's skin, and the disposable diapers blew up like a balloon.
The reusable swim diaper was born out of the need for comfortable and functional swimwear. Becky developed and refined a reusable swim diaper that offered health protection for swimmers, while also providing babies with comfort. Sales grew and soon five hundred local women were working from their homes, sewing 10,000 diapers every week.
Becky Cannon is also the author of Grow Healthy, Grow Happy, The Whole Baby Guide. For more than ten years, Green Sprouts has been a supporting member of the Women's Business Enterprise National Council (WBENC)
Products are made in factories that comply with the Business Social Compliance Initiative (BSCI) standards, which means it meets international labor practices that protect the rights of workers.
Product Principles used by Green Sprouts
Green Sprouts baby products support natural parenting. When they design and develop their award-winning and innovative products, they use safer materials. They are at the forefront of pioneering safer materials and researching harmful additives. Products are free of substances that can pose a health risk to babies and kids. 

They use materials that will have a minimal impact on the environment and strive to maximize the life cycle of their products. They strive to source materials for their products that are recycled or recyclable and renewable.
Products are designed from a baby's perspective, so it supports the healthy physical, mental and emotional growth and development of your baby. So put yourself in the mind of your baby, to see how the child experiences it.
What does the seam feel like? Is it scratchy or bulky?
Which senses will be stimulated by the product?
Would it feel comfortable for your baby to hold?
How will your baby's growth and development be supported?
There are seven pathways of learning for a baby, and each provide a different kind of learning experience for your baby. Sensory, interactive, movement, communication, cognitive, creative and naturalist. 

Apart from considering the practical comfort for the baby or child, the convenience of the parents are also considered. Products have multiple, unique functions and need to be fundamentally useful.
Features of Green Sprouts Reusable Swim Diapers
For the past 26 years, the Green Sprouts baby reusable swim diaper has been a bestselling product. New features are added and refined to improve the original concept and it now has easy-lock side snaps and UPF50+ sun protection. The patented design has a triple layer and will keep baby and swimmers safe in the water. Today it is available in many colors, patterns and styles.
The best-selling swim diapers for baby has a unique, patented, triple layer design to help provide secure protection, but also encourages freedom of movement. The three layers are not as thick as cloth diapers, but just the right amount of material is used. The three layers consist of these:
The inner layer is next to the baby's skin and is wicking moisture away from the baby's body. It is breathable and helps to prevent chafing and diaper (or nappy) rash.
The middle layer is padded and absorbent, in case there are accidents outside the pool. Most swim diapers lack that, but Green Sprouts reusable swim diapers will hold a reasonable amount of pee for out of the water incidents.
The outer layer is waterproof and will protect from accidents when out of the water. They will not fully prevent pee from getting into the water, as they are not designed to.   
The reusable swim diapers are well-designed to fit snugly with elastic around the legs and waist. Fabric is high quality and meets the Standard 100 by OEKO-TEX certification and has UPF50+ sun protection. This means that the materials have been tested independently for more than 350 harmful substances that go beyond global regulations.
Swimsuit and trunks in baby and toddler sizes all feature swim diapers that are built in.
Green Sprouts Baby Products for Swimming and Beach Fun
Green Sprouts is a great company to support and you will find more innovative products if you click on this link. They offer swimwear and sun protection gear like sun shirts, rashguards, sunglasses, sunhats made with UV protecting fabric that offers protection from the sun. Other essential swim gear for babies and toddlers that are available, are terry cover-ups, swim shoes or water sandals.
1. Baby Reusable Swim Diaper – for use from age 3 months and are designed to keep moisture away from the delicate skin of your baby.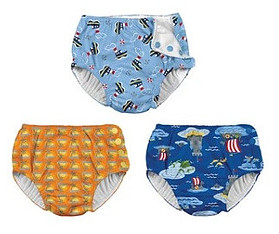 It fits snug around the waist and legs to prevent any leakages. Side snap closures allow for quick changes and minimize the mess associated with diaper changes of pull-down versions.
Special features and considerations:
waterproof, absorbent pad and moisture wicking away lining
machine washable,
Elastic leg opening design
UPF50+
Side snap closures,
Available in fun colors and prints.
2. Swimsuits or Trunks for Boys – Swimming trunks for boys can be worn from age 6 months and are available in different styles.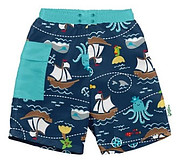 Choose between drawstring, elastic or snap options. Baby and toddler sizes have a built-in swim diaper.
Special features and considerations:
Built-in swim diaper
Machine washable
3. Swimsuits for Girls – Swimsuits for girls can be worn from age 6 months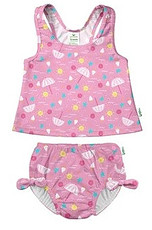 and are available as a one-piece with straps, or a two-piece that pairs a tankini top with a swim bottom. Baby and toddler sizes have a built-in swim diaper.
Special features and considerations:
Built-in swim diaper.
machine washable.
elastic leg openings design
4. Swim shoes – Swim shoes are available from age 9 months and are designed to get wet. They are perfect for wearing in the pool, lake or ocean. It protects your baby's feet from sharp objects or hot sand at the beach that will burn their little feet. It also provides protection from slipping on wet surfaces around pools and at water parks.
Special features and considerations:
Hook and loop closure.
Fabric needs to be stretchy and adjustable.
Water resistant.
Adjustable strap.
Textured outer sole.
5. Sun Hat – A sun hat is essential from newborn and needs to have a wide brim to protect your baby's face from ultra violet sun rays. Look for lightweight fabric that wicks moisture away to help keep your baby dry and cool. Some designs have a strap that ties or closes under the chin to keep the sun hat in position.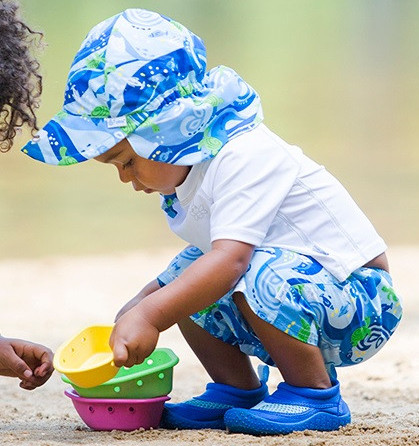 Special features and considerations:
UPF50+
100% cotton or natural fiber
Machine wasahble
Could be available as a set to match the reusable swim diapers for baby or swim wear.
6. Rashguards – A rashguard can be paired with a reusable swim diaper or trunks to protect your baby from the sun while enjoying outdoor activities. It is need from 3 months and come in short sleeve or long sleeve options. It is stretchy so that it can go over the head and needs to be UPF50+.
Special features and considerations:
UPF50+
It may be bought as a set to match the reusable swim diaper, swim suit or swimming trunks.
Machine washable
7. Sun Protection Shirt – A sun protection shirt has the same function as a rashguard to protect the skin of your baby or toddler from the harmful rays of the sun. They are designed with lightweight fabric that blocks the Ultra Violet rays
Special features and considerations:
8. Cover-up – A cover-up is normally made from cotton terry or absorbent material and is designed to be worn after swimming. It could be a pull-over or a zip up and often comes with a hood and pockets. It is meant to keep your baby warm and dry after swimming.
Special features and considerations:
Cotton terry
Machine washable
UPF50+
9. Swimming Towel – A beach towel is essential to dry your baby and a hooded towel helps to dry their heads.
Special features and considerations:
Organic cotton
Absorbent
Machine washable
Fun prints, colors and designs
Might be coordinated with swim suit and swimming trunks 
10. Sunglasses – Sunglasses will protect your baby's eyes from sunlight and it needs to provide 100% UVA and UVB protection.
Caring for Reusable Swim Diapers: It is best not to tumble dry or dry clean a baby reusable swim diaper as it might damage the waterproof coating. Machine wash or hand wash in warm water and use a non chlorine bleach if it is required. Do not iron the swim diapers for baby.
Green Sprouts specializes in reusable swim diapers, and with more than a quarter of a century of experience, you cannot go wrong with Green Sprouts baby products.
You will also find them on Amazon if you click on this link. 
If you are in the UK or EU, find reusable swim nappies at this link.
Related post: Reusable baby diapers, which one will you choose?
If you have any questions or suggestions about what is reusable swim diapers, or have another brand that you would like me to include when it comes to swim diapers for baby, then please leave your comments below and I will get back to you.