Step into conscious comfort with the eco friendly shoes women collection from Vivaia. Vivaia is a sustainable shoes women brand that uses recycled and natural materials to make shoes from recycled plastic. The washable shoes for women are stylish and sustainable.
Vivaia is one of the new eco friendly shoe brands. The online women's footwear brand produce sustainable shoes for women and are known for their minimalistic designs. It is possible to respect the planet, and have chic and stylish shoes. There is no need to sacrifice style in order to be green.
Shoe enthusiasts have a sustainable option. From plastic bottles to glamorous shoes.
Overview of Vivaia Machine Washable Shoes Women Range
Vivaia was founded in 2020 with a mission to create sustainable and stylish footwear. The focus is to have a positive impact on both the planet and the surrounding people. The luxurious and fashion forward footwear is affordable and has exceptional quality.
Vivaia combine modern technology with sustainable practices to create the ultimate in eco friendly shoes women footwear. 3D knitting technology use recycled plastic to create the uppers. No seams mean they are ultra comfortable and the process creates zero waste.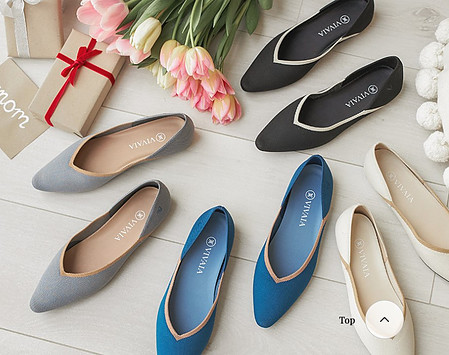 The brand name was inspired by the shape of the shoes and recycled water bottles. These are the ideas behind the name VIVAIA:
The double "A" and "V" have designs that come from opposite directions and symbolizes the shoes worn by the customers.
The double "I" represents the plastic bottles that are used to produce the shoes.
Thus, the combination of the products, customers and environmentally friendly production methods, is signified in the design of the VIVAIA brand name.
The shoes are incredibly stylish, yet very comfortable. They are functional, as well as stretchy, making them perfect for wide feet.
Designs are chic and trendy, perfect for the modern women. Fair prices are maintained by shipping the recycled plastic shoes directly to the customer. This reduces the intermediate costs that are associated with selling through retailers.
Shop Vivaia for the latest fashionable, eco friendly and washable shoes for women. The high quality sustainable shoes women range include flats, loafers, mules, heels, sandals and boots.
Features of Vivaia Recycled Plastic Shoes
The machine washable shoes women collection are so stylish and chic, that you do not want to take them off. These are the features that the Vivaia shoes from recycled plastic have:

The seamless knit fabric upper is soft and breathable. Technology used is seamless 3D knitted designs that use recycled materials, combined with 3D technology. The result is a zero waste process.
Recycled material is eco friendly. Every pair of shoes are made with 6 recycled plastic bottles and 12 plastic bottles to make a pair of boots.
Use natural latex insoles and natural artemisia argyi insole, which minimizes odors.
Insole arch support provides stability.
Carbon free rubber out soles
Shoes are hand or machine washable.
Seamless design means it is ultra comfortable.
By using recycled plastic, they have created a solution for plastic waste that would otherwise have ended up in landfill or the ocean. The Vivaia range includes ballet pump shoes, flats, loafers, mules, heels and boots, and the latest addition is recycled sneakers.
The sustainable shoes for women are made of recycled plastic that are washable. Step into conscious comfort and shop sustainable and stylish footwear now with VIVAIA and benefit from free worldwide shipping.
Criteria for Sustainable Shoes Women Footwear
The five main criteria to consider deciding if a product or brand is sustainable, are these:
Materials: need to be as low impact as possible, both from production of raw materials, to be recyclable, compostable and biodegradable at the end of its life. Related post: 15 Best sustainable materials for shoes.
Labor practices and supply chain: it is important to know that everybody in the supply chain is treated fairly and humanely and have safe working conditions. The Vivaia factory is constantly working on improving benefits and conditions for workers and continue to reduce their environmental impact.
Environmental impact: 3rd party certification through Fair Trade and B-Corp, give reassurance that they are not greenwashing. Reduce carbon footprint and offer recycling programs. There is minimum waste with the seamless knit fabric Tech Knit uppers. For shipping, 100 % of cardboard used comes from recycled cardboard, and of course, you can recycle the cardboard packaging again.
Quality and durability: When you choose any new pair of shoes or clothing, it is important to ensure that you will wear it for many years.
Charitable endevours through giving back to the community.
Related post about eco friendly shoe brands that make recycled plastic shoes, can be seen here.
Materials Used For Machine Washable Shoes Women Collection
Discarded and unused plastic bottles are sourced, recycled and used for the knitted upper.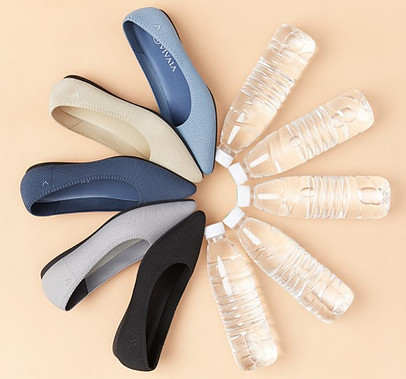 The plastic bottles are processed and chipped and after melting, it is extruded to form a thread. A 3D seamless knitting machine is used to create a seamless knit fabric.
The recycled plastic is called Tech Knit and used for all the uppers of the eco friendly shoes women collection. The seamless design means there is zero waste.
Inner and outer soles are both naturally sourced to meet their sustainability criteria and mission.
The upper is knitted and made from recycled material that is eco friendly. Seamless knit fabric is soft and breathable.
The insole is natural latex that minimizes odor. Latex foam is derived from rubber resin.
Insole arch support provides stability
Outsoles are carbon free rubber which is highly elastic, flexible and also shock resistant, odor resistant and fungi proof.
Recycled packaging is used for shipping all their shoes.
Let's have a look at some the popular Vivaia designs in the eco friendly shoes women range.
Vivaia Aria 2.0
When it comes to classic flats, you cannot go wrong with the Vivaia Aria. The ballet pumps shoes have a pointed toe design to make your feet look petite.
It has a sleek pointed toe design
Ultra soft knitted uppers from recycled plastic
Natural latex foam with atemisia argyi herbal insoles
Carbon free rubber outsole
Available in a selection of beautiful 12 colors and several sizes.
Vivaia Margot
These are ballet pumps shoes with a square toe and a flattering silhouette.
Knitted upper is seamless knit fabric from recycled plastic bottles.
Natural Artemisia Argyi herbal insole. This insole is soft and produces even less carbon and odor than natural latex insoles.
Carbon free rubber out soles
Available in 4 colors and several generous sizes.
Vivaia Vienna
The timeless silhouette of the Vivaia Vienna flats has a feminine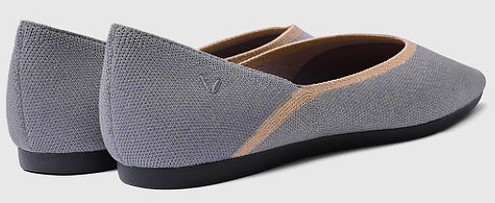 V-neck cut and contrasting detail on the edge of the uppers. The style is angular and streamlined.
Knit upper from recycled plastic bottles
Natural latex foam insole
Carbon free rubber outsole
Pointed toe flat
The shoes from recycled plastic come in 9 colors and contrast lines for added visual interest.
These recycled plastic shoes are entirely flexible, so you can bend them to make them a perfect travel companion in your bag.
You can shop the machine washable shoes women collection of ballet pumps shoes and other flats at this link.
Vivaia Sierra
The Vivaia Sierra is a timeless and elevated loafer style with a square toe and matching insole for the vintage look. It has a unique serrated stitching detail on the uppers.
The washable shoes for women have a stylish square toe and matching insoles.
Upper is seamless knit fabric using recycled plastic.
Thick cut natural latex foam insole.
Carbon free rubber outsole
Available in a selection of 8 colors
Vivaia Marina
The Marina is a heeled loafer and for a bit of fun, it has wavy stripes. The loafer gently hugs the foot and can be dressed up for the evening, but just as good for casual occasions.
The knitted upper uses 6 plastic bottles and has a square toe design.
Currently available in 7 fun designs and colorways.
The insole is antimicrobial and breathable.
Natural rubber outsole is flexible.
Natural Artemisia Argyi herbal insole. This produces less carbon and less odor than natural latex.
The Vivaia eco friendly shoes women range of loafers is available at this link.
Vivaia Giselle Mules
The slip-on is comfortable, practical and designed to be worn all year round. Sturdy heels complete your stylish look
The slip-on mules have a square toe design.
The knitted upper is made from recycled bottles.
100% vegan leather insole.
Carbon free rubber outsole
3cm / 1,18 inch heels
Available in a select 4 colors
The sustainable shoes women collection of mules, can be seen here.
Vivaia Stella Heels
Stella heels are bold and sophisticated shoes from recycled plastic. It has a petite kitten heel and is perfect for corporate events and a smart office look.
Pointed toe design.
The knitted upper is made from 6 plastic bottles.
Insole is thick cut natural latex foam.
The kitten ABS heel has a height of 4cm/1.75 inches
Available in a selection of 13 gorgeous colors to match any outfit and occasion.
View the full range of machine washable shoes women heels here.
Vivaia Evermore Sneakers
Evermore sneakers have a classic silhouette with a round toe.
Seamless knit fabric upper is made from 6 plastic bottles.
It has a round toe design
Natural Artmisia Argyi herbal insole
Carbon free rubber out soles.
Currently only in 2 colors, deep ebony (black) and Whisper white as it has only recently been added to the range of recycled plastic shoes.
You can see the washable shoes for women Evermore sneakers here.
Vivaia Doris Sandals
The slide sandals have a classic contrast design that are timeless. Sandals have a square toe design and the upper is seamless knit fabric made from 6 recycled plastic bottles.
The flat sandal has a 1 cm / .034 inch heel
Vegan leather insole.
Carbon free rubber outsole.
Available in 3 color contrasts and a range of sizes.
Doris sandals are available here.
Vivaia Boots
Boots are available in different heel heights and are ankle boots, mid calf and knee-high.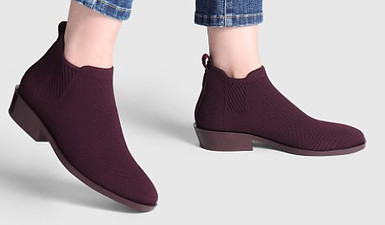 The Vivaia range of boots include the Louise with kitten heels, Regina with shaped heels and the Alexandera Chelsea Boot. Alexandera comes with stretch gore panels and a heel tab for pulling on for a seamless fit.
Choose from pointed toe, round or square toe for your boots,
Knitted fabric upper is made from recycled plastic bottles and 12 plastic bottles are used to create the seamless knit fabric.
Thick cut natural latex foam insole,
Carbon free rubber out soles,
Heel heights vary:

Louise ankle boots have 4 cm / 1.57 inch height kitten heels and perfect from the office to date night.
Alexandera Chelsea boot has a 3cm / 1.18 inch heel height
Regina square toe ankle boots have a 5.5 cm / 2.2 inch height and an elastic cuff ensures a seamless fit around your ankle.
They have recently added some boots made with ethically sourced wool uppers. You can have a look at all the different styles of boots from Vivaia, one of the eco friendly shoe brands, when you visit their range of boots here.
Washing Instructions
Depending on which style of washable shoes for women you have, these are general instructions for washing flats or those styles with heels. Your shoes will last longer if you follow these instructions.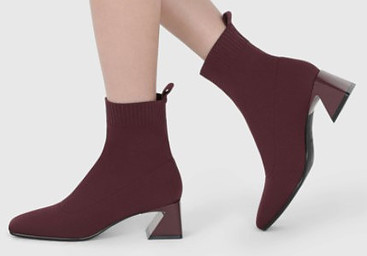 Flats can be hand washed or in the washing machine on a delicate cold cycle and use a washbag

first remove the insoles
use a gentle detergent as a harsh one might affect the color of your shoes
never use hot water as the color and shape of your shoes might be affected.
leave them to air dry naturally. Once again do not tumble dry as the hot air can affect the shape of your shoes.
put the insoles back in again and you are good to go.

The collection that has heels and shoe soles that cannot be removed, should be hand washed.

once again remove the insoles.
fill a bathtub, sink or basin with cold water.
use your hands to scrub your shoes with e gentle detergent.
completely submerge them in water to rinse
leave them to dry naturally in fresh air and do not tumble dry as it could affect the shape of your shoes.
replace the insoles and off you go.
It is recommended that you do not wash other shoes or clothes with your Vivaia footwear.
Reviews of Vivaia Sustainable Shoes for Women
Reviews from customers have given the best-selling products a rating of 4.8/5, with most customer very happy with their shoes from recycled plastic.
Trustpilot gives an average rating of 3.2/5 after 32 testimonials. Most negative reviews center around return of products, but Vivaia is responding to feedback and complaints in Trustpilot, which is always a good sign.
Unworn shoes in their original condition can be returned within 14 days of delivery. Free standard shipping is offered on all international orders. Your estimated delivery date will be shown during checkout, as delivery times depend on global destinations.
Final Thoughts on Machine Washable Shoes Women Collection
If you want to step into conscious comfort and also looking for sustainable, comfortable, washable shoes for women, then Vivaia fits that bill. It is generally thought that the price is fair to pay for eco friendly shoes women products.
Purchase footwear exclusively by going to Vivaia. There is a wide range of sizes including US 4 – 10, UK 2 – 8, EU 34 – 42 and also French and Japanese sizes. High tolerance for different shaped feet from wide to high arched, valgus and more. Because the recycled plastic shoes are washable, you do not have to worry about getting them dirty.
If you have any questions about Vivaia, one of the new eco friendly shoe brands, or have experience with the sustainable shoes women range, them please leave your comments below and I will get back to you.