Choosing the best chemical free diapers for babies can be a challenge with so many choices of natural disposable diapers today. Most natural disposable diapers are made from bamboo, which doesn't always mean they are the best non-toxic diapers. But how do you know which chemical free disposable diapers are best and safe?
The safest disposable diapers for babies will be free of harmful chemicals. You want to make 100% sure that there are no chemicals touching your baby's skin. Kudos cotton diapers for babies fit that bill. But, do you know what is in a disposable diaper and how to choose one to avoid any toxic chemicals?
How To Choose The Safest Disposable Diapers For Babies
Using reusable cloth diapers are the safest and healthiest choice, but they might not be right for your family. You might be a cloth diaper family, but want to use disposable diapers for traveling and daycare.
There are numerous cute disposable diapers on the market these days. Unfortunately, many of them contain ingredients that are not safe for your baby or the environment. These are toxic ingredients you should avoid: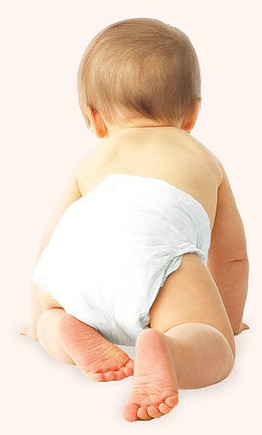 Chlorine is used to bleach parts to make it look white, instead of yellowish. It is an unnecessary process and is only for aesthetics. Chlorine leaves dioxides behind, which has a negative effect on our bodies and the environment.
Latex free.
Free of parabens, in that the ingredients are not specified and ingredients can cause an allergic reaction.
Synthetic dyes: dyes are often used on the outside and around the cuffs and elastic to make pretty patterns. Dye is also used in the wetness indicator, but it can cause a rash in babies.
Fragrance free: fragrance is a term that is used for several chemical ingredients. These might not be individually listed, but could have a harmful effect on your baby's health. The Environmental Working Group warns that if you see "fragrance" on a label for personal care products, read it as "hidden chemicals".
Free of lotions: this falls in the same category as fragrances
No VOCs (volatile organic compounds) and phthalates: phthalates is a class of chemicals that are used to soften and strengthen plastic.
Tribuityltin: poisonous to aquatic life.
Apart from wanting to avoid chemicals when choosing the safest disposable diapers for babies, you also want them to be as natural as possible.
The Most Natural Disposable Diapers From Kudos
Kudos makes disposable diapers from cotton and plant-based renewable materials. So, your baby's bottom is in contact with cotton, rather than plastic.

Kudos uses TruCotton 100% natural cotton to produce disposable cotton diapers. TruCotton is carefully mechanically cleaned to unprecedented levels. It is never bleached or scoured, to produce 100% natural cotton fiber.
Natural cotton contains dark specs, which is typically bleached to remove the specs. These chemicals are harmful for a baby's delicate skin.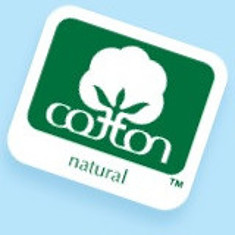 So, if you see dark specs, it shows that the cotton has not undergone any harsh chemical treatments and is 100% natural.
TruCotton is made with a breakthrough dry process. This process uses zero water, zero chemicals and no heat to process.
TruCotton is Oeko-Tex Standard 100 certified and was the first cotton product to acquire the new USDA BioBased certification.
All the cotton is sourced directly from cotton growers in the USA. Kudos is the only disposable diaper that have earned the cotton natural seal from Cotton Inc. for being lined with 100% cotton.
Do you know what is in a disposable diaper? Most people cannot answer that question, so let's have a look at what is inside Kudos most natural disposable diapers.
What Is In A Disposable Diaper?
Disposable diapers are made up of several layers. Most popular brands use fossil fuels, ie. plastic, to produce disposable diapers. Instead, Kudos uses these materials for the best chemical free diapers for babies:
Natural, unbleached cotton.
Tree pulp is used for the fluffy, fast-absorbing core. Kudos uses chlorine free pulp from sustainably harvested trees,
Raw sugarcane is used for the protective layers in the diaper, including the cover. Sugarcane is surprisingly strong and soft.
These three plant-based materials is the reason why Kudos cotton diapers for babies, have 4 times more plant-based materials than some leading brands.
First Layer
This is the top sheet or liner and is the part of the diaper that touches your baby's skin. Kudos diapers use 100% cotton for the top sheet, whereas most other disposable diapers have a polypropylene, ie. plastic, top sheet.
The polypropylene might be engineered to feel soft, but unfortunately it might contain harmful VOCs and phthalates.
Second layer
Second is the Acquisition / Distribution layer (ADL). It is the absorbent layer that acquires fluids from the bottom of the top layer, and distributes the fluid into the absorbent core. The ADL is made of a very lightweight
fiber that has a lot of air pockets.
Typically, in most natural disposable diapers, the ADL consists of one layer of materials. However, Kudos diapers are designed with DoubleDry tech.
It incorporates 2 layers of ADL, thus ensuring even distribution of fluids. Both these layers are derived from plants, as opposed to petrochemicals.
DoubleDry tech absorbent technology works two ways:
to absorb moisture and
keep it locked in the diaper core.
The top layer of DoubleDry features thousands of tiny flexible funnels that help moisture to flow away from the skin.
It effectively moves moisture from the top sheet, down the length, and across the width of the diaper, into the core.
This top layer makes it difficult for moisture to return to your baby's skin, thus helping to keep skin dry. One of the leading causes of diaper rash, is moisture held against the skin.
Because moisture cannot return, there is a lower chance of diaper rash developing. It also provides superior overnight-level protection and reliability. Kudos has a patent pending for DoubleDry technology.
Third Layer
Next is the core, which is the most absorbent part of a diaper. These are little bits of absorbent material that work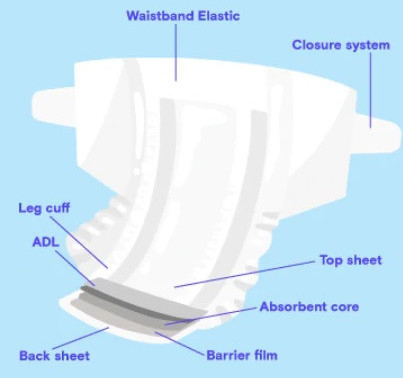 in tandem to keep moisture locked in the center of the diaper. Typically, pulp from trees that have been bleached with chlorine, are used, together with super absorbent polymer (SAP).
What makes Kudos different? They use wood fluff pulp that is totally free of chlorine and sustainably harvested through the Forest Stewardship Council (FSC).
Their SAP is a premium, performance grade, designed to absorb lots of moisture and keep it locked in the core of the diaper.
It will hold moisture, even when your baby sits, crawls or rolls. Unfortunately most SAP is not green, as it is derived from petrochemicals.
Several companies are working on bio-based SAP, but none are yet available at a commercial level.
Kudos will switch to bio-based SAP as soon as a viable commercial option is available.
Fourth Layer
The fourth layer is the barrier film that keeps moisture inside the diaper. This can be breathable, or not. Typically, a non-breathable polyethylene barrier film is used. However, Kudos uses a breathable green polyethylene barrier film.
This breathable barrier film allows air to flow in and out of the diaper, as well as some moisture. Breathability in the barrier film is very important, as you don't want moisture to be trapped against your baby's skin.
Wetness from pee and pooh can irritate the skin and cause diaper rash. It is more complicated and expensive to make breathable barrier film, than non-breathable. So most disposable diapers are made with non-breathable barrier film from synthetic resin sources.
Kudos is made with breathable materials throughout the diaper. So if you find your baby gets diaper rash from the brand you are using, it is worth giving Kudos a try.
Fifth Layer
This is the back sheet or outer layer. The back sheet is the soft material on the outside of a disposable diaper. It is the first thing you feel when you pick up a disposable diaper.
Materials that are typically used in disposable diapers, are polypropylene, polyester and polyethylene, which are all plastic materials. Kudos uses a green polyethylene which is derived from sugarcane.
Sugarcane derived polyethylene is naturally soft and sustainable.
Sixth Layer
These are additional components, like leg cuffs, elastics, tabs and adhesives. Adhesives are latex-free and contain ingredients made from CO2 scrubbing pine trees.
Wetness indicator is 70% plant based and the yellow line will turn blue when it is time to change the diaper.
Kudos is working on making all components plastic free. Currently there are not commercial alternatives available, but as soon as they do become available, Kudos will make the switch.
Kudos says their diapers are "proven to perform against leaks and blowouts". They are working towards a plastic-free future, protecting sensitive skin and Mother Earth at the same time.
By choosing the chemical free disposable diapers for babies, you are making a huge positive difference in the health of you baby.
Benefits Of Using Cotton For Chemical Free Disposable Diapers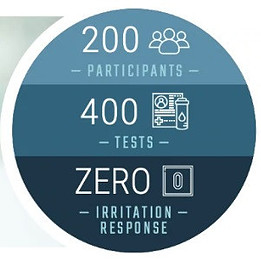 Everyone wants their clothes and personal care products to be safe and comfortable against their skin. This is even more important when it comes to your baby and their delicate, sensitive skin.
Cotton Incorporated conducted clinical tests and evaluation to determine if natural or purified cotton, causes a reaction on any type of skin. The finding was that there was a zero irritation response.
Cotton is hypoallergenic, ultra soft and breathable.
Absorbent: cotton liners absorb 7 times more excess moisture than leading diaper brands do.
Environmentally friendly: most disposable diapers are made with polyester and polypropylene in the liner, absorbent layer and back sheet. Plastics are not environmentally friendly and use far more energy to produce, than using plants as a raw material. Kudos cotton diapers for babies include carbon negative green non-woven materials. Kudos made a commitment to make their diapers sustainable for Mother Earth.
Because cotton is natural, it does not require intense chemical processing. Fibers like polyester, rayon and even bamboo (used in most "natural" disposable diapers), all require highly intensive chemical processes to transform them into fabric.
Cotton is regarded as carbon neutral, because carbon is absorbed by the plant from the atmosphere.
So, say no to wrapping your baby in plastic.
Cotton is often grown in arid climates and requires a lot of water to grow. Because of the high water consumption, the US cotton industry has taken steps to be more sustainable. Kudos uses pure natural cotton, without any dyes or bleach.

What Parents And Babies Love About Kudos Cotton Diapers For Babies
100% cotton
Environmentally conscious with 4 times more plant based components than traditional diapers.
Patent pending Double Dry technology
Grow with your baby.
Monthly delivery.
Kudos cater for all sizes and gender to grow with your baby, with 6 sizes from 8 pounds to over 35 pounds. Newborn sizes for less than 8lbs, can be ordered from MadeOf organic baby products.
As babies grow, fewer diapers are needed each day. Therefore, the quantity of diapers in each box is adjusted according to the size.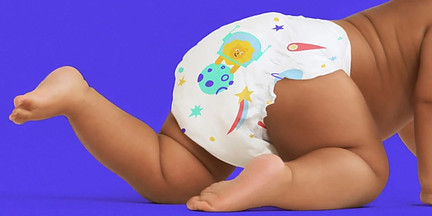 Each size offers unique prints, designed to stimulate your baby in the way in which they are interacting with their environment.
Different sizes have different fun prints as patterns, but Kudos diapers are also available in white.
Use interactive prints on diapers to stimulate and capture your baby's attention and compliment their cognitive development.
So, Kudos cute disposable diapers are stimulating your baby's mental development.
With a monthly subscription you can save money and benefit from free shipping. You can relax knowing you will not run out of diapers when you need them most.
It starts at only $88/month and you can adjust your order if needed. So let Kudos take care of one of your never ending tasks as a parent.
Green packaging: Kudos has selected recyclable and sustainably sourced packaging. Diapers are packed in green PE bags, sourced from sugarcane.
If you are looking for organic baby care products, you will find this post on Best Organic baby care products, helpful.
Dressing your baby in organic cotton clothes, will further reduce the possibility of their exposure to chemicals. Using a reusable swim diaper when you take your infant swimming, can further reduce your environmental footprint.
Choosing The Best Chemical Free Diapers
It is difficult to argue that chemical free diapers do exist, as most do contain at least one ingredient that is not natural.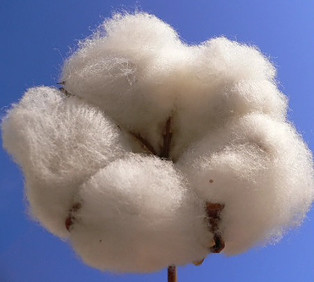 At the moment no disposable diaper is fully compostable or biodegradable. Research is being done on producing SAP from plant sources, which will make it biodegradable.
It is important though to make sure that what is in a disposable diaper, does not contain harmful chemicals.
Do read the labeling and information about the composition of the diaper, and then decide what is acceptable to you.
Kudos diapers are free of chlorine, latex, parabens, lotions, fragrances and phthalates, nothing that can irritate your baby's delicate skin.
The best non-toxic diapers must be made with skin friendly materials and free of harmful chemicals. So there is no need to compromise on safety.
Do try out different options of diapers to see what is best for you and your baby. The amount of choices can be overwhelming. Kudos are providing parents with natural diapers that suit babies' delicate skin. 

Verdict On The Safest Disposable Diapers For Babies
Choosing the best non-toxic diapers for your baby, is one of the best things you can do for them. In the end, what matters most, is a healthy, happy baby. Opting for chemical free disposable diapers, will give you peace of mind.
If a diaper or nappy brand cannot tell you what is in their diapers, avoid them.
The disposable cotton diapers from Kudos, combine the benefits of reusable cloth diapers, with the convenience of disposable diapers.
They say that if all disposable diapers were made the Kudos way, 500 million pounds of plastic would be replaced with clean, unbleached natural cotton.
Additionally, every year 2 billion pounds of diaper materials derived from petrochemicals, would be sourced from renewable materials.
If you have any questions or suggestions about the best chemical free diapers, please leave them in the comments below and I will get back to you.