When we are enjoying the outdoors, we want to make sure that we are not harming the environment, and that includes the outdoor clothing that we choose. You want your outdoor gear to be lightweight, yet warm and waterproof.
Whether you are looking for windbreaker jackets, winter jackets for women or a warm 3-in-1 parka jacket,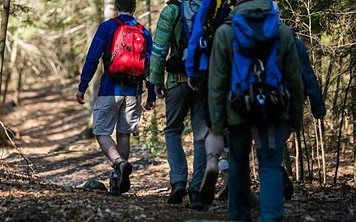 these brands all create sustainable outdoor gear. Everything we wear has an impact, so we need to lessen the negative impact as much as possible.
To embrace the concept of sustainability, production processes need to be adapted to look after the environment. Eco friendly fibers need to be incorporated and that includes the use of recycled plastic and recycled fabrics. Plastic is a huge global problem, so take the plastic that is already in circulation and turn it into a useful fabric.
This guide has eco friendly outdoor jackets for any weather conditions and the brands all incorporate recycled materials in their range. Whatever your need, there you will find jackets that are suitable for skiing and snowboarding, mountaineering and hiking and everyday living.
This post contains affiliate links and I will be compensated if you make a purchase after clicking on my links, without any additional cost to you. It helps me to maintain this website and bring you more eco friendly and sustainable news.
1. United by Blue
United by Blue is an outdoor brand that was founded in 2010 with the mission to clean up our waterways. For every product that is purchased, a pound of plastic waste is removed from our rivers and oceans. More than three millions items have been sold, which equates to more than three million pounds of trash that has been taken out of our waterways and seas.
The range includes winter jackets for women and men, backpacks and bags and every day reusables. From windbreaker jackets to rain coats, parka jackets and everyday wear, all products are made from organic cotton, recycled polyester and bison fibers (B100 Bison insulation in jackets) The bison jackets come with a lifetime guarantee.
Bags and backpacks have water resistant recycled polyester shells and are stain resistant.
Materials that are exclusive to United by Blue are:
BisonShield – for the American Bison to stay dry and warm during some of the harshest winters on the planet, nature has provided them with a coat that consists of layers of compact, hollow and resilient hairs.

Bison fiber is basically considered a waste product and is discarded by the ranching industry. Through the United by Blue supply chain, the fibers that would have been discarded, is intercepted. No animal has been harmed in the process to get the hairs, it is an existing resource that is diverted.
It is used as either a yarn, or as insulation.
Benefits of Bison fibers include being temperature regulating, flexible, warm when wet, moisture wicking, hypoallergenic, lightweight and being a very soft fiber.
SoftHemp – hemp is a renewable resource that grows quickly and absorbs more carbon dioxide than trees. It is a hardy crop that grows almost anywhere and requires very little water.

There is no waste in hemp production as the stalks are used for fibers and oil and supplements are made from the seeds.
It is mixed with other materials to create SoftHemp yarn that is used in socks and other basics.
SoftHemp is sustainable, biodegradable and has four times the durability of cotton.

EcoKnit is created from sustainable organic cotton, hemp, yak and modal. Global Oragnic Textile Standard (GOTS) and OCS factories are used to manufacture these knits. This means that the highest social and environmental standards have been met.
(R)evolution is a range of bags and pet accessories that is made from recycled plastic water bottles. Recycled polyester yarn is derived from post consumer plastic bottles and prevents it from going into landfill or the ocean. These products do not require washing, so no micro-plastics are released into the washing water.
AllDayChambray is a lightweight sustainable fabric consisting of hemp, organic cotton and yak, that is strong enough for everyday wear and tear.
EcoDry is a blend of organic cotton and recycled polyester. It is a lightweight and moisture wicking fabric that will keep you dry and comfortable during any activity. This will be coming in Spring 2020.
Sustainable Materials Used by United by Blue 
Sustainable materials that are used include these:
Organic cotton keeps toxins out of your wardrobe and the environment .
Hemp is far stronger than cotton and is naturally grown organically, without pesticides and toxic chemicals.
Recycled polyester has a far smaller carbon footprint than virgin polyester and can be recycled numerous times. Nine water bottles are used to make one t-shirt. The bottles are shredded into flakes, melted to get pellets, which is melted to get the yarn, then knitted to create the textile.
Wool is a renewable and sustainable resource that doesn't hurt the animal. The fibers are versatile, breathable and biodegradable.
Tencel is the brand name for the cellulose fiber lyocell, which is deribìved from wood. Eucalyptus and beech trees, which are fast growing, is most commonly used. The trees require much less water than cotton and is lightweight and cool to wear.
Micro Modal – the inner pulp of beech trees is used to make this biodegradable and sustainable textile. It is breathable and absorbent and the trees have a yield that is ten times more than cotton. It is perfect for clothes that are next to your skin like underwear, pyjamas and bed linen.
Corozo is used for buttons. Corozo is obtained from the nuts that are produced by the Tagua palm tree. Each tree can produce as much as fifty pounds of nuts every year and continue for more than a hundred years. Corozo buttons are 100% natural and are washable and will not scratch or splinter.
Ethical manufacturing is achieved by using factories that have certified facilities for looking after their workers. Factories are in the USA, Turkey, Vietnam and China.
United by Blue is a certified B-Corporation business, their stores are LEED certified and they use office supplies made from recycled materials. They arrange clean-ups along the rivers in the USA, and you can join in to remove plastic bottles and vehicle tires from the waterways. See their range here.
2. North Sails
North Sails was started in 1957 in San Diego by a world champion yachtsman, Lowell North. He was an Olympic medalist and an aeronautical engineer. Originally the company focused on building sails for yachts, but since the early 1980s,
they have also been making outdoor apparel.
The range now includes clothing for men and women, bags and every day reusables. Today their motto of "Go Beyond", also lives on in their apparel.
Since early 2018, garments and products that are made from recycled plastic and upcycled and organic cotton, has been on the market. Reuse is a process of recycling sails and using recycled fabric and padding.
Windbreaker Jackets are made with a detachable vest. The outer is made from recycled polyester and the padding in the vest is Repreve, a waterproof recycled nylon fabric. The "free the sea t-shirt collection" is made using yarn made from recycled cotton and plastic PET bottles.
North Sails backpacks are 100% made from recycled materials. Not only the fabric, but also the shoulder straps, the handle, the classic front pocket and the zips.
It is no surprise that a business that is so closely involved with our oceans, sees conservation of our seas as very important. One percent of their revenue is given to the Ocean Family Foundation (OFF) to increase awareness of plastic pollution and fund conservation initiatives to save our oceans.
3. La Sportiva
La Sportiva is an Italian company that was started in 1928. For more than ninety years they have been specializing in climbing and mountaineering boots and footwear, as well as outer wear like jackets.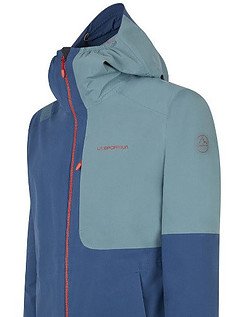 With a view to greater sustainability, they have introduced a line where items are partially or totally made from recycled materials. Fabrics and padding are made with recycled polyester, obtained from PET plastic bottles.
Garments that have the label Recycled Fabric and Insulation, means that recycled polyester has been used, rather than new fibers made from petrochemicals. Approximately 35 plastic bottles are used for each jacket that uses the recycled materials. Have a look at their jackets here.
They have also introduced Tech Stretch Pro Eco fabric, which is made of 88% recycled polyester and used in the soft shell line. The Idro Breath Membrane has zero perfluorinated chemicals (PFC).
La Sportiva is working with a local company to convert their rubber waste into a material used in playground flooring. They are incorporating eco friendly practices like, eliminating plastic from their offices and events that they manage directly.
4. The North Face
Designers at The North Face have developed a new technology called "Futurelight", which will be used for the waterproof membrane in jackets and trousers and also trainers. The membrane is made with various sustainable components.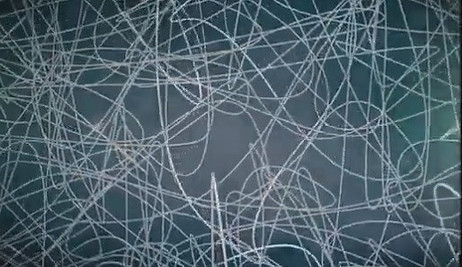 So what is Futurelight technology? Nano-spun polymers are used where fibers are spun at two hundreds nano-meters of dimension. Nanospinnig creates nano-level holes which allows the membrane to be incredibly porous, while at the same time letting air move through.
From more than 200,000 nozzles, a polyurethane solution is deposited onto a surface. The membrane is created by collecting the solution in a random matrix. It is bonded to backing and face fabric to produce a waterproof, yet breathable membrane. The result is a porous yet waterproof film that is thin and light.
Technology has been developed by The North Face designers and will be used in Summit, Steep and Flight series, which included winter jackets for women and men.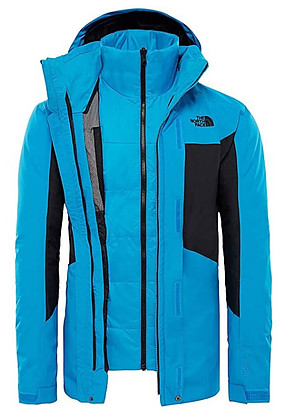 The sustainable three layer windbreaker jackets uses recycled materials, no perfluorinated chemicals (PFC) durable breathable repellent (DWR) and is produced in factories that use sustainable practices.
Most three layer outerwear is bulky and heavy, but the jackets that have Futurelight technology incorporated, are lightweight, breathable and waterproof. It is warm enough to be used on the ski slopes, but versatile enough to be used for training and hiking activities.
The brand is committed to incorporating more recycled materials into their clothing and shoes. They also produce a waterproof and breathable DryVent shell for a jacket with a removable liner made from 100% recycled polyester.
They will incorporate the futurelight membrane into 3 of their trainers:
Ultra Fastpack IV Futurelight – a trekking shoe
Ultra Traction Futurelight – a running shoe for technical routes
Activist Futurelight – a trekking shoe for city and mountains
Go here to get your The North Face items at the best prices.
5. Everlane
Everlane is an American brand that was founded in 2010 with sustainability at the core. They have released a range of outdoor clothing made from recycled plastic bottles and other reused materials.
ReNew is a range of outerwear made with recycled materials in the from of recycled plastic bottles, and recycled down in sustainable outerwear garments. Their ReNew windbreaker jacket is made with thirty-two recycled plastic bottles and the recycled polyester in their anorak is derived from twenty-eight plastic water bottles.
Insulation is a hundred percent recycled PrimaLoft, which is a solution to plastic waste. PrimaLoft insulation conforms to Bluesign criteria for environmental impact, so it is kind to the environment.
Only zippers and trims are not currently available made from recycled materials.
They have a completely transparent pricing policy and will give customers the exact breakdown of the cost of a garment, from the fabric cost to labor, trims and zips to the transport costs. Sustainability and transparency go hand in hand at Everlane.
6. Patagonia
Patagonia has been at the forefront of using recycled plastic in their clothing and outdoor gear.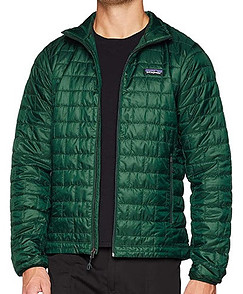 They are an American company and was the first outdoor clothing brand to use recycled polyester in their products. They produce high quality outdoor clothing using recycled and low impact materials.
Patagonia products use a wide range of fibers that include recycled nylon, recycled polyester, organic cotton, recycled wool, hemp, recycled feathers and other sustainable fibers.
Used plastic bottles is the source for recycled polyester, but yarn is also derived from unusable second grade fabrics and disused garments (including Patagonia products).
Windbreaker jackets, base layers, fleece tops and board shorts are amongst the garments that are produced using recycled polyester. The range caters for the whole family with winter jackets for women, men and kids.
Please read more about Patagonia at this post about the best brands that incorporate recycled plastic in their clothing.
7. Ecoalf
The Spanish brand Ecoalf was started in 2009.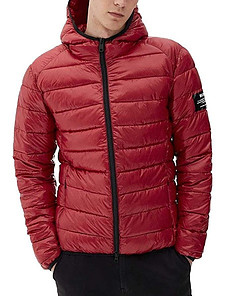 Their range of clothing and footwear is made entirely from recycled materials. Post consumer waste like used plastic bottles, discarded fishing nets and old vehicle tires are recycled to produce eco friendly fabrics for outerwear and apparel.
Their parka jackets and anoraks are made from a hundred percent recycled polyester, which is breathable, waterproof and sustainable, and also free of perfluorinated chemicals (PFC).
Ecoalf incorporates recycled materials in their footwear and apparel. Read more here about the recycling materials and sustainable practices that Ecoalf follows, as well as the work that the Ecoalf Foundation is doing to remove trash from our seas and oceans.
The Ecoalf range includes outdoor clothing for men and women and the windbreaker jackets and anoraks are made from recycled polyester. Get your Ecoalf windbreaker jacket at the best price here.
8. Finesterre
Finesterre is a UK company that was founded in 2003.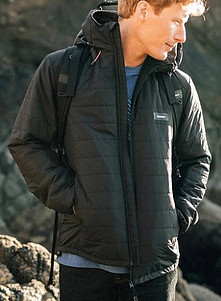 Although they are based in Cornwall, most of the production takes place in China. They produce insulated jackets made with recycled materials and organic cotton.
From waterproof windbreakers for everyday activities, to 3-in-1 parka jackets and functional fleeces, the garments are sustainably made using circular sourcing.
Natural fibers that they use include organic cotton, hemp, linen and wool that is locally sourced in England. Winter jackets for women and men are part of the sustainable range.
Regenerated fiber that is incorporated in the clothing is recycled polyester, obtained from post consumer and post-industrial waste. Recycled polyamide (nylon) comes from post-industrial waste that is collected from their spinning and weaving mills.
The Nimbus jacket is breathable and has a water resistant shell, made from a hundred percent recycled polyester, and PrimaLoft Silver Eco recycled insulation. So the insulation is free of down, and warm, windproof and water resistant.
They are a certified B Corp business, meaning they look after their workers as well as the environment.
9. Haglofs
Haglofs is a Swedish brand which promotes outdoor gear that is made from organic and recycled materials and sustainably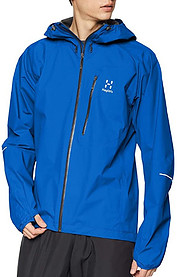 made. They cater for the entire family with clothing for men, women and juniors, and includes outdoor gear, backpacks and accessories.
Their range of jackets covers windbreakers, mid layers, vests and fleeces. The L.I.M series is lightweight and can fold up to a small bundle. To reduce chafing and weight, the shoulders, sides and sleeves are designed without seams.
The Essence Mimic Hood is a lightweight insulated jacket that has a synthetic filling made from 100% recycled polyester. It is warm and light, even when wet, and emulates the characteristics of down. Pertex, a wind and tear resistant fabric which is free of PFC, is used for the outer shell.
Mid layers are made with 94% recycled polyester and 6% elastane.
Their range also includes waterproof trousers, backpacks, hiking boots and accessories. All the products are free of fluorocarbons and include recycled materials. This is where you can get your Haglofs products at the best prices.
You might also want to check out these sneakers that are made from recycled plastic.
If you have any comments or questions about eco friendly windbreaker jackets and outdoor gear that use recycled materials, please leave them below and I will get back to you.