Can coffee grounds be reused? What can I reuse coffee grounds for? Is it possible to have fabric made with coffee grounds? What if you could make new textiles from your waste products? The answer to all these questions are a resounding yes. First you drink it and then you wear it. Innovative textile solutions means that you can have clothes made from food.
The Coffee Drinking Habit
Drinking coffee is an important part of our international culture and the daily coffee consumption habit is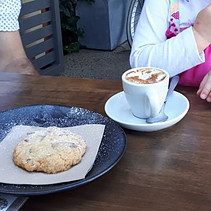 creating a huge amount of spent coffee grounds. Coffee was first discovered in Ethiopia in the seventh century and by the eleventh century it had become a beverage. During the fifteenth century the habit of drinking coffee began to spread through Europe.
Twenty five billion kilograms of spent coffee grounds are generated each year, of which only 4% is properly recycled. The other 96% becomes trash, which emits methane (CH4) and carbon dioxide (CO2), the two main greenhouse gasses.
Coffee today is not only a very popular drink, but also a way of life. It is not only available as a beverage, but also in the clothes that we wear through fabric made with coffee grounds.
Why use Coffee for Clothes Made from Food?
Coffee grounds have a unique deodorizing function as coffee has a natural ability to block odors. When roasting coffee beans,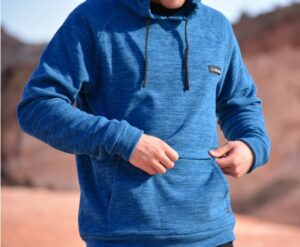 they swell and the space inside the bean expands. During brewing, hot water removes any materials that are blocking the spaces.
Coffee fiber fabrics are perfect for sportswear and performance clothing as it eliminates odors.
Coalatree, the eco-minded company, is producing hoodies and joggers made from recycled coffee grounds.
When used coffee grounds end up in landfill, it emits methane, a greenhouse gas that is 30 times more potent than carbon dioxide (CO2) Two products that are harmful to the environment, namely coffee waste and plastic water bottles, are used for innovative textile solutions and to produce fabric made with coffee grounds.
So if you have been wondering can coffee grounds be reused, let's have a look at some of the companies that are using spent coffee grounds to produce fabric made with coffee grounds.
1. Singtex and S.Café Technology
The Taiwanese textile company Singtex, founded by Jason Cheng, produce a variety of coffee related products, including S.Café coffee yarn and coffee fabrics. After four years of research, S.Café was launched in 2009. They have partnered with local coffee shops and collect their used coffee grounds, thereby using a sustainable route for their raw material.
S.Café is an eco friendly yarn made from coffee grounds. S.Café technology has many renewable features. It recycles spent coffee grounds for fabric yarn. A high concentration of essential coffee oil is extracted through the patented manufacturing process. This oil can be reused in textiles and cosmetics.
The raw material is a combination of coffee and recycled polyester. The basic procedure to obtain the green fiber, which is patented, is to mix the coffee residue with recycled plastic bottle fibers and re polymerize it, before spinning into a coffee yarn. S.Café yarn contains 5% upcycled coffee grounds and 95% recycled PET plastic bottles.
S.Café Coffee Products
Showing how can coffee grounds be reused, several products incorporate the S.Café technology:
P4Dry is a new fabric printing technology.
Another S.Café technology is ICE Café, which cools the body temperature down by 1 to 2 degrees Celsius, thereby making you cooler and more comfortable during workouts.
S.Café AIRNEST is a sustainable bio-foam made of coffee oil and coffee grounds that can replace the petrochemical derived polyurethane PU) foam. It is very versatile and can be used in shoes, home textiles, sports gloves and fabrics.
Sefia is a 36% bio-based material that combines S.Café yarn with cellulose filaments derived from biodegradable wood pulp. The resulting fabric has excellent drape, high tenacity and stability, is anti-pilling and has all the great benefits of S.Café coffee fibers.
eco2sy multi layer insulation technology is crested from recycled plastic bottles and used coffee grounds. It is used for jackets and each jacket prevents twelve plastic bottles and three cups of spent coffee grounds from going to landfill.
AEx membrane is an air exchange technology that is applied on fabric. It is a foam coating technique that blocks 96% to 98% of wind, with the remaining air circulating within the fabric. It greatly enhances the transmission of moisture vapor, while reducing the build-up of heat stress. Through evaporation and convection, the body loses heat and the wind chill factor makes us feel colder than the actual air temperature. By reducing the wind chill with a windproof layer, the body is kept warm and comfortable.
S.Café Mylithe is created by applying ATY texturing techniques, which is an "air texture" method, to give the fabric a feel like cotton, while still maintaining the original properties.
S.Café co-brand with American Eagle Outfitters to make Cafe Jeans, denim made with recycled coffee grounds.
Another Singtex S.Café invention, Airmem, is a special waterproofing membrane made of coffee oil. It contains 25% coffee oil that was extracted from spent coffee grounds and is a more sustainable alternative to petroleum based materials.
Advantages of AIRMEM:
The microporous membrane technology is windproof, blocking wind while also keeping a soft touch to your skin.
The ability to control odors is double that of normal membranes.
AIRMEM is water resistant, thus keeping your body dry.
It is oil repellent
The membrane is breathable and provides excellent moisture vapor permeability to keep the wearer dry and warm.
It is extremely thin, light and flexible and the performance is much better than other PU and PVC materials.
The eco friendly bio material is made from spent coffee grounds.
These innovative textile solutions are used in ski suits, jackets, sports coats, gloves, hats and outdoor gear, as it also has excellent moisture permeability. AIRMEM received USDA bio-based product certification and 2015 ISPO Award selection.
Singtex patented technology include:
Special eco friendly yarn technology
technology for extrusion, stain resistance and absorption
Technology for laminate and water based coatings
Bio-material modification technology
Read more about the innovative Singtex technologies on their website.
Brands that are using Singtex and S.Café fabrics to produce clothes made from food, include Patagonia, The North Face, Timberland and American Eagles Denim. Sustainable yoga and active wear company Rumi, is using it and also smaller niche brands like Ecoalf, Sundried and Five12 Apparel.
2. Cchilu and XpreSole
Cchilu (pronounced Chee-Loo) is a Japanese footwear brand that has developed a green technology called XpreSole, to make shoes from spent coffee grounds (SCGs).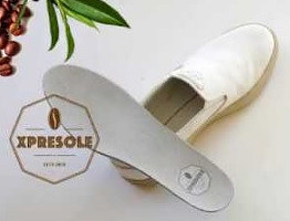 Every major component in the shoe is made from coffee grounds.
Wilson Hsu founded Cchilu in 2011. With XpreSole he is using coffee ground as the key component in footwear to make water repellent shoes out of discarded coffee grounds. Five cups of recycled coffee grounds makes one pair of XpreSole shoes. So far XpreSoles has made about 40,000 pairs. This means that 200,000 cups of waste coffee has been upcycled, thus reducing greenhouse gasses and their carbon footprint.
They have developed a formula that mixes and melts coffee grounds into a special compound that is ideal for the uppers and soles of shoes. Using innovative textiles solutions, they are turning waste into footwear materials by recycling millions of tons of spent coffee grounds. Spent coffee grounds from big coffee vendors like Starbucks is taken and recycled.
The technology uses low temperature and high pressure and energy saving processes to combine coffee grounds onto the surface of the yarn. This changes the characteristics of the filament.
Patented Process
The patented process for the fabric made with coffee grounds, includes:
collecting the spent coffee grounds,
drying, grinding, sifting and
making pellets through a proprietary process to create master batches that is sent for manufacturing.
Used coffee grounds are melted and mixed with recycled plastic bottles.
This is turned into a yarn that is woven into the upper and the insole, and the out soles also use coffee.
Centralized resources in Taiwan are used to make the master batches, which is also exported. Cchilu make their own range of footwear, called Cody, where the master batches are compounded with other materials.
By using the coffee fabric, the amount of petroleum based materials are reduced by 30%.
Upper: coffee yarn is mixed with RPET yarn from recycled plastic bottles and high quality canvas.
Insole: lining is made with a mix of coffee yarn and RPET recycled plastic bottles. Foam is a special XpreSole yarn sole compound made with spent coffee grounds and polyurethane.
Outer sole: foam is a special XpreSole compound containing spent coffee grounds and ultra lightweight EVA which has a high resilience and great grip.
The Cody sneaker is primarily made from coffee grounds and recycled plastic bottles and Cchilu also makes socks from coffee yarn.
3. RENS
Waterproof sneakers from RENS is combining fabric made with coffee grounds, with recycled plastic waste. The first Rens sneakers made from coffee was launched in the middle of 2019.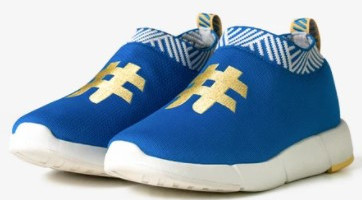 Each pair uses 300 grams of coffee grounds and 6 plastic bottles to make sneakers that weigh 460 grams.
Rens was started by two entrepreneurs from Helsinki.
Making Rens sneakers start with infusing coffee grounds into plastic pellets and spinning the mixture into a polymer yarn. The yarn is then knitted on a waterproof nano-layer membrane. The natural anti-bacterial qualities of coffee prevents shoes from smelling.
It is easy to clean coffee sneakers by using a clean cloth and standard non-solvent based detergent to wipe away any dirt and grime.
Properties and Benefits of Coffee Fabrics
Fabric made with coffee grounds have many benefits:
It provides excellent odor control. The coffee grounds, which are embedded within S.Café yarns, absorbs odors.
Eco friendly
Has fast drying benefits. S.Café technology accelerates the drying of the fabric by spreading the moisture across the surface area of S.Café garments. By pulling moisture away from the skin, the wearer feels cooler during any activity and thus also more comfortable.
UV protection: little microscopic holes within the yarn is filled by coffee grounds, which forms a shield that is long-lasting and free of chemicals. It prevents ultra violet rays from coming into contact with the skin.
Made from recycled materials.
Sustainable technology is used.
The eco-minded company Coalatree, is using recycled coffee grounds to produce joggers and hoodies, as well as denims.
Features and Benefits of Coffee Shoes
Coffee is naturally anti-odor, so the shoes do not smell as the microscopic holes in coffee yarn traps odors.
Water repellent through a coated nano graded polymer layer, ensuring feet and socks stay dry.
Dirt proof with a coated nano layer prevents dirt and stains
Moisture wicking
UV protection – coffee yarn has microscopic holes that reflect UV rays.
Comfortable and flexible with a good grip. Round shaped grip to prevent slipping.
Dries quickly
ultra light weight with a barefoot light feel
sustainably made
Vegan friendly
The sneakers are versatile and suitable for leisure, urban, travel, outdoor and rainy day use.
Related post: 15 Best Sustainable Materials for Shoes.
Can Coffee Grounds be Reused? Environmental Advantages
Shoes and fabric made with coffee grounds, has these benefits to the environment:
Minimize spent coffee grounds that ends up in landfill
They minimize methane (CH4) and carbon dioxide (CO2) emissions
Minimize carbon footprint compared to the manufacturing process used in the production of conventional footwear.
Recycled coffee grounds replace 30% of petrochemical based products used in traditional footwear.
What Else Can I Reuse Coffee Grounds for?
Still wondering what else can I reuse coffee grounds for? Apart from having fabric made with coffee grounds that can be used in clothes and footwear, it has many other applications. Many of these you can do at home with your coffee waste:
Compost it and use it as a fertilizer.
Use it as a repellent for insects and pests.
Remove fleas from your pets.
Neutralize odors.
Scour pots and pans.
Mushroom cultivation,
Deodorant
Biofuel
Use it as a natural cleaning scrub.
Spent coffee grounds can be used as an ink.
A British company, Fairweather, is making a composite material from spent coffee grounds and salvaged plastic and using it to make chairs and coffee tables.
I am sure that with innovative textile solutions and new technology, additional applications of how can coffee grounds be reused, will be developed. If you have any questions about fabric made with coffee grounds, or suggestions about how can I reuse coffee grounds and clothes made from food, then please leave them below and I will get back to you.