The search for ethical swimwear for women is over! From one piece swimwear for women over 50 to athletic swimwear for women, these brands all use eco textiles and fabrics to produce eco friendly bathing suits.
Swimsuit shopping can be complicated and by looking at ethical production practices and materials, I have narrowed down the options for you. These ethical and versatile brands will make a splash, and are all made from regenerated plastic waste. So let's have a closer look at the ethical swimwear for conscious beach lovers and pool siders.
Ethical and sustainable brands like Vitamin A, Peony, Summersalt, Boden, Jessica Ray, Araks, Reformation and Bold Swim, that all make one piece swimwear for women over 50, were discussed in this post on 9 Swimwear Brands that are Swimming towards Sustainability.
This post contains affiliate links and I will be compensated if you make a purchase after clicking on my links, without any additional cost to you. It helps me to maintain this website and bring you more eco friendly and sustainable news.
Why Use Regenerated Plastic Waste To Make Affordable Ethical Swimwear For Women?
For many years swimsuits have been made out of non-biodegradable materials, like polyester and nylon, that are not ethical or sustainable. An average of 640,000 tons of fishing nets are abandoned in the ocean every year. By recycling ghost nets, enough nylon is regenerated from one ton of waste nets, to create more than 10,000 swimsuits.
Recycled materials have a 75% lower carbon footprint than virgin materials and 90% less water is used. Choosing ethical swimwear for women will make you feel good about buying it, while also making you look great wearing it.
Brands like Patagonia, Batoko and Villebrequin were discussed in this post on 6 Fashion Brands that Produce Clothing from Recycled Plastic.
1. Ruby Moon
Jo-Anne Goddon, the founder and designer of Ruby Moon, worked in the unsustainable fashion industry for more than 25 years, and decided she wanted to be part of the solution. They manufacture ethical swimwear in the UK.
The gym-to-swim active wear include athletic swimwear for women, crop tops, sports bras, leggings and rashgards. The non-profit swimwear company maintains a circular economy to have as little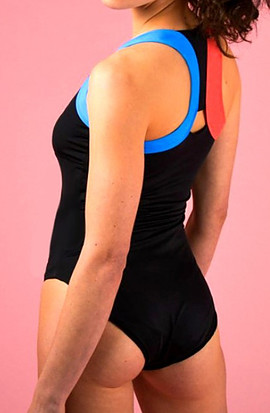 environmental impact as possible.
They are a Registered Community Interest Company and have integrated all the 17 sustainable development goals of the United Nations into their business practice. Ethical practices included these:
Material used is Econyl yarn from fishing nets and other waste material.
Fabric also contains Xtra Life Lycra.
Use digital printing to be efficient and eco friendly in the use of ink.
Old swimsuits and stretch fabrics are recycled to make new ones and a 5% discount is offered on your next Ruby Moon swimsuit.
PETA certified vegan ethical swimwear and OEKO-Tex100 certified
Salt water and chlorine resistant for more than a hundred hours of exposure and UPF50+ protective.
Available in sizes XS to XL.
The affordable ethical swimwear is priced at £95 for a one-piece swimsuit.
The fabric is durable and super comfortable, soft, smooth and fully opaque.
All items are designed according to slow fashion principles.
100% recycled and biodegradable mailing bags are used.
They are socially empowering women through their loans to female entrepreneurs.
Manufacturing is done in safe and ethical environments in the UK and Spain
Distribution is done by a company that employs working mothers.
They have certification for producing 42% less carbon emissions because of recycled fabrics that are used. Ruby Moon has an all female team of designers and entrepreneurs. All profits go towards loans to support the education of female entrepreneurs in developing countries so that the generational cycle of poverty can be broken.
2. Davy J
Davy J is a UK based ethical active swimwear company. The modest swimsuits include one piece swimwear for women over 50 and
two-piece styles with longer tops, crops and high waisted bottoms. The range is ideal to mix and match as colors are bold and block in black, white, blue and red.
Ethical practices include these:
The Waste collection is made with 100% Econyl yarn, regenerated from fishing nets and ocean plastic waste.
Double lined.
The high elastane composition provides extra strength, shape and durability.
Invisible rubber edging, although not sure where is rubber sourced from.
Made in the UK and workers earn a living wage.
They will take back swimsuits to recycle them and make into new suits. Return your eco friendly bathing suits at the end of its first life to be recycled and get 20% off any new piece.
The one piece swimwear for women start at £140 and can be classified as affordable ethical swimwear.
3. Woodlike Ocean
Woodlike Ocean was started by the husband and wife team, Sonja and Mauricio Palma. The ethical swimwear for
women is minimalistic in design and the seamless construction means the swimwear is reversible and comfortable with no scratchy tags.
Their philosophy is to create feminine eco friendly bathing suits for women which has a perfect fit and sporty twist. Ethical practices include these:
Materials used: 78% recycled Econyl and 22% Xtra Life Lycra
Lycra is not recycled but maintains shape and has chlorine resistant properties.
Has UPF50+ protection to protect you from the sun.
Econyl is purchased directly from Italy and the swimsuits are sewn in Turkey.
The one piece swimwear for women start at €165, and as it is reversible, you get two suits, making it affordable ethical swimwear.
Member of 1% for the planet, a portion of each sale is donated directly to the Healthy Seas Initiative, who volunteers to collect ghost fishing nets.
The women sexy swimwear is shipped in reusable and recyclable packaging, which is a clutch bag made out of Tyvek, which can be used as a waterproof pouch for swimwear or as a fashion accessory.
All swimsuits are shipped in Dirt Bag compostable satchels, which is a plastic free mail bag that will compost in 3 to 6 months at home.
All mailing and labeling uses eco certified and recycled materials.
At Woodlike Ocean they believe that by recycling and upcycling waste into new products, there will be a reduction of waste pollution and it is a great option to clean out oceans, seas and beaches.
4. Baiia
The Australian brand was started in Brisbane by Amber Boyers, a design student, after winning a grant competition. Baiia means "one has the capacity to change the world for the better".
The signature wrap suits fit any body type, has a V-style front and adjustable tie. The 3-piece wrap suit is fully reversible, multi functional and triple lined. You can mix and match it for endless looks and even team it with a skirt or trousers.
Ethical practices included these:
Materials: Oeko-Tex 100 certified recycled nylon 6 and is clear to wear.
78% recycled nylon and 22% elastane
Fabric dyes are water based and GOTS certified.
Prints are dyed naturally and dyes are skin-safe and plant friendly certified.
The printing process is non-toxic and sustainable and they use printing rather than fabric dyeing as less energy and water are used.
Ethical swimwear for women over 50 is handmade in a factory in Guangzhou, China, where even the lowest paid seamstress earns triple the minimum wage for the area.
The one piece swimwear for women start at AUD199.
Employees get housing options, medical insurance, paid leave and free transport. Paid leave includes sick leave and maternity leave and 20 days holiday, over and above the Chinese New Year of 6 weeks holiday.
All eco friendly bathing suits are shipped in complimentary hemp drawstring bag, perfect for winter storage, and the outer bag is compostable.
5. Amara Tulum
Amara is a Mexican brand that was started in 2014 and produce minimalist, luxury women swimwear. The word Amara Tulum means "eternal love of the sea". Each suit is reversible and separates can be mixed and matched and some are even convertible. Ethical practices include these:
Materials are a blend of 78% econyl and 22% Lycra Xtra Life.
Lycra Xtra Life is a hundred times stronger than generic spandex.
50+ UV protection.
Eco textiles and fabrics are made in an ethical Italian factory that use water saving production techniques and closely monitor the carbon emissions.
Skilled local artisans in Tulum, Mexico, design the swimsuits and are paid fair living wages.
The athletic swimwear for women are made in Mexico.
One-piece reversible swimsuits are priced at $190.
Local Mexican communities are supported through these operations and it helps to preserve local traditions.
Amara arrange beach clean-ups in the Sian Ka'an Biosphere to minimize the negative effects of tourism on the environment.
They use permaculture ethics and principles as their road map.
The women sexy swimwear is currently shipped in compostable poly bags and recycled cardboard mailers, but the next collection will be sent in a reusable silicon pouch. The reusable pouch can be used to store wet swimwear or valuables, or it can be returned to Amara for a credit against a future purchase.
6. Abysse
California based Abysse make a wide range of eco friendly bathing suits, from bikinis to one piece swimwear for women over 50, to even wet suits. Abysse company is run by women and is owned by a mother and daughter combo.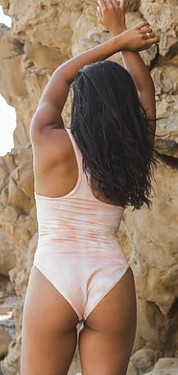 The swimwear is made by women to empower women. Ethical practices include these:
Swimsuits are entirely made from Italian recycled nylon, created from ghost fishing nets.
Ribber swimwear is made from Repreve polyester fiber made from 100% recycled plastic from post consumer plastic bottles.
Fabric dries fast and is UV protective.
Make neoprene wet suits using 100% 2mm Yamamoto Japanese limestone-based eco neoprene, which is much better for the environment than traditional petroleum based neoprene.
Design and manufacturing take place in California, where the workshop conforms to strict US labor standards and the workers earn a living wage.
Local production also means a lower carbon footprint.
To prevent overproduction, only one swimwear collection and one neoprene collection is produced per year.
100% plastic free and recycled packaging is used, including tags and poly bags and even the lining of the swimwear.
Abysse ethical swimwear for women is available in sizes XS to XL and one piece swimwear for women start at $180. They regularly do charitable donations to 2 reef conservation organizations, Sirens for the Sea and Moorea Coral Gardeners.
7. Vege Threads
The Australian brand Veg Threads is based in Melbourne and is ethically manufacturing swimwear and organic basics using eco textiles and fabrics.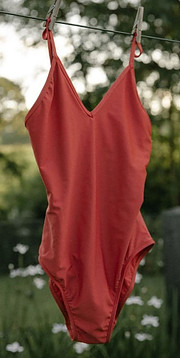 Vege Threads have accreditation from Ethical Clothing Australia for their commitment to transparency and an ethical supply chain.
Everything is made in Australia, using organic and eco friendly materials. The material for the ethical swimwear for women is Econyl recycled nylon and Lycra Xtra Lite. Ethical practices include these:
Econyl is made from regenerated ghost fishing nets and post consumer plastic waste.
78% econyl recycled nylon and 22% Xtra Life Lycra.
Lycra provides exceptional shape retention.
Lined front is made from recycled nylon.
Fabric is UPF50+ sun protection and chlorine resistant.
The athletic swimwear for women include one piece swimwear starting at AUD179 and two piece separate swimwear briefs at AUD79.
Swimwear is locally made in Adelaide in a small niche factory, thus creating jobs for skilled Australian workers.
Accredited by Ethical Clothing Australia (ECA)
Vege Threads are a proud member of 1%for the Planet and partner with Clean Coast Collective to do beach cleanups. They also make donations to other charitable organizations. The brand embraces the shift towards slower living. They care about the environment and use local production.
8. Léa the Label
Léa the Label was founded by the Lebanese designer Léa Daaboul. It is a minimalistic chic swimwear brand
who believe in sustainability and protecting the planet. Ethical practices include these:
Highest quality eco friendly Italian Econyl fabrics are used.
Swimsuits are made with 78% econyl and 22% spandex.
Swimwear is double lined and white styles are triple lined to avoid sheerness.
The regenerated nylon can be recycled over and over again, while maintaining the same quality.
The eco friendly bathing suits are responsibly manufactured in Bali.
Econyl is UV resistant and resistant to chlorine and suntan oils and the non-cutting elastic ensures a smooth fit.
The mix and match range is made to last for many seasons.
It is easy to be chic and sexy with Lea the Label and the seamless swimsuits are suitable for all bust sizes. Bikini separates start at $85 and one pieces at $185.
Shop Vitamin A ethical and sustainable swimwear here.
Caring for Affordable Ethical Swimwear for Women
Always rinse in cold water after swimming in salt or chlorine water.
To prolong the life of your ethical swimwear, hand wash or use a delicate cycle, with mild soap.
Color might bleed from new suits, so wash separately to start with.
Sun screen and bronze lotions, oils and moisturizers can damage your swimsuit.
Avoid extreme heat as it can cause yellowing.
High levels of chlorine may damage or fade swimwear over a period of time.
Do not leave swimwear rolled up when wet.
If you are in the USA, shop affordable ethical swimwear on Amazon here.
And if you are in the UK, use this link to get your affordable ethical swimwear for women.
Final Thoughts
Make sure you dispose of your swimwear properly that it can be recycled and reused to make more ethical swimwear.
There are swimwear brands that care about the planet. This summer, make the right decision and choose a brand that make eco friendly bathing suits and the planet will thank you.
More related reading can be found in the Best Swimwear for Men from Ocean Plastic Waste.
If you have any questions or suggestions about affordable ethical swimwear for women or have other brands that I can include, then please leave your comments below, and I will get back to you.