Anything that you wear close to your skin, needs to be safe and comfortable. This is even more important when it comes to underwear, where the fabric is hugging your most private parts for many hours every day. So, it is encouraging seeing more men's eco friendly underwear brands making hypoallergenic underwear for men.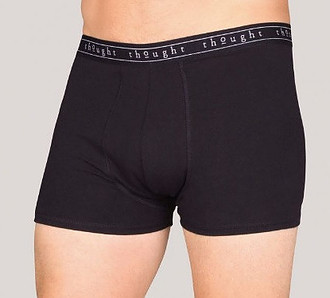 You certainly want your undies to be comfortable. For that it needs to be antimicrobial, moisture wicking, anti-sag, supportive, while also eco friendly and sustainable. Now that is quite a list, but quite achievable, if you choose the best material men underwear can be made of.
More brands are producing men's eco friendly underwear that care about the planet, while also caring for your private parts. The best fabric for men's underwear are organic natural fibers that feel good on the skin.
If you have sensitive skin or are prone to eczema and rashes, then it is essential to use hypoallergenic underwear for men.
Thus, protect the environment at the same time that you protect your private parts.
Before we explore the best men's eco friendly underwear brands, let's have a look at the best material men underwear can be made from.
This post contains affiliate links and I will be compensated if you make a purchase after clicking on my links.
Best Fabric For Men's Underwear
Support, comfort and breathability are the most important aspects of men's underwear. The fabric for undies determine the comfort level. Natural fibers, that are breathable and healthy, are the perfect fabric for men's eco friendly underwear.
If you have sensitive skin and are looking for hypoallergenic underwear for men, then the best choices are organic cotton and bamboo.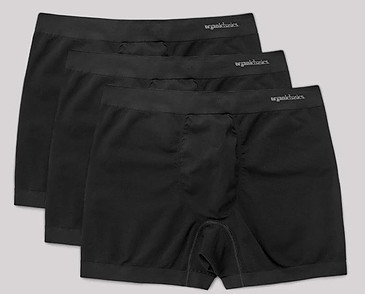 To choose the best fabric for men's underwear, you need to consider your lifestyle. The material you opt for, will determine the comfort level. Do you need something breathable, or lightweight for workouts, or something more insulating for cold weather.
Natural fibers and organic cotton are the best material men underwear can be made from.
So why are organic cotton and natural fibers important when it comes to underwear? Essentially because it is without any chemicals, safe and sustainable, for you and the planet.
You definitely do not want any chemicals that could lead to allergic reactions and rashes, or cause hormonal imbalances. Discover more about the harmful effect of chemicals lurking in fabrics in this post on Beware of toxic chemicals in clothes.
So, let's have a look at the choices of the best fabric for men's underwear. From organic cotton to bamboo, wool and eucalyptus fibers to recycled polyester, they are all comfortable and breathable.
Organic Cotton
Cotton is the most popular underwear material because it is breathable and absorbent. But conventional cotton is one of the dirtiest crops, grown using chemicals and genetically modified seeds.
So it is very important to choose organic cotton.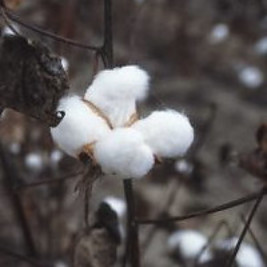 Organic cotton is grown from seeds and plants that have not been genetically modified. No harmful and toxic chemicals are used during the growing and production processes.
Organic cotton is softer than conventionally grown cotton. Because of the absence of harmful chemicals, it is far better for your skin and health, and perfect for hypoallergenic underwear for men.
Cotton is soft, hypoallergenic, breathable, absorbs moisture and sweat. It keeps you ventilated and air circulating to keep you comfortable. The sweat and moisture wicking qualities, make organic cotton a perfect choice for everyday wear.
The biggest benefit of organic cotton is that you are not exposing the delicate parts of your body to any chemicals. Read more about the production and benefits of organic cotton in this post on What is organic cotton clothing?
Although cotton is most common and perfect for everyday wear, it's not the best for heavy workouts. As cotton is absorbent, it will absorb all your sweat. This is great, but it will make your undies heavy and uncomfortable.
Bamboo
Bamboo has strong anti-bacterial and anti fungal properties, to help to keep your body healthy and hygienic. Moisture wicking, prevents rashes and itching.
Bamboo is lighter and softer than cotton.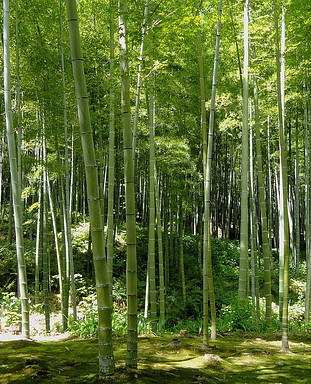 The anti-bacterial properties of bamboo sets it apart if you are looking for hypoallergenic underwear for men.
There are many advantages and benefits of choosing bamboo for your clothing, bedding and other household products.
Bamboo is naturally hypoallergenic and the fabric is as soft as silk. The fibers undergo no chemical treatments so they are naturally round and smooth. This hypoallergenic quality means that it doesn't cause allergic reactions. So it is kind to sensitive skin and fabulous for allergy sufferers.
Bamboo is naturally anti-bacterial and anti-fungal. This inherent quality of bamboo allows it to grow naturally in the wild without having to treat the bamboo crop with pesticides, fertilizers or chemicals.
Bamboo is extremely breathable. The hollow structure of a bamboo fiber promotes moisture absorption and evaporation making it more breathable than cotton.
Bamboo is highly sweat absorbent and pulls moisture away from the skin for evaporation. It therefore keeps you dry and let the body breathe naturally.
Bamboo is powerfully insulating. The hollow fiber has unusual breathing capabilities, which keeps you cooler in the summer and warmer in the winter.
Bamboo products are 100% biodegradable making it the most renewable resource on the planet. It is naturally grown, making it kind to the environment.
Related post: Why choose bamboo fiber products.
Merino wool
Merino wool is breathable, temperature regulating and moisture wicking. Fibers are very soft and smooth with no itchiness whatsoever.
Merino wool is 20% the diameter of human hair, so it is super fine. It is very absorbent, so not ideal for hot summer's day, but perfect for cold weather.
If you are allergic to lanolin, then organic cotton or bamboo might be better for you.
Tencel Lyocell
Lyocell has become the generic name for cellulose fiber, obtained from trees. It is made with a closed loop organic solvent-spinning process. Lyocell is known in the USA under the brand name Tencel.
Men's eco friendly underwear will be made from eco friendly eucalyptus wood pulp. It doesn't give the best support, but is good for sleeping.
Recycled Polyester and Nylon
Although nylon and polyester are used for underwear, it is NOT an eco friendly fabric, unless recycled plastic is used.
Polyester and nylon can trap heat and moisture, which is not ideal for everyday wear. Also, the chemicals could wreak havoc with the sensitive skin of your private parts.
Polyester is thin and breathable, but doesn't have the moisture wicking advantages of natural fibers. Because it doesn't absorb moisture, avoid wearing during warm months.
Nylon: Microfibers of nylon will keep you dry during a workout when comfort is the key. Nylon is good for the gym, but if you care about the environment, you will avoid it, unless it is recycled.
Mesh fabric is very popular for sportswear and can be made from polyester, nylon or other structured material. It does have a huge negative impact on the environment.
Recycling converts waste materials into new products and materials. Natural resources are saved, as well as energy. This is because the recycling process reduces the amount of energy input that is required.
Recycling reduces ocean plastic waste, it prevents products from ending up in landfill, and has a much smaller carbon footprint, than virgin materials.
So if you buy underwear for gym or workouts, make sure it is made from recycled materials. PrAna and Organic Basics fit the bit for that and you will find them below. .
Hemp
Moisture wicking properties of hemp make underwear breathable and comfortable. Also, resistant to mold and UV light and has very good color retention.
Hemp is anti-bacterial, anti-microbial and has anti-odor properties. It is not that common to find hemp underwear yet.
Silk
Silk is incredibly breathable and light, but not widely used for an eco friendly underwear men range. The reason for this is that the fabric is delicate, and thus wears out quickly.
Silk is soft, smooth and absorbent and best for special romantic evenings.
Best Men's Eco Friendly Underwear Brands
Support these brands that use organic or recycled materials that is made with protection of the environment in mind. So components and materials are free of pollutants and produce very little waste during manufacturing.
Being Fair Trade certified ensure workers have safe working conditions and were paid a fair wage. Underwear that feels good on the skin and cares for the planet.
Organic Basics
Organic Basics offer high quality sustainable basics for men and women. Sustainable thinking is at the core of everything they do.
Eco friendly and sustainable practices: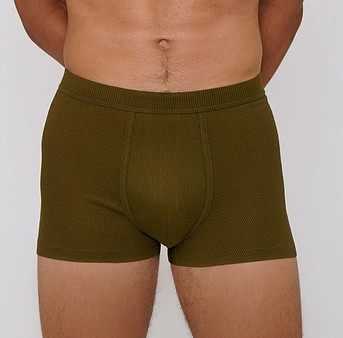 They only select fabrics that care for the environment and the fabric is hand-picked to evaluate the sustainability, durability and carbon footprint.
Use organic cotton, tencel and recycled materials. Organic cotton is produced on the coast of the Aegean sea and is generally regarded as the softest cotton available.
Organic Basics will only partner with factories that care about their environmental impact and are dedicated to lowering their carbon footprint. The factories must maintain safe working conditions and no child or forced labor.
They have an ethical and transparent supply chain throughout.
Certified B corporation and gives back to the community.
Organic Basics offer boxer shorts, boxer briefs, long johns and active boxers for workouts and yoga. All ethically made with organic and recycled materials.
Composition: you have several choices.
100% GOTS certified organic cotton.
95% lyocell Tencell and 5% elastane. Tencel is made from responsibly sourced wood pulp.
Silver Tech Active boxers made from recycled materials for workouts and yoga. Is finished with Polygiene Stay Fresh technology to keep you fresh. If you want the best material men underwear for workouts, this is the ultimate choice.
Sizes: S to XXL
Prices start from €45 for 2 pairs, but save money and buy multi packs, with as many as 10 pieces per pack.
You can read the full review on Organic Basics in this post Best women underwear brands: Organic Basics.
Thought
Thought makes hypoallergenic underwear for men in super soft bamboo and organic cotton. The stretchy fabric for boxers molds to your body. It is soft to the touch, breathable and extra comfortable.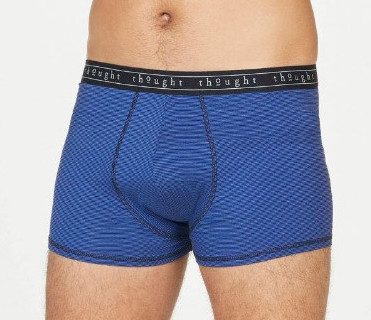 Eco friendly and sustainable practices:
Source natural and sustainable yarns that use less water, fewer pesticides and creates less carbon dioxide.
All organic cotton is GOTS certified.
Bamboo is organically grown and Ecocert organic standard certified and is odor resistant and durable.
Leftover fabric is upcycled at source. This reduces waste and creates new products.
Recycled paper is used for labeling.
Mailing bags and garment bags are made from compostable cornstarch.
Composition: You have a choice of organic cotton and bamboo:
95% organic cotton and 5% elastane jersey.
Organic cotton and bamboo blend of 67% bamboo viscose, 28% organic cotton and 5% elastane jersey.
Size: XS to XL with an inside leg length of 3 cm. Available in several colors. Thought also do socks with 78% organic cotton, 19% recycled nylon and 3% elastane.
Prices start at £13.95. You can save money by buying packs and gift boxes
Care: gentle machine wash at 30°C, do not tumble dry clean or bleach. Due to hygiene reasons, underwear cannot be returned, unless it is faulty.
Allbirds
You might be familiar with the high quality washable wool shoes from Allbirds, but they also produce men's eco friendly underwear. Boxer briefs and trunks are made with "Trino" and Trino = tree + merino. .
Trino is a combination of their eucalyptus tree material, tencel and merino wool, resulting in a fabric with all the functionality that you want in top-notch underwear.
Trino is soft and breezy and hugs just the right amount. Made from renewable materials that wicks moisture and minimizes odors.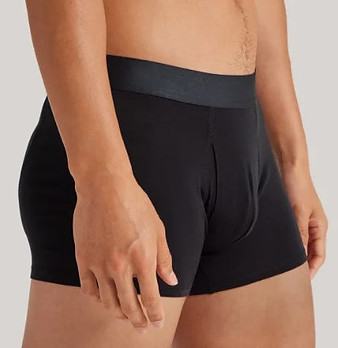 Eco friendly and sustainable practices:
Over and above being sustainable, Allbirds is carbon neutral throughout the entire sourcing process.
Sustainable materials.
Certified B Corporation, gives back
Use 90% recycled cardboard packaging,
Ethically made.
Composition: 65% tencel lyocell eucalyptus, 28% merino wool and 7% spandex.
Eucalyptus tree material in the fabric makes it breathable and cooling.
Merino wool naturally wicks moisture away, providing a soft feel.
Product range: Trunks and boxer briefs in a range of exciting colors, with a fly and 3.5″ inch inseam.
Prices start at $22 for trunks and $24 for boxer briefs.
Sizes: S (waist 70 – 75 cm) to XXL (waist 112 – 117 cm).
Trino briefs and trunks are carbon neutral because of sustainable practices, like buying carbon offsets and using natural materials. Breathable, odor resistant, moisture-wicking and cooling, everything a man wants in his underwear.
Because of the temperature regulating characteristics, you can wear the underwear all year round.
Pair your sustainable sneakers and underwear with Allbirds socks. Socks wick moisture away and help minimize odors to keep you comfortable. Allbirds make active wear and footwear and you can read the full review on their eco friendly, sustainable footwear here.
prAna
Need underwear for your workout or yoga? prAna JD short is perfect for that.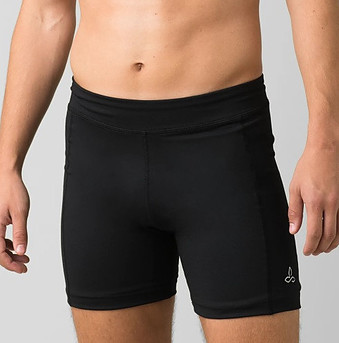 The lightweight, but super strong fabric is made to stretch and retain its shape, regardless of the type of workout you put it through.
It has an elastic waistband, 4-way stretch and articulated side seam. It has a form fitting style, perfect for yoga and cycling. They don't bunch up in the leg, making them extremely comfortable.
Absorbs sweat and dries quickly.
Eco friendly and sustainable practices:
Made in a Fair Trade factory, thus ensuring workers have safe working conditions and are paid a fair wage.
It is a Bluesign product, so no chemicals will end up in our waterways, oceans or skies.
Incorporate sustainable and innovative fabrics and practices to lessen their impact on the environment.
Both sustainably and ethically made, so this is workout underwear that will make you feel good on all levels.
Composition: 89% recycled polyester and 11% elastane.
JD short is available in sizes XS to XXL and cost $50.
When it comes to the best material men underwear for workouts, then the prAna JD short is perfect.
PrAna believes we all have choices when it comes to buying clothes. If we choose to invest in clothing for positive change, you can fundamentally change the way in which clothes are made.

PrAna is also discussed in these related posts:
Boody
Boody is an Australian clothing brand that supports everything green and ethical. They use organic bamboo to make hypoallergenic underwear for men.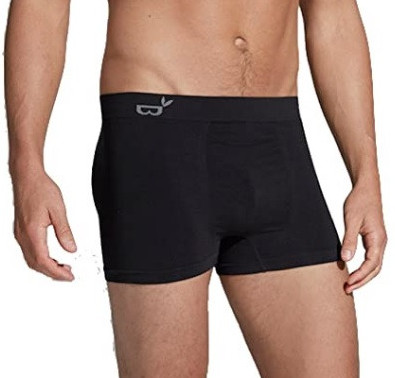 Boody offers briefs and boxer briefs. Boxer briefs are available in a longer length, or the standard 3-inch leg drop.
Ribbed waistband is soft and wide, seam free sides and contour ribbing for support. Soft and comfy while looking sleek.
Eco friendly and sustainable practices:
Boody uses certified organic bamboo that is grown using a fraction of the water required to grow cotton.
The fabric is made in a closed loop system, where solvents are reused and recycled.
Oeko-Tex certified to confirm the finished fabric contains no harmful chemicals.
FSC (Forest Stewardhip Council) approved bamboo, confirms that to produce Boody bamboo, no loss or destruction of natural habitat took place.
Composition: 80% organic bamboo viscose, 13% nylon, 7% spandex. The breathable fabric has a generous stretch.
Sizes: S to XL (75 to 110 cm) and can be bought single or in a pack of 3 or 7.
Pact
The mission of Pact is to make organic clothing affordable for everyone.
Eco friendly and sustainable practices: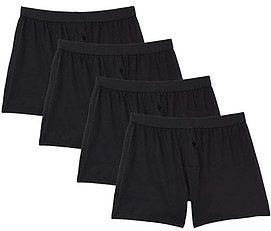 Only use GOTS certified organic cotton and organic textiles.
Pact partners with Fair Trade certified factories to ensure safe working conditions for workers.
Entire supply chain is as ethical and sustainable as possible.
Include processes that use considerably less water than conventional processes.
Composition: 95% GOTS certified cotton and 5% elastane.
Range: boxers, briefs and boxer briefs in a variety of colors and designs.
Pact boxers are very affordable around $12 a pair with very good value for money on Amazon at $45.95 for a 4-pack.
Final Thoughts on Men's Eco Friendly Underwear
Underwear hugs your private parts, so it is extremely important to wear non-toxic underwear. To have hypoallergenic underwear for men, the best material men underwear can be made from, are natural and organic.
If you don't want to contribute to the growing problem of microfiber pollution in our oceans, then choose natural fibers, or wash your clothes in a guppy washbag.
Many prices are affordable and if you buy packs, you save money.
Popular brands for workout gear, like Under Armour, is unfortunately soo bad for the environment, it is not even funny. All petroleum based, fossil fuel derived materials are used. So, if you are looking for eco friendly underwear for workouts and gym, then go with prAna or Organic Basics.
If you have any questions or experience with men's eco friendly underwear or the best fabric for men's underwear, please leave your comments below.