Are your jeans polluting the planet? Eco friendly denim brands that are incorporating sustainable practices and thereby looking to the future of the environment, are helping blue jeans to go green. There are greener denim production processes for making blue jeans.
When it comes to fashion and style, jeans form part of the foundation of a modern wardrobe. Cheap jeans and sustainability unfortunately often doesn't go hand in hand. If the denim gods could bring you the ideal pair of jeans, you are sure to find it amongst these brands.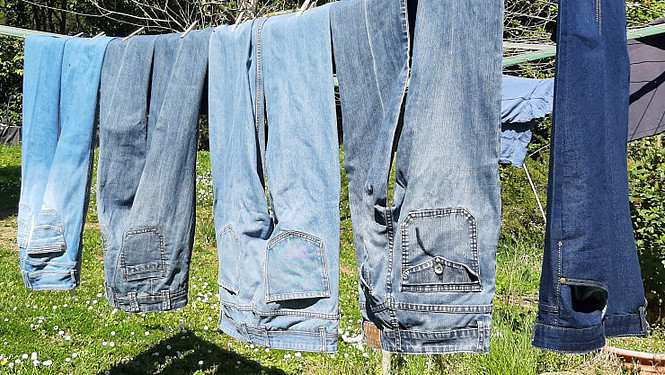 These companies are making big strides towards producing sustainable denim, so look out for these brands to be, and feel green. From upcycling and re purposing vintage Levi jeans to recycling the water that is used during dyeing and production, these brands are all making a difference.
This is what you need to know about denim before you buy your next pair of denim jeans or denim jacket.
This post contains affiliate links and I will be compensated if you make a purchase after clicking on my links, without any additional cost to you. It helps me to maintain this website and bring you more eco friendly and sustainable news.
How Do You Know Your Denim Is Sustainable?
Organic cotton jeans are sustainable, but which other factors determine the sustainability of a material? These are the six parameter that are currently being used:
Energy consumption and carbon dioxide emissions.
The amount of water that is used.
How the ground is used.
The use of chemicals.
Relationship with biodiversity.
Production of solid residues.
Why Are Jeans Notoriously Bad For The Environment?
Apart from cotton production that is the dirtiest crop in the world, one of the aspects of denim production that makes it not sustainable, is the dyeing process and the amount of water that is used. Conventional methods use from 1,500 to 7,000 liters of water to produce a single pair of jeans.
Most denim producers use synthetic dye to color the denim fabric. The distinctive blue color, indigo, that is used in the manufacturing of denim, does not easily adhere to the denim fabric. This means that a huge amount of water and electricity is used to repeat the process of dyeing and washing the fabric several times.
Eco Friendly Indigo Color
Pure Indigo Flow is an aniline-free indigo for denim that was developed by Archroma.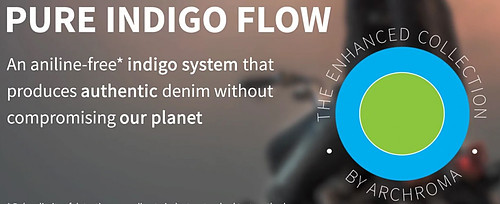 Synthetic indigo dye contains aniline, which is difficult to wash out of denim fabric, as it stays locked in the indigo pigment. During dyeing, the aniline impurities are discharged into the water, which ends up in our water ways.
Aniline is toxic to aquatic life and harmful to factory workers that are exposed to it, so it is important to use alternatives.
If you would like to know which brand is using this technology, Patagonia is using it for indigo color in their denim fabric and this is where you can explore it.
Jeanologia has developed E-flow technology (nano bubble) in denim washing, thereby eliminating waste and damaging emissions which guarantees zero environmental contamination. This technology is used to transfer the indigo color onto the fibers and fabrics. Air becomes the carrier for the fabric dye, thereby reducing the amount of water that is required.
Karl Meyer and Greendye – Greendye is applying the indigo color in a nitrogen atmosphere, which needs less water and chemicals and a smaller dye bath. Warp is dipped into indigo and goes into a nitrogen chamber. Due to the lack of oxygen, oxidation cannot take place, which results in a higher penetration of the indigo color. The indigo forms a better bond with the cotton fiber.
Nitrogen technology increases the "take up" by up to three times, compared with conventional dyeing baths. Saving water and chemicals (more than fifty percent fewer chemicals are used to "fix" the indigo color). Higher fixation of the indigo color means less washing during the process, thus saving water and chemicals.

Read more about organic cotton jeans and water saving technologies that are already being used, in this article.
Additional processes like stone washing, sandblasting and bleaching, are used to give jeans their "lived in" look. These treatments all leave a very large carbon footprint. "No Stone" is a new stone washing technology for denim.
With many fashion addicts increasingly requesting sustainable denim, designers and stylists are also demanding fibers and production methods that will not harm the environment. These might not be cheap jeans, but they do look after the planet.
1. Wrangler
Indigood is a process of dyeing denim by using foam to transfer the trademark indigo color onto yarn and the denim fabric.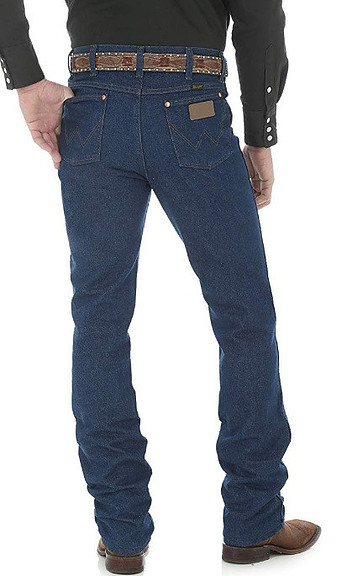 Wrangler started integrating this revolutionary new eco friendly process of dyeing denim, in June 2019.
Recycled denim is obtained from pre-consumer denim waste from around the world. Wrangler breaks down the fibers to produce recycled cotton. New yarn is created by re-spinning the recycled cotton and mixing it with other cotton. The new yarn contains twenty-eight percent recycled cotton.
Conventional dyeing means that the yarn is dipped, up to ten times, into the dye bath. This take place in a machine that is one hundred meters long. By using Indigood technology, this has been changed to a machine that is only two meters long. The process no longer uses water, but foam, to transfer the indigo color onto the fibers.
After dyeing, the yarn is woven into denim fabric. The denim is then cut and sewn into the iconic Wrangler garments.
To get the denim look, it is finished using a process that uses nano bubbles and ozone technology. Laser finishing is used to add abrasions and gives it the "lived in" look.
The process reduces the amount of water that is used by one hundred percent, as water is eliminated from the dyeing process. Waste water is also virtually eliminated. The use of energy and other waste is reduced by more than sixty percent, compared with conventional denim dyeing techniques.
Wrangler has introduced the Indigood process into its various production sites, which should mean a water saving of 5.5 billion liters for the fashion group by 2024.
By using the Indigood technique, it means that a more sustainable pair of jeans or denim garment can be produced, providing you with a tough denim that has a gentle footprint. Get your Wrangler jeans at the best price here.
2. Levi's
When it comes to fashion and style, Levi is a cornerstone of American made jeans. Levi is an American brand that was founded in 1873 and today has shops and outlets in more than one hundred and ten countries around the world.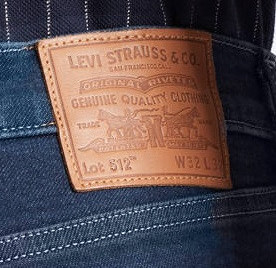 Their iconic Levi 501 jean was first launched in 1873, featuring a button fly, 5 pockets and an All-American look.
Denim production is notorious for requiring huge amounts of water to create just one pair of jeans. Levi's new collection uses WaterLess technology, thereby drastically reducing the amount of water and energy that is used. WaterLess means that new finishes are created that require less water than conventional methods. Water is also recycled and reused during production.
So far more than 129 million liters of water has been recycled and more than 1.8 billion liters have been saved. The goal is that by 2020, eighty percent of Levis garments will be made using WaterLess technology.
Cotton that is used for Levi jeans comes from the Better Cotton Initiative, with the goal that by 2020, all their cotton would be sourced from sustainable practices.
The company has launched Levis Authorized Vintage Collection and is reducing their environmental impact by re purposing previously loved Levis. It means that old denim gets a new life and also looks great.
They have formed a partnership with Re/Done, a brand that remasters and upcycles vintage Levi jeans.
For those who value quality, craftsmanship, utilitarian and functional use, fashion and style, you cannot go wrong with a pair of Levi jeans. Get your pair of iconic Levi 501 jeans here.
3. Re/Done
Look no further if you want a unique pair of jeans.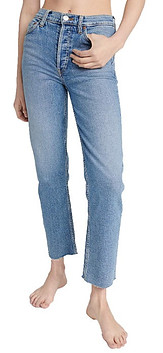 Re/Done is a luxury label that was founded in 2014 and is based in Los Angeles, USA. They regard themselves more than just a brand, but rather a movement to create sustainable fashion.
Re/Done upcycles vintage Levi jeans and used denim, to create limited quantities of unique jeans. Fabric for their new jeans are re purposed from vintage Levis, by taking it apart at the seams. Each pair is hand-picked, cut by hand and sewn.
A pair of vintage Levis has a story to tell, and it is upcycled to create a unique new piece.
With Re/Done you get a pair of modern jeans with vintage character. No harsh chemicals are used during the reconstruction and water saving practices are used.
A range of tops, shorts and jackets, all made from old denim garments and vintage Levi jeans, are available. They also have collaborations with The Attico and Oliver Peoples to re purpose their products.
Get your unique pair of ReDone jeans here
4. Reformation
The brand was started in 2009 with the aim to prove that sustainable fashion is possible. The buy leftover fabric and denim from other designers to make new jeans, including re purposing and upcycling vintage Levis.
Read more about Reformation in this post.
5. AYR
AYR was founded in 2014 and stands for All Year Round. It is a luxury brand that does not chase fast fashion.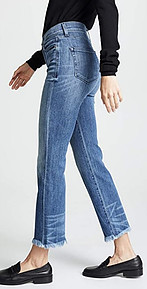 They believe modern women would skip the quick trends and rather build a wardrobe with classic pieces that are well-made and fit well.
Their capsule wardrobe has a tailored and classic look and the items take up to a year to perfect the fabric and the cut. AYR produces made to last basics in luxurious materials.
They have designed what is known as the perfect pair of skinny jeans, that will not sag and lose shape when you wear it. These sexy jeans are made in Los Angeles and styled in NYC, so if you want a pair of American made jeans, these would fit the bill.
Denim textile is obtained from the Italian company ISKO and it contains a mix of reused and/or recycled denim. Lyocell is incorporated to add softness and drape.
The jeans are all available in different inseam lengths, so you can choose your perfect pair for your height.
Whether you want blue jeans or the best fit sexy black jeans, AYR has the complete range. And they might not be cheap jeans, but they sure look after the environment. Get you AYR jeans at the best price here.
6. Warp & Weft
Warp and Weft is a family owned business that has been going for more than three generations. They make their own denim textiles from scratch and the fibers that are used include cotton, Tencel and Lycra.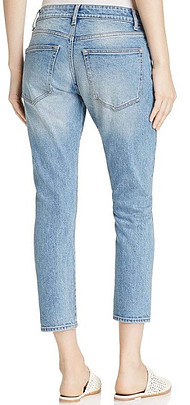 The denim fabric is made in different weights, from 7oz to 15oz, enabling them to use it in different applications and ranges.
Their goal is to make denim jeans great for not just everybody, but also for every body, so they produce jeans in sizes from 00 to 24.
Their own factory has an in-house water treatment plant, which means they can treat and recycle 98 percent of the water that is used. This means that less than ten gallons of water is used to make a pair of Warp and Weft jeans. Conventional methods use in the region of 1,500 gallons to produce one pair of denim jeans.
To avoid toxic chemicals, they use Cutting-Edge Dry Ozone Technology and eco friendly indigo dye. Solar energy is used to supply power to all the operations in the factory.
They control their whole production process and can therefore sell their sustainable denim at fair prices. By using a vertical operation, they are cutting out middle men and third parties, and can therefore bring you your pair of Warp and Waft quality jeans at an affordable price.
Order your pair of Warp and Weft jeans here.
7. Rehash
ReHash is a brand that belongs to the Italian group FG1936 srl.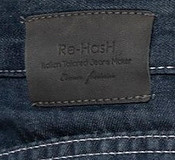 They are launching a sustainable denim range with eight garments under the new label "ReHash – Rethink – Recycle – Reduce".
The best certified organic cotton, polyester cotton and recycled elastane have been selected for the denim. Tencel, a bio-degradable cellulose fiber, will also be used.
A small green leaf, a symbol of respect for nature, will be embroidered on the side. The collection will be launched later in 2020.
8. Boyish Jeans
This sustainable women's line is designed in Los Angeles and focus on quality and fit. So if you want American made, sexy jeans, this is another brand to support.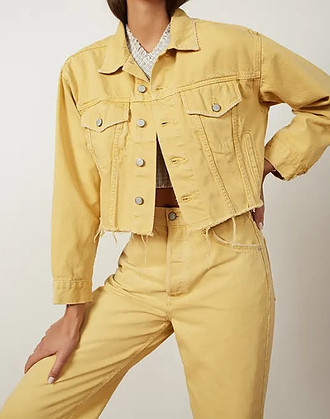 They work only with recycled fabrics and materials and incorporate sustainable fabrics through using environmentally friendly processes. Thirty percent recycled cotton and waste metal scraps are used to create buttons and rivets.
Their production process uses a third of the amount of water that would normally be used to produce a pair of jeans. Also, recycle all the water that is used, so no pollution of our waterways.
Standards that their garments are certified for include these:
OEKO-TEX confidence in textiles Standard 100
GOTS (Global Organic Textile Standard)
Sustainable Brand Remake Approval
GRS (Global Recycled Standard)
Organic 100 Content Standard
ISO 9001 Certified
And denim doesn't always have to be blue! A beautiful range of other colors, rather than just indigo colour, is available.
They have formed a collaboration with One Tree Planted, which means that for every purchase that is made, one tree will be planted.

Get your Boyish Jeans garments here.
Denim is now greener, and more and more eco conscious denim brands are using recycled materials and sustainable practices to produce their jeans and denim garments. Cheap jeans are what it says, cheaply made and often without regard for the workers and environment.
If you prefer organic cotton jeans, then explore the 10 best brands here.
If you have any questions or comments about sustainable denim or indigo color processes that are used, please leave them below and I will get back to you.