The search for vegan leather and eco vegan shoes have skyrocketed over the past few years. Many shoppers are beginning to realize that most vegan options are not eco friendly or sustainable. The vegan leather label has a certain commercial value, but not to the detriment of mother nature. Vegan leather is often just a euphemism for plastic.
The reality is that everything that is plastic, is classified as vegan. The impact of petrochemicals and the exploration of oil, has a huge negative impact on the environment. The process of producing plastic is not sustainable and is harmful to people, animals and plant life. Choosing plastic free vegan shoes, will help you to reduce your carbon footprint.
Plastic Free Vegan Leather
Vegan leather means that no materials of animal origin or animal exploitation, including wool, silk, beeswax and fish bone glue, are used. The plastic free vegan leathers that are incorporated in the eco vegan shoes that we will explore here, are the following:
Cork is harvested from the bark of the cork tree and does not harm the tree. It is biodegradable and sustainable and make beautiful cork leather shoes.
Pinatex is pineapple leather made from the waste leaves after the pineapple harvest.
Wood leather is made by bonding thin sheets of wood to fabric, using an environmentally friendly adhesive. To achieve a soft leather like feeling, small laser etchings are applied. Only wood that comes from FSC approved forests are used.
Apple leather is a combination of fifty percent apple fiber and fifty percent polyurethane. Apple peels are a byproduct of the juicing industry and is produced in Bolzano, Italy. Veerah is making apple leather shoes and you can read more about that later in the post.
materials like hemp, cotton, linen and cellulose.
For a product to be vegan approved, it needs to have the Certification Peta approved vegan.
We have previously explored vegan friendly brands, like Rothy's and Veja, that incorporate recycled plastic in their shoes. Also brands like Adidas that make sneakers from recycled  plastic, and brands like Indosole that make flip flop sandals and thongs using recycled plastic and rubber.
1. Po-Zu
Po-Zu is a British brand that has been producing shoes using eco friendly materials since 2006. The range is designed in London and made in Portugal and Sri Lanka. Po-Zu stems from the Japanese word to pause.
The sustainable and ethical footwear range includes sneakers and boots for the trendy man and woman. The products are healthy for your feet and safe for all the workers. These materials are used in their footwear:
Organic cotton and Linen
Pinatex (leather made from pineapples leaves),
Frumat Apple skin is used to make apple leather shoes.
eco friendly microfiber – this is superior to synthetic leather made from petrochemicals as it uses fewer chemicals, water and carbon emissions. It is also more breathable than polyurethane alternatives. It is made from a water based and solvent free polyurethane with a polyester backing. The look, feel and texture is similar to leather and is a hard wearing and versatile vegan leather. It still has a significant environmental impact, so personally I am not too keen on it.
Wool is sourced from local British Jakop sheep. It is unbleached and undyed. Both of course not vegan approved
Cork is a natural and sustainable alternative to real leather and is highly insulating. It provides maximum comfort with minimum waste.
Chrome free leather comes from raw hides that are sourced in Iberia and tanned in Portugal. The environmentally friendly tanning method used, is free of harmful chrome and other heavy metals. So once again this would not be vegan approved.
Coir is made out of a mix of coconut husk and natural latex and is used in their unique Foot Mattress technology. It molds to the shape of your foot, providing underfoot cushioning and joint support.
Natural rubber is free of solvents and very hard wearing. Coconut husk and natural latex are used together in their Foot Mattress technology.
Sneakers are made with a natural rubber sole which is stitched, so it is free of solvents. It uses memory foam Foot Mattress made of natural latex and cork and is removable to allow for orthotics inserts. Reviews all indicate that the cork leather shoes are extremely comfortable, and if some of them are slightly pricey, it is value for money knowing that you are supporting sustainability and ethical production processes.
Although Po-Zu uses a very small amount of chrome free leather and wool in some of their products, I will include them here because of all the other vegan friendly options that they produce. Get your pair of Po-Zu eco vegan shoes here.
2. Corks
Corks is a South African brand that is using Portuguese cork to produce Peta certified vegan cork leather shoes. All their cork is FSC certified and is produced locally using these materials: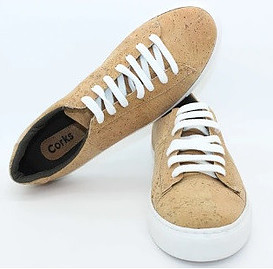 Upper is natural cork backed with a sturdy canvas material for added strength.
The lining is organic cotton.
Shoelaces are cotton.
Water based dyes and no chemicals are used.
Sole is a type of thermoplastic rubber (TPR) which is a material that has the properties of both rubber and plastic. It performs similarly to vulcanized rubber and is reusable and recyclable. It is lightweight, weather resistant, has good abrasion resistance and good tear strength.
The sneakers are available in the natural buttermilk color, but also three other colors. They are certified to be Peta approved vegan.
3. Cémélé
Cémélé is a sustainable French vegan shoe brand that was founded by the shoe designer Coline Burckel.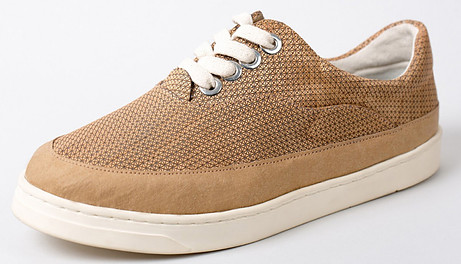 They produce plastic free vegan shoes that respects animals, man and earth.
So no products from animal origin are used and materials are all natural, plant based and biodegradable. The range is designed in France and made in France, Spain and Portugal with European materials.
Because of the different components that make up footwear, it is difficult to recycle shoes at the moment. It is therefore important to use natural fibers that are biodegradable. Materials that are used include these:
Shoes have a cherry wood leather upper with an organic cotton liner. Cherry wood is an Italian vegan leather which is softened by laser engraving.
Also use vegetable vegan leather that is made of latex and cellulose.
Wood leather is as flexible as real leather and is waterproof and breathable. Their footwear is breathable, antibacterial and impermeable. Use ecological shoe polish or waterproofing recommended by them and they will resole their shoes. Range of men, women and unisex sneakers and also accessories.
4. NAE (=No Animal Exploration)
Nae is a Portuguese vegan brand which is ethnically manufactured in Portugal. Materials used include:
100% organic cotton  
Pinatex – leather made from pineapple leaves after the pineapple harvest. Any unused fibers are used as fertilizer
Cork is hypoallergenic, waterproof and soft to the touch and make sustainable cork leather shoes.
Recycled PET plastic bottles
Ecological microfibers make up their vegan leather and is a mix of microfibers, including cotton, polyester and nylon. Wherever possible, recycled polyester and nylon are used.
Boots are made with a 100% organic cotton upper, foot bed is cork with coconut fiber, Goodyear welting and 100% natural rubber sole. Sandals are made with Pinatex, cork and also recycled plastic uppers.
The range covers flip flops, sandals, shoes and boots for men and women. It is Peta approved vegan and this is where you can get NAE eco vegan shoes at the best prices.
5. Bhava
Bhava socially conscious footwear are artisanal shoes that are 100% vegan, made with organic and recycled materials. It is an innovative vegan women's footwear brand founded in 2012 by designer Francisca Pineda.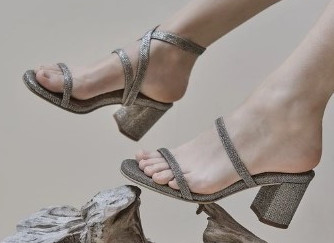 They are based in New York City and put their footwear to test on the streets of New York. They have an atelier in Mumbai and also in Alicante Spain, where the sandals and boots are handcrafted by artisans.
The ethical vegan brand uses environmentally friendly materials, such as:
organic cotton,
cork leather
recycled microfibers.
vegan leather is sourced from Italy and does not use aromatic amines, PCP, formaldehyde, PVC, phthalates, azo-dyes, or chrome when creating its vegan leather.
The sandals and shoes have a natural cork insole, solid wooden heel and a shock absorbing sole, with Italian vegan leather as an upper. The footwear is very trendy and pairs well with everything.
6. NOAH
NOAH is an Italian brand that makes eco friendly vegan sneakers, flats and elegant shoes using traditional Italian craftsmanship. Materials that are used include:
Uppers are made from micronappa and micro suede:

micronappa is a microfiber material that is composed of ultra fine polyester fibers. It is very similar to nappa leather and is waterproof, breathable, easy to clean, soft to touch and long-lasting.
Microsuede is also microfiber material composed of ultra fine polyester and is very similar to nappa suede, with the big difference that it is waterproof.
Summer shoes and ballerina flats often use organic hemp, cotton and linen for the uppers.

Inner sole – cork is used for casual models, while microfiber is used in elegant shoes.
Sole – natural rubber is used for some models, but mostly use a blend of natural rubber and recycled materials.
Water based glue.
NOAH footwear is Peta approved vegan. Their organic zero waste shoe collection are lightweight and durable and use a selection of organic cotton, linen, natural rubber and natural latex. The shoes are soft and lightweight and repels dirt. It is also completely biodegradable as all the components are biodegradable.
The range includes footwear for men and women and also unisex styles. They also produce accessories including gloves, bags and belt, wallets and hats.
7. Toms
Toms was started in 2006 by Blake Mycoskie after he traveled through Argentina and was shocked to see the amount of children without shoes, and the hardships they faced. So Toms, which stands for Tomorrow's Shoes, was created.
At the core was the idea that for every pair of shoes that was sold, one pair of shoes would be donated to a child in need of a pair. Eco materials that are used in "earth wise" Toms footwear include these:
Organic cotton is grown without the use of harmful chemicals or genetically modified seeds.
Tencel lyocell, made from viscose fiber which is derived from wood pulp and obtained from responsibly managed forests.
Econyl – is regenerated nylon from fishing nets, old carpets, fabric scraps and industrial nylon waste.
Eco fibers like hemp, linen and jute that use less water when growing and during production.
Ortholite insoles are made with sustainable materials like recycled rubber. It is lightweight and breathable.
Recycled strobel board – strobel board is the part that attaches the outer sole to the insole and is made from 70% to 80% recycled polyester.
Repreve is recycled polyester derived from post consumer plastic bottles.
Plant dyes are free of chemicals and pigments are obtained from natural botanicals.
Toms is a certified B-Corp company and a member of the Fair Labor Association. They work closely with the Leather Working Group and in the few styles that leather is used, it is always obtained from gold and silver rated Leather Working Group (LWG) manufacturers. Do be aware of this when choosing vegan shoes.
The range includes shoes, sandals, sneakers, and more for men, women and kids. They also now do a range of eye ware. Get your Toms at the best price here. For every $3 they make, they give away $1.
8. Veerah
Veerah is a luxury brand that makes eco vegan shoes for women. It was started by Stacey Chang in 2014 and they are based in New York.
Veerah Appeel is the first eco vegan shoes collection that is using Frumat apple leather, made from 50% apple skins and 50% polyurethane. Frumat apple leather is a bio-based vegan leather material that is derived from organic apples, a byproduct of the apple juice industry.
Apples are harvested and goes for juicing and after juicing, the discarded peels are rescued. The apple peels are ground into a fine powder and the powder is mixed with non-toxic, organic pigment and transformed into bio-based leather. So a waste product is transformed into a vegan friendly fabric.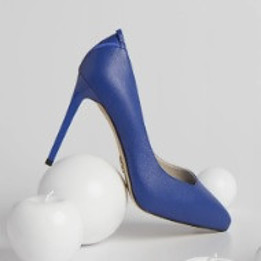 All the apple leather shoes in the Appeel collection is made with Frumat apple leather uppers. Other materials that Veerah uses include these:
Linings are 100% organic cotton.
Insoles are made with Algae foam cushion.
Renewed plastic textiles derived from recycled plastic bottles. The signature Orchid collection means that four plastic bottles are used for every upper, whereas the Venus sandals use nine bottles for each pair.
Water based vegan leather which uses no toxic solvents which are commonly used to make polyurethane synthetic leather.
All Veerah shoes are Peta approved vegan and free of PVC's.
The Italian brand Womsh, is also making apple leather shoes as part of their vegan range.
Oliver co. is a sustainable start-up, based in London, who is making vegan leather from wood and apple waste. The vegan leather has been used to make card holders and wallets.
Final Thoughts on Eco Vegan Shoes
With fast fashion chasing after new products, traditional crafting of shoes have been replaced by mass-produced cheap, and low quality, footwear. It often means that harmful chemicals are used and unsustainable, petrochemical based materials.
You can explore shoes made with eucalyptus tree fiber from Allbirds here.  Allbirds produce sustainable footwear and apparel using only natural, sustainable fabrics and recycled materials.
Synthetic garments made with plastic fibers and toxic dyes, and which releases micro plastics every time it is washed, might be classified as vegan, but I do not subscribe to that. A garment made from wool might not be classified as vegan, but it is far more sustainable and eco friendly than the petrochemical derived synthetic alternatives.
I hope that you enjoyed discovering the options for plastic free vegan shoes, but if you do have any questions or comments, then please leave them below and I will get back to you.