To best show off your feet in summer, make sure to choose one of these brands when selecting your flip flops sandals and thongs. Look no further, here you will find cool flip flop sandals that are also easy on the planet. In case you are confused, in Australia flip flops are called "thongs", which has a different meaning in the USA and some other English-speaking countries.

Materials used in making eco friendly flip flops include upcycled vehicle tires, recycled plastic, upcycled industrial hoses, recycled cork and hemp. It is possible to choose footwear that will reduce your footprint. Discover the brands that make natural rubber flip flop thongs and sandals in this post.
You can actively support those companies that are being pro-active in cleaning our beaches and keeping plastic out of our oceans, and are producing items from recycled materials.
1. Indosole
Indosole re purposes discarded vehicle tires and use them as soles in their vegan footwear line. Indosole hire locals in Bali, Indonesia, to collect discarded vehicle tires and process them into rubber soles for footwear.
The idea of turning discarded tires into soles, came to the founder of Indosole after a holiday in Bali. Indonesian people were using rubber tires to make flip-flops.
Their flip-flops are known as the most economical flip-flop in the world, consisting of:
a hundred percent re purposed tire out soles,
waterproof vegan uppers and
a contoured natural rubber mid sole / foot bed.
They also make boat shoes and slipons with a hundred percent re purposed tire out soles, custom dyed canvas uppers and EVA foam insole with arch support.
No animals or fuel powered machinery is involved, making them responsibly crafted. Steps in making Indosole footwear: (photograph credit to Indosole)
Before tires get to landfill or are burnt, the tire sourcing team buys the tires.
The sidewalls of the tire is cut off by hand and the shape of a sole is cut by using various cutting devices.
Uppers are constructed from natural materials like banana leaves, organic canvas and grass.
Sole is attached to the upper by hammering, pulling, gluing, pressing and heating up.
Lastly an insole is put in.
Indosole footwear uses re purposed and natural materials and is crafted by artisans in Indonesia. Their footwear can be used on all terrains, so it is very popular with lovers of the outdoors.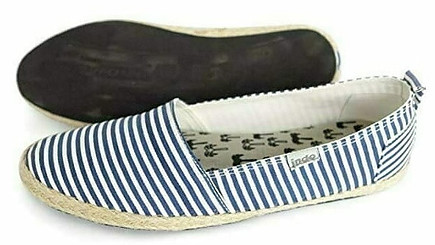 Indosole represents resourceful creation and their footwear feature natural and re purposed materials. They are a B-Corp business, meaning they meet the highest standards for social and environmental performance. Get your pair of Indosole flip flop sandals here.
2. Adidas and Parley for the Oceans
Parley for the Oceans collect plastic waste from our beaches before it can even enter our oceans and harm marine life.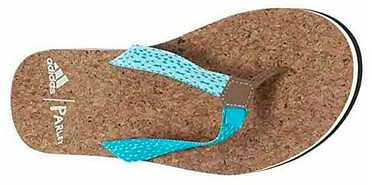 This waste is then recycled and yarn is produced that Adidas is using in making flip-flops and sneakers and other garments.
The Adidas Eezay Parley Slide flip-flop comes with a cork foot bed, that not only looks very stylish, but also adds even more comfort and is cool to wear. Get you pair of these eco conscious flip flop sandals here.
To find out more about the fantastic work that Parley for the Oceans is doing, and the cool sneakers and trainers that Adidas is producing using their recycled plastic yarn, please read my article here.
3. ECOALF
ECOALF is a Spanish brand that was started in 2009 with the mantra of "because there is no Planet B". They are creating clothing and accessories that are made entirely from recycled materials, which is largely due to the advancement in technology.
They recycle post consumer waste like discarded fishing nets, used plastic bottles, old vehicle tires, coffee grounds, wool and cotton and much more. It is difficult to recycle rubber tires as it contains metals, antioxidants and pieces of fabric.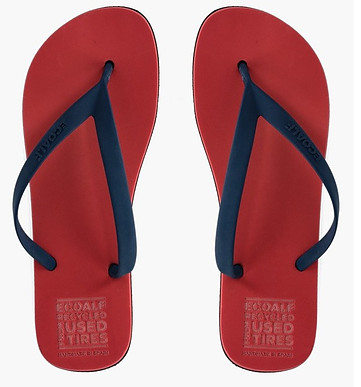 ECOALF flip flops are 100% made from recycled tires and are hand made in Spain. These are the steps involved:
Tires are washed and shredded and
any metal and fabric pieces are separated from the rubber.
Any other impurities are cleaned from the remaining rubber,
before the grain is transformed into powder.
No adhesives, only heat, is used to make and join the powder soles to the straps.
Strength and flexibility of the soles are tested before the straps are added.
Each pair of flip-flops use 344 grams of recycled rubber powder. They are available in all the vibrant colors of the rainbow.
Plastic bottles and waste, which is collected from the ocean, is recycled and ECOALF has already recycled more than 200 million tons of plastic bottles. They use mechanical recycling, which is the most sustainable form of recycling. They want to transform the plastic into top quality yarn to produce garments.
Recycled nylon from fishing nets, carpets and fabric scraps is also used in their garments. Through recycling and a circular economy, a product can be made that will help our planet.
Ecoalf Community Projects 
The consumption of natural resources are kept to a minimum when wasted resources are used. The project of Upcycling the Ocean, was started in 2015. Through ECOALF's own foundation and with the support of the HAP Foundation, the aim is to remove marine debris from the bottom of the ocean.
Fishermen are also needed to support this, and the fishing sector is helping to remove debris from the bottom of our oceans. So far 550 sea trawlers have collected 500 Tons of marine trash from the Mediterannean Sea. The biggest challenge is that the quality of the marine waste is inconsistent and low, mainly because of exposure to sunlight, water and sea salt.

ECOALF Foundation is a non-profit organization that is promoting the recovery of marine debris, in order that it can be recycled. Awareness of the marine pollution problem needs to be raised, in order to increase recovery of waste. Their three main objectives are these:
Remove marine litter that damages the eco system in our oceans.
With a circular economy, give the recovered waste a second life.
Raise global awareness of the issues that marine pollution presents.
Thanks to recycled materials, ECOALF creates sustainable fashion with the same quality, design, and technical properties as the best non-recycled ones. Get your pair of ECOALF eco conscious shoes here.
4. Solé
Cork and recycled polyester is used to produce eco friendly and sustainable flip-flops.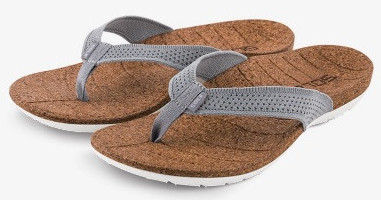 Most flip-flops offer your feet no support and are flat and flimsy, leading to feet feeling tired after a short period of time.
Solé produces orthopedic shaped soles that support your arch and also standard insoles that can be used in standard shoes. The recycled cork foot bed has an anatomical shape, with flex-knit straps that are engineered for comfort.
Materials for the foot bed range from ReCork recycled cork to algae based Bloom foam, which will give you different levels of firmness and strap widths.
Cork is a moisture wicking natural material, meaning it takes moisture away from your feet, leaving them more comfortable in hot conditions. It is also naturally shock absorbing, so helping to prevent "tired" feet.

Apart from using recycled wine corks, they also plant cork trees and harvest the bark. Instead of throwing away your natural wine corks, give them to Solé to recycle. Cork harvesting is done without harming the tree, if anything, it prolongs the life of the tree. Here you can read my article about cork leather.
Solé was founded in 2001 and is based in Vancouver, Canada, but the manufacturing facility is in China. So look no further if you want a flip flop or thong sandal that also gives you orthopedic support for your foot arch. This is where you can get your pair of Solé flip flop sandals.
5. Subs
Subs is a New Zealand brand that is using re purposed plastic waste to make flip-flops. When you buy a pair of Subs flip-flops, you will be removing one kilo of marine debris from the ocean.
The process is:
Industrial, commercial and ocean plastic waste is collected.
PET bottles are smashed
The waste PVC is extruded into recycled PVC pellets.

Under heat, the recycled PVC pellets are injected into moulds, creating Subs PCU flip-flops.
The extruded PET pellets are also processed into yarn, which is spun into thread. This is woven into fabric that is used for satchels and tote bags.
Through cleaning teams, partnerships and sponsors, plastic trash is collected from beaches during beach clean-ups. So the plastic is removed even before it can end up in the ocean. Plastic waste from ocean gyres (there are five major gyres) invariably end up back on our beaches.
What can you expect when you buy a pair of Subs flip flops?:
The sizing is unisex, so no worries whether you need men or women, and they are also available in kiddies sizes.
A tapered foot bed gives you additional comfort and durability.
Soles and straps have a regular or slender fit.
There is a custom grip in the top and the bottom of the sole, which adds additional anti-slip in wet conditions.
Composition of Subs flip-flops are:
Soles are recycled PCU plastic and they can be upcycled.
Straps are made from PVC plastic and is a a hundred percent recyclable.
It is easy to recycle your old Subs too. Simply return them, and you will even get a discount voucher that can be redeemed in their on-line store. Worn out pairs are shredded into pieces and added to the recycled PVC pellets from waste for re purposing into new Subs flip-flops.
So if we can clean our beaches, it is a major starting point to preventing more plastic pollution. Already nearly a hundred and seventy thousand kilograms of plastic has been removed from beaches and converted into Subs flip-flops.
By buying a pair of Subs flip flop sandals, you not only remove a kilo of plastic debris, but you also show your commitment to cleaner beaches and oceans.
6. Gumbies
Gumbies is an Australian brand that is worn around the globe.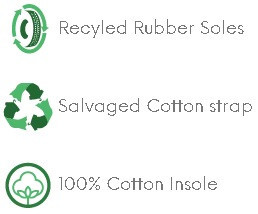 Their aim is to provide minimalistic footwear, while still protecting the soles of your feet.
Their footwear range uses recycled and sustainable materials. Flip flop sandals and thongs are made with recycled rubber soles and recycled plastic bottles are used to make their slippers.
The three flip flop styles vary slightly in the materials that are used:
Islander flip flop: The soles are made out of recycled rubber, which is cut into little squares, and is bonded together with jute, thus adding strength. To add to the comfort, it has an Eva mid sole. The straps are made from natural and recycled cotton with a soft cotton toe post to prevent any chafing.
Duckbill flip flop also has recycled rubber soles, but without the jute added. This means it dries very quickly and is deal for all water based activities. It has a textured top layer of EVA that gives grip and comfort. The straps are made from recycled PET plastic bottles, but it still has the soft toe post.
Corker flip flop has a real cork top layer, giving all the benefits of cork. The canvas strap is made from recycled cotton and comes with a soft cotton toe post, meaning it will not chafe you. The same recycled rubber sole that is used for the Islander, is also used here.
The Gumbies range includes flip flop sandals, thongs, sliders, slipons, boat shoes and slippers. Approximately eight plastic bottles are used to make a pair of recycled slippers. Since it was first launched in 2017, more than half a million plastic bottles have been recycled. Get your pair of Gumbies flip flop sandals here.
7. Bumpers
The story of Bumpers started with two backpackers that were on the coast of the Indian Ocean on a surfing holiday. After noticing that all the locals were wearing the same style flip flops, they each bought a pair.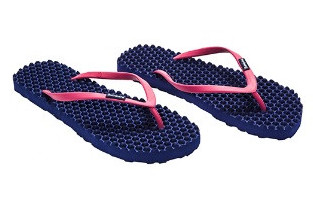 These were so comfortable that they wanted to share it with others around the world.
It is made from a unique blend of recycled and natural rubber and EVA and recycled rubber. Zero waste production facility where all the industrial waste and scraps are collected and sent back to their rubber factory, where it is recycled and incorporated again in their flip-flops.
Small massaging nodules or bumps on the insoles are designed to energize your feet. The bumps create pressure points under your feet, which increases blood flow to your feet, as the flip flops adapt to your feet when you walk. It also provides airflow between your feet and the soles, keeping your feet dry. This is where you can buy your pair of Bumpers flip flops.
Recycle your Flip-flops
Many flip-flop manufacturers will recycle your old footwear, so when you no longer need your flip-flops at the end of their lives, then please do recycle them.
Check out these articles if you would like to know more about stylish shoes made from recycled materials or sneakers made of recycled plastic.
If you have any comments or questions about recycled flip flop sandals or thongs, or the use of recycled cork in footwear, then please them below and I will get back to you.