What is trending in fashion is to be eco sustainable and to increase the production of clothing from recycled plastic. With consumers becoming more demanding in their choice of eco friendly and sustainable clothing, fashion companies have to take action. Increasingly eco conscious fashion brands are using recycled plastic in their fabrics.
By using recycled plastic, the dependence on fossil fuels and petroleum as a raw material source, is reduced. It also reduces waste and toxic emissions from incinerators.
Do you want to be more sustainable while building your green wardrobe with trendy fashion? Make sure to shop one of these brands who are producing clothing from recycled plastic waste.
1. Stella McCartney
Stella McCartney is regarded by many as the pioneer of eco friendly and green fashion. She is on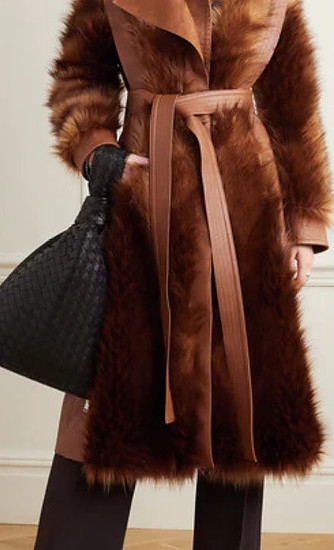 e of the designers who are very concerned about environmental issues and never misses a chance to implement vegetarian, green and cruelty-free initiatives. This is to make her creations environmentally sustainable. It is also to minimize the exploitation of animal products within the fashion industry, and  reduce waste.
Stella McCartney speaks through clothes. It is possible to dress fashionable while also respecting the planet. She uses fabrics such as recycled polyester, sustainable viscose, hemp and ramie, Econyl regenerated fabric and organic cotton.
For several years now, Stella McCartney has removed all animal leather and products from her collections. Since 2013, when she started to embrace the "no fur" policy, she has been eliminating the use of real fur and leather from her collections.
In her continued support of green fashion, and to protect the environment, she has recently launched a collection with an innovative new fabric called Koba Fur Free Fur.
It is the first organic fur made with only vegetable ingredients. It is recyclable and minimizes the production of waste materials.
What is Koba Fur Free Fur?
The Koba Fur Free Fur is the first ecological and sustainable fur. It was made by DuPont, in collaboration with Ecopel. Koba Fur Free Fur contains recycled polyester and can in its turn be recycled, so it will never become waste. It is an ethical and green alternative to animal furs, which is manufactured with cruelty and exploitation of defenseless animals.
The production of Koba Fur Free Fur requires thirty percent less energy than that of a normal piece of clothing. It produces more than sixty-three percent less greenhouse gases than conventional synthetic materials.
Koba will become part of Stella McCartney's collections, starting in 2020. With Koba fur, it is not only eco friendly but also recyclable. This reduces the amount of waste in fashion. Fashion is one of the industries that is the most polluting and produces the most waste materials.
2. Girlfriend Collective
Girlfriend Collective is ethically producing sports bras and leggings from recycled plastic, water bottles and fishing nets. They use recycled polyester from plastic water bottles and recycled nylon from fishing nets. These would otherwise be suffocating countless sea creatures in our oceans.
Their Comprehensive Classic leggings are made from 25 recycled water bottles each, while recycled fishing nets are used for their LITE leggings. These are lightweight and dries very quickly.
The recycling center is in Taiwan, which has certification from the Taiwanese government. Bottles are sorted into categories and cleaned. #1 Plastic, or Polyethelene Terephthalate (PET) is used to produce leggings and bras and only post-consumer bottles are used.
Turning Plastic Waste into Yarn
These are the basic processes that the plastic bottles will undergo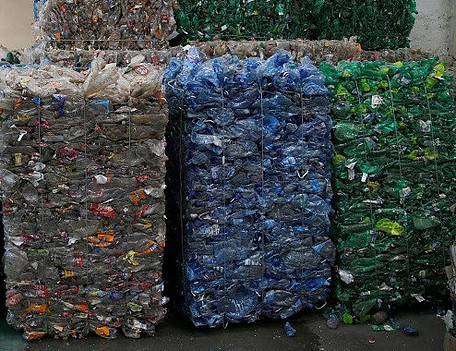 to turn it into yarn for Girlfriend Collective clothing:
The bottles arrive at the recycling facility in bales, which are weighed and logged.
The bales go through a steam wash to remove the caps and labels.
Bottles are then sorted by color, with only clear bottles being used for Girlfriend Collective fibers. The colored bottles are sent elsewhere for processing and used for other products.
After sorting, the bottles are shredded into tiny chips, washed again and transported in bags to their manufacturing facility.
Bags are weighed and logged again to make sure that the output and input are equal.
The raw PET chips arrive at the spinning mill where it is washed again and dried.
The dry chips are stored in silos, from where it is sent to a machine where the chips are heated.
It is then extruded into strands that look like long, thick spaghetti.
The long strands are chipped down again into small pellets.
Pellets are reheated and extruded again to make superfine threads.
These are spun together into yarn. The yarn is spun onto large bobbins, packaged and sent for knitting.
Turning Yarn into Fabric
In a 24-hour period, each knitting machine produces enough fabric for about a hundred pairs of leggings.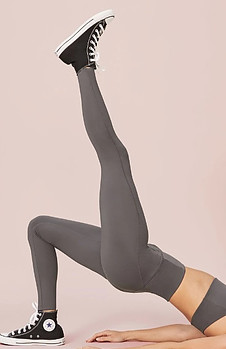 The knitted fabric is then dyed with OEKO certified safe dyes. Wastewater is treated directly after dying, before it is released. Any dye or stray fibers are removed in the treatment plant. This is to ensure that the water is safe and environmentally friendly, before it is released.
LITE leggings are made from ECONYL fiber, which is derived from recycled fishing nets, rather than plastic bottles. The LITE material consists of 83% recycled nylon and 17% spandex. A percentage from the sales of every LITE legging, goes to Healthy Seas to support cleaner oceans and healthier marine life.
Cutting and sewing is done in a facility with a SA8000 certificate. This guarantees safe working conditions, no child or forced labor and workers have the right to belong to a union. Workers are paid fair wages and receive free meals during their shifts, as well as free health checks and health insurance.
Through their "ReGirlfriend" upcycle program, you can recycle your leggings and tops. They also use recycled paper for their packaging.
This collection is a very good example of how versatile the range of clothing from recycled plastic waste is.
3. Patagonia
Patagonia is an American clothing company that designs outdoor clothing and gear for silent sports like surfing, climbing, running, fishing, skiing and snowboarding. They are one of the leaders in producing ethical outdoor clothing. They are producing hard wearing garments that are made from a high proportion of eco friendly materials like recycled down, wool and polyester.
In 1993, Patagonia was the first outdoor clothing company that used recycled polyester.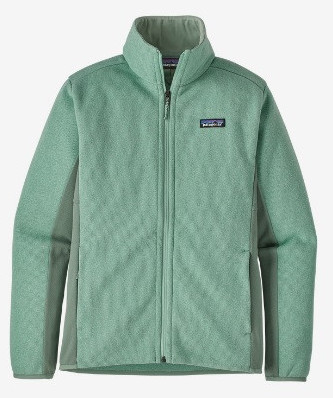 Recycled polyester, derived from used plastic soda bottles, was used to produce their fleece jackets. Fibers used in Patagonia products include recycled polyester, recycled nylon, recycled feathers, recycled wool, organic cotton, hemp and other sustainable fibers.
Recycled polyester is derived not only from used plastic bottles, but also from unusable second grade fabrics and disused garments (including Patagonia products). Board shorts, shell jackets, base layers and fleece garments are all produced using recycled polyester.
Although Patagonia has been using recycled polyester for more than twenty years, it is somehow far more difficult to recycle nylon. Recycled nylon is derived from post-industrial waste fibers and yarns that are collected from textile factories. This is then transformed into recycled nylon yarn. They are also experimenting with nylon derived from discarded industrial fishing nets. They are incorporating it into their fabrics to produce clothing from recycled plastic.
Patagonia holds ethical and environmental issues close to its core. They pledge at least 10% of their pre-tax profits or 1% of sales, whichever is greater, to be donated to environmental groups. They fund activists to protect wilderness, habitat and biodiversity.
Recycled duck and goose feathers are obtained from used items like pillows, duvets, mattresses that can no longer be used or resold.
Worn Wear is a Patagonia hub where you can keep gear going for longer through repair and reuse. And finally recycling your garments when they can not be repaired anymore. Worn Wear is an online store where you can buy re crafted clothes that are made from other Patagonia clothes. Or you can trade in your old Patagonia clothes and get credit, while the old garments are re crafted or recycled.
4. Batoko
Batoko is a British swimwear brand that uses recycled plastic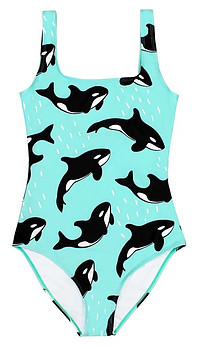 to produce a range of swimwear for women and children. Swimwear is made from a hundred percent recycled plastic waste. It is a micro business and they plan on keeping it small and simple, thereby remaining sustainable. Their fabric suppliers use green energy and are working towards zero waste.
Digital printing is used, thereby using the exact amount of ink that is required. Water and energy is saved when digital printing is used, thus making it one of the most ecological choices that are available.
Packaging is kept to a minimum and materials that are used, are recycled and recyclable and also compostable. They proudly support the Marine Conservation Society.
Batoko swimsuits are comfy, soft and stretchy with a luxurious feel. It has not been treated with any chemicals or chlorine resistant coating.
To date, they have recycled the equivalent weight of more than 300,000 plastic bottles, into stylish swimwear.
You can shop sustainable swimwear made from recycled plastic waste, from these brands as well:
Laara Swim, a Danish company, is one of the 100% sustainable designer bikinis brands. They use fabric made from regenerated plastic waste that is found in the North sea, Adriatic sea and Mediterranean.
Vitamin A  produce sustainably made swimwear and leisure wear clothing using recycled nylon and natural fibers.
5. Vilebrequin
The French beachwear brand Vilebrequin was started in the South of France in 1971, with the now famous men's swimming trunks. The founders sold the trademark in 1990 and it is currently part of the American G-III Apparel Group. The collection now includes a range of swimwear and clothing for women and children and accessories like hats.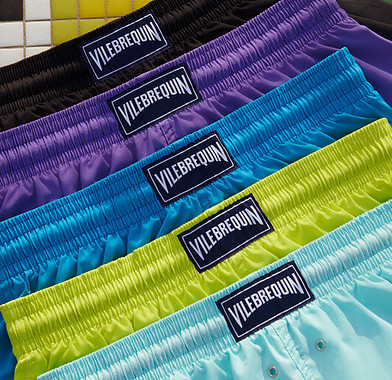 Vilebrequin has a 'Save the Oceans' line, which is producing garments made from recycled and recyclable materials. The range of short, stretchy swim trunks, uses 100% recycled polyester filaments which are made from plastic waste. The yarn is a combination of twenty percent recycled plastic bottles and eighty percent recycled fabrics.
Fishing boats recover the plastic waste from the Mediterranean sea. For every kilogram of plastic waste that is removed from the sea, a kilogram of 100% recycled polyester yarn is produced. So far 3,345 costumes have been sold, which is the equivalent of 669 kilograms of plastic that was removed from the Mediterranean sea.
They also produce the Rashguard shirt, a unisex shirt in stretch fabric with UV protection. It is made from recycled polyamide, which is obtained from the conversion of fishing nets and carpets. Recycled polyamide ensures the same performance as traditional polyamide. But it guarantees greater sustainability thanks to the reduction of production waste.
The company supports sustainable causes and are involved in developing environmentally friendly production methods. If you are in the USA, browse your Vilebrequin garments, at the best prices, at this link.
Or if you are in the UK or EU, use this link to order your pair of Vilebrequin swimming trunks
6. Pura
Pura clothing is a Swiss / Italian company that was started in 2015,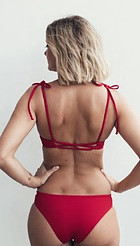 producing a swimwear and sportswear range. They use only recycled fibers and fabrics, which is made from old fishing nets that are collected from the ocean, old plastic bottles and carpet fluff.
The swimwear is all reversible and super soft. A small capsule Yoga collection is also produced, using any left over fabrics, thereby almost eliminating waste.
The workers are all personally known, so are paid a fair wage. One Swiss Franc (CHF) is donated from every order, to a company that fights global warming. So when you purchase Pura clothing, you are supporting a small business and helping to fight global warming.
The Future?
These eco sustainable fashion brands are proof that it is possible to produce trendy clothing from recycled plastic.
The hope is that we will continue to look for eco sustainable solutions in fashion. From the design phases to the production of garments and accessories, and all the way to the distribution and sales.
If you have any comments or questions about the production of clothing from recycled plastic, then please leave them below and I will get back to you.