To move away from fast fashion and towards ethical and sustainable fashion, means you must think twice before you support or buy a brand. We want to look good, but at the same time leave a smaller environmental impact. Organic hemp shoes are not only breathable, natural vegan shoes, but also leaves a small carbon footprint.
Hemp shoes are eco friendly, breathable, durable and becomes softer with wear, so breaks in well when it comes to footwear. Although many organic hemp shoes still tend to be more casual styles, designers are increasingly using the sustainable fiber for elegant shoes as well.
Why choose Hemp for Footwear?
Hemp has many characteristic that make it ideal for use in footwear.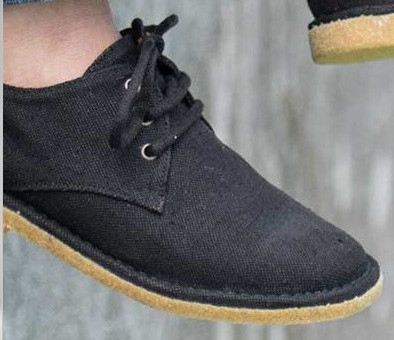 The hemp plant is sustainable and grows easily without the use of any pesticide, herbicide, fungicides or other harmful chemicals.
Hemp dries quickly and doesn't rot.
It is mostly organic due to the way that it is grown and produced.
Hemp is hypoallergenic, so will not irritate your skin.
Hemp is thermo regulating, so your feet will not sweat.
The natural anti-bacterial properties of hemp means that it does not hang on to odors like many synthetic materials. It makes it an ideal material to use in footwear.
Hemp fibers are extremely strong, making it durable when used in footwear.
Because hemp is a natural fiber, it will eventually decompose, therefore leaving a very small carbon footprint compared with synthetic vegan leather.
Hemp uses three times less water than cotton to be cultivated, and has a minimal impact on the soil.
If you are wondering are hemp shoes waterproof? Some of the brands below, like 8000 Kicks, do make waterproof hemp shoes. A waterproof spray or wax can be applied to make the hemp shoes waterproof. Explore more plastic free and eco vegan shoes in this post.
1. Rawganique
Founded in 1997 by Klaus Wallner and Thamm Hamikorn on Denman Island, where they have an off-the-grid homestead. The Rawganique range includes footwear, clothing, bath and bed linen and home products and manufacturing takes place in the USA, Canada and Europe.
There are more than a thousand eco friendly and vegan products made from organic cotton, linen and hemp, in the collection.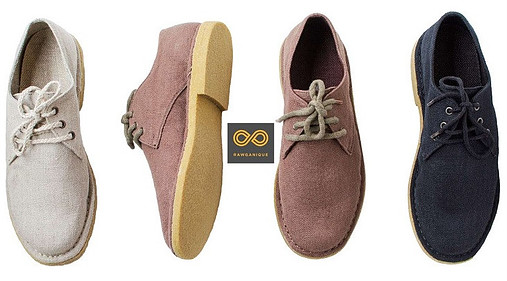 They grow, spin, weave, knit and sew everything to be truly pure and organic, and even organically grow all their food as well. Rawganique makes footwear for men, women and unisex styles. Footwear is leather free and sustainably made from hemp that is organically grown in Europe, with soles made from hand cut natural rubber.
Their range is completely chemical free, making it specially suitable for people that are sensitive to chemicals or are opposed to chemicals in fabrics and homes. Perfect if you a sensitive skin and suffer from eczema, dermatitis, psoriasis, tinea versicolor or have had chemotherapy. Free of formaldehyde, dioxin, caustic acids, fire retardants, chemicals to make fabrics wrinkle free or any other toxic chemicals. The products are a hundred percent ethical and not produced in a sweatshop.
Handcrafted shoes include unisex hemp moccasins, sandals made with a hundred percent European hemp and natural rubber soles, providing you with one of the best hemp shoes. A natural wax can be applied to make the hemp shoes waterproof and stain proof.
Features of Rawganique Hemp Shoes 
Features:
Vegan friendly and the natural vegan shoes are free of leather.
Made of Organic cotton, linen and hemp.
Canvas is 100% natural plant fiber, so animal friendly.
Super breathable so say goodbye to smelly feet.
Foot bed lining and shoe upper is 100% hemp
Hemp fiber wicks away moisture, keeping feet dry and cool
Hand made by long term shoe artisans at Rawganique Atelier in Europe, so no sweatshop production.
100% hemp shoe laces
Natural is unbleached and free of dyes.
Free of elastic
Hypoallergenic
All of their products are free from any chemicals like PFAS
Biodegradable eco friendly dyes and many are free of glues
100% natural rubber soles.
The organic hemp shoes are not waterproof, but many customers have reported success with applying natural oils and waxes to their hemp shoes and bags to make them water-repellent.
Care: Not machine washable. Spot clean with wet brush as needed. Let dry naturally after every use or cleaning. Dark colors may transmit to socks when wet or moist.
The footwear can be used in rainy climates like the UK, Seattle and Vancouver, but remember they are not rain boots. You can give the shoes an extra layer of protection by rubbing vegan potato wax or natural beeswax on the shoes. To melt the wax, use high heat and blow dry the area to melt the wax.
They reveal the country of origin of all their fibers and products on the labels and this is where you can get your pair of Rawganique hemp shoes at the best price.
2. Vivobarefoot
Vivobarefoot is a family owned British brand that produce minimalist shoes.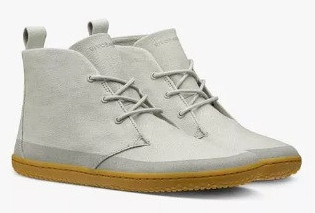 They normally use recycled plastic and bio-based materials, and have recently added hemp to the materials that they use for uppers. The
Gobi III eco desert boot is totally vegan friendly with no animal products incorporated. The construction consist of the following components:
Upper is made from a 100% hemp canvas and has a rubberized print on the upper to give it added water resistance.
Lining is a 100% recycled cotton, reinforced with recycled PET microfiber.
It has a removable cork insole.
The boot is constructed on one of their thinnest barefoot soles and has an EVA of 3 mm bio-based Bloom foam.
Outsole is light, durable, flexible and grippy, making it perfect to pack for traveling and daily use.
You can read more about Vivobarefoot (they are the fifth brand in the post) and Bloom algae foam in this post on sneakers made from recycled plastic. This is where you can get your pair of vegan Gobi III boots at the best price.
3. Astral
Philip Curry started Astral in 2002 with the focus on producing products in the least toxic way and with the smallest impact possible on nature. They are based in Ashville, USA and production started in a small facility in Ashville, but they are now also using small, ethical facilities in India and China.
Astral footwear is versatile, durable, non-slip and is another natural vegan shoe. It will withstand the demands of trailing or water hiking, and also have casual shoes, camp shoes or sneakers and boots for everyday use. Hemp shoes are intended to be used for casual and travel and is perfect as deck shoes, with sneakers made of a combination of hemp and recycled polyester.

The hemp shoes are made up as follows:
Upper: 77% hemp with 23% recycled polyester.
Polygiene treated insoles to eliminate odors.
Midsole is 7 mm thick EVA foam
G-Rubber outer soles are Flex Grip non-marking, super flexible, draining, razor siped and has 3 mm lugs. It is made with their sticky, high abrasion G-15 compound. Shoes for outdoor activities have heavy-duty 5 mm lugs for grip.
Footbeds are basically level, with medium arch support. Better foothold and control is achieved with a tapered instep and heel area. The forefoot is wide so that your toes and foot can spread out for better stability.
They also do life jackets for men, women, kids and even dogs. Shoes are for men, women and kids and all their footwear is vegan friendly. There is a big range of Astral hemp footwear available and this is where you can get them at the best price.
4. Sanuk
Sanuk was founded by Jeff Kelley in 1997 with the goal of making people smile and to pass it on. The word Sanuk actually means "fun" in Thai. The range of footwear is for men, women and kids and include sneakers,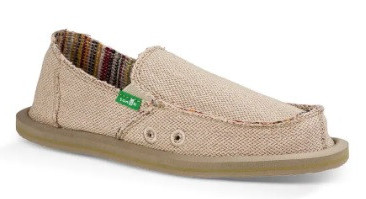 canvas slip-ons, flip flop sandals, shoes and boots. Hemp has recently been added to their range of materials that are used and hemp shoes are made up as follows:
Upper: 54% hemp, 43% recycled polyester and 3% spandex with a custom poncho lining.
Premium molded EVA foot bed with an antimicrobial additive to reduce bacteria that causes odors.
Outsole: U rubber sponge.
Sanuk hemp shoes can be washed in the washing machine on a cold cycle, but never put them in the tumble drier.
If the item is described as vegetarian, then the textile contains wool, whereas the natural vegan shoes are completely free of any animal products, including the glues.
Sanuk has partnered with the Surfrider Foundation, an environmental non-profit organization, who is dedicated to the protection and enjoyment of our beaches, waves and oceans. Explore the options and prices for Sanuk footwear here.
5. Risorse Future
Risorse Future is an Italian eco conscious brand that is based in Monte Urano, in the Marche area of Italy. They make vegan footwear, including hemp boots and high top sneakers. The shoes are light, durable and comfortable and they focus on innovative materials.
They first started producing footwear in 1955 and at the end of 2010, they set up a project for eco sustainable shoes. This led to the start of using vegetable materials, mainly hemp and cotton, in the range, producing some of the best hemp shoes that are available.
Craftsmen skillfully hand make the shoes and the entire supply chain is located in the area. So local craftspeople and suppliers are benefiting and there is no unnecessary transportation costs. The low scout sneaker and Deserto Vegan boots are made with these materials:
Upper: the outer is 100% hemp and lined with cotton, making it even more comfortable and warmer. They use unbleached cotton, so no chemicals are used and natural tones are kept.
Inner lining is cotton.
Unbleached cotton shoelaces.
Removable anatomic insole ensures uniform weight distribution and supports the entire foot sole. The insole has aloe vera and activated carbon, which has anti-bacterial properties and absorbs moisture.
Soles are attached with two techniques:

classical seam reinforced with cotton and
bonded with water based glue.

Outer soles in natural rubber.
Chemical Free Risorse Hemp Shoes 
REACH certified coloring is used, meaning it is completely free of chemical substances, so no formaldehyde, asbestos, phthalates, lead, chrome or hexachrome.
They are Peta approved vegan. If you are going to be using your Risorse Future shoes in rainy conditions, then it is advisable to spray a waterproof coating on them. Stains on organic hemp shoes can be brushed with a soft brush that has been dipped in water and a mild soap. Let the shoes dry in the shade.
Apart from hemp, other vegan footwear options are made with microfiber. They also do accessories like belts and bags. Risorse Future hemp footwear is available at the best prices here.
6. Virblatt
At Virblatt you will find alternative clothing for men and women, combining European comfort with Oriental tradition. Their range of hemp garments include harem and Aladdin pants and a selection of footwear.
They grow their own hemp in Thailand, working closely with the Hmong tribe, an ethic minority. They follow the strict textile regulations of the country to produce hemp that is sustainable and fairer on the people and the planet. The Hmong tribe has been producing hemp fabric and clothing for many generations and create stunning artisanal textiles.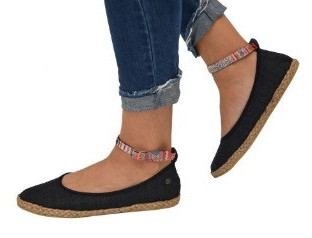 Traditional methods of cultivation and harvesting are used. The hemp is hand spun and woven on a wooden loom, according to ancient customs. These are the materials used:
The upper is 100% hemp
They have soft padded insoles and
natural rubber soles, decorated with quality raffia.
Virblatt produces an extensive range of hemp clothing and footwear. They work as a family and support small and micro-sized businesses to produce ethical and sustainable products. The selection for footwear includes wedge heels, ballerina flats, espadrilles and hemp shoes for any outfit or occasion.
Hemp espadrilles and shoes are handmade and individually tailored in Northern Thailand from locally grown natural hemp. Get your unique pair of Virblatt espadrilles and organic hemp shoes here.
Virblatt offers an upcycling program that they sell online or at local marketss. They have teamed up with Aline from PROUGS ReThink who will upcycle and transform any old Virblatt clothing or other brands, into trendy new pieces.
7. 8000 Kicks (originally Dopekicks)
Dopekicks was conceptualized in October 2018 and after suppliers were sourced, prototypes were made and funding was obtained from Kickstarter. The first sneakers were shipped eleven months later in September 2019.
They make eco friendly hemp sneakers that are completely waterproof. They use specially processed hemp that makes them waterproof and the waterproofing is achieved by adding a special coating layer during hemp manufacturing. It protects the hemp from stains and liquids and makes it easy to clean. So if you are wondering are hemp shoes waterproof?  Yes, they are, if you get them from Rawganique.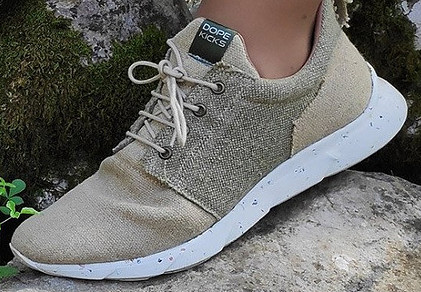 The natural vegan shoes are ethically made in Portugal using these materials:
Upper: waterproof hemp
A special waterproof insulating membrane, adds further waterproofing
Cork insoles create a natural cushioned surface which will not deform. Cork is anti-microbial, anti-fungul and temperature regulating to give you healthy feet year long.
Recycled rubber soles – they have partnered with Portuguese out sole manufacturers to use old shoes to create upcycled soles. Recycled soles are flexible and durable and of course is helping the environment. The out soles are strategically carved to get maximum grip.
Dopekicks sneakers are designed for urban explorers and outdoor use. If they do get dirty or covered in mud, just rinse them clean with water. The name was changed to 8000 Kicks during lockdown 2020, to reflect when hemp was first used in textiles and clothing.
8. Bohempia
Thomas Rohal founded Bohempia in 2015 with the mission to bring hemp back to mainstream use. They start with the raw hemp fiber and spin it, before knitting, weaving and dyeing the hemp fabric. They have a studio in Prague where they design and make prototypes.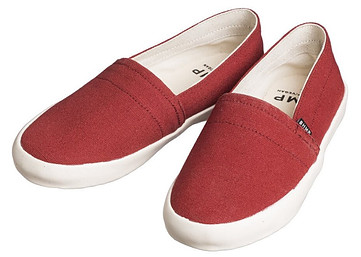 Their organic hemp shoes are certified Peta vegan and the espadrilles, sneakers and shoes use these materials:
Upper: 100% hemp with a natural cotton lining to increase breathability.
Insoles: anatomically molded polyurethane with shock absorbing heel supports.
The top has double stitching for increased strength.
Double foxing for durability and flexibility
Sole is vulcanized natural rubber with a reduced profile and is non-slip.
Bohempia products are ethically made in small workshops in the European Union, using ecologically grown EU hemp. The range is for men and women and the designs are simple and minimalist. They also do a range of clothing and accessories.
Hemp is biodegradable and an environmentally friendly fiber that is a sustainable option. It will leave you and your feet feeling good. Hemp canvas is washable and durable and gets softer with age and wear.
Explore the range of hemp shoes available on Amazon here.
You are sure to find your ultimate pair of natural vegan shoes in this guide to the best hemp shoes, but if you have any questions or suggestions about organic hemp shoes, please leave them below and I will get back to you.