With a climate crisis on the horizon, there has never been a more appropriate time to commit to sustainable fashion. In an industry where trends are always changing, bringing new styles and fabrics to the fore, can seem quite a challenge. Swimsuit shopping can be complicated if you want to be swimming towards sustainability. However, finding sustainably made swimsuits, is increasingly possible.
Whether you are searching for the perfect fit, looking for women's plus size swimwear or mastectomy swimsuits, these brands have it all. Maximize your summer fun with these sustainably made swimsuits.
1. Aurai
Aurai was created by the Italian / Brazilian designer Natalia Bertolo. It is an ethical and eco friendly swimwear brand that is based in Auckland, New Zealand, but swimwear is hand made in Brazil. The manufacturing takes place at a small family owned atelier in southern Brazil. The collections feature high quality materials, timeless color palettes and silhouettes, exclusive prints and "surf safe" swimwear for all body types.
Swimwear pieces are fully lined using biodegradable fabric, or it is doubled, to ensure durability and to have a long life span. A mix and match concept means you can also use what you currently have in your wardrobe.
New developments in the sustainable textile industry means that synthetic fibers derived from the petrochemical industry, no longer need to be used. They only use recycled and biodegradable materials. Materials include:
Econyl – this is a polyamide fiber made from 100% regenerated materials derived from pre and post consumer nylon waste such as fishing nets, nylon plastic scraps and old carpets. This is used for the outer layer of the swimwear.
AMNI SOUL ECO – this is also a polyamide fiber, but with improved formulation to accelerate bio degradation in landfills with an anaerobic environment. Swimwear is lined with this textile. This yarn was developed and is produced in Brazil.
This "smart yarn" will only biodegrade in landfill where there is an anaerobic atmosphere, so don't worry, it will not fall apart while you are wearing it.
Both these textiles are OEKO TEX certified, meaning that zero harmful substances were used during the manufacturing process. Since conception, Aurai has worked to raise the importance of better practices in fashion, supporting fair trade businesses and craftsmanship and the sourcing of materials locally. They guarantee that all items are produced using ethical labor practices and environmentally responsible.
The product range includes one piece swimsuits, tops, bottoms and surf suits, as well as accessories, skincare and eco essentials. Mastectomy swimsuits are also available.
You will be swimming towards sustainability with Aurai, where even packaging is sustainable. It consists of a reusable compostable pouch or a hundred percent recycled paper pillow box, wrapped in a compostable shipping bag.
Vitamin A was founded in 2000 by Amahlia Stevens and they are based in Laguna Beach, California. All the swimwear is manufactured in the USA, using recycled nylon and water conservation efforts.
Product range comprises bikinis, one piece swimsuits, beach wear and accessories. Plant based and recycled materials are used and they incorporate other sustainable materials like linen, organic and recycled cotton, Tencel viscose and recycled polyester fibers in their beachwear.
EcoLux, a superfine matte jersey swimwear fabric that is locally produced in California, is used. It uses recycled nylon fiber and Lycra Xtra Life fiber to extend the life of each swimsuit far beyond that of traditional spandex products. Factories use water and electricity conservation technologies and prints use waterless digital technology. Swimsuit are made with 84% EcoLux recycled nylon and 16% Lycra.
So far they have already saved:
nearly 1.8 million liters of water saved
nearly thirty-three thousand kg of waste diverted
almost 293,000 kg of emissions avoided
nearly 933,000 kWh of energy saved
1% goes to the planet to protect our oceans. More than 95% of their items are made locally in California, including their textiles. They work with vertically integrated facilities whenever possible, so that all the processes from spinning to dyeing to knitting takes place in one location. Because it is locally made and sourced, it also dramatically reduce their carbon footprint with shipping and transportation.
Fair Trade artisans ethically produce their materials while providing jobs with a safe working environment and getting paid a fair wage. They are geared to reduce waste and energy.
Vitamin A sustainably made swimsuits are on the higher end of the price range with most bikini tops and bottoms priced at around $100 to $110 and one piece swimsuit from $180 and more
3. Boden
The planet friendly swimwear is designed in the UK. The swimwear line uses Econyl regenerated nylon fibers, obtained from nylon waste such as fabric scraps and fishing nets.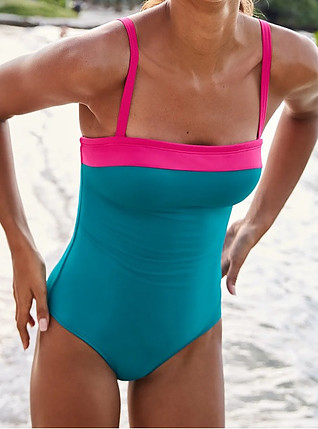 This is used for the outer of swimsuits in a combination of 78% Econyl polyamide and 22% elastane. The lining is made from recycled polyester.
Product range includes swimwear, hats, beach bags, clothing and accessories and also swimwear for kids. The swimwear line has one pieces, bikinis, tankini tops, swim shorts and also rash guards for surfing and sun protection. Will last for far more than just a year, as guaranteed by their 365 day return policy.
They have a transparent supply chain, fair wages, eco friendly packaging and more to help them swimming towards sustainability.
Constantly taking measures to reduce their carbon footprint by using sustainable materials, working more efficiently and reducing waste. Catalogues are printed on sustainable sourced paper.
Do be aware that at the moment not all swimwear is made from Econyl, so look out for the items that say "planet friendly". By 2025 they want to only use Econyl in the sustainably made swimwear.
They have a policy of zero to landfill at their warehouses, so they recycle plastic, paper and cardboard and use rainwater to flush the loos.
4. Summersalt
Summersalt is an American brand that is based in St Louis, MO. They create what they call travel essentials, that you will be comfortable during your journey, but stylish as well when you reach your destination.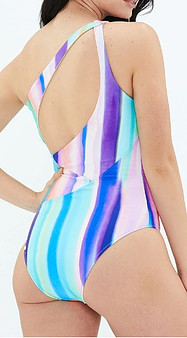 The measurements of one and a half million women were used to create their perfect fit.
Product range covers swimwear, sleepwear and lounge wear. Swimwear is available as one piece or two pieces and they also have an option for a long torso and women's plus size swimwear. Recycled textiles are used for the swimwear, consisting of 78% recycled polyamide and 22% elastane. The recycled polyamide is derived from recycled plastics and fishing nets.
The fabric is five times more durable than the average swimsuit. They truly retain their shape, even after many washes, due to having four times the compression of average swimwear.
Travel wear is made from their own "vegan silk", which is made from pre consumer waste like cotton linter, that comes from leftover yarn. Items are shipped in reusable bags.
They cut out the middle man from manufacturer to their own warehouse, which means they can have transparent pricing and it cuts down on the operational costs. At less than $100 for a one piece swimsuit, it is good for your wallet too.
Wash your Summersalt swimwear by hand in cold water and hang your suit up to dry. Do not keep wet swimwear rolled up for long times or with other garments.
5. Reformation
Reformation was founded in 2009 by Yael Aflolo and is an ethical brand that is sustainably made in Los Angeles, USA.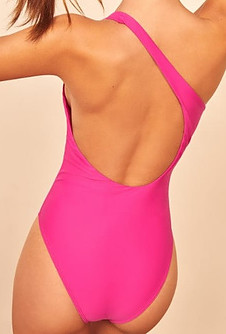 A combination of sustainable and dead stock fabrics, textiles made from renewable plant materials and recycled and regenerated fabrics like Econyl, is used to make their swimwear.
Swimsuits are made from 78% Econyl and 22% elastane. Econyl is regenerated nylon consisting of a hundred percent nylon waste, like fishing nets, carpet fluff and fabric scraps, that is taken from the oceans and landfill.
Product range is the full line of apparel from organic clothing, to dresses, sweaters, jeans, tops, swimwear and much more. The extensive swimwear line includes high rise bikini bottoms, normal bikinis, one pieces, beach bags and accessories.
It is best to hand wash your Reformation swimwear in cold water and soap, or in a Guppyfriend wash bag, as micro plastic particles might be released.
The ethics used include eco friendly manufacturing practices and economic empowerment for women. Choose Reformation and you will be swimming towards sustainability.
6. Bold Swim
Bold Swim is based in Hollywood, CA and make swimwear for unafraid, unapologetic and bold women. The luxury fabric, which is biodegradable, is sourced in Brazil.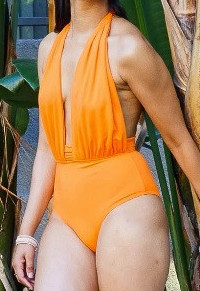 The product range of bikinis and one piece costumes are size inclusive with women's plus size swimwear, up to triple extra large (3X). Prices for one piece swimwear start at $100 a piece.
Their signature fabric is 100% Amni Soul Eco A thread / CO2 light fabric, which is:
Soft and comfortable.
It has not been tested on animals.
It is free of harmful toxins.
Certified,
Biodegradable
Has UV protection
Bold is committed to Fair Trade procedures and wages and ethical production. The slow fashion brand uses a closed loop production cycle. Their shipping is a hundred percent carbon neutral, meaning that any CO2 emissions are offset by supporting projects like planting trees.
7. Jessica Ray
Jessica Ray founded Ray swimwear in 2009 after she went in search for swimwear that wasn't a bikini. She couldn't find anything suitable, so decided to make her own.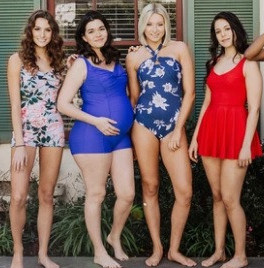 With friends asking to have the same, she launched the swimwear line.
The product range includes two pieces, one pieces, tankini's, swim dresses and beach towels. If you are looking for maternity or nursing swimwear, this is where you will find it. The modest looking swimwear is flattering and playful and is also available in kids sizes. In 2017, she added dresses, tops and skirts to the line.
Ray swimwear is based in Los Angeles, CA, where the swimwear is cut and sewn and the sustainably made swimsuits produced. Fabric is Italian, made from 100% regenerated pre and post consumer waste materials like discarded fishing nets.
The swimwear is fully lined and made from 78% regenerated polyamide and 22% Lycra Extra Life. It has UPF50+ protection.
Sustainable fabrics like Tencel viscose and cotton is used to produce the other products in their range. The entire Jessica Ray line is dedicated to ethical production.
8. Peony
Peony is an Australian luxury brand which is named after the flower that blooms at the start of summer. It is an independent family run business.
Product range includes swimwear, resort wear and accessories. All the garments are entirely made from recycled and sustainable textiles. They do their textile printing in-house and from main fabrics to linings, they develop their own textiles.
Printed fabrics use Econyl, the regenerated nylon that is made from nylon waste and fishing nets. The lining of the swimwear is also made from recycled and sustainable materials, all contributing to swimming towards sustainability.
They use GSR certified recycled fibers, such as Repreve, for their custom textured fabrics. For resort wear they focus on natural fibers, such as organic cotton, linen and hemp. Innovative sustainable fibers such as EcoVera, which is derived from wood pulp, is also used.
Certified SA8000 approved suppliers are used for the ethical manufacturing of the swimwear and resort wear. This not only ensures ethical production, but also fair wages and compliance for the workers.
Biodegradable and compostable packaging, made from plant based materials like wheat and corn starch, is used. This will break down within three to six months.
9. Araks
The range is designed by Araks Yeramyan and is Made in the USA.
Color is her big driving force and she wants the palettes of swimwear and lingerie to look similar and related, with brighter colors for the swimwear. Fabric is 78% Econyl recycled nylon and 22% elastane.
Product range includes bikinis and one piece costumes and larger women's plus size swimwear with D-cup sizes. Apart from sustainable swimwear, the range include lingerie, resort wear and sleepwear.
Their mill and factory partners take the same care in the production of their fibers and textiles, as Araks do in their products. They use measurable sustainable practices and with all the necessary certifications for conforming to environmental, climate and textile regulations.
Do look out though as not all the swimwear is using recycled materials, it is only the ones in the "Recycled swim" range.
Related post: Best Ethical Swimwear for Women.
Final Thoughts
Sunscreens often contain ingredients that might stain your swimwear, so take care not to get it directly onto your swimsuit. At the end of the day, it is better to cover up and stay out of the harsh sun and not expose your body to either chemicals in sunscreens or the damaging ultra violet rays. Enjoy the sun when it is not mid day, but either early morning or late afternoon.
In case you would like to know, Amni Soul Eco fabric is made by the fabric manufacturer Fulgar, and is increasingly being used by brands that are swimming towards sustainability.
These brands, Batoko, Pura and Vilebrequin are also using recycled plastic in their swimwear.
If you are looking for mens swimming trunks, you will find the best brands in this post on Best Swimwear for Men from Ocean Plastic Waste.
I hope you will find your perfect fit amongst these sustainably made swimsuits, but if you do have any questions or comments, please leave them below and I will get back to you.