Is hand craft or handicrafts a dying art or craft? I sincerely hope not. With the selection of yarn for crafts that are available nowadays, it is more exciting than ever to have a handicraft as a hobby.
What are Hand Crafts?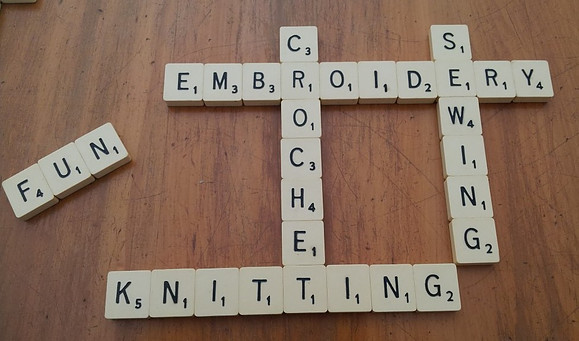 Hand crafts apply to a wide range of creative and design activities that are related to making things by hand. It often means that certain tools are required like knitting needles or a crochet hook.  Or even large items like a sewing machine or weaving loom.
Hand crafts could involve working with textiles or leather, plant fibers, wood, glass, metal and many other materials.
Throughout civilizations, hand crafts have been passed on from one generation to the next. This is together with many other skills and techniques. Many hand crafts can be a hobby, but it can also earn you some money or be a full time profession.
Hand embroidery, hand knitting and hand crocheting are portable hand crafts. Thus meaning you can take it with you and continue with your article or project while you are way from home. So in this post we will focus on these handicrafts that are portable.
Crafts like spinning and weaving will be covered in a separate post.
How did it start for me? Where did I learn?
My grandmother taught me how to knit. I can remember sitting next to her, watching her fingers and what she was doing. I was only six years old when she passed away, but the basic interest was instilled.
My mother was left-handed and with me being right-handed, my mom couldn't really help me with hand knitting.  But she did teach me the basics of sewing.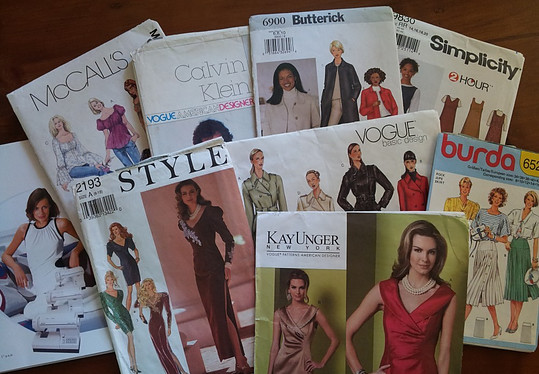 In those days (40 odd years ago) the choice of what one could buy in the shops was quite different to today. It meant that if you wanted a specific designed style jersey, you had to knit it yourself. The same was applicable for a dress for a special occasion. Off we would go with my mom, to spend time paging through all the pattern books. 
Style, Butterick, Simplicity, Vogue (always cost more but if it was a really special event like a matric dance, we could contemplate it). And it was such fun. Earmarking the pages with dresses that we thought we might choose. And then comparing the different styles until finally settling on the prime choice.
The next exciting part was to go and choose the fabric. Always within my mom's budget and under her careful eye to guide us. Invariably in those days the bulk of the textiles were natural, but my mom certainly steered us away from anything that was synthetic.
She already knew that synthetic textiles were unpleasant to wear. And certainly not nice to work with compared to natural fibers.
The Art of Sewing
Sewing is one of the oldest textile crafts using a thread and needle to make a stitch. Objects or pieces are attached to one another by using a needle and thread. For thousands of years all sewing was done by hand.
The invention of the sewing machine in the nineteenth century led to mass production of clothing, but hand sewing is still practiced around the world.
When sewing by hand, some tools would be required and these would be fabric, scissors, measuring tape, needles, thread and pins. Sewing larger items like garments would also require a pattern and a sewing machine.
Other sewing tools that would sometimes be required would be seam rippers, marking chalk and a cutting mat. Ironing the seams when sewing a garment is essential so an iron, ironing board and pressing cloth would be needed.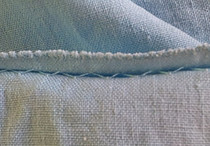 There are numerous stitches that are used in hand sewing, but the basic ones are cross stitch, chain stitch, running stitch, blind stitch, blanket or buttonhole stitch and satin stitch. These stitches are still the fundamental stitches that are used in hand sewing and hand embroidery today.
Hand embroidery and needlepoint are both decorative forms of hand sewing.
The Art of Hand Embroidery
Hand Embroidery is the craft of decorating fabric or other materials using a needle to apply yarn or thread. Other materials such as beads or sequins may also be incorporated in embroidery.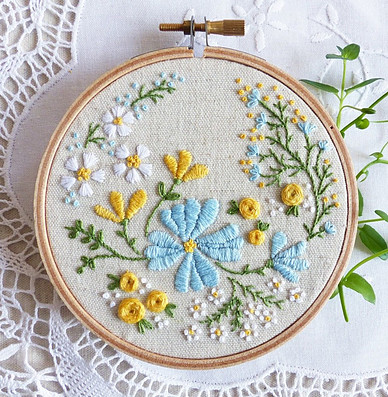 Nowadays it is used as a decorative stitch on garments, household linen and hats, using a variety of colours and stitches.
When doing hand embroidery, only part of the fabric would be covered with the embroidery pattern. Whereas with needle point, the entire piece of fabric would be covered with yarn.
Many embroidery patterns involve counting the threads to create the design.
The threads in the base fabric can be drawn together and also cut to form the design. Geometric patterns and designs are common in hand embroidery.
Needlepoint uses a similar technique to counted thread embroidery, but the stitches would create a dense pattern that would completely cover the foundation fabric, as in tapestries.
Cross stitch is the stitch that is commonly used in needlepoint.
During the Industrial Revolution embroidery machines were invented and many sewing machines are now available with embroidery functions included. Logos on factory made clothing would be machine embroidered onto the garments.
The Art of Hand Knitting
Hand knitting is the craft using two needle and a yarn or strand to create a fabric or textile.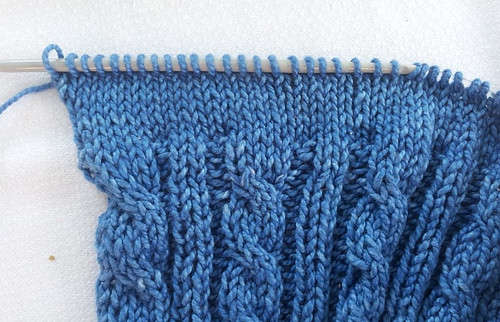 Yarn is used to make multiple loops on the knitting needles, called stitches. So a stitch is a single loop of yarn or thread. Knitting has several active stitches on the needle at any one time, either in a line or tube, forming a row of stitches.
Knitted fabric is made up of interlocking rows of loops. A newly created loop is pulled through one loop from the previous row, placed on the needle, and so new rows are formed.
Casting On and Casting Off
Any piece of hand knitting is started with the process of casting on, which is the creation of the initial stitches onto the needles. Different ways can be used to cast on the stitches, depending on the effect that one wants to have or the use of the article.
Hand knitters use many hundreds of different knitting stitches with the most common one being stocking stitch.
The number of open or active stitches on the needles remains the same as the amount that was cast on. Unless you are increasing (adding) or decreasing (removing) the stitches.
The remaining stitches are cast off when the hand knitted article is finished.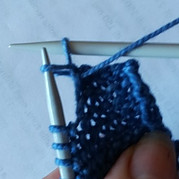 Casting off loops the stitches across each other so that they can be removed from the needles without unraveling the piece.
When an article like a sweater is knitted, it will have several pieces that need to be sewn together to complete it.
The Two Main Stitches in Knitting
The two main stitches are knit and purl and these two are used to make up many patterns. Stocking stitch is created when each knit row is followed by a purl row and repeated continuously.
Garter stitch is formed when each knit row is followed by another knit row and repeated.
Knit and purl form the basis of many other stitches like rib, moss, cables, making eyelets, seed stitch, triangles and diamonds and many hundreds of other stitch options.
Knitting needles are available in many different sizes to be used with different thickness yarns. Needles can be straight or circular, depending on the article that is being knitted.
To get ideas and inspiration for your hand knitting or crochet project, this is where you will find a great selection of yarn for crafts at affordable prices.
The Art of Hand Crocheting
Crochet comes from the French word crochet which means small hook.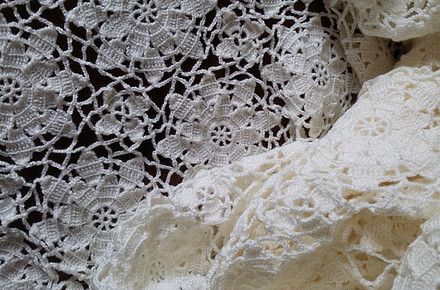 To begin to crochet, a slip-knot loop is placed on the crochet hook.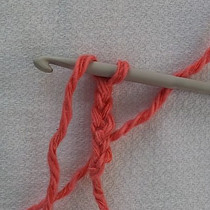 A chain is then formed by pulling another loop through the first loop and repeating this process until the chain is the required length.
The chain is either turned and worked in rows, or it can be worked in a circle.
To work in rounds or circles, a single loop is formed by joining the end of the chain to the beginning of the chain with a slip stitch. Stitches are made by pulling one or more loops through each loop of the chain.
There is only one loop left on the hook at the end of each stitch.
Main Types of Basic Crochet Stitches 
There are five main types of basic crochet stitches (terminology varies in different countries and these description uses US crochet terminology).
Chain stitch is the most basic of all stitches and it is used to begin most projects.
Slip stitch is used to join chain stitch to form a loop or ring.
Single crochet stitch (in the UK it is called double crochet stitch) is the easiest stitch to learn.
Half-double crochet stitch (in the UK it is called half treble stitch and this is the 'in-between' stitch.
Double crochet stitch (called treble stitch in the UK) has many uses and is widely used.
Fabric is created by interlocking loops of thread, yarn or strands of other materials, by using a crochet hook. In crochet each stitch is completed before the next one is begun, whereas in knitting numerous stitches are kept open all the time.
More advanced stitches are usually a combination of basic stitches and these would include the spike stitch, butterfly stitch, shell stitch, popcorn stitch, V stitch, crocodile stitch, cluster stitch, and Afghan stitch.
The basic stitches differ in height and thickness but the same horizontal distance would be covered by all. A crochet hook can be made from metal, wood or plastic and come in many different sizes.
Why do You Want to do Hand Crafts?
There are several benefits of having a handicraft: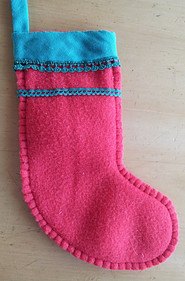 Hand crafts are environmentally friendly – it uses only your own energy and waste materials are almost zero.
You can enjoy peace and quiet while gathering your own thoughts.
Health – some craft projects are intricate which leads to better hand-eye coordination and spatial awareness.
Mental health – crafting stimulates areas of the brain that can make you happier and it has a therapeutic and calming effect.
Crafting is sociable and you can do it on your own or get together with other hand crafters and share ideas.
You learn new skills through doing hand crafts.
You can create unique pieces, either for yourself or to use as gifts or sell.
The feeling of satisfaction when you have created something with your hands, makes you feel great. Specially when you get compliments about your creations. With the big choice of yarn for crafts that are available, it is easy to get excited about hand crafts and create your own bespoke articles.
Please leave any comments or questions below and I will get back to you.