The beginning of fall or autumn means it is time to upgrade your winter wardrobe with warm and cozy sweaters. For me, it will be a repurposed wool sweater, as recycled wool projects is one way to help the planet. It might make you wonder what is recycled wool and what is recycled wool fabric?
One way of helping the planet, is through recycling and reusing, and sustainable wool sweaters, made with recycled yarn, is a great way.
From an environmental viewpoint, recycled wool has a much smaller carbon footprint, than virgin wool. Wool might not be a vegan fabric, but it is naturally produced, and as such is much better for the environment than petroleum derived synthetics.
So why do we need to repurpose a wool sweater and what is recycled wool fabric?
This post contains affiliate links and I will be compensated if you make a purchase after clicking on my links.
What Is Recycled Wool?
Recycled wool is produced by mechanically shredding old wool textiles, and respinning the fibers into new yarn. Both pre consumer textiles, like scraps, and post consumer sources, such as returned or unsold garments, are recycled.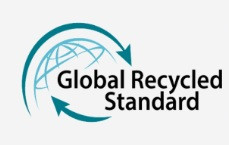 Mechanically recycled fibers can be spun on a carded spinning machine to get yarns for fabric. Apart from sheep's wool, cashmere, alpaca and angora can also be recycled.
Wool is a natural and a renewable fiber, and is one of the most recycled fibers. Recycled wool has the same great qualities as virgin wool, but at a fraction of the environmental cost.
Producing wool is a labor intensive job. Recycling extends the life span of fiber that has already been produced.
Processing of new wool is discussed in this related post on What is Wool.
One of the biggest impacts of wool, comes from the methane released by sheep growing it. This is why it is important to look at ways to repurpose a wool sweater and other textiles.
Recycled Wool Projects
Wool is readily recyclable with well-established ways. Prato, near Florence in Italy, is home to the European center for recycled wool. Recycling of wool has been taking place there since the early 19th century.
Old garments and textiles are manually sorted by color and type of fabric (knitted or woven). Any trimmings like zips, buttons and linings are removed.
New yarn can then be produced without an additional dyeing process. To attain a specific color, small amounts of freshly dyed fibers can be added.
There are 3 main routes how wool is recycled:
Closed loop system: A mechanical process, with a special cutting machine, rips the fabric and takes garments back to the raw fiber state. The fiber is turned into yarn again, to produce new products. This is particularly suitable for recycling wool knitwear.
Open loop system: Wool from previous products, forms the basis for a new product. These are usually industrial products like thermal insulation, acoustic insulation and mattress padding.
Re-engineering: Designers get creative and recycle or repurpose a wool sweater and unsold items into new products. This could be making a bag out of an old jacket, or a skirt out of a blanket. Production waste, like trimmings, can also be used to make new items. Wool is valuable, so nothing goes to waste.
You don't lose any of the beneficial properties of wool when you recycle it, making it ideal for producing sustainable wool sweaters.
Reasons To Repurpose a Wool Sweater
Pre and post consumer waste can be used for recycled wool projects.
Repurposed wool is sustainable and is a good alternative to virgin wool.
Recycling reduces waste and prevents products from going into landfill, thus offering a positive alternative to virgin wool.
Recycled wool saves a considerable amount of water, reduce the need to use land for sheep grazing and avoids the use of chemicals for dyeing.
It contributes to a reduction of air, water and soil pollution.

Every kilogram of recycled wool saves 11 kg of CO2 compared to virgin wool.
Every kilogram of recycled wool saves 500 liters of water, compared to virgin wool.

Recycled wool respects animal welfare.
Wool is naturally durable and can easily last 20 – 30 years or longer, if looked after. This reduces the environmental footprint of wool.
What is recycled wool fabric, is also called reclaimed wool or repurposed wool. Warm and cozy sweaters, like a repurposed wool sweater made from recycled wool, saves resources and keep you warm.
Properties Of Wool
Wool comes from the fleece of sheep and is a natural, renewable fiber. It has many excellent qualities:
Wool is naturally breathable, resilient and versatile. 
It is completely biodegradable.
Wool fiber is hygroscopic, so it draws moisture away from the body and absorbs it inside the fiber.
Because of the hygroscopic properties, wool is a very good insulator and allows your skin to breathe.
Wool can absorb up to 30% of its weight in water, before it actually feels wet.
The outer layer of wool fibers have scales, which makes it difficult for dirt and dust to penetrate. This makes wool stain resistant and easier to clean than many other fabrics.
Wool is fire resistant and will not burn easily. It will smolder, rather than burst into flames. It doesn't melt and stick to your skin like synthetic fabrics.
Wool is very easy to recycle and is one of the most recycled fibers in the world.
It is naturally water repellent.
Wool absorbs moisture from the air, thus, there is less build-up of static electricity in the fabric.
It naturally insulates and regulates temperature in all conditions.
It absorbs odors.
Man-made fabrics do not match the distinctive properties of wool. Wool is a natural insulator and regulates body temperature, two qualities that synthetic fibers do not have.
Benefits Of Sustainable Wool Sweaters
The properties of wool, make it beneficial to use in warm and cozy sweaters and clothing.
Wool is grown, not made. Sheep grow a new fleece every year, so it is natural, renewable and sustainable.
Because wool is breathable, it is cozy and comfortable to wear.
Wool's natural structure allows it to absorb and release water vapor into the atmosphere. Therefore, it keeps you warm in winter.
No chemicals are required to turn it into clothing.
Wool is durable and hard wearing and will keep its good appearance for a long time if you look after it.
Wool can be knitted or woven into many textures and styles.
Less energy is required to make wool yarn, than man-made fibers.
Wool has a high nitrogen content and when disposed of, will decompose in a few years. So it could act as a fertilizer.
The most popular wool for clothing, is merino wool. Merino sheep have wrinkly skin, which mean they provide more wool than other types of sheep. It is also the softest sheep's wool and without any itchiness.
There are lobbyists that argue that sheep are not treated humanely. But there are certifications to ensure good animal husbandry is followed.
Certification Of Wool
The International Wool Textile Organization (IWTO) tests wool and issue certificates for quality.
The Responsible Wool Standard (RWS) is a voluntary standard that addresses the welfare of sheep and the land they graze on. The goal is to provide the industry with a tool to recognize the best practices of farmers.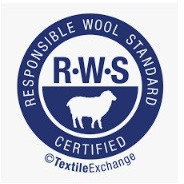 This ensures that wool comes from sheep that have been treated responsibly and without harm. It also ensures that farmers have a progressive approach to managing their land, with strong animal welfare and soil protection practices.
Responsible Wool Standard helps farmers to meet consumer, retailer and brand demands. It bans museling.
ZQ is a wool certification standard that stands for a better quality of life for animals, people and our planet. This ensures sustainable, ethical and traceable wool.
Alpaca wool is generally regarded as eco friendly wool. This is because alpacas are more efficient eaters, and as such, do not destroy their environment in the same way that many other livestock do.
Alpacas are related to camels and most of the world's alpaca population is still raised in Peru in their natural habitat. Generally speaking, Peruvian farmers still raise their animals more humanely.
So do look out for brands that use certified wool or recycled wool.
The Best Sustainable Wool Sweaters
So, whether you like it or not, colder weather creeps up and you need warm and cozy sweaters to keep you comfortable all through the season.
The climate crisis means many consumers want to be greener in every aspect of their lives, and that includes your winter wardrobe. With these eco friendly brands, there is no need to sacrifice style for sustainability.
Thought 
Thought is an all-natural company that produces timeless fashion using recycled wool, organic cotton and sustainable fabrics. They blend what is recycled wool with organic cotton to create luxuriously soft knitwear and cozy winter coats.
You have several options to choose from: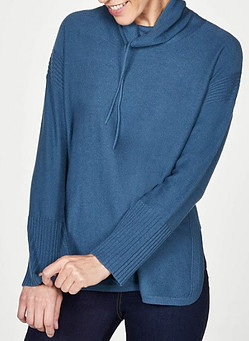 Recycled wool jumper: 55% recycled wool, 25% lambswool and 20% nylon.
Jacket made with what is recycled wool fabric: 95% recycled polyester, 5% recycled wool.
Organic cotton and wool blend is made with 15 % wool and 85% organic cotton to create luxuriously soft knitwear.
Warm and cozy sweaters and cardigans with a blend of 80% lambswool and 20% nylon.
Bamboo wool is a blend of 20% recycled wool and 80% bamboo.
Thick warm socks in a blend of 60% wool, 15 % recycled nylon, 22% recycled polyester and 3% elastane.
All recycled materials are Global Recycled Standard (GRS) certified.
Thought use recycled paper for labels and mailing bags and garment bags are made from compostable corn starch.
Thought has partnered with Traid, a UK charity that has a recycling program. They will take your preloved clothes and repurpose a wool sweater.
Traid works to minimize, improve and transform the impact clothes manufacturing has on the environment. They provide recycling bins and charity shops. This partnership promotes circular fashion economy and gives unwanted clothes a new life.
Organic Basics
Organic Basics is a Danish brand that specialize in everyday basics, active wear and underwear.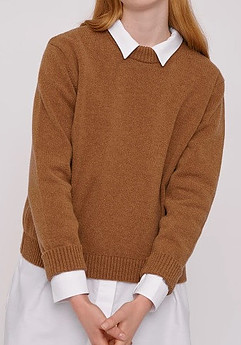 They use recycled materials and organic cotton. Sustainability is at the core of what Organic Basics do.
They use both recycled wool and recycled cashmere for their sustainable wool sweaters.
Recycled wool is made from pre consumer garments that would have ended up in landfill. So waste is diverted from going into landfill, and recycled to make men merino wool jumpers.
Recycled cashmere is made in Italy from well-worn cashmere garments. The old garments are shredded and then re spun into new yarn. Recycled cashmere is Global Recycled Standard (GRS) certified and is made without the use of chemicals or dyes.
100% Recycled wool and recycled cashmere have a much smaller carbon footprint than new wool and cashmere. Carbon emissions are reduced by 95% compared with virgin wool.
Apart from a repurposed wool sweater, you can also get beanies, scarves and socks as recycled wool projects they produce.

PrAna
PrAna is an ethical North American company that only uses sustainable fabrics and ethical practices. They do a full range of yoga, climbing, hiking, traveling and active wear for men and women.

PrAna uses recycled wool made in Prato. 24% of their wool styles are made with what is recycled wool. When they use virgin wool, it comes from farmers that meet the Responsible Wool Standard (RWS).
You have different blends to choose from:
Sustainable wool sweaters for men and women are made with 48% recycled wool, 47% recycled polyester and 5% other fibers.
Men merino wool jumpers are made with merino wool blended with organic cotton.
Ladies sweaters with 44% recycled polyester, 37% recycled wool, 13% recycled nylon, 3% elastane and 3% other fibers.
Farms and production facilities are Fair Trade certified, ensuring workers are all paid a fair wage and they have safe working conditions.
Vitamin A
Vitamin A believes style and sustainability are inseparable. Apart from their signature swimwear, they also produce leisure wear in linen and recycled cashmere.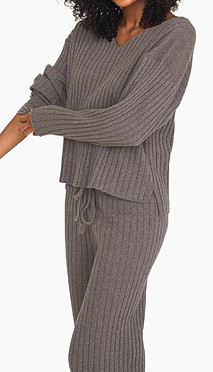 Vitamin A Clean Cashmere is a fresh take on cashmere and is sustainably made in California from recycled Italian yarn.
The recycled cashmere is a blend of 95% recycled cashmere and 5% wool. It is super soft and used to make sweaters and lounge pants.
The soft wide-rib fabric is used in a V-neck sweater and pants and are priced at $225 and $250 respectively. It has a boxy, slightly over sized fit and is available in grey or cream and in sizes XS to L.
Recycled cashmere uses a water saving, closed-loop process. Recycled cashmere is hypoallergenic and breathable and 3 times warmer than virgin wool. Clean cashmere garments should only be dry-cleaned.
The positive impact of buying a repurposed wool sweater, is that waste is diverted and carbon emissions avoided.
Vitamin A is a member of 1% For The Planet, a charity who gives back to organizations who work to protect our oceans and the environment.
Beaumont Organics
Beaumont Organics is a British based organic and ethical clothing company that was started in 2008.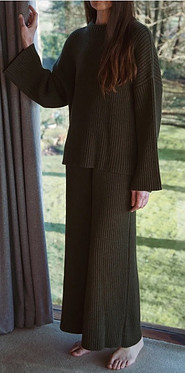 They create contemporary conscious clothing for the modern woman.
Beaumont Organics use recycled wool, alpaca and virgin wool. Alpaca has a slightly different appearance to merino wool and looks softer and fluffier.
All alpaca knitwear is made from brushed alpaca, which is softer than normal wool, making it perfect for warm and cozy sweaters. Compared to normal wool, it has no piling, so looks new and good for a very long time.
With Beaumont Organics you have a choice of:
Blend of alpaca and recycled wool is used for sustainable wool sweaters, trousers, cardigans and skirts. It is made from 45% alpaca, 40% recycled wool and 15% nylon.
Alpaca jumpers, scarves and hats are also produced.
Virgin wool sweaters and garments using RWS wool.
Knitwear is ethically made in Portugal and alpaca is sourced in Peru. Beaumont Organics call their alpaca and what is recycled wool fabric "affordable luxury", with prices starting at £175 for a skirt.
Allbirds
Allbirds, the popular sustainable footwear brand, has expanded into apparel. Apart from wool shoes, you can now get warm and cozy sweaters, caps, beanies and scarves from Allbirds. They have everything to keep the cold out.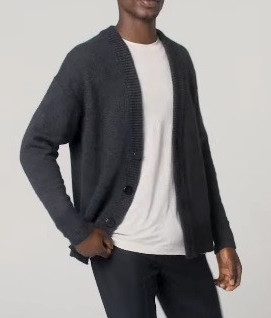 Men merino wool jumpers are made with 100% QZ certified merino wool. QZ is the leading organization to ensure wool is produced to high standards of farming, land management and animal welfare.
It has a double knit structure and a thicker gauge yarn.
Merino wool is super soft and cozy and treads lighter on the planet than synthetic materials.
The wool cardigan is independently tested for any harmful substances. This is done to the strict global criteria of standard 100 by OEKO-Tex
Buttons are crafted from recycled polyester.
Sweaters, cardigans and jumpers are made with responsibly sourced merino wool. Puffer jackets are made with a blend of merino wool, recycled polyester and nylon and Tencel cellulose fiber.
Sweaters are knitted in China, where their partner ensures that excess yarn is recycled and reused, so that nothing goes to waste.
Allbirds has a carbon footprint tool to measure their impact on the environment. All Allbirds garments are carbon neutral, due to a combination of sustainable practices, like using natural materials and carbon credits.

Gentle Herd
Gentle Herd fuse natural materials with urban style to create luxurious garments from wool and cashmere to suit any occasion. Wool and cashmere are sourced from inner Mongolia. This area has abundant grass and water.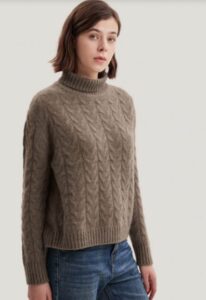 Animal welfare is a huge priority for Gentle Herd. They have strict codes of practice to protect their sheep and goats. The size of the herd and their grazing are both vigorously controlled and monitored.
Fair Trade practices are upheld and no animals are harmed in the making of their products. Their mission is to deliver the finest sustainable and ethical wool and cashmere garments to you.
Apart from taking care of their animals, they also take care of their workers. Standardized practices for breeding, shearing, feeding and transporting livestock have been established. This keeps the farming community thriving and prosperous.
Throughout the process, from sourcing to production to distribution, sustainable practices are used. Gentle Herd is transparent about what goes into their garments.
Gentle Herd is perfect for fashionistas that value high quality. The long-lasting garments are classic and refined and represents their ethos of environmentally friendly lifestyle.
Apart from cashmere and wool, Gentle Herd also uses Yak wool and camel hair, both sustainable wool options. Undyed cashmere is also available. Worldwide shipping is available for the sustainable wool garments.

Final Thoughts On Sustainable Wool Sweaters
Wool is one of the world's most sustainable fibers for reuse. So, don't chuck your old sweaters, they are perfect to be used in recycled wool projects. To repurpose a wool sweater, is easy and kind to the planet.
With a climate crisis threatening our planet, we should all think green and take action. So get a repurposed wool sweater this winter.
Artisan and rural communities often rely on the income they receive from sheep farming and the wool they produce. It is therefore important to remember it provides a livelihood to farmers, even if it is not vegan.
If you have any comments or suggestions about what is recycled wool fabric, then please leave them below