When you are talking about fashion and style, chic denim garments will invariably come into the frame, with organic cotton jeans high on the agenda.
There is no need to compromise on style while looking after the planet, these brands produce stylish and sexy jeans, using non-toxic denim. From traditional blue jeans to black jeans and denim jackets, these organic cotton denim brands have it all.
Why Organic Cotton Jeans?
Cotton is one of the fibers that is used the most in the production of textiles. Conventional cotton production relies heavily on the use of toxic pesticides, insecticides and fertilizers, which are all harmful to the workers and the environment. This makes cotton one of the dirtiest crops in the world.
Organic cotton on the other hand, is grown without the use of any harmful and toxic chemicals. This protects not only the cotton pickers and farmers, but also the local wildlife. Growing organic cotton also requires dramatically less water than conventional cotton farming. There is a big reduction in water pollution because no toxic waste is produced. Organically grown cotton also produces 46 percent less carbon monoxide emissions.
So organic cotton has numerous advantages over conventional cotton. Organic cotton looks like conventionally produced cotton, but it is softer on the skin and kinder to the environment.
Read more about organic cotton production and the benefits of organic cotton in this article.
Let's explore the best brands that produce organic cotton jeans.
1. Nudie Jeans
Nudie Jeans is an environmentally conscious Swedish fashion brand that sells mainly jeans and denim garments. Cotton makes up ninety-five percent of the fibers incorporated in their garments, and only organic, recycled or Fair Trade cotton is used. Since 2012, all the denim that is used in Nudie Jeans garments, is organic cotton.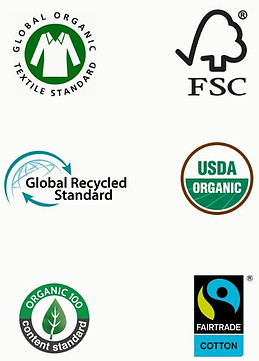 Denim used for Nudie Jeans conform to these globally recognized standards:
Depending on the origin and supplier, organic cotton is certified by GOTS (Global Organic Textile Standard), OCS 100 (Organic Content Standard 100) or US Department of Agriculture.
Cotton that is sourced through Chetna Organics in India, is both GOTS and Fair Trade certified.
Global Recycled Standard is used for recycled yarn.
Textiles made from cellulose fibers, such as TENCEL Lyocell, carries the FSC certification.
The positive aspects of organic cotton is combined with the Fair Trade system that guarantees fair payment and working conditions. Nudie also works with the Fair Wear Foundation, who is dedicated to improving working conditions in the textiles industry. This means they are sure that the working conditions are ethical and safe, through the entire production process.
To make the denim soft and stretchy, one to three percent elastane is incorporated in the yarn. The organic cotton is spun around a very thin elastane filament.
When you buy a pair of Nudie jeans, it comes with a promise of free repairs, regardless of where or when you bought it. They are supporting slow fashion with their repair program.
Recycling with Nudie Jeans
They are further reducing their environmental impact by using recycled cotton. Old Nudie jeans that are brought in by customers, are used in different ways:
Sell them as preloved Nudie jeans.
Patches are cut and used to repair Nudie Jeans for customers.
New products like bucket hats are made from old jeans.
Rebirth jeans are made from denim which incorporates twenty percent post consumer recycled Nudie Jeans.
Rebirth Jeans became the natural step from the Repair and Reuse initiatives. To ensure a high quality recycled product, you need control over the fiber content. As it is their own jeans, the fiber content is known to them.
The old jeans are mechanically recycled by cutting them up. The fibers are then ground and mixed with virgin organic cotton. After spinning and weaving the yarn, the fabric is first dyed with indigo, and then over-dyed to produce a black denim. Over time the black jeans will fade and reveal the underlying indigo.
By repairing, collecting and reselling second hand Nudie jeans, it prevents your jeans from being wasted. Since starting their repair program, 44,000 kilograms of denim fabric have been saved from going into landfill.
"Seconds" or "Rejects" that didn't pass the quality control tests, are turned into shorts by cutting off the legs. They are continuously working on re purposing and upcycling old products to create new ones.
In 2018 Nudie started using vegan material for the back patch instead of leather. They are also using recycled plastic in some of their garment. It is sold with a Guppyfriend wash bag to minimize micro plastic release into the water system.
Nudie must be the brand that is the most conscious of the planet. So to support the latest fashion style of organic cotton jeans, visit the Nudie Website here, or get your sexy jeans from Nudie here on Amazon.
Related post: Best 100% Organic Cotton Jeans from Nudie Jeans
2. Stella McCartney Jeans and COREVA Denim
An innovative new stretch denim fabric, called Coreva, has been created by the Italian manufacturer Candiani. The COREVA stretch technology has been patented by Candiani. Coreva stretch technology has a custom engineered component and is produced in a safe environment that is free of toxins.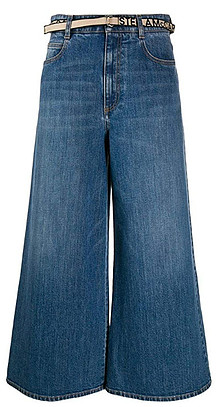 The denim is not only sustainable, it is also compostable. Revolutionary yarns, that all have a vegetable origin, means that a hundred percent biodegradable denim fabric can be created. The process is to use a core of natural rubber and to wrap organic cotton around it, thus creating a fabric that is free from plastic and micro plastic.
Common elastomers are synthetic and is derived from petrochemicals and Coreva stretch technology will replace these common elastomers. So the normal synthetic elastomers are replaced by using this innovative fabric, thereby creating a stretch denim fabric that is biodegradable, without compromising elasticity.
Two smart-dyeing techniques are used during the production.
Indigo Juice is used to retain the indigo colour on the yarn.
Kikitex Vegetal is a patented biodegradable ingredient which is derived from seaweed and mushrooms. Instead of using agents like starch, polyvinyl alcohol (PVA) and fixing agents, kikitex vegetal is used as a replacement.
Both these techniques require less water, chemicals and electricity during the dyeing and washing processes, than conventional methods.
The environmentally conscious British fashion designer Stella McCartney has teamed up with Candiani, and has created a collection using Candiani's Italian technology to make biodegradable stretch jeans.
The technology embraces the fashion vision of the designer. The new range will be available from May 2020, but in the meantime, you can shop Stella McCartney's jeans here.
3. Denham and Coreva Denim
The Dutch jean makers Denham will also be using the innovative Coreva stretch technology in their Bio-stretch Salvadge jeans. Sustainability is at the core of the Denham philosophy and eco friendly textiles are used for all their garments.
4. Patagonia
Patagonia's denim garments are all made from a hundred percent organic cotton, meaning it was grown without the use of GMO seeds or harmful and polluting fertilizers, herbicides and pesticides.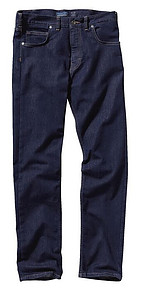 By using an innovative new dyeing process, Archroma's Advanced Denim Technology, the amount of water, electricity and chemicals that are used, is significantly reduced. Less carbon dioxide is also produced, compared with traditional dyeing methods that make use of synthetic dyes.
What is Archroma's Advanced Denim Technology? This innovative technology uses a process that is based on sulfur dyes that adheres more easily to the denim fabric.
It means there is a shorter production line and allows a huge reduction in the amount of water, energy and chemicals that are used, as well as lower carbon dioxide emissions. 84% less water is used, 30% less electricity is consumed and 25% less carbon dioxide emissions.
So it has huge environmental advantages compared to the conventional way of dyeing denim with synthetic indigo.
The seams in Patagonia's denim garments carries the Fair Trade certification. Patagonia pays a cash bonus to workers that make their Fair Trade certified garments.
No processes like sandblasting, bleaching and stone-washing, that all have a serious negative environmental impact, are used. This is where you can order your Patagonia garments at the best price.
5. DL1961
DL1961 is a New York based company that produces organic cotton jeans that are GOTS, GRS, OCS and RCS certified.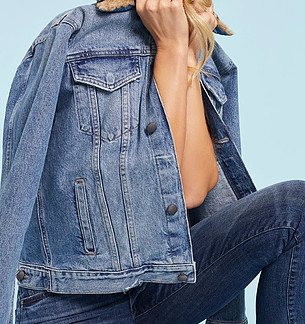 GOTS = Global Organic Textile Standard
GRS = Global Recycled Standard
OCS = Organic Content Standard
RCS = Recycled Claim Standard
Apart from organic cotton for their denim garments, they also use TENCELL and a trademark material called Refibra Lyocell. ReFibra is made out of wood pulp and denim scraps that would have ended up in landfill.
Water recycling methods are incorporated in their production, meaning only 8 gallons of water is used, instead of the 1,500 or more used by other brands.
They use Dystar Indigo colour which has been reduced to minimize water usage, together with Jeanologia Ozone Eco G2 machines which use air and eliminates excess indigo colour.
Laser technology is used to add character to the denim fabric, rather than abrasive chemicals. They further offset their carbon footprint by using solar power in their offices.
To shop the latest fashion style, get your sexy jeans and denim jacket from DL1961 here.
6. Monkee Genes
Monkee Genes is a UK brand that produces ethical, sustainable and organic cotton jeans. The factories they use are all GOTS certified for using one a hundred percent organic cotton.
Their new Black Jet Collection is using Jeanologia e-Flow technology, to create black jeans that have minimal fade properties. The Black Jet collection is also their first range where recycled polyester is used, re-spinning old polyester that would potentially have ended up in landfill or the ocean. Recycled polyester uses up to 40% less energy and up to 95% less water, than virgin fibers.
For the back patch a Jacron label is now used. Jacron looks like leather, but is a plant based, sustainable alternative to leather and synthetic materials. It is made from paper, but does not tear and can withstand industrial washes.
Monkee Genes has a completely transparent supply chain and supports Fashion Revolution. This means the workers are paid a fair wage and work in safe conditions, from the cotton pickers to the factory workers to the office team.
Plant based packaging materials, made from plant and potato starch, are used. It can be reused and it is also fully compostable. Shop your pair of vegan organic cotton jeans from Monkee Genes jeans here.
7. prAna
PrAna is a North American company that uses organic cotton, recycled wool and responsible down in their range. Apart from producing organic cotton jeans and denim garments, they also make a full range of yoga clothing, leggings, shirt and tops and much more.
They only use farms and production facilities that are Fair Trade certified, thus ensuring that all the workers are paid a fair wage and have safe working conditions.
PrAna is working closely with Bluesign to ensure that no chemicals end up in our skies or in our waterways and oceans.
PrAna is also discussed in this post on the Best Yoga Clothes Brands That Respect the Planet.
This is where you can buy your prAna jeans at the best price.
8. KowTow
This New Zealand label was founded in 2006 and they only use renewable and sustainable fibers, following the latest fashion style of producing organic cotton jeans.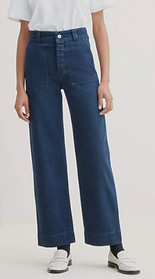 Kowtow fabrics are designed by them, starting with the yarn, so it is one a hundred percent unique to them. Sustainable fabrics include organic, renewable and biodegradable fibers.
All the garments are ethically and sustainably made with slow fashion as a focus. From designing the collection to delivering it, takes eighteen months. They are working towards closing the loop and have a circular design and production process.
Kowtow organic cotton jeans have nickel-free zips and rivets and GOTS approved processes are used for washing and dyeing.
They have a repair program and are developing a program to take back their clothing and swimwear to recycle it, although this is still at the research stage.
9. Outland
Outland is an Australian humanitarian denim brand that was founded in 2008 to help women that were at the risk of being exploited. They grow their own organic cotton on rural farms in Cambodia and use females from local communities that are vulnerable and might be sexually exploited, to tend to the crops. It is a B Corp company and they use water and energy reduction processes.
10. Mud
This is a Dutch brand that uses eco certified cotton. Also, promoting leasing their jeans and at the end of the year you give it back to them and they recycle it. Support slow fashion through their recycling program. Send them your old pair of jeans when you order a new pair and they will recycle it.
Explore the best brands that produce sustainable denim garments, using recycled fabrics and eco friendly indigo colour, in this post.
If you have any comments or questions about the latest fashion style of organic cotton jeans, then please leave them below and I will get back to you.