Denim and sustainability are often considered to be two poles apart and irreconcilable. The production process of denim is complex and polluting. It requires tons of water, chemical solvents, heavy metals in dyes and more. This might make you wonder how sustainable is denim.
The most sustainable denim is 100% organic cotton jeans, and Nudie Jeans, fit that bill. They make organic cotton men jeans and an organic cotton jeans women collection, that has the latest fashion styles for jeans and sustainable denim.
With sustainable jeans, you can prove the power of Green. So let's have a closer look at jeans with organic cotton and where to access Nudie Jeans sale products.
Overview of 100% Organic Cotton Jeans from Nudie Jeans
Nudie Jeans is an environmentally conscious Swedish fashion brand that was started in Gothenburg in 2001.
Their vision is to become the world's most sustainable denim company. They sell jeans with organic cotton, denim garments and sustainably made products. The Swedish denim company has been recognized for their work with sustainability, both environmental and social.
The latest fashion styles for 100% organic cotton jeans are sustainably made, using transparent production processes. You can read more about their Product Level Transparency here.
Cotton makes up ninety-five percent of the fibers incorporated in Nudie Jeans garments, and only organic, recycled or Fair Trade cotton is used. Since 2012, all the denim that is used in their garments, is organic cotton. They became a GOTS certified brand in 2020.
They also offer a repair and reuse program, further showing how sustainable is denim, if it is 100% organic cotton jeans from Nudie Jeans. Apart from jeans with organic cotton, the range also includes pants, shorts, denim jackets, jackets, shirts, t-shirts, knits and sweatshirts. They also have a kids' range and underwear and accessories.
Sustainable Materials Used by Nudie Jeans
Growing the raw material has the largest environmental impact on the sustainability of a fiber. 93.8% of the fibers used by Nudie Jeans, is cotton. They only work with organic, recycled and Fair Trade cotton and since 2012, all their denim is made with organic cotton.
Although organic cotton is the main fiber they work with, for non-denim products they strive to use other sustainable materials. So let's have a closer look at the sustainable materials that Nudie Jeans use to make organic cotton men jeans and the organic cotton jeans women range.
1. Organic Cotton
The difference between organic cotton and non-organic cotton lies in the way the cotton is grown and treated.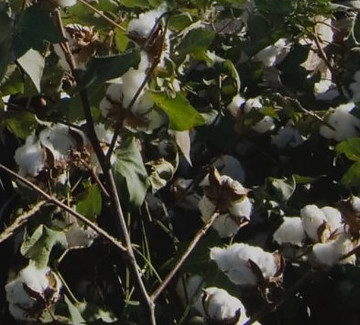 Organic cotton farming is in some ways synonymous with sustainable farming. Growing organic cotton is better for the environment than non-organic cotton.
Conventional cotton farming is chemical intense and have a negative impact on the environment. Chemicals that are used, are bad for the health of the farmers and the workers, and also bad for your skin. Read more about the dangers of chemicals in clothes in this article on Beware of Toxic Chemicals in Clothes.
How sustainable is denim depends on the raw materials used and production processes. 100% organic cotton jeans are far more sustainable, than using conventional cotton.
Organic cotton is grown from plants and seeds that have not been genetically modified. No synthetic or toxic chemicals, like pesticides, herbicides and fertilizers, are used during the growing and production cycle. Because no GMO's (genetically modified organisms) are used, organic soil matter can be built through crop rotation, inter cropping and composting.
By only using organic cotton, Nudie Jeans greatly reduce their environmental footprint. Read more about the growing of organic cotton and the benefits, in this related post on What is Organic Cotton Clothing.
2. Recycled Cotton
Nudie Jeans are further reducing their environmental impact by using recycled cotton. Recycled cotton is a great way to minimize your carbon footprint. It is trickier to recycle post consumer garments than it sounds.

Having control over the fiber content is very important, to ensure a high quality end product.
Nudie has built a foundation for collecting unwanted jeans. As they are Nudie jeans, they know the fiber content. Thus, if you can reuse and repair your own products, you can also recycle them. Recycling of denim and how sustainable is denim, is also discussed in this article on What is Cellulose Pulp and What is Circulose.
By repairing, collecting and reselling pre-loved Nudie jeans, it prevents your jeans from being wasted. Since starting their repair program, 44,000 kilograms of denim fabric have been saved from going into landfill. Rebirth jeans are made from denim which incorporates twenty percent post consumer recycled Nudie Jeans.
Recycling with Nudie: Rebirth Repair Program
Recycled cotton is used in the Rebirth collection. Denim for the latest fashion styles for the Rebirth collection, is made with 20% recycled cotton, which comes from Nudie Jeans post consumer denims.
Rebirth Jeans became the natural step from the Repair and Reuse initiatives. To ensure a high quality recycled product, you need control over the fiber content. As it is their own jeans, the fiber content is known to them.
The old jeans are mechanically recycled by cutting them up. The fibers are then ground and mixed with virgin organic cotton. After spinning and weaving the yarn, the fabric is first dyed with indigo, and then over-dyed to produce a black denim.
The finished dry denim is pitch black, but over time the black jeans will fade and reveal the underlying indigo.
3. Reused Denim
Old and worn Nudie Jeans garments can be taken back to Nudie, who will use it in different ways.
Sell them as pre-loved Nudie jeans.
Patches are cut and used to repair Nudie Jeans for customers.
New products like bucket hats, are made from old jeans.
When you buy a pair of Nudie Jeans, it comes with a promise of free repairs, regardless of where or when you bought it. Nudie Jeans are supporting slow fashion with their repair program.
"Seconds" or "Rejects" that didn't pass the quality control tests for the Nudie Jeans fit guide and Nudie Jeans sale, are turned into shorts by cutting off the legs. They are continuously working on re purposing and upcycling old products to create new ones.
In 2018 Nudie started using vegan material for the back patch instead of leather.
See the latest fashion styles for the range of organic cotton men jeans and selvage garments in dry denim here.
4. Other Materials Used
It is not just denim that Nudie Jeans use when producing organic cotton men jeans and organic cotton jeans women collections. But they always strive to be as sustainable as possible.
Elastane: To make the denim for the 100% organic cotton jeans soft and stretchy, one to three percent elastane is incorporated in the yarn. The organic cotton is spun around a very thin elastane filament. Currently using virgin elastane from producers known to them, but they are seeking options for recycled elastane.
Polyester: In 2019 they started using recycled polyester in some of their garments. Recycled polyester is used in all new denim products that have polyester in them, as well as the woven labels in the garments. Polyester is added to the most stretchy denim, to optimize recovery of the stretch. When added to wool or cotton yarn, it improves the strength of the yarn. The use of polyester does pose the risk of micro plastics being released when washed. Thus, they sell Guppyfriend washing bags, which capture the micro plastic fibers inside the bag, instead of it being released into our water ways.
Polyamide, commonly known as nylon, is a synthetic fiber. It is used in socks, and some knitted garments like sweatshirts and beanies.
TENCELL Lyocell is a man-made cellulosic fiber textile. It is made in a closed loop production system, so is more sustainable than other cellulose fabrics, like viscose.
Wool: using recycled wool is more sustainable than virgin wool, as it reduces the environmental impact of the fiber. Recycled wool comes from the Prato region, near Florence, in Italy.
Leather: Most leather accessories are made with vegetable tanned leather. For leather jackets, they work with a specific Gold-rated Leather Working Supplier in India. Leather can be sustainable if it is worn for many years and vegetable tanning is used.
Jacron is a vegan leather made of FSC certified cellulose fibers and acrylic polymers. It is used for the back patch on the organic cotton jeans women collection and the organic cotton men jeans.
Hangtags and booklets are made with FSC certified paper.
Nudie Jeans Material Tool
To establish how sustainable is denim, Nudie has developed a material tool to define the sustainability of a garment or accessory. If it contains at least 70% sustainable fibers, as defined in their materials tool, Nudie regards it as sustainable.
The tool is based on the Environmental Benchmark for Fibers (from Made By) and the Higgs Materials Sustainability Index (MSI). Designers and product developers use the tool as a guide. This is to achieve the goal that Nudie Jeans have to work with 100% sustainable materials.
Nudie Jeans have three categories of sustainable fibers and you can view them in the materials tool. View the Materials Tool here.
Now that you know organic cotton and sustainable materials are used by Nudie Jeans, let's look at certifications and explore the Nudie Jeans fit guide for jeans with organic cotton.
Certifications for Jeans with Organic Cotton
It is very important for Nudie Jeans to work with certified raw materials. Denim and other materials used for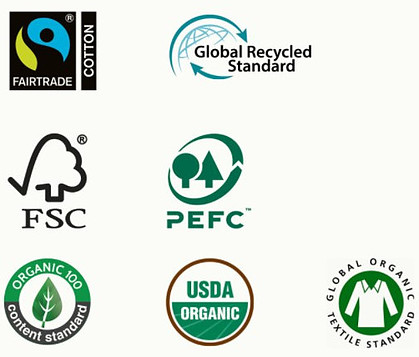 Nudie Jeans garments, conform to these globally recognized standards:
Depending on the origin and supplier, organic cotton is certified by GOTS (Global Organic Textile Standard), OCS 100 (Organic Content Standard 100) or US Department of Agriculture.
Cotton that is sourced through Chetna Organics in India, is both GOTS and Fair Trade certified.
For recycled yarn, they endevour to use the Global Recycled Standard.
Textiles made from cellulose fibers, such as TENCEL Lyocell, carries the Forest Stewardship Council (FSC) and PEFC certification.
The positive aspects of organic cotton is combined with the Fair Trade system that guarantees fair payment and working conditions.
Nudie also works with the Fair Wear Foundation, who is dedicated to improving working conditions in the textile industry. Thus, they are sure that the working conditions, throughout the entire production process, are ethical and safe.
Nudie Jeans Fit Guide and Product Range
They have a pair for every body, shape and size. From Regular Fit, to lose fit and tight fit, you will find them all with Nudie Jeans. Explore the Nudie Jeans sale of organic cotton jeans women collection here.
Regular Fit:
Straight Sally is a regular fit with a mid waist for women.
Breezy Britt is also a regular fit with a high waist in the organic cotton jeans women range.
Clean Eileen is another regular fit which has a high waist for women.
Gritty Jackson has straight legs in rigid organic denim.
Steady Eddie II is an organic cotton men jeans style with a regular tapered fit. Made in comfort stretch denim with a zip fly and slim leg opening.
Dude Dan is a modern take on the classic regular fit and available in dry everblack. The regular rise has a button fly, straight leg and a slim leg opening.
Tight Fit:
Tight Terry is perfect for those that are looking for a tighter fit. Jeans fit tight from the hips to the ankle, made from power stretch denim and cut for a tight fit. It has a mid waist and zip fly. Thus, great to team with hoodies and over sized tops.
Skinny Lin is an organic cotton men jeans with a tight fit in organic power stretch. It has a zip fly, tight leg opening and with a mid waist rise.
Hightop Tilde is a tight fit with a high waist for women.
Slim Fit:
Lean Dean is one of their most popular fits. It tapers evenly from the hip down to the ankle and has a zip fly and slim leg opening.
Thin Finn has a slightly tapered leg. Made in organic stretch denim with a zip fly and slim leg opening.
Grim Tim has a button fly and slim leg opening.
Loose Fit:
Tuff Tony is a vintage like dry denim organic cotton men jeans. It has a button fly with a wide leg opening.
In the reuse section of organic cotton men jeans, you might occasionally come across some older styles, like Fearless Freddie. Depending on the latest fashion styles for Nudie Jeans sale products, prices start at around $89 for reused jeans. New organic cotton men jeans starting around 119 euros, with all the details about the Nudie Jeans fit guide, with each garment.
Sustainable Practices
As with most clothing brands, Nudie Jeans do not own the factories in which their jeans with organic cotton are made. However, they carry the responsibility of making sure workers have a safe, fair and ethical working environment.
These are some practices they follow:
Living wages: everybody that makes a Nudie Jeans product, should earn a living wage. This often means paying more than the minimum wage for the production areas. Social audits and training are regularly conducted at the production facilities.
Chemicals: to produce textile, chemicals are used. So reduce the use of bad chemicals and only use better chemicals.
Water: water is one of our most important resources. Organic farming uses much less water to grow cotton, than conventional cotton. Use fabric suppliers that incorporate water saving technologies to save water during the dyeing process.
Climate: they work with suppliers that value sustainability and invest in technologies that save water and energy. Incorporating carbon offsetting practices.
Member of the Fair Wear Foundation, that ensures that everybody across the production chain, works under fair conditions.
Sustainability of denim is also discussed in this post on How Sustainable is Denim Fabric.
Final Thoughts on Nudie Jeans
Nudie Jeans not only produce a high quality product at a reasonable price, but they also take greater responsibility for their actions. It shows how sustainable is denim when the correct raw materials and processes are used. If you would like to explore more organic cotton jeans brands, please read this post on 10 Best Organic Cotton Jeans Brands.
Nudie must be the brand that is the most conscious of the planet. So to support the latest fashion style for organic cotton jeans, visit the Nudie Website here, or on Amazon there is a small selection of denims from Nudie Jeans here.
I hope you have enjoyed reading about Nudie Jeans and their 100% organic cotton jeans, but if you do have any questions about the Nudie Jeans fit guide or Nudie Jeans sale, please leave them below and I will get back to you.