Anything that you put on your baby's skin, needs to be safe and free of chemicals. This is why the best organic cotton baby clothes are made from 100% organic cotton. When it comes to your baby, you might use natural or organic care products for them, but do you use organic fabrics for their clothing and linen?
We certainly want to minimize, if not altogether avoid, exposing our babies and kids to toxic chemicals. Harmful chemicals can be absorbed through the skin, thus, it is super important to dress your baby in soft organic baby clothes.
Buying the best organic baby clothing is much more than just a fad. It is a way of life that promotes looking after your health, as well as caring for Mother Earth. Start life for your newborn on an eco-conscious foot, Oliver & Rain baby clothes will help you achieve that. Oliver and Rain make the cutest organic baby clothes. But why is organic cotton important?
Why Is Organic Cotton Better For Babies?
The biggest benefit of organic cotton, is that you are not exposing you baby to harmful chemicals. No toxic chemicals are used, so allergies and skin rashes are kept at bay.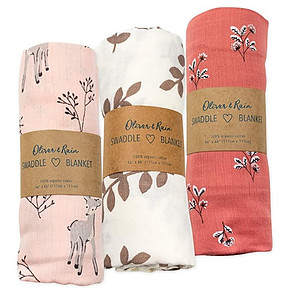 By using the best organic cotton baby clothes, you will greatly reduce the risk of your baby developing skin allergies or eczema. This is because the soft organic baby clothes are made from cotton grown without pesticides and toxic substances.
Thus, their skin is not exposed to harmful chemicals. So, it is very important that whatever touches you baby's skin, is organic. So vests, onesies, sleepwear, socks, linen and diapers.
Your budget might play a big role, but it is better to spend money on best organic baby clothing, that will not harm your baby, than spending money on ointments and medication to treat skin rashes and allergies.
Growing Organic Cotton
Growing conventional non-organic cotton, accounts for 25% of insecticides that are used around the world. Chemicals that are used during the production of non-organic cotton include flame retardants, softeners, heavy metals, ammonia, formaldehyde and silicon waxes.
Residues of chemicals from herbicides, pesticides and fertilizers are left behind in the cotton fibers. These chemicals are irritants to the skin, so babies should not be exposed to it.
Exposure to even the smallest amount of chemicals, have been linked to fetal damage, sterility in humans and even brain damage.
So choosing organic cotton clothes and care products for your baby, is the smart choice.
The main cotton producing countries are the USA, India, Turkey, Egypt, West Africa, Tanzania, Uganda, Australia, China, Peru and Syria. Although organic cotton production has dramatically increased over the past 15 years, it still amounts to less that 1% of overall global cotton production.
Properties of Organic Cotton
Naturally hypoallergenic
Organic cotton is 100% natural plant derived fiber.
Naturally soft and smooth, making it very comfortable and soothing on the skin.
High absorbency properties, making it suitable for a variety of applications.
No harmful and toxic chemicals are used, so nothing to irritate the skin and cause rashes and allergies.
Related post: What is organic cotton clothing?
Benefits of Soft Organic Baby Clothes
These are the benefits of organic cotton that makes it ideal for best organic cotton baby clothes and products:
Free of harmful chemicals like pesticides, herbicides and insecticides, as none are used during the growing or production processes of organic cotton. 
Organic cotton is a natural fiber that is soft, soothing and harmless to your skin.
Because there are no chemicals used, it means there are no irritants.
Organic cotton has moisture wicking properties, so will leave your baby's skin dry and comfortable.
Quality of organic cotton is better than conventional non-organic cotton.
Organic cotton is a sustainable crop.
Growing organic cotton uses 88% less water and 62% less energy, than growing non-organic cotton.
There is no damage to the soil where organic cotton is grown.
Growing organic cotton prevents water contamination and conserves biodiversity.
Farmers and their families are not exposed to harmful toxins in the field or in the air., so it provides a safer environment for workers.
The air is cleaner, as their is less pollution caused by pesticides and herbicides.
By using organic cotton products, you can reduce your carbon footprint.
Organic cotton seed oil is a byproduct or organic cotton production. It is widely used in snacks and animal feed.
Producing organic cotton is more labor intensive than non-organic cotton. It also has a lower yield, which makes the production of organic cotton more expensive than conventional cotton.
Unfortunately this means that the best organic baby clothing is often more expensive than non-organic cotton. But, it is possible to have the cutest organic baby clothes, that are affordable with Oliver and Rain.
Oliver & Rain Baby Clothes
Oliver and Rain is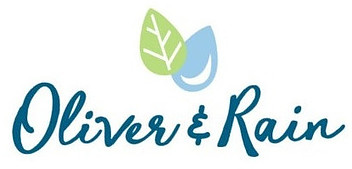 an environmentally focused company that make the best organic cotton baby clothes. Sustainability is at the core of everything and they use sustainable practices everywhere possible.
Designs are thoughtful and practical, making caring and dressing your baby easier. Stylish styles are parent friendly and baby friendly, making sure your baby always looks the best.
Oliver & Rain are owned by Kanopy Brands and is based in Atlanta, Georgia. The cutest organic baby clothes are baby friendly, while also planet friendly. The soft organic baby clothes use natural colors that are easy on the eye.
Only 100% organic cotton is used to make Oliver & Rain baby clothes.
Sustainable And Ethical Practices Used By Oliver and Rain
The mission of Oliver and Rain is to leave this world a better place for their children. They believe to achieve that, it start with sustainable practices that are both baby friendly and earth friendly.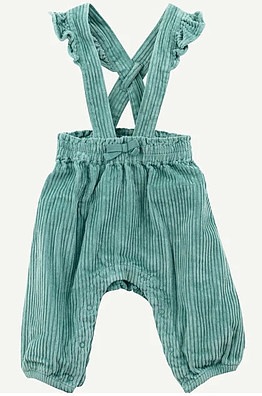 They have partnered with Sree Santhos Garments (SSG), one of India's most eco-friendly garment manufacturers. SSG was established in 1986 and was one of the early adopters of the "green" approach to all aspects of business.
The sustainability mission of SSG mirrors that of Oliver and Rain, namely: "To conduct a profitable business in an ethical manner which protects the ecosystem".
The 4 keys areas of sustainability that they focus on, are:
Continuously seek new ways to save energy.
Constantly reduce waste from all operations.
Products need to be safe for consumers and the environment.
Sharing resources and knowledge with employees and communities, and thereby improve their quality of life.
SSG has SA800:2001 accreditation, as well as numerous other ecological and ethical awards. Quality of working conditions and staff welfare are 2 focus points.
SSG is strongly committed to the tenets of the United Nations Millenium Development Goals.
So let's have a closer look at the eco friendly and sustainable practices used when Oliver & Rain baby clothes are produced.
Eco Friendly Manufacturing
SSG factory has a platinum category certification in LEED (Leadership in Energy and Environmental Design).
It is a unique, state of the art, vertically integrated knit composite factory.
Skylights and large windows provide natural light.
The factory has adopted several measures to reduce energy consumption, such as fully integrated Galvalume roofing for heat reflection.
Rain harvesting system.
Water recycling, including sewage recycling.
For a more comfortable atmosphere, they are humidifying working areas, instead of using air-conditioning.
An abundance of natural greenery across the site.
Renewable Energy
Wind Farms
25 windmill installations are generating nearly 23 million power units annually. The electricity produced by the wind turbines, is used at all 4 SSG's production plants.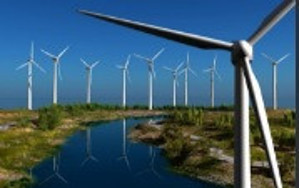 The fact that factories and facilities are powered by green energy from wind turbines, greatly reduces their carbon footprint.
Any surplus energy is sold to the Tamil Nadu Electricity Board.
Solar Power
As part of their commitment to renewable energy, SSG use solar heating at their dyeing unit. This caters for the production of steam, as well as for the needs of the canteen kitchen.
Solar heaters are 100% pollution free, whilst conventional boilers cause air pollution.
So, SSG is committed to using solar energy, even if the production cost is higher.
Low Water Footprint
Monsoon rains contribute up to 95% of water used by SSG. The use of rainwater reduces the need of irrigation, and also avoids depriving local villages of scarce water supplies.
SSG has desalinization and water recycling plants to achieve zero liquid discharge of effluent. Salt and water is recovered and reused through a multi-effect evaporator and crystallizer.
Zero Liquid discharge is a water treatment process that is designed to remove all the liquid waste. The aim is to produce clean water, that can be reused. This is far better for the environment, and of course, saves resources.
To recycle water, SSG also have a primary, secondary and tertiary effluent treatment plant with a reverse osmosis system. Together, these plants have the capability to treat 3,000 kg of salt and 6 million liters of water daily.
The processing of dye effluent is carried out in a closed loop purification system. Solar energy is used for treatment ponds, sand filtration and reverse osmosis to convert waste water into clean water.
Certification
The safety of textiles and dyestuff produced by SSG, are guaranteed with an Oeko-Tex 100 Standard Class 1 certification. SSG makes every effort to apply eco friendly processes through the production of the best organic baby clothing.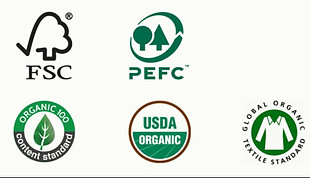 All SSG products conform to Global Organic Textile Standards (GOTS) and are Control Union certified. These organic standards protect the farmers and workers against the effects of harmful chemicals, as none are used.
When you are buying organic cotton clothing, do look for certification labels. Currently there are 2 independent organic certifications for organic cotton:
Global Organic Textile Standard (GOTS), and
Organic Content Standard (OCS).
Certification ensures full traceability of every organic cotton product across the supply chain.
Fair Trade and Fair Wear Audits
Fair Trade and Fair Wear are initiatives to improve working conditions and social welfare of workers.
The global Fair Trade certification means that the farmers received a fair price for their produce. While at the same time, workers also received a fair living wage for their labor.
Through an independent audit, the Fair Wear Foundation enables transparency of the whole supply chain.
Charitable Causes Oliver and Rain Support
One Tree Planted: for every order that is placed, they will plant one tree. One Tree Planted is a non-profit organization that plants trees around the world to reforest the planet.
Peach Project Georgia: this is a project that provides comfort to chronically ill children and their families. The Peach Project connects the medical field with the fashion industry. They create innovative products that will enhance the healing experiences for chronically ill children and their families. A portion of the proceeds from the Peach Projects, benefits Boston's Children Hospital and regenerative tissue research. It is advancing the world of pediatric health.
Oliver & Rain Baby Clothes Range
The best organic baby clothing, range from swaddle blankets to sleeps and plays, to adorable top-knot caps. You will find the cutest organic baby clothes and toddler outfits.
One-piece: bodysuits, baby gowns, rompers, jumpsuits, unionsuits, coveralls, sleep and play suits.
Tops: pullovers, tees, jackets and sweaters.
Bottoms: pants, shorts and overalls.
Accessories: swaddle and receiving blankets, bibs, caps, socks.
2-piece pyjamas
outfits sets
Prints are subtle and the soft organic baby clothes are available in basic colors, making it easy to mix and match. Many of the onesies and outfits have matching blankets and bibs to complete the look.
Shop by category makes it easy to find the perfect piece for your little one.
Make your gift shopping for a baby shower or new born baby easier with a newborn gift bundle.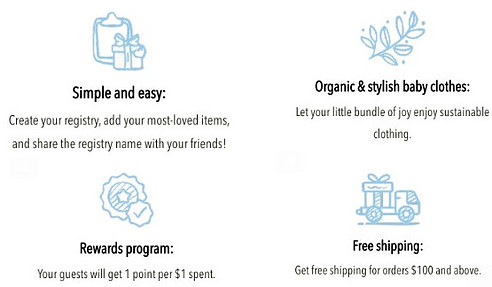 They also offer a gift registry. Customers can create an all-in-one wishlist for all their favorite organic items. You can then share the registry name with family and friends.
Through the reward program, guests are rewarded with 1 point, for each $1 that they spend.
Sizes:
Baby: newborn to 24 months.
Toddler: 2 years to 5 years.
Caring for your Oliver & Rain baby clothes: Products are machine washable.
Items are packaged with recycled materials, including biodegradable coat hangers.
Returns Policy: Items can be returned withing 30 days from ordering, with all labels attached, unwashed, unworn and in the original packaging.
At the moment they do not ship internationally. But fortunately they are available on Amazon if you need international shipment, so order on Amazon using this link.
Oliver and Rain were selected and featured in a celebratory album, Our Royal Baby, about the journey of Prince Harry and Megan Markle.
Related posts where organic products are also discussed:
Final Thoughts on Best Organic Cotton Baby Clothes
You might eat organic food and scrutinize food labels to avoid additives, preservatives and colorants, but do you wear organic clothing? If you eat organic, why not wear organic? The best organic baby clothing allows you to have safe clothing for your baby and kids.
Get the cutest organic baby clothes from Oliver & Rain  here.
Please leave any comments or questions about Oliver & Rain baby clothes below, and I'll get back to you.