Organic baby clothes are made with materials that are free of harmful chemicals that are either found in synthetic fabrics or are used in non-organic farming. More than 8,000 chemicals are used to turn raw materials into fabrics, making it imperative to know what is organic baby clothes. As parents are learning about the health benefits of organic cotton for baby clothes, more brands are offering affordable organic baby clothes.
Art & Eden clothing is sustainably and ethically produced, using organic cotton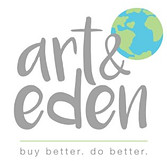 and low impact dyes. It was founded by Susan Correa in 2014 and since their launch, their intention has been to be best in the world by being best for the world.
They make ethical clothing for kids that is better for the planet. They are transparent in the materials that are used, how the garments are produced and where your money goes when you buy Art & Eden clothes.