Reusable baby nappies are washable and can be used over and over again. Sometimes they are also referred to as real nappies or cloth nappies. The options that are available have increased dramatically over the past few years with some very stylish and practical designs.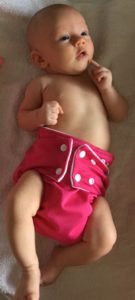 Using reusable baby nappies is not difficult, it is just different from using disposables. A cloth nappy will usually comprise of a number of parts; the nappy itself which provides the absorbency and the outer wrap or pant which provides the waterproof layer. This may be a single combined "all in one" nappy or a "all in two". To this you can then add liners if required.
Traditionally reusable baby nappies were made from terry cloth and had to be folded in a triangular shape before being pinned to your baby. A waterproof cover was then put over. Modern designs have poppers or velcro fasteners so you don't have to fear that you will either prick yourself or your baby with a nappy pin. Organic cotton and bamboo are also now available, which makes it very soft on your baby's skin.
Environmental Impact Of Nappies
More and more studies and research are showing that the chemicals and toxins used in manufacturing disposable nappies are harmful to our babies. Adult skin is thicker and have more elastic fibers than those of babies. This means that baby skin is far more sensitive. Harmful substances are more easily absorbed by baby skin.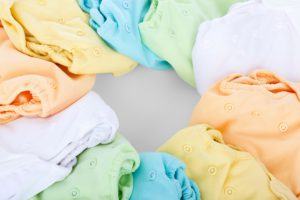 Several chemicals are used in the manufacturing of disposable nappies, ranging from chemicals to increase the absorbency, to dyes, to bleaches, to plastic softeners and more. Some of these chemicals can cause skin irritation and allergic reactions, hormone and immune systems can be affected and some are carcinogenic.
Would you want to use a product that is harmful to yourself? So why let your baby's sensitive bottom be exposed to it!
Related post: Cloth Diaper Review – the better choice for your baby's skin.
What Are The Pros And Cons Of Reusable Baby Nappies?
The positive aspects of using reusable baby nappies outweigh the negative side: Some of the pros are:
Reusable baby nappies can save you a considerable amount of money over the approximately 2 and a half years that you baby will be using nappies. Cloth baby nappies can also be used for more than one baby, saving you even more money on your subsequent babies.
Reusable baby nappies are better for the environment. Millions of disposable nappies are going into landfill sites on a daily basis. Thus, by using cloth nappies, you can reduce your carbon footprint by about 50%. Environmental cost of reusable baby nappies can be drastically reduced by choosing how you wash and dry them.
Organic cotton and bamboo reusable baby nappies are kinder and softer on your baby's skin.
Reusable baby nappies are better for your and your baby's health. Disposable nappies are full of harmful chemicals and toxins.
On the negative side it could be more time consuming as you need to do the washing. You then also need to allow time for the drying of the nappies.
Design Choices Of Reusable Baby Nappies
There are different designs available and what works well for one might not be the style that is best for your baby.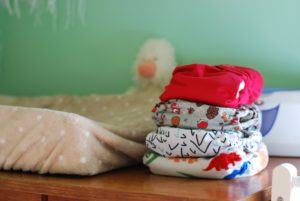 Shaped nappies come in different sizes, so you can start with smaller sizes. It would mean though that you would need more nappies to allows for the different ages. Using a smaller size means that you always have a snug fit with better containment.
Pocket nappies have a waterproof outer and a fleece inner insert. There is an opening in the back of the nappy where the inner is inserted. Thus, you can insert several to increase the absorbency.
Birth to Potty are very cleverly designed nappies that can be folded down to make it smaller. These reusable baby nappies are the most economical as the size can be adjusted to fit the baby all the way from birth to toddler.
All in one nappies have the absorbent inner attached to the waterproof outer, so there is no need for a separate wrap. These nappies are very easy to use. But, drying time is longer because of the thickness of the combined inner and outer.
All in Two nappies have an absorbent inner liner that is attached to the waterproof outer with poppers. Once the liner has been attached it becomes an all in one nappy.  But with these the inner and outer can be washed separately for faster drying.
How Many Reusable Nappies Do I Need?
How many reusable baby nappies would you need?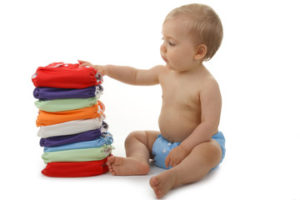 A newborn baby uses around 10 nappies per day, but as they get bigger they use 6 to 7 nappies per day. If you are going to be using them full-time, you need to allow for enough to be in the washing and drying stage so ideally need to have 20 nappies. If you opt for a design that comes in different sizes, you might need more in total.
Bamboo is very absorbent and has a luxurious feel to the skin, so by using an additional insert you can increase the time that your baby can wear a nappy.
Taking Care Of Your Reusable Baby Nappies
Washing and drying your reusable baby nappies are very easy. When you take the nappy off, flush any poo down the toilet and put the nappy, waterproof outer and washable liner into a bucket. If the outer is not soiled you could use it again, depending on the type of nappy that you have chosen.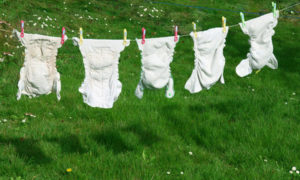 Traditionally nappies would have been soaked in a bucket before washing them, but this is not recommended now. The nappies can be added to the washing machine which will do the hard work. Some manufacturers recommend that you wash at 60°C, but if you don't use shared facilities then 40°C would be adequate.
The best way to dry your reusable baby nappies is outside in the sun or dry air. Alternatively it can be dried over an airer in the bathroom or warm room in the house. It can also be put in an airing cupboard or dried over a radiator. If the nappies feel a bit stiff and hard, just shake them. Drying them in a tumble drier will leave them soft, but is not as cost effective and has a bigger impact on the environment.
What Can I Do To Help?
Reusable baby nappies are made from a natural fiber which is free from cancer-causing, skin irritating, immune and hormone affecting chemicals. By using reusable baby nappies as often as possible, you are reducing the chances that your baby will be harmed by toxins.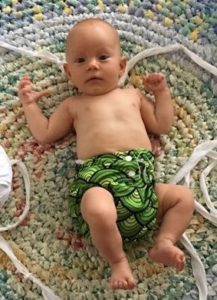 Washing the reusable baby nappies before you start using them will also make sure that no residual chemicals remain. By pre-washing the nappies the absorbency will also be increased and with each subsequent wash it improves.
Choose Reusable baby nappies for a designer bottom.
Please look at this related post about What is Reusable Swim Diapers?
I hope you enjoyed reading about reusable cloth diapers, but if you have any questions or suggestions, please leave it below and I will get back to you.