Reusable baby nappies are washable and can be used over and over again. Sometimes they are also referred to as real nappies or cloth nappies. The options that are available have increased dramatically over the past few years with some very stylish and practical designs.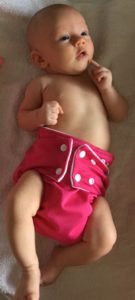 Using reusable baby nappies is not difficult, it is just different from using disposables. A cloth nappy will usually comprise of a number of parts; the nappy itself which provides the absorbency and the outer wrap or pant which provides the waterproof layer. This may be a single combined "all in one" nappy or a "all in two". To this you can then add liners if required.
Traditionally reusable baby nappies were made from terry cloth and had to be folded in a triangular shape before being pinned to your baby. A waterproof cover was then put over. Modern designs have poppers or velcro fasteners so you don't have to fear that you will either prick yourself or your baby with a nappy pin. Organic cotton and bamboo are also now available, which makes it very soft on your baby's skin.
Environmental Impact Of Nappies