Organic diapers – The alternative disposable diaper for when you don't have a choice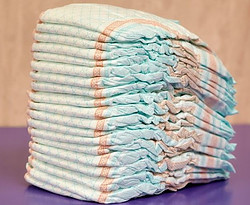 There would be days and occasions that you will not have a choice and you will have to use disposable diapers or nappies. House guests or endless days of rain might make it difficult to wash and dry reusable diapers.
Traveling with a baby or toddler that are in nappies, invariably means that you can't wash and dry reusable diapers. Going on a car journey it might still be possible, but taking a long haul flight and you don't have the space or weight allowance to be traveling with enough diapers for the journey.
Storing the used diapers might also be a problem, so one needs to look at what is available as the best alternative to reusable diapers.