Men also want to swim, surf and sunbathe in ethical style. Mens swimming trunks that are made to last, is better for the environment and therefore also more sustainable. If you are finding the plastic pandemic upsetting, then support these brands that want to save our oceans and are converting plastic bottles into mens short swim trunks.
Vilebrequin, the French eco friendly bathing suits brand, was discussed in this post on 6 Fashion Brands that produce Clothing from Recycled Plastic. If you are looking for stylish and sexy swimwear for women, then read this post on 9 Swimwear Brands that are Swimming towards Sustainability.
Let's have a closer look at some of the best swimwear for men using eco textiles and fabrics:
1. Riz Boardshorts
Riz boardshorts was founded in 2009 by two friends, Riz Smith and Ali Murrell. Ali had returned from a sailing trip across the Pacific Ocean and had seen the plastic pollution crisis in our oceans, and Riz had been designing swimwear for global fashion and sports brands.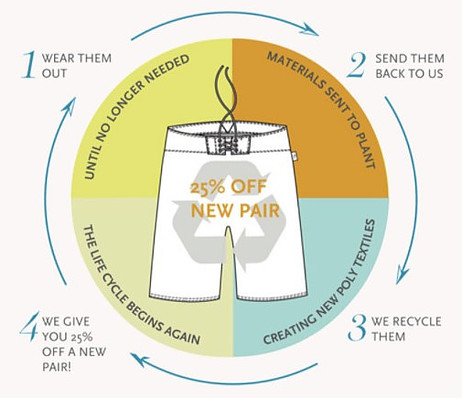 They decided the men's swimwear market needed something better, so they set out to create the most beautiful, sustainable and eco friendly bathing suits for men in the world.
Riz is based in London and the boardshorts are made in small batches in Europe. They use 100% recyclable and recycled materials, derived from plastic bottles, for making most of their products. Every pair is digitally printed in the UK and the digital print techniques use eco friendly inks.
They work with a small selection of artists and illustrators to create the prints that incorporate themes of endangered fish, insects and flowers. They describe their unique style as British-Hawaiian. Image courtesy of Riz boardshorts
Triple stitching means the mens short swim trunks are durable. The range includes short, mid and long tailored, elasticated and mid and long boardshorts, as well as accessories.
The Rizcycle scheme allows you to return your old shorts to be recycled. So once you have worn out your pair of Riz swimming trunks, Riz will take it back and recycle it and give you 25% discount towards your next pair. Recycled boxes are used for their packaging.
Riz works closely with the Marine Conservation Society and partner with them for beach clean-ups. They donate £1 for every pair of shorts that they sell, towards efforts to protect our marine environment. They are a Certified B Corporation and create some of the best swimwear for men.
2. Outerknown
Outerknown is based in Culver City, CA and was started in 2015 by the world champion surfer Kelly Slater, in partnership with the designer John Moore.
Apex mens swimming trunks are made from 86% recycled polyester, 8% recycled spandex and 6% spandex and are ethically produced in a Fair Trade certified facility. Recycled polyester is created from raw material waste like plastic bottles. The high performance trunks have these features: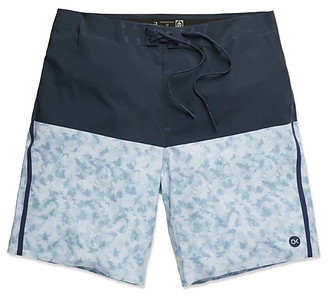 Now made with recycled seam tape and ultralight 4-way stretch recycled polyester for maximum mobility.
Fixed waist
The seams are welded and the inside of the fly is smooth, to eliminate chafing.
The butt seam is double bonded for added strength
The bonded back pocket features an Aquaguard zipper and internal bungee key loop
Side seams and back pocket have laser cut details that offer weightless drainage and ventilation.
Fabric is Quick Dry for minimal water absorption
The trunks easily pack into the back pocket
Outerknown mens swimming trunks are machine washable in cold water and lay it flat to dry. Do not use bleach or dry clean it. Get your pair of Outerknown eco friendly bathing suits here.
At Outerknown, sustainability is everything, for people and the planet. Apart from making some of the best swimwear for men, they also do a huge range of clothing, dresses, trousers, tops, shirts, short, accessories and also sell Veja shoes. 90% of fibers that are sourced are organic, recycled or regenerated, and 100% of mens short swim trunks are made with recycled or regenerated fibers.
3. Bluebucks
Bluebucks mens swimming trunks are made from SEAQUAL certified materials,
meaning they are made from upcycled marine waste. SEAQUAL is an organization, that in collaboration with small charities and fishermen, clean up our oceans. They work together to remove the plastic waste that litters the sea bed.
The debris that is collected is not biodegradable and is a mixture of plastic bottles and plastic packaging. The debris is sorted, cleaned and recycled and then yarn is created. The yarn is spun in Spain and the fabric is woven in Portugal to create eco textiles and fabrics.
The net for the inside lining is also entirely made from SEAQUAL recycled polyester. The swim shorts have a regular fit and are soft with a cord to adjust the waist size. The leg opening is just right for a comfortable fit that is neither too big nor too slim. It is available in sizes Small to XXLarge.
Apart from mens short swim trunks, Bluebuck also do a range of underwear including briefs, trunks, boxers and long johns, as well as socks, T-shirts and masks.
4. Vanilla Sands
Vanilla Sands was founded by Corinna in 2018 after she spent two years in Lisbon and published her master thesis on sustainable fashion across different cultures.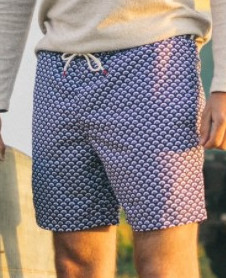 All the eco friendly bathing suits are made from 100% regenerated ocean waste, including recycled polyester and recycled ocean plastic, which is kind to the planet and light on your skin. Each Vanilla Sands bikini will save 50 grams of ocean plastic.
The swimwear is made locally in Brazil and Portugal, giving them control over their supply chain. It means they know what goes into their products and whose hands they pass through.
Vanilla Sands shorts are flexible, comfortable, durable and chic enough for a drink in the bar. The timeless designs and eco textiles and fabrics provide an alternative to fast fashion and mass production and support local craftsmanship.
By using local production facilities, the local cultures are kept alive. Apart from the beach wear range, Vanilla Sands also have a range of lounge wear, bamboo towels and dresses, made from GOTS certified organic cotton and 100% bamboo and is PETA vegan approved.
5. Naeco
Naeco is a British luxury brand that was founded in 2014 by Zak Johnson, an avid kite surfer and scuba diver. He noticed more and more plastic waste polluting our oceans and having a negative effect on wildlife and the environment.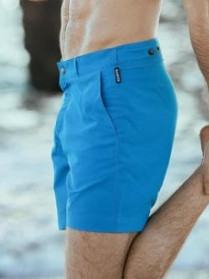 He knew that he had to do something to help, so Naeco, which is ocean spelt backwards, was born.
By using state of the art recycling methods, textile research and technology, soft fabrics and unique eco textiles and fabrics can be made from repurposed and reborn materials to make the tailored swim shorts.
Plastic bottles, straws and other plastic waste, that would have polluted the ocean, are collected. It goes through a series of processes to clean it and is then crushed to obtain plastic flakes. Through a mechanical process, it is converted into rough polyester spun fiber. This polyester fiber is manipulated to obtain yarn, which is used in their fabrics.
100% made from recycled plastic and approximately 15 plastic bottles are used to make each pair of recycled plastic swimming trunks. Craftsmen hand make them in the UK. Apart from the swimming trunks, they also make soft shell jackets, blazers and parkas. Fabrics that are used include recycled polyester, bamboo cotton, recycled organic cotton and Thermore Ecodown.
Naeco is a luxury brand that is showing that fashion can become more sustainable. They guarantee their products for 5 years against manufacturing defects and will repair or replace them free of charge. Naeco also host beach clean-ups in partnership with sustainable local businesses, organizations and like-minded individuals.
The designs are bold and the luxury swim shorts are soft and durable, and you can get your Naeco pair of ethically sourced and manufactured mens swimming trunks by clicking on this link.
6. Picture Organic
Picture Organic was founded in 2008 by three friends, Julian, Vincent and Jeremy, who grew up together and share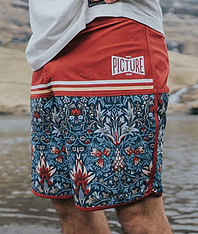 a love of skateboarding and snowboarding. They launched their first collection of recycled polyester boardshorts in 2010.
The sustainable mens swimming trunks are made from quick drying 4d recycled fabric that is made out of old ski jackets. For an ideal fit, the mens short swim trunks feature a zippered fastening with an adjustable waist with draw cords and welded back pockets to carry small things.
The French brand Picture Organic also do wet suits and clothing for skiing and snowboarding and other performance outerwear. They only use 100% recycled materials, and organic and responsibly sourced materials.
They strive to have the best eco friendly products and unique designs and is a certified B Corporation company.  Their mission is to fight climate change and make the best swimwear for men.
7. prAna
PrAna was started by Beaver and Pam Theodosakis in 1992 in Carlsbad, California, with a range of yoga and climbing clothes. PrAna comes from Sanskrit and means breath and is considered the life giving force. They work very hard to incorporate innovative and sustainable eco textiles and fabrics and practices to lessen their impact on the planet and improve performance.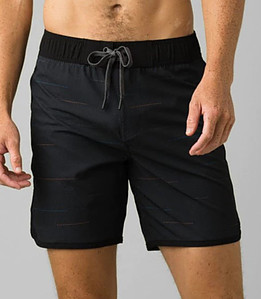 Whether you are relaxing around the pool, hitting the surf or playing games on the beach, prAna's high performance mens short swim trunks, are suitable for the occasion. Lightweight and sustainable materials are used for the range of, that have a standard fit and side pockets.
Features of the quick drying boardshorts are:
92% recycled polyester and 8% spandex
4 way stretch poplin fabric with durable water repellent (DWR) finish
UPF30+ and PFC free
Apart from mens short swim trunks, they also do eco friendly bathing suits for women, and the full range of clothing for yoga, climbing and hiking, traveling and active wear. Fabrics used include organic cotton and hemp and recycled fabric, together with responsible down.
PrAna is also discussed in this post on the 10 Best Organic Cotton Jeans Brands and Best Yoga Clothes Brands that Respect the Planet. Get your pair of prAna mens swimming trunks at this link here.
8. Fair Harbor
Two siblings, Jake and Caroline Danehy grew up near the ocean and spent childhood summers in Fair Harbor, on Fire Island, NY. As they grew up, they increasingly noticed the plastic waste being washed up on the beach.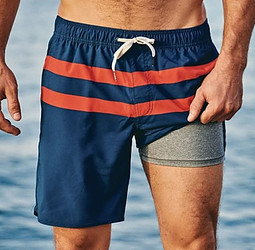 They wanted to do something about it, so the brand Fair Harbor was born.
Fair Harbor creates beachwear from post consumer recycled plastic bottles, and so far more than three million bottles have been upcycled.
Discarded plastic bottles are collected from all over the world.
The bottles are washed and shredded into flakes.
The flakes are then melted, extruded and spun into yarn.
Yarn is woven into their custom fabric, which can be dyed or printed.
Fabric is cut and sewn into their signature swimwear.
They make swim trunks and boardshorts and also do a range of swimwear for kids. Instead of the traditional netting as a liner, an anti-chafe boxer liner is used. The swim trunks are suitable for all things active, including swimming, running, surfing, yoga and transitioning from the beach to the bar.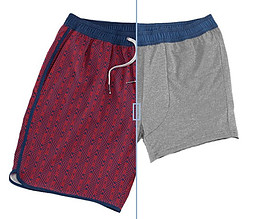 Each pair is made from 11 plastic bottles.
The durable water repellent fabric has a 4-way stretch.
It has a back zipper pocket and deep front pockets.
Some styles are available without a liner.
They also recycle old swimsuits, including any other brand, to give it a second life. For each swim short that is sent in, you will receive a $5 credit voucher, up to a maximum of $25.
9. Patagonia
We cannot talk about sustainable and eco friendly bathing suits without including Patagonia. Patagonia produces some of the best swimwear for men in recycled materials and organic cotton. You can read more about their sustainable practices in this post on 6 Fashion Brands that Produce Clothing from Recycled Plastic.
Discover more about the uses of recycled plastic in this post on What is Recycled Plastic used for?
More related posts about the use of recycled materials in footwear include Eco Conscious Shoes: Top Footwear Brands made of Recycled Plastic, 8 Best Sneakers made of Recycled Plastic and 7 Flip Flop Sandals made of Recycled Materials.
Some Questions about Mens Short Swim Trunks
What is the point of netting in swim trunks? The purpose of netting inside swim trunks is to provide support for the genitals while swimming. Netting acts as a liner and eliminates the need to wear underwear under the swimwear.
What is the difference between swim trunks and boardshorts? Swim trunks are the most common swimwear in North America, whereas boardshorts are a longer version of trunks and often come up to the knee or longer. Boardshorts often have a fitted waist, non-elastic waist.
Explore more buying options on Amazon here.
Related post: Best Ethical Swimwear for Women.
If you have any questions or comments about eco friendly bathing suits or the best swimwear for men, then please leave them below and I will get back to you.